For the third year running Cappadocia played host to Cappadox Festival, a three day music and arts extravaganza, featuring workshops on food and craft making, as well as various curated activities in the surrounding landscape all forming part of this off-the-beaten-path spectacle. With their aptly themed "ways out from the world", sunrise concerts gave way to floral and geological walks through surrounding valleys, while gourmet food tastings, craft making workshops, yoga sessions and bike tours kept festival goers happily distracted during the day. From mid-afternoon the music started at various dedicated stages, the largest just outside Göreme and the second main stage being the Çiftlik Evi stage in neighboring Uçhisar. Free shuttle services ferried revelers to and from the various locations, including for sunrise and sunset concerts in the appropriately named Red valley.
With three separate ticket packages on offer there was plenty of flexibility with regards to what you could see and do. The premium voyager ticket gave full access to all events on offer, the second explorer package slightly more limited access, and the passenger package access to all the musical events. However tickets were also available on an individual basis, allowing visitors to curate their festival experience on a budget, balancing the festival fun with time dedicated to exploring what Cappadocia has to offer. The official Cappadox application (Itunes, Android) also made it possible to build (and share) a program, while regularly receiving updates from the organizers. This was especially helpful as events were shuffled around regularly due to adverse weather conditions. In addition, attendees were given pamphlets, which included their handy guide on useful information covering all logistical concerns.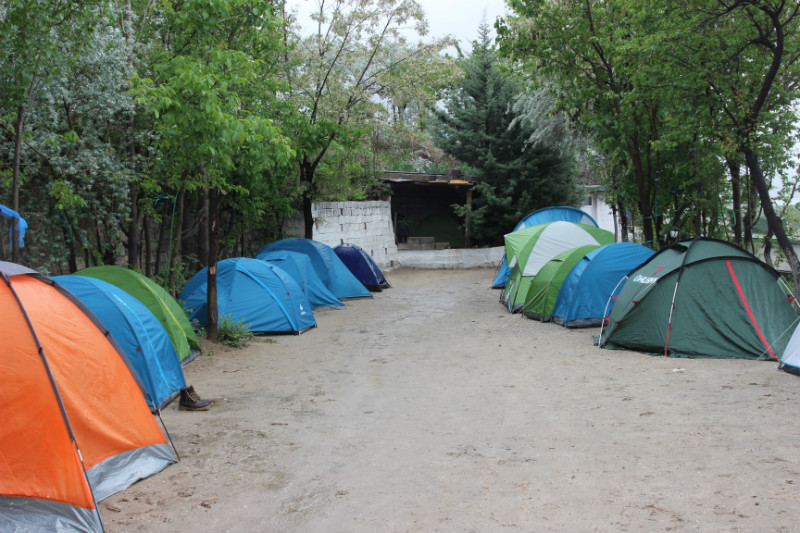 We pitched our tents at Panorama Camping along with something like 60 friends connected with the ATÖLYE community, just outside Göreme and above the main stage, where a lovable, but somewhat suspect Ahmet Bey hosted over 150 festival goers on his property. Our tents were assigned to what appeared to be the driveway, while the swimming pool proudly emblazoned on the sign at the gate was an empty hole in the ground with three high, steep sides and on one end a tiny platform. But as noted its most glaring drawback was its decided emptiness. "The rain will fill it up!" Ahmet joked happily when we commented on this. And indeed it almost did. While in the past two years the festival has enjoyed glorious sunshine, this year the thunder rolled, the lightning cracked and the rain poured. (It should be noted that we actually had a fantastic time at Panorama Camping and would wholeheartedly recommend it.)
Weather notwithstanding, a festival is a festival and despite the wet state of affairs, the merriment was not to be stopped. As my program consisted mostly of concerts and unguided wanderings, there was obviously plenty to do, hear, see, and eat that I was unable to take part in. The program is extremely full and often daunting, with plenty for the more mindful and active adventurer. Regardless, without further ado, I present my personal authoritative list of Cappadox highlights: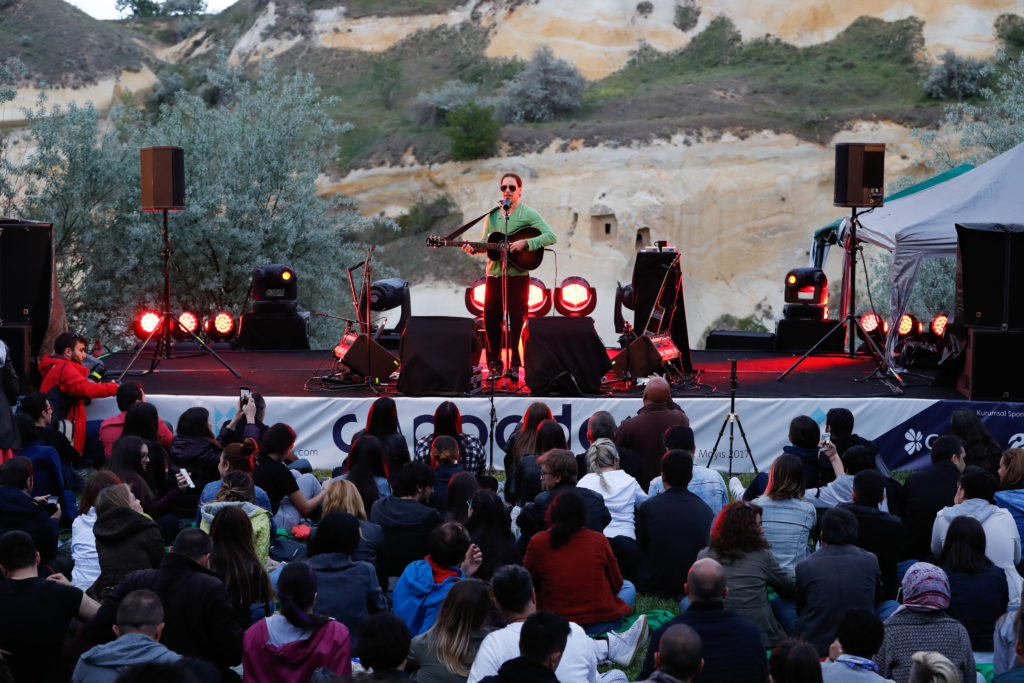 Kaan Tangöze @ Uçhisar Çiftlik Evi
Duman is likely one of the first Turkish bands that yabancılar will be exposed to in Turkey. Kaan happens to be their charismatic frontman, as well as one of the first performers scheduled on that fateful opening Thursday evening. The prospect of sitting through a quiet acoustic set of an individual artist from a band I don't actually really ever listen to, while brimming with excitement from having just arrived, seemed a bit risky at the time. Fortunately, the Duman talent delivered with quite a bit of finesse, including a much appreciated performance of perhaps the easiest-to-learn (and relatable) Turkish song I know, Bu Akşam. His smoky voice, appropriate levels of harmonica incorporation, a clear mastery of the guitar, and the beautiful backdrop of classic Cappadocia skyline made this one of the most memorable performances of the festival. He was an ideal score for sitting on the grassy hillside, having a few drinks, and anticipating the approaching festival weekend.
The Staff
From the moment we were warmly welcomed to the Kaan performance, I found myself consistently impressed with the cheerful, accommodating nature of every person on the staff I had the privilege of interacting with. From the bartenders who always welcomed a bit of banter, to the shuttle drivers who let me bring my boombox on multiple rides blaring questionable pop music, to the poor souls who worked the various kiosks scattered around the festival and always answered our mundane questions. Everyone smiled, everyone joked, and everyone was also professional and keen on making sure the attendees were having a fantastic time.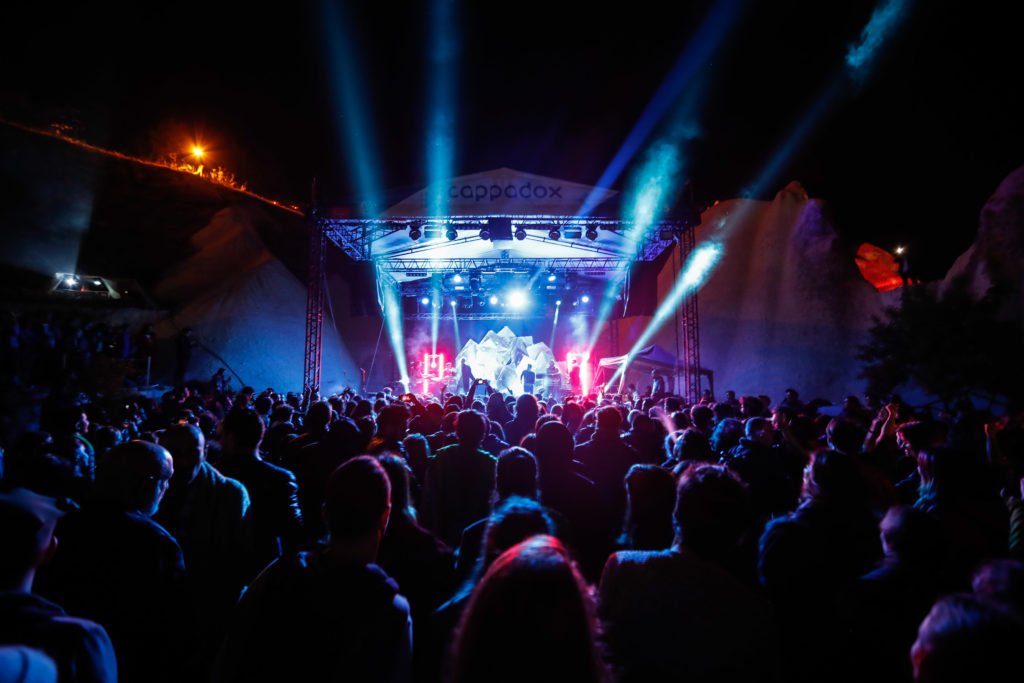 Dead Combo – Büyük Ev Ablukada @ Perili Ozanlar Vadisi
Shortly following Tangöze's performance, it was a quick shuttle ride down to the main stage for the Portuguese fado-blues hybrid of Dead Combo, as well as the locally popular, ever-changing Büyük Ev Ablukada performing their Fırtınayt project. The atmosphere was especially peppy, buoyed by an incredible stage set-up and lighting show that made the whole area come alive with projections and neon coloring. Having the most basic awareness of both acts, I was particularly impressed with Dead Combo. Their music at times felt familiar, while always maintaining a flair for the international, as well as the folk-roots of Portugal. Next, Büyük Ev Ablukada followed up with an energetic and frankly loud sound that got the crowd adequately worked up, although was perhaps a bit lost on me. Considering most festivals I've attended in Istanbul conclude at around midnight, it was great to see these bands perform late, late into the night. I suppose they were trying to give attendees some entertainment until the sunrise concerts kicked off.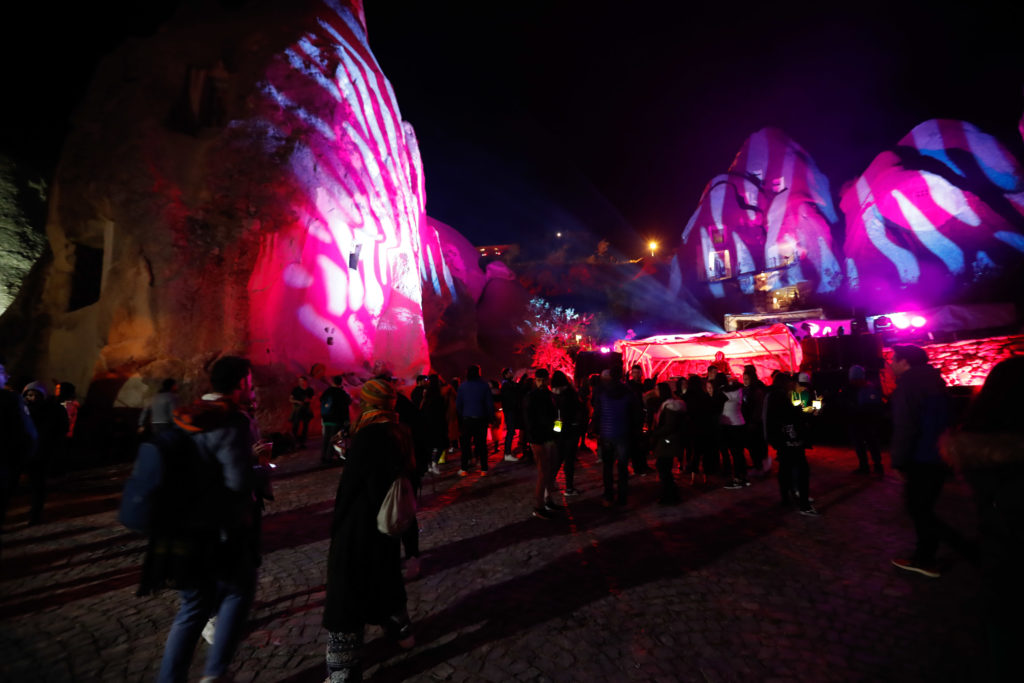 DJ Stage
This would likely be an honorable mention if I didn't actually end up spending so much time here. Tucked away near the main stage of Perili Ozanlar Vadisi, this was an ideal spot to come and dance away some serious energy if the other sets proved too calm. At times, you'd find only a small handful of people dancing, while other times would be a full on dance party. On the eve of the closing party, after the main stage had closed up shop, there was a lively dance party until sunrise, and I can only assume it was true on other nights as well. While the main stage could often feel impersonal, it was particularly easy to dance or chat with attendees here.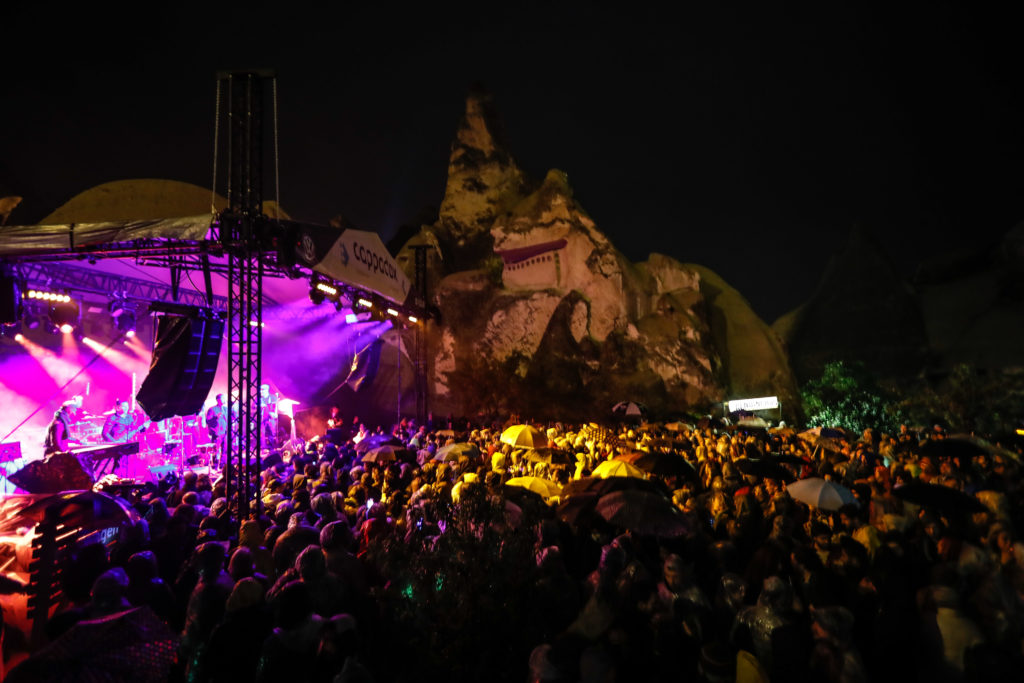 Rhye
Having attended their Salon IKSV show in early 2015, my bias for Rhye being super, super sexy is somehow even stronger today. Not one for reckless romanticizing, it must be said that listening to the alluring sounds of Rhye while the rain lightly drizzles as you're surrounded by the gigantic chimney rock formations of Göreme is pretty magical. Despite singer Milosh's concerns regarding audio issues, I have to hail them as undoubtedly the single best performance of the festival. Although they somehow still only have one album to their name, they managed to expand on the usual instrumentation of their catalogue, which often resulted in long jam sessions that showed off their talent and depth as musicians. Milosh's frustrations presumably cut their set a bit short, but I'm not really sure how many other songs they actually have. Regardless, I was really disappointed at how many people seemed to not be into their seductive vibes, although perhaps it's not really the best fit for an energy-filled audience at a music festival.
Kubalas Sunset Concert @ Red Valley
As it turns out, ATÖLYE were involved behind the scenes for one of the sunset concerts, otherwise I likely wouldn't have made the journey. I'm glad I did, as Red Valley turned out to be quite a stunner. The music was light and easy, the views memorable and the crowd pretty relaxed. My only real regret from the entirety of the festival was not additionally catching a sunrise performance here.
Yasmine Hamdan @ Çiftlik Evi (By Billy FitzHerbert)
Although the rain had sodden the ground, people made do and assembled on the grass by the stage. The backdrop perfectly complimented the opening strains of Hamdan's set, her soft voice and slow, deliberate movements as magical as the Cappadocian chimneys behind her. What captivated this first timer about her performance was how, while she gave full throat to her notes, the band were almost visibly restrained, bursting at the seams to let loose but stayed by the slow, deliberate, fluid and often mesmerizing way Yasmine moved, to the point that bending over to pick up a glass of water appeared in theatrical slow motion. Hal (from the film Only Lovers Left Alive) was greeted enthusiastically, the clouds parting prophetically above to receive the song which has catapulted her to further stardom. No doubt sensing that the cold was creeping over the crowd she rallied everyone to their feet 3/4 of the way in and rewarded us with her more boisterous fare. The rock n roll giants on drums and guitar, previously trembling with restrained energy were let loose as they tore into a new crowd favorite. Yasmine's long hair tossed with reckless abandon as they maintained course. The crowd's blood was by now high and we energetically encored them back out after their final song. They obliged, 'putting us to bed' with a heart rending rendition of Beirut, Hamdan packing every quivering note with the kind of emotionally charged punch that only live music can really truly deliver. Perfect circularity to a truly mesmerizing set.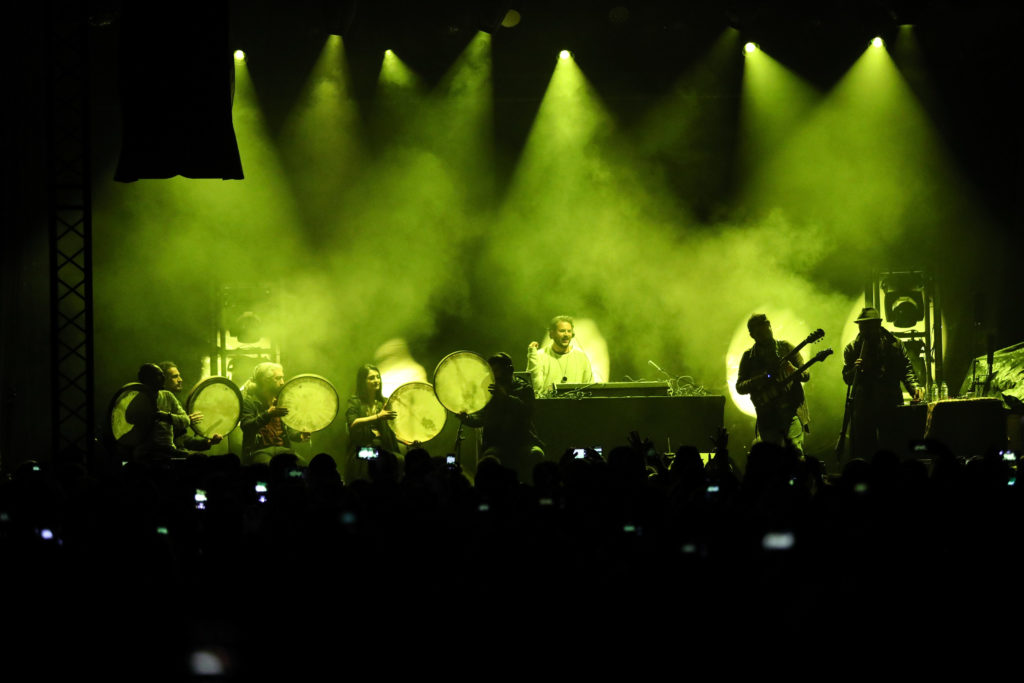 Nusaibin and Acid Pauli @ Perili Ozanlar Vadisi
By the time I arrived to the "official closing party", I was gutted to learn I had already missed Ah! Kosmos. Fortunately, I was able to catch Nusaibin who were undoubtedly my revelation of the festival. Instrumentals hailing from the East met modern electronic sounds to bring about the most unique performance of Cappadox. I'm a bit unsure how many people are actually in the band, but they definitely brought on board a wide variety of talented musicians playing various instruments to create a dance-friendly, mixed ambiance that was certainly well-received. I was disappointed to see them go, but Acid Pauli quickly found his groove and kept the party going for several hours after with his sample-laden onslaught of electronic tracks. As far as closers go, he was a winner.
Babylon Turns You On
My biggest challenge with festivals that span a few days, other than trying to avoid breaking the bank, is simply keeping up morale and staying energized for the long haul. Thus, I found Babylon's "club" to be the most honestly titled aspect of the festival. It's an ideal destination for some loud music of different genres, people grooving and mingling, and so forth. Set not too far from Uçhisar Çiftlik Evi, I found myself regularly dropping by for a boost between performances. While with many of the regular performances, it felt appropriate to be a respectable, quiet member of the audience, Babylon Turns You On was much more of a social gathering that permitted everyone to chat and make new friends.
There you have it. Despite some bad vibes from mother nature, it was a wholesomely fun time that I'd recommend to anyone. If you haven't been to Cappadocia, it's an exceptional way to experience the area. So, I suppose see you there in 2018!
To stay in the loop of all things Cappadox, be sure to check out their official site and follow them on Facebook, Twitter and Instagram.
All images courtesy of the organizers and author. Special thanks to Billy for his input.