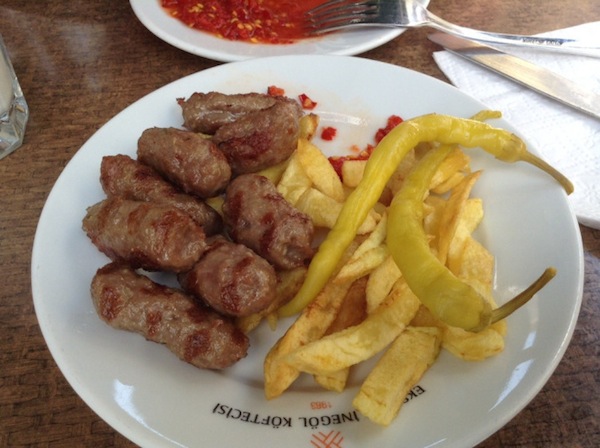 "Where can I find the best köfte in Kadıköy?"
Ekspres İnegöl Köftecisi should be your first and only stop. Centrally located in Kadıköy right next to the Mephisto, it's extremely easy to get to no matter which direction you're coming from. Although it doesn't look like much, you'll find that the cavernous restaurant is almost always packed, especially at lunchtime.
Ekspres İnegöl Köftecisi keeps its fare simple, serving İnegöl meatballs (originating from the town of İnegöl in Bursa), kaşarlı meatballs, soup and a few salads. In my opinion, the piyaz (a salad of beans, onions and parsley) is one of the best around town and is the perfect appetizer to share with a couple  of friends.  A portion of meatballs is generously served with french fries, pickled hot peppers and a tangy red pepper dipping sauce. Not surprisingly the restaurant also offers kemalpaşa (a sponge pastry in syrup), another dish originating from Bursa, on its dessert menu. The prices are very reasonable with a plate of meatballs coming in at 14 TL.
The service at Ekspres İnegöl Köftecisi is quick (I mean, really quick), so don't be surprised if your food comes before you've even finished ordering it. At the counter, the waitstaff prepare the dishes assembly line-style, and since most customers order the İnegöl meatballs, they've got this down to a science. On the other hand, the restaurant can get really busy so you might have to remind the waiter once or twice to bring you that açık ayran you ordered.
Ekspres İnegöl Köftecisi also has a pick-up window right inside the front door so you can grab meatball sandwiches on the go. If you plan to eat in, try to snag one of the few tables located outside, offering prime people watching opportunities.
Address: Muvakkithane Cad. No 13/A, Kadıköy, İstanbul