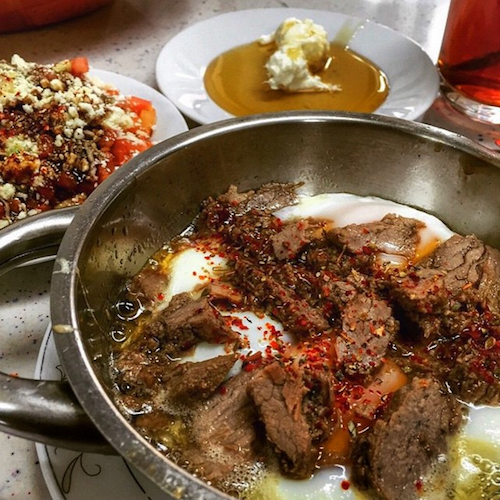 "My friend thinks the only good breakfast spot is Van Kahvaltı Evi. Where can I take him out to brunch to prove him wrong?"
So your friend is yammering on again about the 'life-changing' breakfast at Van Kahvaltı Evi, and flat out refuses to go anywhere else. Let me guess – this obsession persists despite the fact that you've long been priced out of Cihangir and have to take multiple forms of transportation to get there on a Saturday morning. An intervention is needed. The best way to show him that there is life beyond Van otlu peyniri is by taking him to Çakmak Kahvaltı Salonu in Beşiktaş. Their tomatoes, cucumbers and peppers are always super fresh and doused in just the right amount of olive oil, the bal kaymak is divine (and I would argue just as delicious as Pando's was back in the day) and the olives are bursting with flavor. But what makes Çakmak truly shine is the kavurmalı yumurta (eggs and braised lamb meat). The kavurma, which is locally sourced, is so tender and succulent, your friend will be too busy gobbling it up to even get the words 'Van Kahvaltı Evi' out of his mouth.
Address: Akmazçeşme Sok. No: 20/A, Beşiktaş
There are multiple locations of Çakmak in Beşiktaş, but my favorite is the one on Akmazçeşme Sokak.