Istanbul sure does have a lot to offer when it comes to the world of books – there are boutique retailers, hidden stores, retail chain stores, and all those in between. You can find anything from the second-hand book you've had your heart set on for a long time, to a vintage book you never knew you wanted, and of course all of the new bestsellers. But if you're not sure where to go to get your foreign language book fix, I've put together a list of the top 5 bookshops in Istanbul.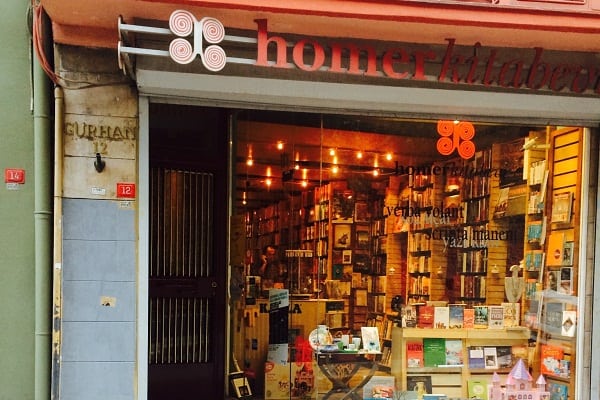 1. Homer Kitabevi (Homer Bookstore)
Homer Bookstore may look small from the outside, but don't be fooled, as it's jam-packed with every kind of book you could ask for. It has been open for nineteen years and sells English novels, reference books (architecture, religion, history, etc.), cookbooks, children's books and travel guides. There is a friendly, welcoming atmosphere, and you will have all of your questions answered by helpful, attentive staff. Homer Bookstore also publishes it's own books, and recently opened a new branch in Ankara. There are two levels, and the downstairs is solely for children's books, where you can find story books and great novels for the kiddos. But sorry yabangees, don't start looking for books in other foreign languages, as they only sell English books.
You can also shop online at www.homerbooks.com
Address:
Yeni Carsi Caddesi, No: 28/A, Galatasaray 34433, Istanbul
Telephone: +90 (212) 249 5902 or +90 (212) 292 4279.
Email: info@homerbooks.com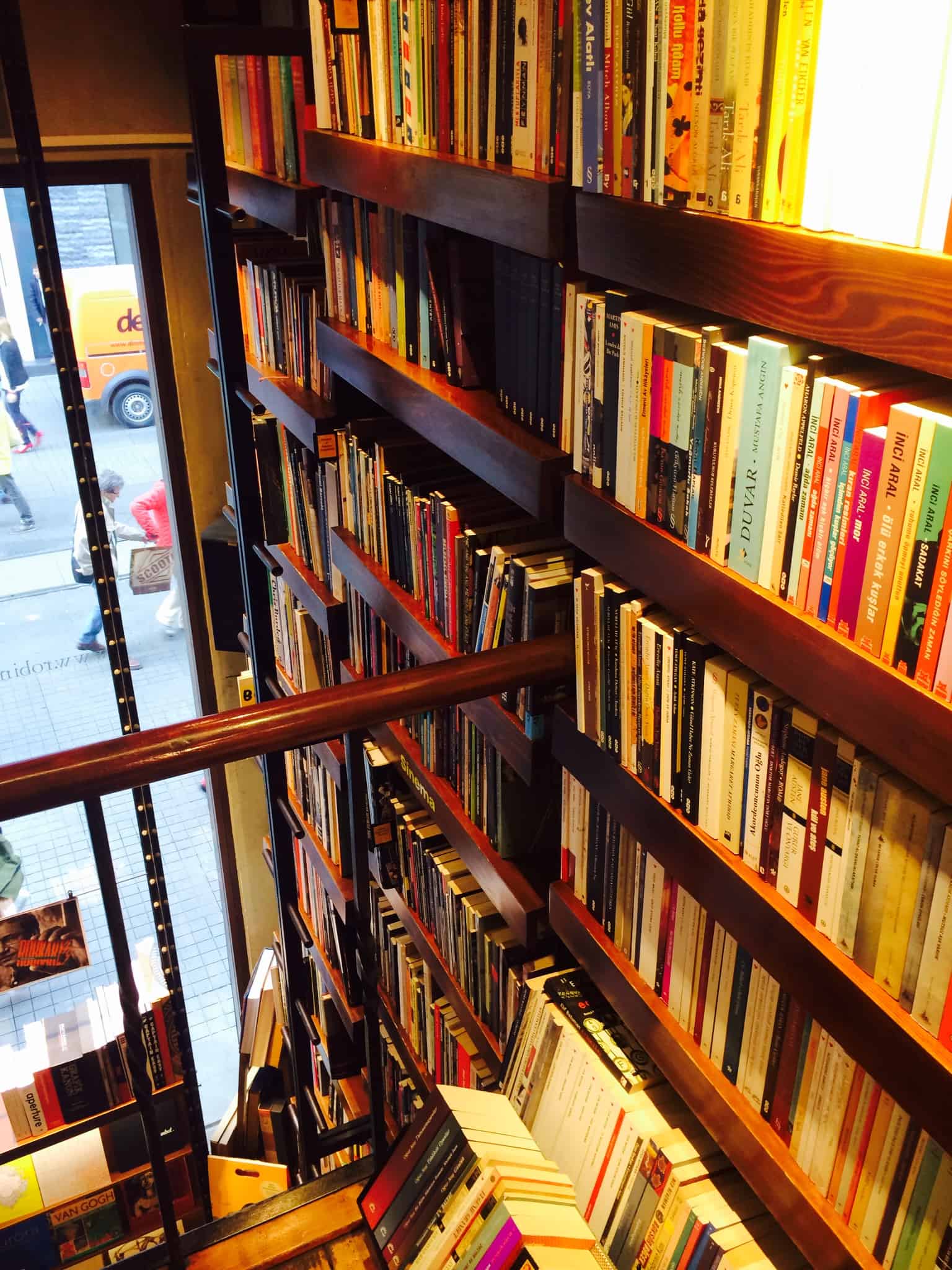 2. Robinson Crusoe 
Walking into Robinson Crusoe is just like walking into a library, with it's sky-high walls filled with books and dark wooden interior to set the mood. The staff are extremely knowledgeable in everything to do with books, and are keen to help you track down that book you've been looking for. There is a wide array of English novels, especially a whole shelf reserved just for English novels in the fantasy genre! You can also find an endless number of magazines (fashion, architecture, The New Yorker, etc.), journals and newspapers. When it comes to reference books, the topics are endless! You can be sure to find whatever you are looking for. The upstairs of Robinson Crusoe houses only Turkish books, while the ground floor has titles in English, Turkish and French. If you want to read a little something or flick through anything before you purchase, you can go upstairs and take a chair with a great view of Istiklal Street.
You can also shop online at www.rob389.com/ and look into purchasing a RobKart to support the bookstore.
Address:
Istiklal Caddesi, No: 389, Beyoglu 34433, Istanbul
Telephone: +90 (212) 293 6968
Email: info@rob389.com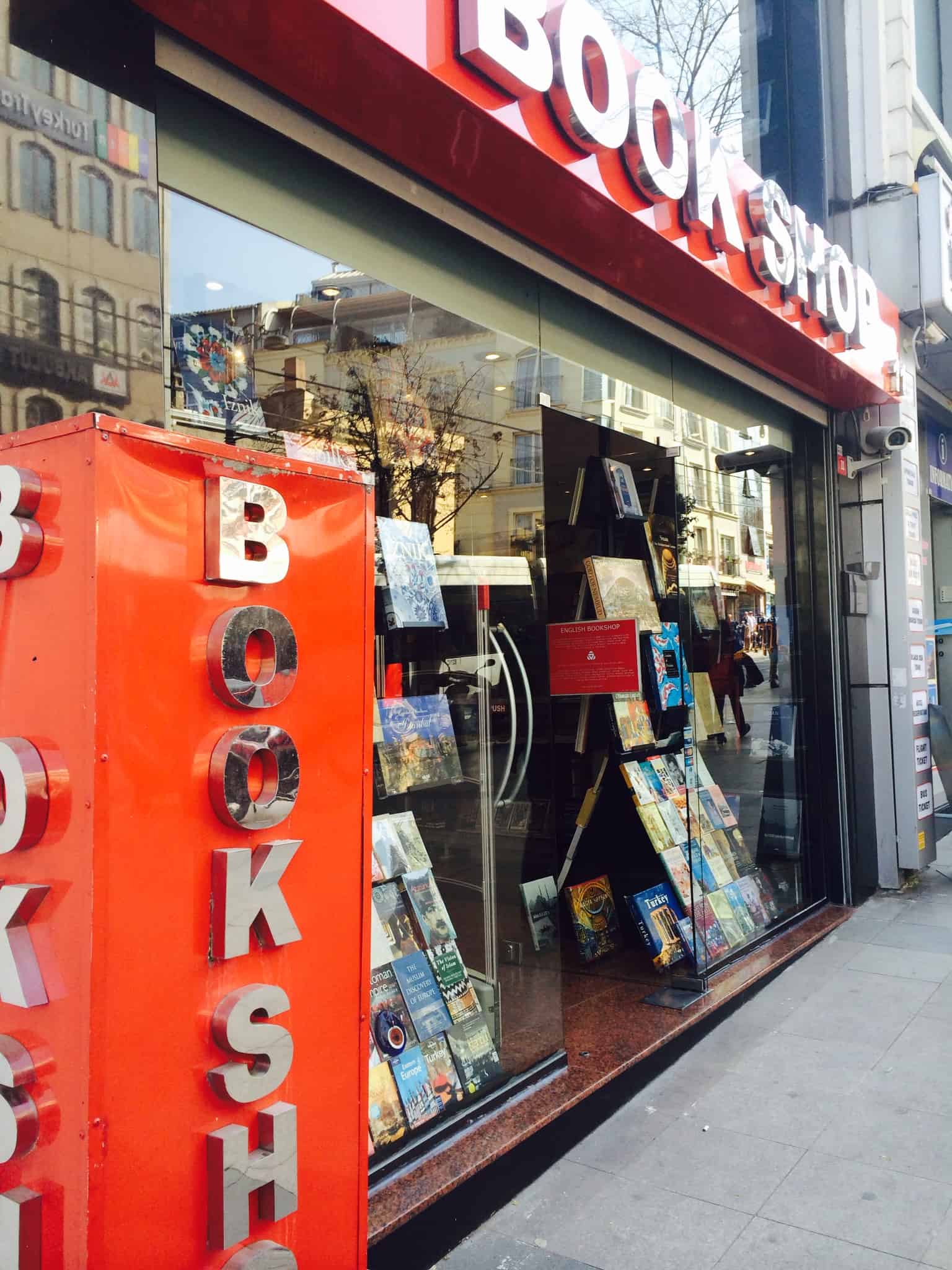 3. Galeri Kayseri English Bookshop
While the signs out front just say a simple "BOOKSHOP", the inside of Galeri Kayseri boasts a wide selection. These twin stores are almost across the street from one another and very close to the Sultanahmet tram stop. At the larger, double storey store (near McDonald's), you are able to take a seat at one of the many tables and browse through the books. The store is filled with English books all about Turkey – you can find great books on Turkish history, religion, arts, cuisine, Ottoman empire, architecture, culture…any topic you can think of! Not limiting themselves to just reference books, Galeri Kayseri also has a large number of novels all about Turkey. The Turkish themed novels of foreign writers like Barbara Nadel and Robert Ryan are available, as are novels written by renowned Turkish writers, such as Orhan Pamuk, Elif Shafak and Ahmet Umit. You can also find guide books and dictionaries in other foreign languages like Spanish, German and French.
You can also shop online at www.galerikayseri.com
Address:
Divan Yolu Caddesi, No: 11, Sultanahmet, 34410, Istanbul
Telephone: +90 (212) 516 3366
Email: galerikayseri@ttnet.net.tr
and
Divan Yolu Caddesi, No: 58, Sultanahmet, 34410, Istanbul
Telephone: +90 (212) 512 0456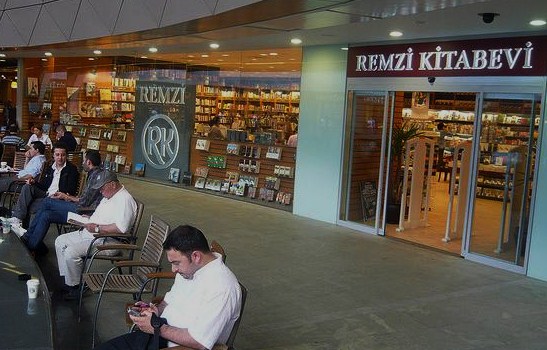 4. Remzi Kitabevi
Good ol' Remzi is always there for us yabangees in our literary time of need. With nine stores located across Istanbul, Remzi is a franchise bookstore that boasts a serious supply of English language books. You can find anything you may need, from novels to children's books, to art and cookery books, and everything in between, including international magazines. What Remzi lacks in library vibe and boutique-y appeal, it makes up for in being organised. Everything is set out properly and super easy to find, whereas in other bookstores, when you ask "Where can I find English books?" you are answered with "Anywhere, everywhere."
You can find Remzi bookstores at Akmerkez, Akbatı, Aqua Florya, İçerenköy, Istinye, Kanyon, Nişantaşı, Suadiye and Zorlu Center.
Check out their website at www.remzi.com.tr/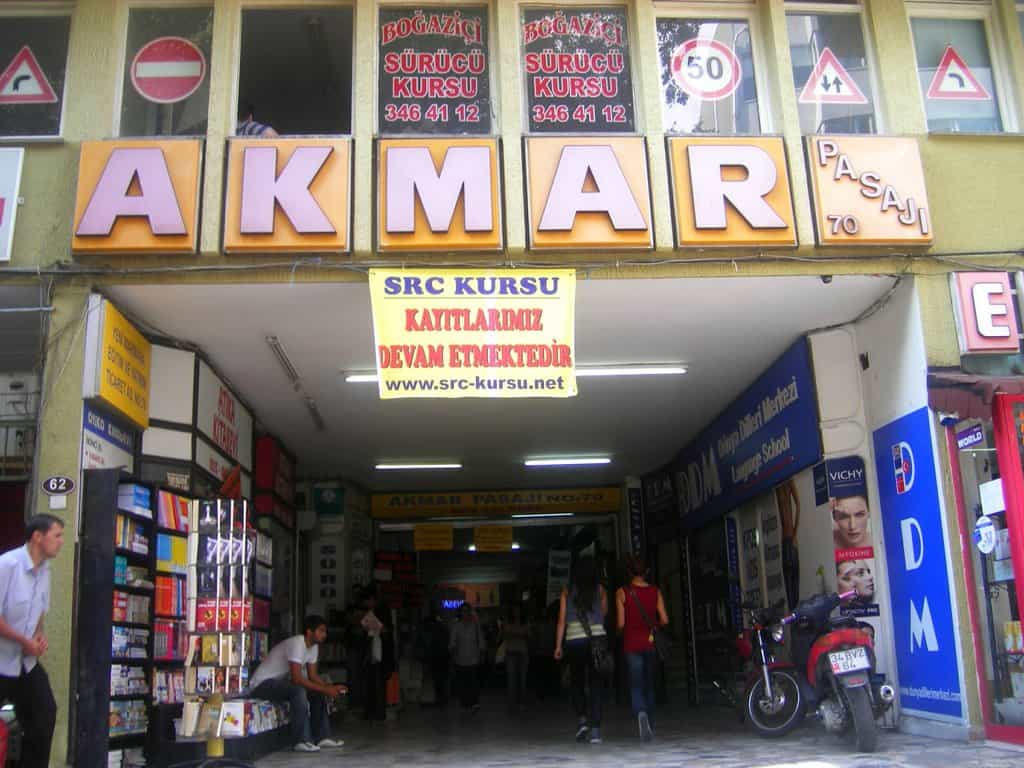 5. Akmar Passage
Akmar Passage is well-known in the Kadıköy area as a haven for students looking for textbooks – whatever textbook you need, they have. But what is less known is the fact that they also sell English novels and English reference books. Akmar has been around for at least fifty years, so it's not the most luxurious or elegant place to be, but it has a lively ambiance and visiting the store can be an invigorating, if chaotic, experience. There are sellers yelling out to grab your attention, so much so that at times you may feel like you are at the Grand Bazaar, but instead of asking if you want some spices or apple tea, they ask if you're looking for English Grammar 101 or Biology 102! The two stores that I found to have a good selection of English books (secondhand and new) were Nice and Ulas. Nice has friendly staff, and they also have French and German books for sale. They have a second branch also located in Kadıköy with antique books that are not English.
*One thing to beware of when visiting Akmar Passage, is that there are some fake, pirated books on sale as well!
Address:
Muhurdar Caddesi, No: 70, Kadikoy 34710, Istanbul
Nice Bookstore
Telephone: +90 (216) 346 3520 shop no:21
Email: nicekitapevi@hotmail.com
Although I've already listed five, I couldn't help myself and had to include one more – especially since it only sells comic books and graphic novels!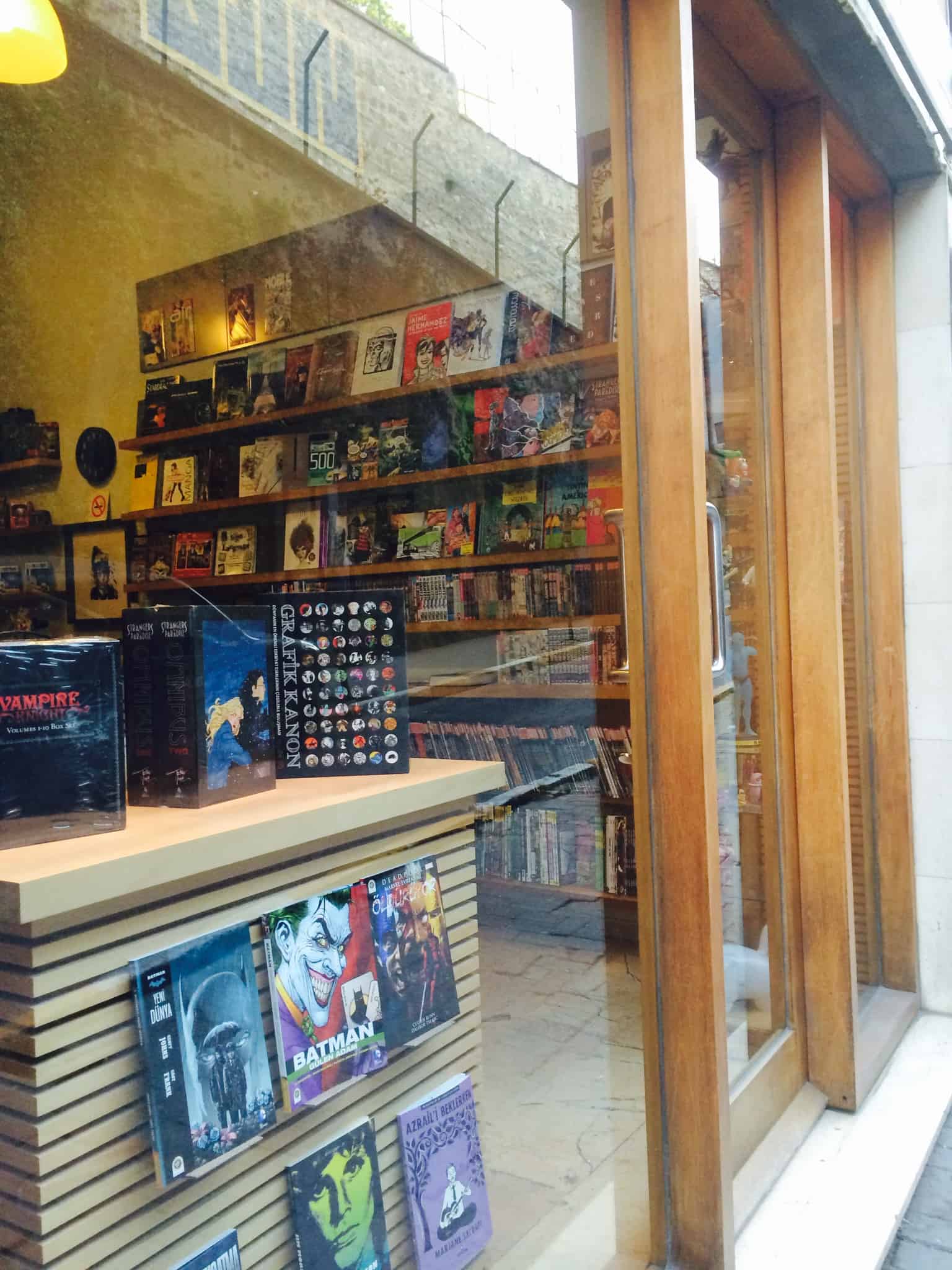 Gon Çizgi Roman Kitabevi (Gon Comic Book Store)
Gon, which is owned by Robinson Crusoe, is somewhere you can literally spend many hours just browsing through and checking out the comics inside. It's just down the road from Homer Bookstore and has friendly, accommodating staff. There is no end to the list of comics on offer, including classics like X-Men, Spiderman, Hulk, Thor and Tintin and many, many more. There are also newer comics such as Japanese Manga. You can find comics and graphic novels in English, Turkish, and even those translated from English into Turkish. Also, it's cool to note that they sell MAD magazine!
Address:
Yeni Carsi Caddesi, No: 34/A, Galatasaray 34433, Istanbul
Telephone: +90 (0212) 245 9820
Email: bilgi@gonkit.com
Whether you are living on the European side or the Asian side, you are never without a decent bookstore nearby, so go grab a book yabangees!
What is your preferred bookstore in the city? Let me know in the comments!
Mira Xavnur Balic is a contributor to Yabangee