I've been in this crazy, lovely city for two years now, and although I cannot claim to know all its secrets, I have in my time here stumbled across the odd golden nugget of a restaurant, bar or cultural venue, either through word of mouth or happenstance. In the spirit of paying it forward, it is with great pleasure that I share these finds with you, dear readers. You may already know some of them (or you may have even been the one to tell me about them, in which case, thanks!) but hopefully you will find something of interest. And in the spirit of sharing, I encourage you to share some of your own 'off the beaten track' discoveries to enrich the Istanbul experience for us all.
EAT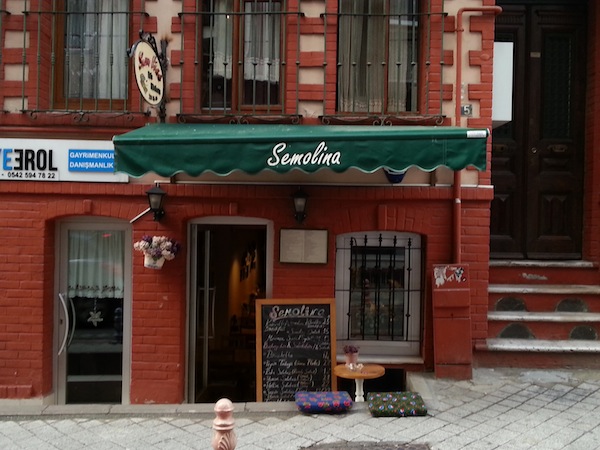 Homemade pasta at Semolina, Kadıköy

With such a proud and distinctive culinary heritage to compete against, it can be tough for international food outlets to gain a foothold in Istanbul. However, for those of us who occasionally crave something different, there are a few gems hidden around the city. This is the first of two mentions for Italian food in this article (yes, I am a big fan): Semolina, cosy as your mum's kitchen, is hidden amongst the multitudes of trendy concept bars and cafes lining the Bar Street area in Kadıköy. Fettuccine is the only kind of pasta on offer, but it is completely homemade, and the menu has a long, mouth-watering list of tomato- and cream-based dishes that will keep tempting you back until you've tried them all.
Address: Semolina Kafe and Restoran, Ressam Şeref Akdik Sok. No: 7/A, Kadıköy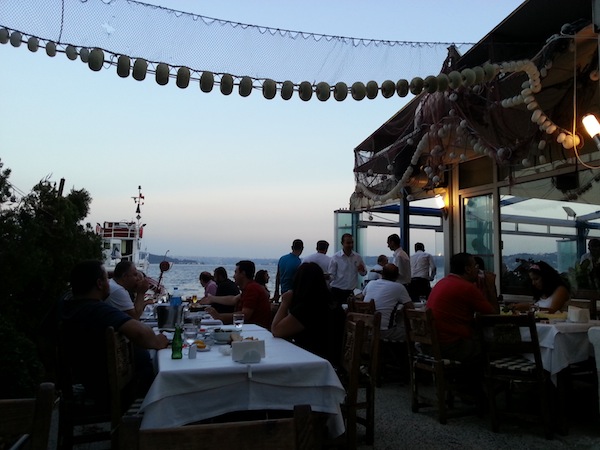 Dining on the water's edge at Limanda, Sarıyer
Fish restaurants are synonymous with Turkey, and in my time here I have been to any number of good, bad and downright ugly establishments. Funnily enough, the first fish restaurant I was taken to – Limanda – remains, hands down, the best for quality, atmosphere and location. Situated in Sarıyer, a hair's breadth away from the water's edge, it is the perfect place for an intimate evening meal. To experience that much sought after sunset-over-the-Bosphorus view from the best vantage point, be sure to reserve a waterside table a few days in advance. The fare is good quality and reasonably priced: a meze course, a fish and a bottle of wine will probably set you back around 200 TL.  Once the dinner deliberations are over, sit back and relax, listen to the sound of water lapping near your feet and watch the sun slowly sink beneath the waves.
Address: Limanda Balık Restaurano, Yeni Mahelle Cad. No: 118/A, Sarıyer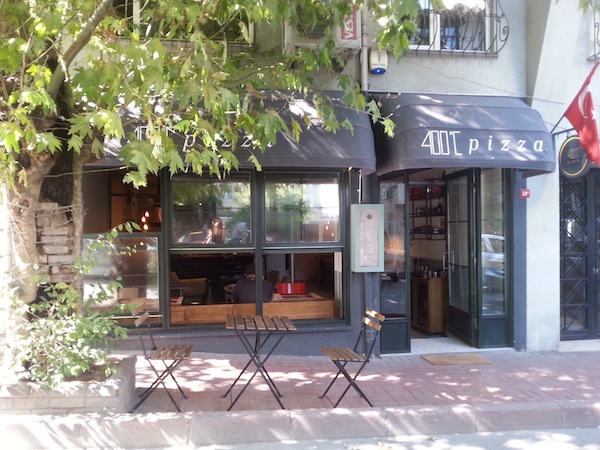 THE best pizza in Istanbul at 400˚C, Teşvikiye
A quiet stroll through this chic neighbourhood will uncover any number of small, sophisticated cafes and high fashion boutiques. It is also home to what I consider to be the best pizza restaurant in Istanbul, 400˚C. Like any good pizza restaurant the menu includes dozens of different toppings to satisfy the most particular of pizza lovers, including all your Italian favourites such as mozzarella, gorgonzola, Napoli salami and prosciutto ham. And the pizza itself is the lightest, crispiest pizza you'll taste outside of Italy. The best thing about this restaurant though is that either due to its neighbourhood location or relative anonymity, 400˚C is never too crowded. Unlike its popular rival Miss Pizza, you won't need to wait ages for a table or make a reservation days in advance.
Address: Avukat Süreyya Ağaoğlu Sok. No: 13, Teşvikiye
DRINK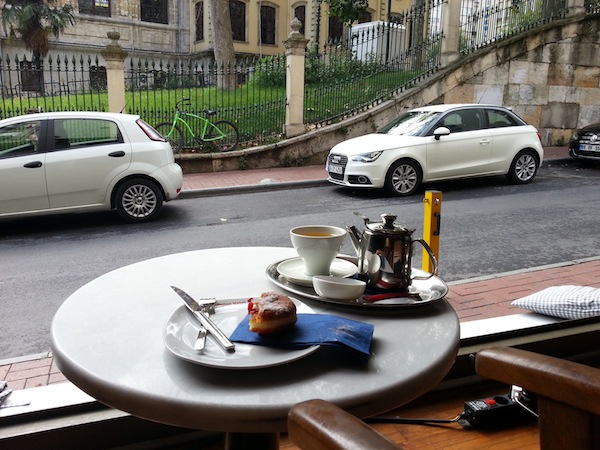 For coffee fiends: the Sunday Café, Teşvikiye
Just up the street from 400˚C is Sunday Café, a veritable haven for anyone who, like me, is a constant café dweller. The artisan coffee and tea menu is pricey; one drink will probably set you back around 10 TL. But if you're willing to pay the price for peace and quiet and a friendly non-intrusive atmosphere, this is the place to come. Relax with some reading matter in a recliner by the windows for fresh air and a view or if, like me, you like to combine your café time with work time, head upstairs where a row of workspaces has been set up just for that purpose, complete with desk lamps.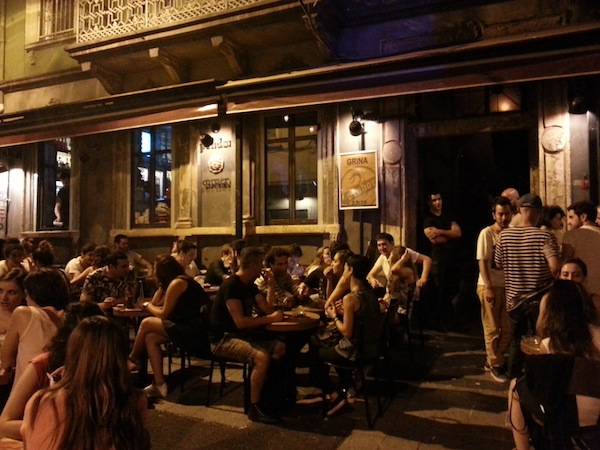 Get down and dirty at Pendor Corner, Beyoğlu

This trendy little inside-outside bar in central Taksim is dirty, extremely crowded on weekends and serves below average beer. Despite these obvious limitations, however, Pendor is a great place to experience city nightlife while also getting a taste of Istanbul's extremely lively and fresh grassroots music scene. Each weekend the bar plays host to a few local bands, which have in the past included the current darling of the indie scene The Young Shaven, the Iggy Pop tribute band Raw Power (infamous for their raucous antics), and the psychedelic rockers Camphor. The action never kicks off until late, but if you arrive early, make sure to grab a beer from the hatch, steal a seat outside, and soak up the atmosphere and the smell of popcorn popping.
Address: Yeşilçam Sk. No: 1, Beyoğlu
DO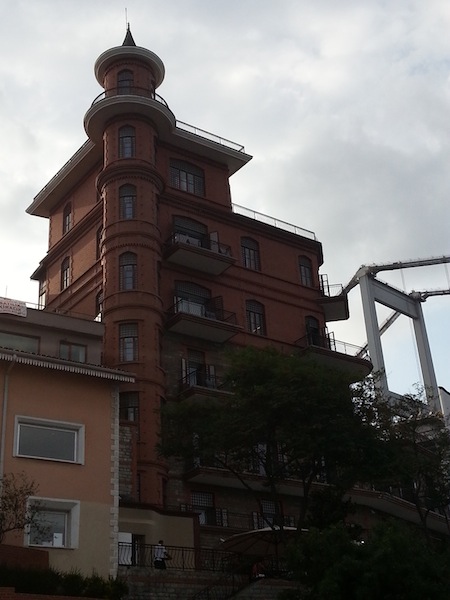 The Haunted Mansion i.e. Borusan Contemporary, Rumeli Hisarı

Borusan Contemporary is where the worlds of art, technology, historical architecture and business collide. It is housed in a building dating back to 1910 that is known as the Perili köşk ("Haunted mansion") for no other reason than that some of its floors sat unoccupied for many years. The building's red brick facade and distinctive turret, set against the backdrop of the second bridge, make it a striking and romantic addition to the surrounding Rumeli Hisarı neighbourhood. The interior of the building, however, could not be more different. Home to the offices of Borusan Holding (the space is only open to the public on the weekends), every floor of this eight-storey mansion is occupied with ultra-modern workspaces that have enviable views of the bridge and the water. In keeping with the interior design, much of the art displayed on the walls is contemporary in nature, and many of the pieces incorporate video and light. There are also two spaces given over entirely to temporary exhibitions. Once you've had your fill of art, you can kick back and take in the view from at the terrace café.
Address: Balta Limanı Hisar Cad. No:5, Rumeli Hisarı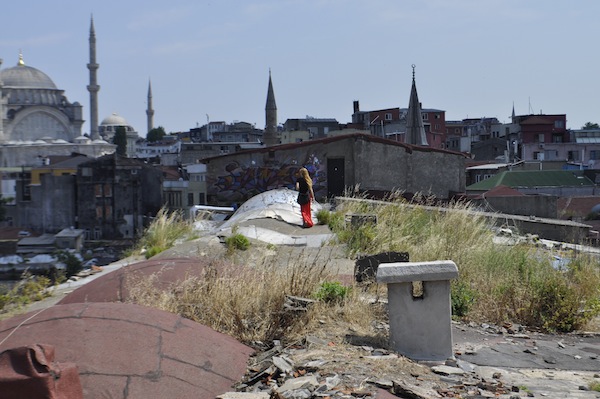 A Roof with a View, Grand Bazaar
Although it's unknown to most tourists, the majority of Istanbul residents will be familiar with this "secret" lookout point atop a han in the vicinity of the Grand Bazaar, so it shouldn't be hard to find someone who can point you in the right direction. The mythology surrounding this sightseeing spot is due to the fact that for every person who knows its location, there will be another who will claim to know a different, more secret alternative, so even when you've been there, you can never really be sure you've been to the real there. And that, of course, is half the fun. So is trying to find the place even with directions, but I wish you luck and offer this guidance: Beginning in Eminönü, wend your way through the maze of market stalls on the very outskirts of the Grand Bazaar and head uphill. Local shopkeepers will be able to furnish you with directions to the Büyük Valide Han. Once inside, hunt around for the old man who is the doorkeeper. Pay him 1-2 TL (or more if you wish) to open the door to the roof and then head on up to get a glimpse of this sprawling metropolis from what is a truly unique spot.
Address: No one really knows, but ask around for the Büyük Valide Han in Eminönü.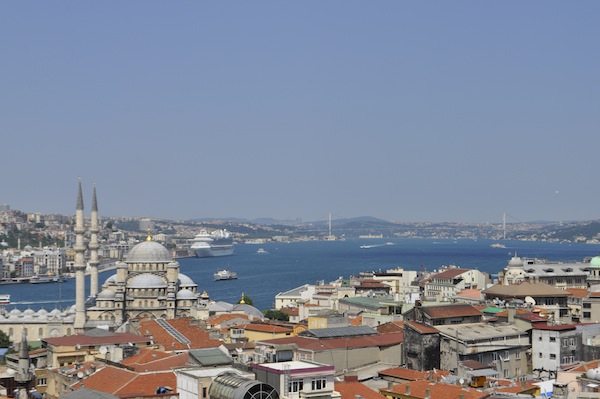 Bike rental (and coffee) at Sedona, Yeniköy
What better way to take in the Ottoman mansions, Bosphorus views and traditional fish restaurants that line the shore around Yeniköy than by bicycle? Sedona Concept, located on Köybaşı Caddesi, is a coffee shop and bike shop all rolled into one. They charge around 10 TL for a one-hour bike rental and also sell and repair bicycles. Some members of staff speak English, which may help if you have a particularly nutty bicycle problem, and they even have their own Facebook page.
Address: Köybaşı Cad. No: 136, Yeniköy
Go on, spill your secret spots in Istanbul! We're all ears. 
Amy Stapleton is a contributor to Yabangee.