As you walk down the streets of Istanbul, the air swirls with color and unfamiliar smells. Occasionally, you stop and peer into shop windows, which often leads to delightful surprises—a cat snoozing in the sun, a handbag on sale, or someone's grandmother hard at work folding drops of meat into tiny pockets of dough. These wonderful creations are called mantı. Creating this dish is a time- and labor-intensive job not for the weak of sight or stamina; women work for hours folding dumplings so small you can fit up to forty of them on a spoon.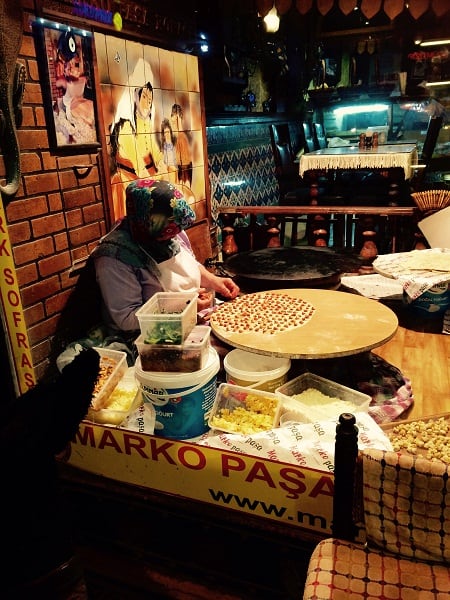 Known to English speakers as Turkish ravioli or Turkish dumplings, mantı are a staple of Turkish and Central Asian cuisine, and each region is proud to add its own style and flavor to the dish. Mantı are typically topped with yogurt (that may or may not be flavored with garlic), tomato sauce, and/or chili oil. It all depends on the tastes of the region and the consumer. Istanbul is a cultural melting pot and hosts variations of mantı from all around Turkey and Central Asia. Restaurant owners proudly dish up mantı from their hometown just like grandma used to make. Given my penchant for dumpling creations, I set out through Istanbul and across Turkey to discover all varieties of mantı.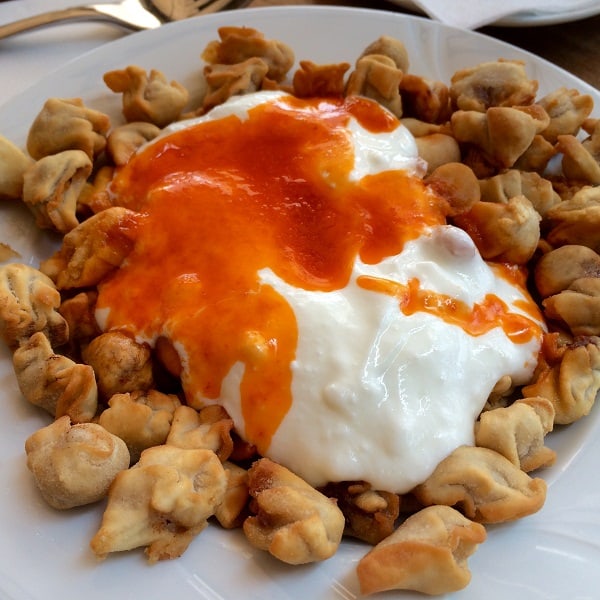 Bodrum mantı
Bodrum's mantı add fuel to the fire: Instead of boiling the dumplings, grandmas from Bodrum fry the dime-sized morsels in oil, creating a crispy (çıtır) outer shell unlike mantı from any other region. Yoghurt sauce is the perfect complement to the otherwise chalky texture of these dumplings. Bodrum Mantı & Café provides vegetarian alternatives as well as the option of mixing styles within your portion.
Bodrum Mantı & Café: Arnavutköy 1, Caddesi No: 111, Arnavutköy/Beşiktaş, İstanbul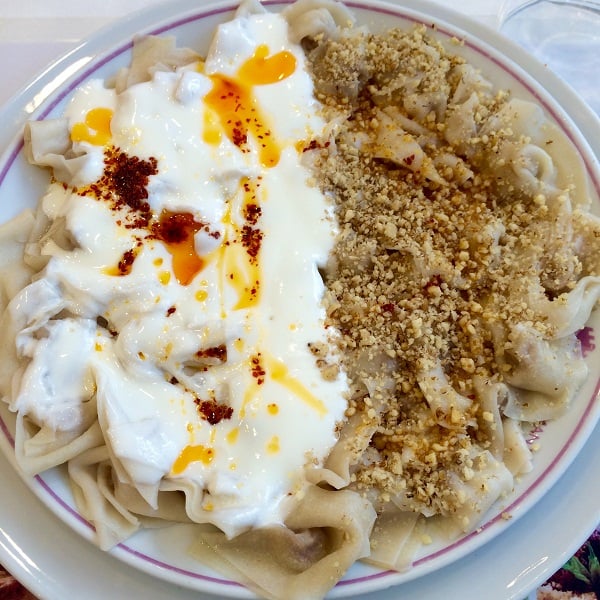 Sinop mantı
Sinop mantı have a more delicate, malleable skin, and are traditionally served with two kinds of sauces: one a garlic yoghurt drizzled with chili oil and the other a dusting of ground walnuts and a dash of olive oil to smooth out the texture. Blend the two sauces, and you may find the walnuts are a perfect, nutty compliment to the tartness of the yoghurt. Watch out! These mantı are prone to slipping off forks. You can sample this dish in its authentic form at Sinop Mantı, a small place tucked away in the heart of Beşiktaş that is reminiscent of the charming Black Sea town.
Sinop Mantı: Sinan Paşa Köprüsü Sokak, Beşiktaş, İstanbul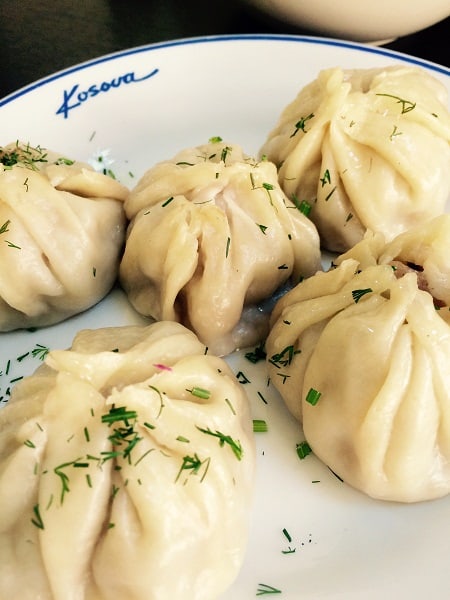 Uyghur mantı
While the Uyghurs of Xinjiang, China are celebrated for their delicious noodle dish laghman, their mantı also deserves a try. These dumplings can be found at Türkistan Uygur Lokantası along with samsa, which are flakey, fried packets of dough filled with lamb, onions and herbs. Upon requesting manta, as they call it, white Ping-Pong-ball-sized dumplings grace the table. Stuffed with onions, ground meat, and oozing with plenty of fat, these little parcels are the perfect starter to any meal.
Türkistan Uygur Lokantası: Abdüllatif Paşa Sokak, Aksaray, İstanbul
Tepsi mantı
Tepsi mantı are left open at the top, giving us a quick glance inside the envelope of dough. They are typically cooked in a large pan, stewed in their own juices, and then topped with yogurt and herbs or tomato sauce. Hailing from Kayseri, these are less commonly served, but are available frozen from various little shops around the city. Ask around your local markets.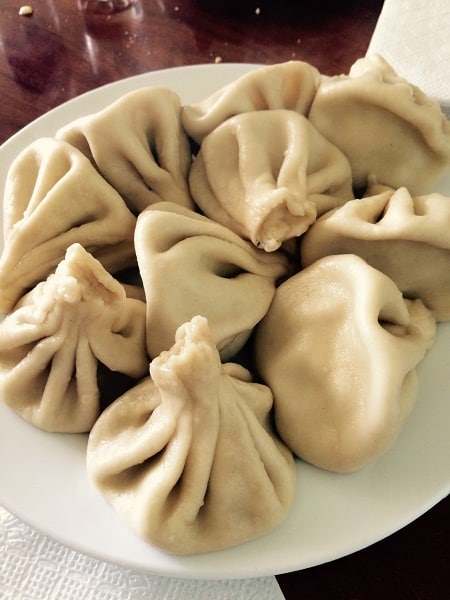 Georgian khinkali
Georgian khinkali are not technically mantı, but they are definitely worth investigating. Larger than any mantı found in Turkey, these dumplings are made of thick Georgian dough and filled with meat, herbs, and plenty of savory juice. They do not call for any sauce. Typical variations across Georgia include khinkali filled with potato, mushrooms, or meat and herbs. At 1 TL a pop, these little pockets of Georgia available at the Emniyet Otogar do not disappoint.
Georgian café: second floor terrace at Emniyet Otogar, Küçük Langa Caddesi, Aksaray, İstanbul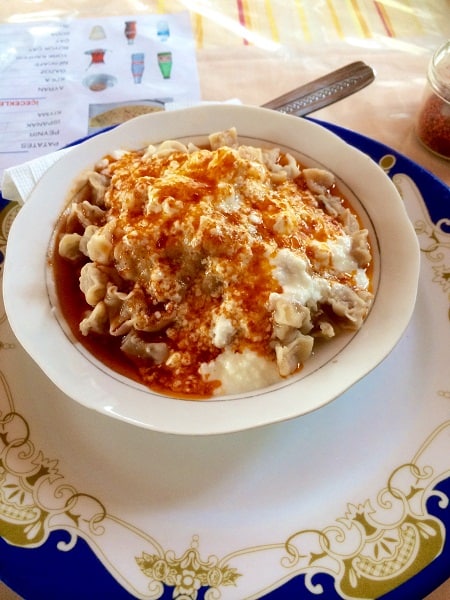 Kayseri mantı
If you want quick-and-easy mantı at home, go into any supermarket and pick up a package of frozen, closed-style Kayseri mantı and give them a quick boil or steam. Intrepid chefs can have fun with adding their own sauces. Pre-prepared servings of Kayseri-style mantı can also be found at Balkan Lokantası locations throughout Istanbul. The dumplings come dressed in yogurt sauce with pepper and a dab of chili oil. Add chili powder to taste.
Along the streets of Istanbul, the roads of Turkey and the plains of Central Asia, one can find an endless variety of dumplings styled to regional tastes and served up with love and perfection by our favorite grandmothers.
Rebecca Askins-Gast is a contributor to Yabangee.