Nestled deep in the back streets of Göztepe lies the Istanbul Toy Museum. The lovely white house is guarded by two giraffes ready to welcome you into a time warp. I've always been fascinated by toys and their history ever since I started collecting Matchstick cars as a five-year-old. Even at that age, when most kids would take them out of their boxes and throw them off the top of the stairs, I would keep mine all wrapped up and look at them for hours, imagining what it would be like to drive them if they were real.
Walking inside the place feels a bit like Santa's grotto. The museum is small and the glass cases light up as you walk past them, making you feel like you're travelling through time back to when the toys were being enjoyed. 10 TL get's you in (7 TL if you're a student) and you receive a little token to put through the turnstile.
Once in, I found myself taken aback by the carefully thought out collection and the themed rooms in which the toys are situated. There are so many toys, and not just from Turkey. They come from all over the world  – toys from Germany, the US, Japan and the UK are all available to see here. Bath toys and old tin toy cars along with German Stieff and Japanese ceramic dolls line the museums walls. It's clear that a lot of thought has gone into getting the right feel within the four walls of the museum.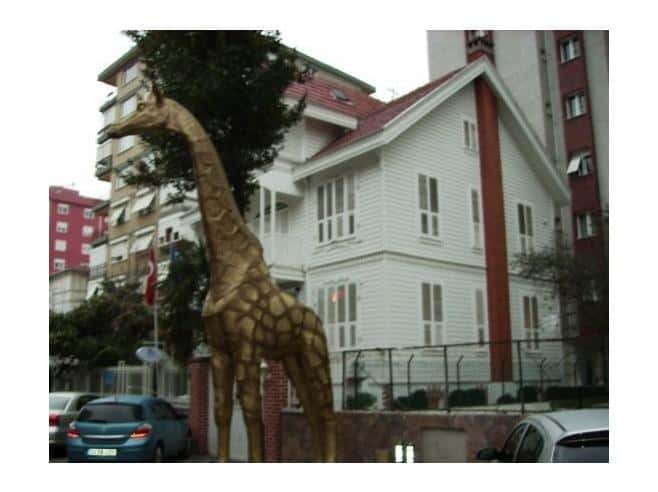 The Istanbul Toy Museum was founded by Sunay Akın, a toy enthusiast as well as being a well-known Turkish novelist and poet. His passion and fascination come through as you wind your way through the narrow rooms seeing tin cars and ceramic dolls from 1950's America as well as the miniature figurines from the UK depicting wild-west scenes and battles from history. Many of the toys come from Akın's own collection and he narrates their history with placards sprinkled throughout the glass cases; it almost feels as if an old friend is guiding you through the museum, sharing only the most interesting facts. Moreover, the small rooms allow you to get up close and personal with these artifacts, so much so that you can almost imagine who played with them and how they treasured these well-made items.
As you wind your way up the museum's narrow staircases, you get to experience a time warp. In one room you can see religious toys from 19th century Germany, handcrafted and beautifully painted. Moving along you have a tribute to the moon landings, with a vast array of toys made to celebrate the historic feat. Spaceman helmets adorn the walls along with intricately made moon capsules, all of which are accompanied by  newspaper articles from the time. The Second World War room was also an eye opener, with toys from Germany and the UK depicting battle scenes. There is even a miniature Nazi rally set-up, complete with a gesturing Hitler.
Once you've wound yourself up and down the museum you can rest in the cafe attached to the museum, which reminded me of an ice-cream parlour. Pink walls and white tables and chairs surround you as you can eat your decorated cupcake and drink your tea in a Disney mug. Also, if the call of nature comes you can wind yourself down to the basement and enter a corridor decorated like a submarine, complete with fish tanks and portholes.
There's something in the toy museum for all age groups. Kids can wander around and look at what toys used to be like, while adults can be reminded of simpler times, and even maybe spot something they used to play with when they were kids. Even though a toy museum may seem frivolous, I was struck by how much history this historic mansion held. Except this history was highly entertaining and brought back happy childhood memories – in short, a perfectly fun and whimsical look at the past.
Admission: Adults 10 TL, Students 7 TL
Visiting Hours:
9:30 am – 6:00 pm (Tues-Fri)
9:30 am – 7:00 pm (Sat-Sun)
Closed Mondays
Sam Leivers is a contributor to Yabangee