Having only laid claim to most of their monikers since the declaration of the Republic, Istanbul's street names often go unnoticed (highly due to poor labelling). Most residents choose to identify their locations via landmarks instead, shouting down the phone, 'Oh it's by that place we ate gözleme that one time with the funny teacups'.
However, the cute and whimsical street names of Istanbul tell many stories, while simultaneously make one feel like they're living between a Orhan Pamuk novel and a children's TV world — we do have Sesame Street (Susam Sokağı), after all.
The names vary: while some avenues drip with history or mythology (Elmadağ Caddesi), others nod to famous poets (Ömer Hayyam Caddesi) and of course some are just plain funny (Buyukparmakkapı Sokağı – that'd be 'Big Finger Door Street'). Here's a small list of some of our favourite streets to walk and signs to ponder.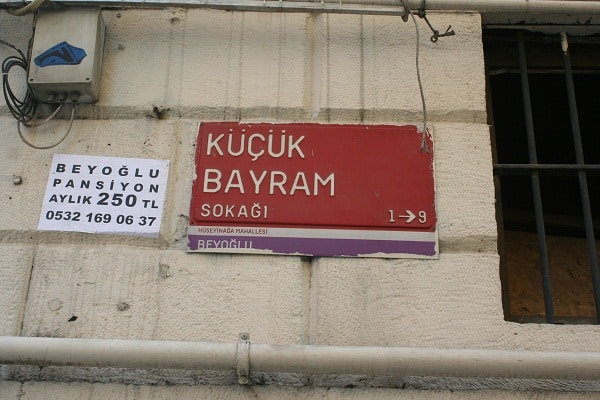 Küçük Bayram Sokağı
You may already know 'Little Holiday Street', but perhaps not for the best reasons. Trailing into Balo Sokağı, Beyoglu's own little holiday district is best known for its, how should we say, nocturnal activities and rather forthright creatures. The brothel-lined little alley offers a place for those seeking comforts, avoiding judgments and longing for a little holiday of their own.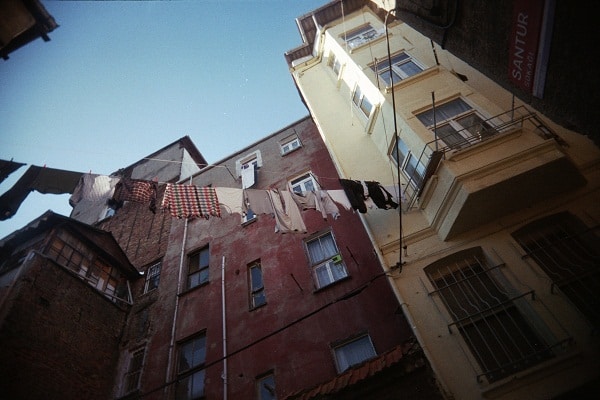 Çatık Kaş Sokağı
Tarlabasi's own 'furrowed brow', Çatık Kaş, which sits just above Ömer Hayyam Caddesi and next to the Boulevard, couldn't be more aptly named. The street winds and wiggles into the sweet Aynalı Çeşme Sokağı and Tepebaşı neighbourhood, and overlooks the ever lively Tarlabaşı with a frown from its leafy, bakery-filled pedestal, questioning the antics and charming chaos of streets beneath it.
Bağdat Caddesi
It's claimed that this street is named 'Baghdad Avenue' because it is part of the original road between Istanbul and — you guessed it — Baghdad. Sources have since proved this to be a rumour and tell us that the street was actually used by the Ottomans for trade and military purposes; its name is a salute to Sultan Murad IV and his recapture of the city in 1638. The road featured many fountains for weary travellers and many of the surrounding towns still hold the 'Çeşme' suffix. Today trade and thirst quenching still serve as the street's main purpose, acting as Istanbul's own shopping mecca, with hundreds of chain stores, boutiques, fashion outlets, and watering holes lining the avenue.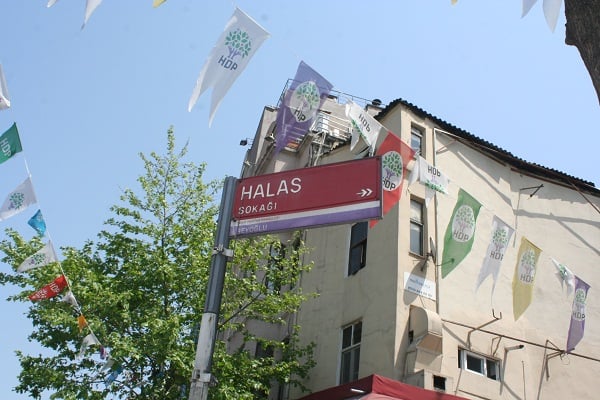 Halas Sokağı
They say all roads lead to Rome. In Beyoğlu, all roads lead to Halas Sokağı ('Salvation Street'). Whether our adventures are in Mis Sokağı, Balo, Mama Shelter or Nevizade, we all somehow find ourselves bleary-eyed and a little disorientated at the dark and kebab-heavy lane. It is here we look up, and think yes, enough, time to get a falafel and go home.
İstiklal Caddesi
Originally 'Grand Rue De Pera' (from Constantinople's reputation as the Paris of the East), the avenue was renamed 'Independence Street' after Turkey's triumph in the 'War of Independence' and declaration of the Republic in 1923. It has since seen many events, triumphs and hardships pass through its 1.4 km stretch. Notable events include its fall from grace in the 1955 anti-Greek riots and its role as the epicentre of political events and protests in recent years with Gezi Park sitting at the top of the Avenue.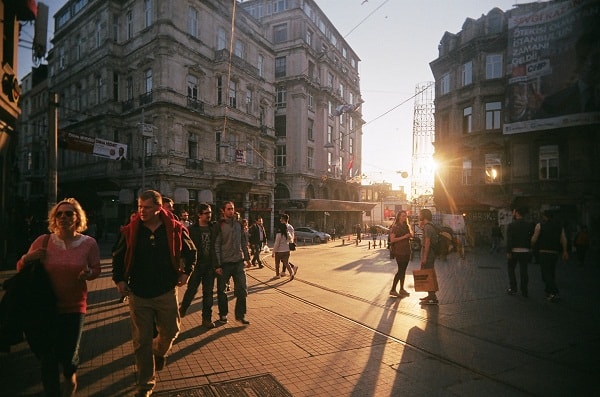 Barbaros Bulvarı
Barbaros Boulevard is named after Ottoman navy captain Hayreddin Barbarossa, whose tomb lies at the bottom of the long, steep boulevard. And Beşiktaş itself, with its lovely waterfront location and Naval Museum (Deniz Müzesi), seems the ideal location to be naming its main street after this nautical badass.
Elmadağ Caddesi
Just behind Taksim Square we have 'Apple Mountain'; leading from one concrete paradise to another, it's hard to imagine the days when apple trees grew on this hill, which is now void of any greenery whatsoever. Surrounding streets are still holding a torch for the borough's former lush and glorious days with Çimen Sokağı (Grass Street) just around the corner.
What are some of your favourite street names in Istanbul? Share in the comments!
Lydia Beardmore is a contributor to Yabangee