Located within quick reach of the historical Chora Museum, Pages, the first Arabic bookstore in Istanbul, marks a historic moment for the city and its bibliophiles. The green façade of the three-story building contrasts beautifully with the multicolored books, paintings and sketches inside. The atmosphere instantly puts you in the mood to read.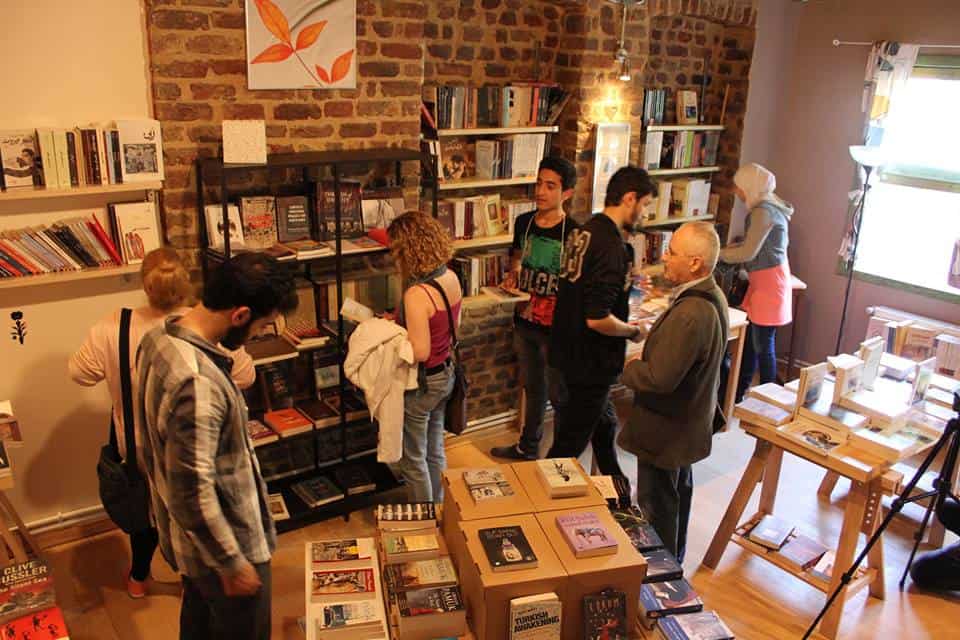 Could you tell us a bit about yourself and how you came up with this brilliant idea?
My name is Samer Al Kadri and I am one of the co-founders of this place. I am a Syrian artist and I have had a publishing house for kids' books since 2005. This idea came after we moved to Istanbul to settle down about one-and-a-half years ago. Before Pages, a lot of my Syrian and Arab friends had always asked me to bring books from book fairs in the Arab world, but that was not a very practical solution. Later on when many Syrians and other Arab people from Libya, Egypt and Iraq started coming to Turkey, I realized that there weren't any Arabic bookstores in the city.
Nowhere in Istanbul you could find Arabic books except the religious Arabic books on Islam. Also, Turkish people did not know anything about us; their only source of information about Arabs and our culture was through these religious books. These are, of course, important and necessary, but we also have a great culture to express and share. The Arab world is full of renowned authors, poets, artists and a lot of talented people in general. This picture was missing in Turkey. People could not see it. Because of this, we thought seriously about opening a bookstore that could be a center for our culture. This is not only a place for selling books; people come here to read for free without paying money. They can also borrow the books in exchange for a small fee. A lot of people go for that option, as well.
It seems that Pages is not only a café, but a project that endeavors to generate a sense of community. Is that your vision?
Yes, exactly. Right now there are a lot of ideological divisions in the Arab world like the one in Syria. Everyone is trying to separate from one other. After the war that was normal. But now its time to start talking to each other again. As you can see, the tensions between secularists and Islamists has reached a new peak. Even within the secularist groups themselves, there are many subdivisions such as leftists and rightists.
Our objective is to bring all of these groups back together so that we can listen to each other. It goes without saying that a society cannot be built without the collective effort of its constituent groups. A single group can never carry out that job alone. Everyone should listen to the other voices and be respectful of different opinions. The bottom line here is democracy, which is the only fair means that can bring either secularists or Islamists to power. Turkey is a good example of this. People here have decided to vote for a different party, and the regime has accepted that.
The underlying goal driving Pages cannot be realized in any other city except Istanbul. I want to convey a different image of Syria to the western world and the media—an image that shows Syrians as something other than starving refugees. There are a variety of positive images we hope to present to the outside world. Syria has a history stretching back to ancient times, but do you ever hear of a Syrian writer, artist, director or even an intellectual these days? The answer is no. People in the West are surprised when they meet me and find that I don't suffer from starvation. I understand that there is a vast number of people suffering and that we should focus on their problems. However, there is another side of the story that has been neglected by the media for a long time. Why do I always have to explain that Syria is not only pro-Assad nor pro-ISIS and that there is another resistance in Syria that disagrees with both sides?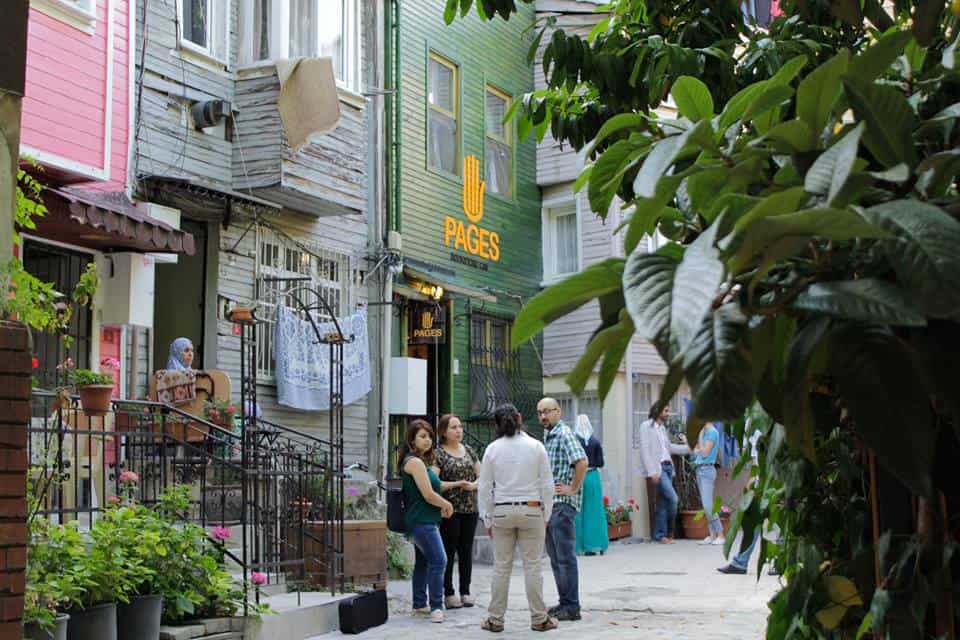 Considering the rapid influx of immigrants, refugees, expat workers and international students to Istanbul, do you think the city has  become truly multicultural?
No, certainly not multicultural. This is the problem with Istanbul.  To clarify, Istanbul is at the crossroads of the world's cultures, yet not in itself a multicultural city. That is the key difference.
If we were to target an international and multilingual readership, then this project would work well in Damascus, not in Istanbul. This is simply because people there are multilingual and can easily speak Arabic, English, French and Spanish. Therefore, I see Istanbul more as multiracial, not multicultural. For example, you cannot find a single Arabic bookstore in a city that has more than three million Arabs. Therefore, opening an Arabic bookstore here is vital for obvious reasons. That's why more than 80 percent of the books here are in Arabic, whereas the other 20 percent are equally divided among Turkish and English books.
Although Istanbul's culture scene and literary landscape are extremely rich, they cater exclusively to the Turkish readership. People here don't read in any other language except Turkish. That makes the cultural landscape self-contained and peculiar to certain preferences. However, that does not make Turkey less cultured. On the contrary, it is a very culturally mature country. The readership rate here is way higher than that of the whole Arab world combined.
We did not want to name the place neither in Arabic nor Turkish, so we chose "Pages" in English, even though we are officially registered as Safahat ("pages" in Arabic). We chose the English name to let the whole world know about us. That was the main idea—to be open to everyone who lives in or visits Istanbul. This alone can give us a better chance to explain our message to the world. At Pages one of our objectives is to make the city truly multicultural.
What are the challenges and opportunities that a city like Istanbul presents when we talk about the multilingual book scene specifically?
If we talk about publishing-related benefits, Istanbul has little to offer. As a publisher who invests money in his business, the only winner is the city; they financially benefit without offering any sort of help in return. However, in terms of general benefits, as I have said earlier, Pages would not have gained its current importance anywhere else except in Istanbul because there is a serious need for Arabic books here. In addition, Istanbul provides an unrestricted environment, on both the governmental and the social level, which helps us to do away with many bureaucratic hindrances. In Damascus, it would be the total opposite case; we would have to go through endless procedures to get a simple permit. This is the main difference between pre-war Damascus and Istanbul.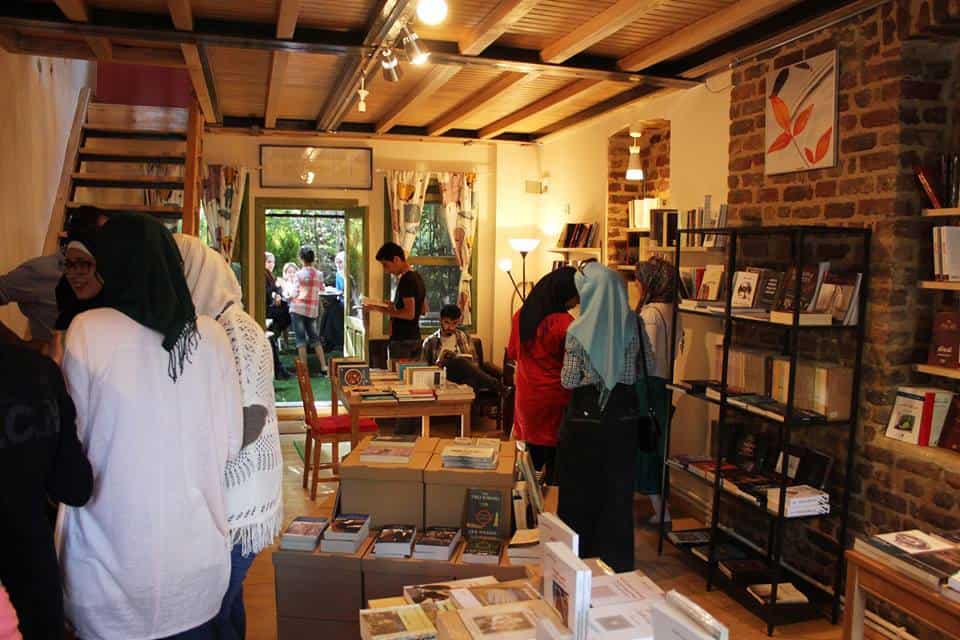 What are the sort of community activities that your team are working on at the moment?
In general, the focus here is on workshops, art exhibitions, movies screenings and book-singings for Turkish and Arab authors. For instance, we currently plan to invite Egyptian authors for book-signing events and organizing art exhibitions. Every month we host two artists, and we will even try to invite writers and artists from different countries in the future. We also have a cinema, where we screen  films for kids and young people about contemporary issues like mobile phones and so on.
We also consider Turks to be part of our audience. One of Page's goals is to connect Syrians Turks as well as other Arabs. For instance, we have a different band from a different country perform every week. We're planning to invite Syrian and Turkish musicians to jam together and create culturally blended music. And at that point, it won't matter much if they cannot communicate through language because they will develop an alternative way of communicating through music. For instance, a group of Turkish musicians were here while a Syrian trio played. They were impressed by their music and offered to collaborate with them. This is exactly what we aim to achieve.
In addition, we plan to regularly organize workshops for youth on a variety of themes like journalism, for example. We are going to invite an international journalist to educate those who are interested on the basics of journalism. We won't dictate the content of the workshop in anyway. Our job will not go beyond providing the place and the necessary materials. These events will definitely be free of charge.
To wrap up, would you like to say a few words to our readers inside and outside Istanbul who might be paying you a visit soon?
The message that we want to convey is that Pages is the first Arabic bookstore in Istanbul, yet we consider it home to everybody. We'd like to tell everyone, "At Pages you can make yourself at home." As such, you are welcome to visit anytime you want, do whatever you please, and suggest new ideas that can better the place. I call on people to come, sit together, talk, and get to know each other better. This is our goal.
Pages / Facebook / info@pagesbookstorecafe.com / +90 507 031 1857
7 Days a Week / 11:00 – 23:00
Featured Image Source – Samer Al Kadri
Bina No.5, Kariye Cikmazi, Ayvansaray Mahallesi – Fatih 34087