Beer, one of the oldest alcoholic beverages known to mankind, can be very nutritional when consumed in moderation, and therefore has the well-earned name "liquid-bread." In Turkey it competes with wine and rakı, often having the upper hand because it's cheaper. But it is fair to say that the history of beer in Turkey doesn't extend too far back in time. When beer was first introduced to these lands, the Ottoman Empire had entered its last century, and breweries were initially limited to Istanbul and Izmir.
The first factory was established by two Swedish brothers—the Bomonti brothers—in 1890. The factory was such a milestone that the whole neighborhood was named after it too. The brothers also came up with another unique idea: beer gardens where people could drink comfortably out in the open. These gardens extended through the Marmara gulf down to Eskişehir. Their beer was an instant success, with its stylish bottles, unique taste and low alcohol content.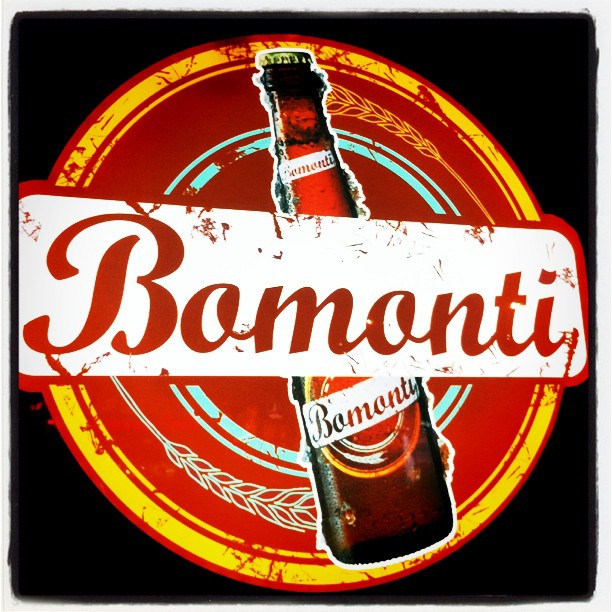 Bomonti had no rivals up till 1909, when the second beer business, Nektar, built a factory in Büyükdere. This rivalry ended up with both companies losing money, so in 1912 they decided to join the brands together and rebranded themselves as "Bomonti-Nektar." In Izmir they even opened a rakı factory and business went well for quite some time.
However with the declaration of the republic, a new problem emerged: the liquor monopoly. With the new nationalization movement, most companies that foreigners owned were given to the locals. The new government promised the Swedish brothers that they could carry on with their business until 1938. However, this promise wasn't carried out, and the business was taken away from them in 1928 and put up for auction. The auction was unsuccessful, so the company was given to the liquor monopoly, İçki Tekeli Türk AŞ. With this new turn of events, people started to call it "Turkish Beer".
The first Bomonti factory that carried out its business as "Monopoly Beer" was neglected and later emptied out in 1991. Instead, private factories were built in Izmir in 1967 and in Istanbul in 1969. Today, however, Bomonti is once again in high demand, reclaiming its name as the first beer in Turkey.
The Doğuş Grup and Şişli Belediyesi began renovating the empty factory building in 2010. The building, still keeping its breathtaking architectural traits, has been repurposed as a culture and arts center by architect Han Tümertekin and is part of a complex also featuring a hotel and convention center. The factory's first exhibition will feature the work of the celebrated Turkish photographer Ziya Tacir.
Information about events at the factory can be found here.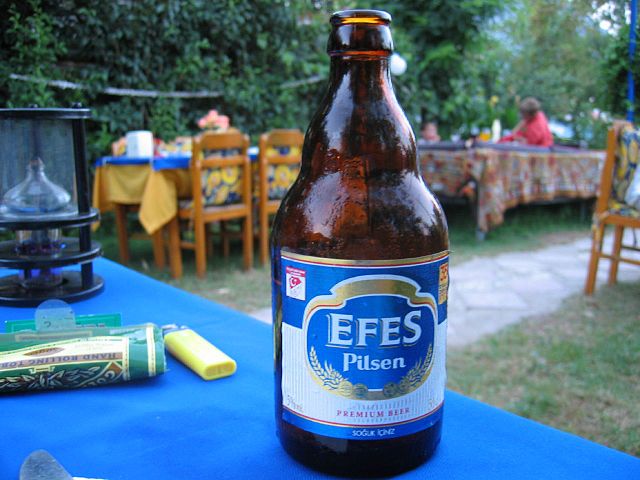 Of course Turkey isn't limited to Bomonti when it comes to local beer nowadays. Here's a rundown of what you might find at the liquor shop down the street:
Efes Pilsen is one of the oldest and most beloved beers of Turkey. It is a pilsener beer with a bright yellow color. It has a rather sweet and citric taste to it due to the added sugar. This beer, however, has been Turkey's national beer and it has been praised by countless Turks, Greeks and even Germans. It's a must-try; chances are you've already had a glass. It's avaliable in 33cl/50cl glass bottles and cans with a vol of 4.8/5.0%.
Efes Fıçı is a variation of Efes Pilsen without additives and added sugar. It comes in 33cl/50cl bottles and 50cl cans.
Efes Malt is another product of Efes. Don't be mistaken by its name and think this is a low alcoholic beer—it's just as strong as its brother. This beer is made from %100 malted barley and has a somewhat mellow but stronger taste. It also comes in 33cl and 50cl (and the occasional 25cl) bottles and 50cl cans with a vol of 5.0%. (This beer can also be found for cheaper in select tekels and shops.)
Efes Dark is a Dark Lager class beer and it's easily noticeable thanks to its fancy crimson-black label with a roaring tiger on it. It is a rich and really aromatic beer with a caramelized burnt taste. You definitely need to try it. It only comes in 33cl bottles with a vol of 6.1%.
Efes Dark Brown is a beer that has artificially added coffee aroma—I really do not recommend it because of its sour aftertaste and rather weird aroma. This is only one for the curious…. It only comes in 33cl bottles with a vol of 6.1%.
Efes Light is the low alcoholic version of Efes Pilsen with an almost identical taste and a much easier drinking experience. Also low on calories too! It comes in 33cl bottles and cans.
Efes Extra (or Xtra) is the big brother of the family with its strong, deep and somewhat fruity taste. It contains much more alcohol thanks to the added vodka and its obviously not meant for sensitive stomachs. It comes in 33cl bottles and 50cl cans with a vol of 7.8% and the 27cl shot version has a vol of 9.0%.
Bomonti is the oldest brand of Turkish beer, first brewed in 1890. Bomonti made it's return to the market in recent years after Efes claimed the name rights to it. Bomonti beer is 100% malt and contains no sugar. It has a much softer and more favorable taste than Efes Malt. It has become really popular in Istanbul bars since 2013. It comes in 33cl and 50cl bottles and cans with a vol of 4.8%.
Bomonti Unfiltered is a newer Bomonti product. It has a distinct, hazy bottle, which helps distinguish it from normal Bomonti. It's an unfiltered pilsener with a robust and deep grain flavor. The trick is to not drink this one from the bottle. You have to pour half into your glass, slowly shake the bottle a bit and then pour the rest—trust me, it tastes the best this way! It only comes in 50cl bottles with a vol of 5%.
Marmara is also one of the most beloved Turkish beers, despite a recent decrease in popularity. It is favored by many for its cheap price. Not much can be said about this one unfortunately… it's a cheap beer in a 1l bottle. Comes in 50cl and 1l bottles with a vol of 5%. Also has a high alcohol variation which only comes in 50cl bottles with a vol of 8%.
Gara Guzu is a rather new beer from a small brewery from Muğla. It has two variations, Blonde Ale and Amber Ale. They don't differ much from a normal European Ale, but they clearly retain a Turkish scent and flavor to them. Unfortunately, it's a bit hard to come across these little guys. They only come in 33cl bottles with vols of 4.8% and 5% respectively.
Although Tuborg is a foreign brand, it's currently also manufactured in Turkey. Tuborg is a malt beer you may already be familiar with, but rumor has it that the Turkish version tastes slightly different. It's up to your tongue to agree or disagree. You can find both Tuborg Gold and Tuborg Special in Turkey. Bear in mind that several tekels that sell Efes products don't sell Tuborg products.
Silahşör Caddesi Şişli, Merkez, İstanbul, Türkiye
Featured Image Source – Lucka 3 – Mmm, öl… by kaktuslampa (CC 2.0)
This article was written with the contribution of Gökay Atabek.