I remember walking down the large avenues and neatly perpendicular streets of Washington, D.C. not too long ago, longing for old buildings and crooked city streets. While Istanbul has plenty of both, I was after something slightly more off the beaten path.
All my wishes came true when we landed in Kars – a sleepy province in Turkey's northeastern corner – located only a hop, skip and a short jump away from the ancient city of Ani and the Armenian border. Kars has earned newfound fame as the backdrop of Orhan Pamuk's chilling and claustrophobic novel, Snow. However, located some 6,000 feet above sea level, Kars – at least in the summer – is far from claustrophobic.
Vast plains dotted with patches of purple, red and yellow flowers stretch as far as the eye can see underneath a massive blue sky. An occasional puffy white cloud – the kind that appears in Miyazaki movies – anchors the sky to earth, while relieving us earthlings from the scorching midday sun. Sheep appear in clusters along the way, scattered in herds of different sizes, as if in a competition to become the reflections of faraway clouds. (The sheep population, by the way, likely exceeds Kars's 100,000 inhabitants, as the primary source of income here comes from animal husbandry.)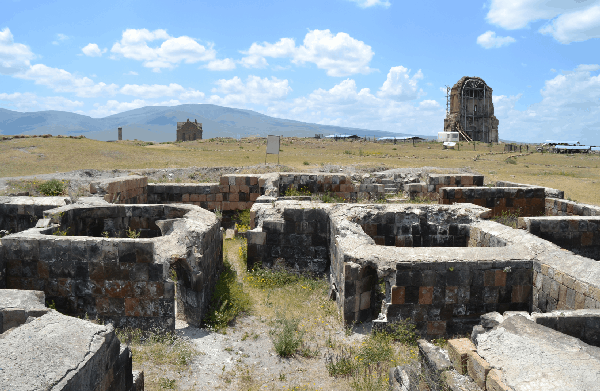 The whole mood changes when we take a turn off the main road and are soon greeted by a dominating stonewall that punctures the otherwise barren landscape. An ancient wind picks up as we exit our vehicle, welcoming us to Ani. From now on, we proceed on foot.
Scattered over nearly 4 acres of land, Ani reveals itself in increments once the 2.5-mile long city walls are breached. As each ruin appears behind a hill or down in a valley, the reddish-brown hue of the ancient structures' timeless volcanic basalt stones stand in perfect harmony with Ani's red dirt paths and golden grass.
In its current state of quiet and abandonment, it is rather difficult to imagine a bustling city once stood here. Mentioned in 5th century AD chronicles, Ani was a part of the 9th century Kingdom of Bagratid, and later served as its capital. Ani fell to the Byzantine Empire in 1045, by then a major town with possibly 100,000 residents (not unlike Kars today). Ani, also known as the 'city of a thousand and one churches,' was later captured by the Seljuk army in 1064, providing context for the 11th century mosque that can be found on the grounds today.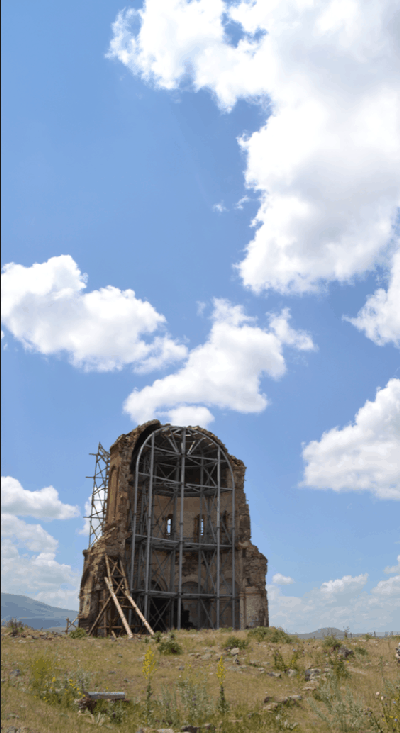 Touring the vast spaces, hopping from one ancient church to another under the watchful eyes of Armenian guards standing just beyond the Arpacayi river that marks the Turkish-Armenian border is both thrilling and humbling. Ancient ghosts hidden in changing winds sing lonesome tunes, while un-plucked geven plants – high-calorie wildlings that are used in heating homes during harsh winters throughout eastern Turkey – add splashes of purple onto an otherwise tri-chromatic canvass.
With only the ancient churches and a lonely Armenian watchtower in sight, Ani is cloaked in a silent, eerie blanket. It feels lonely, haunted, haunting. The precision of the stonemasonry is the only reminder of man's existence here. Everything else feels like miniature dots on a carefully constructed Georges Seurat painting.
The Cathedral, the largest remaining structure, is a massive stone building that was erected in 1001. Its reddish façade with the Armenian script carefully carved onto the malleable basalt displays a heightened level of meticulousness, while its pointed arches resemble Gothic architecture long before the term was even coined.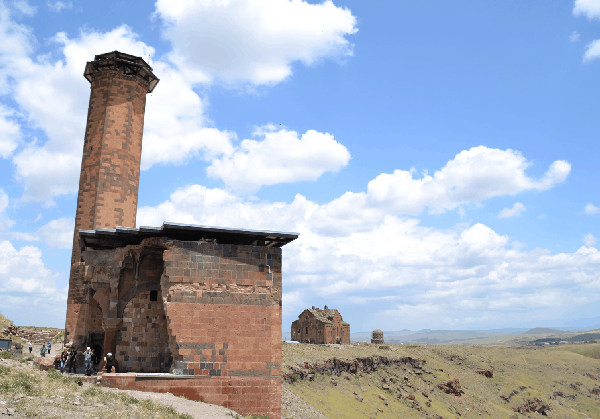 Of all the buildings that stand the test of time, wars and storms, however, the Church of the Redeemer may be the most touching. Architecturally, it stands in stark contrast to the box-like Cathedral. Completed in 1035, only 34 years after the Cathedral, the church is a compact structure with 19 sides on the outside that correspond to 8 apses, which altogether once supported a perfect dome. A menacing storm in 1955 ravaged through half of the church, leaving its interior fully exposed to outside elements. Today, an aluminum scaffolding is placed within what is left of the Church of the Redeemer to protect it against further damage.
Many other buildings remain on this vast site in perfect harmony with the nature, including a marketplace – which resembles the small consecutive shops along the main road that leads to the Library of Celsus in Ephesus – and the Seljuk mosque that shares nothing in common with the traditional mosque design that was initially inspired by the domed Hagia Sophia.
Together, layers of history and buildings of different faiths stand frozen in time in this boundless geography, unfazed by conflicts both of the near and the distant past.
Zeynep Güven is a contributor to Yabangee and also blogs at medium.com/@zeynepguven. You can find her on Twitter: @zeynoshi.