Alt Art Space will host Basel Abbas and Ruanne Abou-Rahme's "And yet my mask is powerful" from Wednesday 15 February through Sunday 16 April.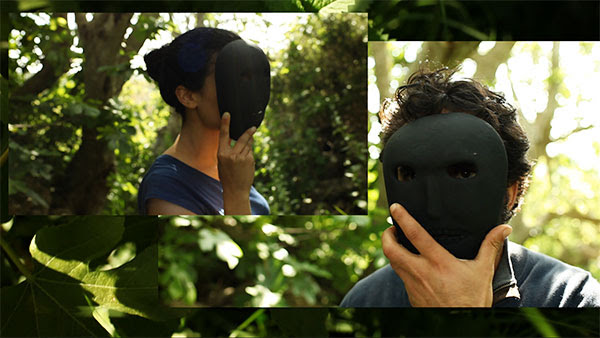 From the organizer:
Alt Art Space presents Basel Abbas and Ruanne Abou-Rahme's most recent installation, And yet my mask is powerful, 2016, which addresses the relationship between mythology, ecology and the resistance to colonial time, imagining new possible incomplete narratives.
Along with other young people, Basel Abbas and Ruanne Abou-Rahme visited ruins of Palestinian villages, now overgrown with indigenous plants, nature reclaiming these spaces. The overgrowth, earth, plants, stones, find a way to survive and become a quiet resistance to this contested space. And yet my mask is powerful consists of two parts. Part one is a five-channel immersive video installation, with sound, and strange small objects that can be used to build or destroy a place. The content of the video is a visceral journey to the wrecks of former Palestinian towns and villages, transference of the experience of re-visiting the wrecks. The images are overlaid with a text sampled from Adrienne Rich's poem Diving into the Wreck, 1971, written from the perspective of a diver descending into the remains of a sunken ship. In the poem the diver moves towards "the wreck and not the story of the wreck / the thing itself and not the myth." With these rich metaphors, And yet my mask is powerful "confronts the apocalyptic imaginary and violence that dominate our contemporary moment, an apocalyptic vision that seems to clog up even the pores in our bodies.
Part two of And yet my mask is powerful, across two halls, is made up of a new sound work and an expanded collection of materials. The sound is conceived as a conversation between the artists about their trips to these ruins, "which are still alive, almost possessed despite a colonial logic. Over time, these sites are transforming, revealing a relationship between colonialism and the domination of nature/ecology/landscape, which resists this domination. The materials include images, books, diagrams, found objects, dried plants, rocks, and 3D printed mask-sculptures. The masks circle back to the diving-mask in the poem, becoming a symbol of empowerment, protection with mythical-power. "Neolithic masks found in the West Bank and stored in private collections are hacked and 3D-printed," the artist duo write about the masks featured in their work, and add: "Copies circulate in Palestine, eerily akin to a black ski mask. A group of youth wears them at the site of a destroyed Palestinian village in Israel. For them this intervention all comes down to an experiment in "[b]ecoming other, becoming anonymous, in this accidental moment of ritual and myth.
First the air is blue and then
It is bluer and then green and then
black I am blacking out and yet
my mask is powerful
It pumps my blood with power
Special thanks to Vehbi Koç Foundation Contemporary Art Collection, from whom And yet my mask is powerful is on loan to Alt.
—
For more information, check out the official exhibition page.
Tuesday – Saturday: 13:00 – 21:00 // Sunday: 11:00 – 19:00
mari@altbomonti.org
gokcan@altbomonti.org
+90 541 468 02 14 / +90 505 705 4045
Featured image courtesy Carroll/Fletcher London and the artists. (source: press release)
Tarihi Bomonti Bira Fabrikası – Birahane Sokak No: 1 – Bomonti 34381