İstiklal Caddesi is home to many eateries, stores and coffee shops. Although chains such as Shake Shack have been cropping up, the promenade manages to retain much of its historical feel. İstiklal Caddesi is lined with several passages (pasaj in Turkish), which offer glimpses into the history of Beyoğlu. These corridors between different buildings on İstiklal were used as historical arcades, theaters and bazaars. In a more modern context, they serve several purposes selling everything from movies to food to tattoos.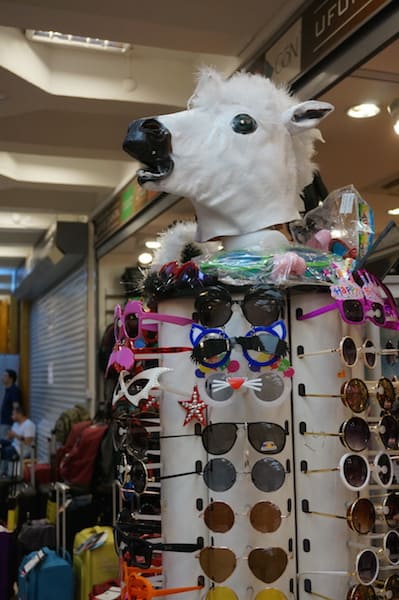 Their small entrances are marked with signs, which are easy to miss if you're not looking for them. Roughly a 10-minute walk from Taksim square, Halep Pasajı and Atlas Pasajı face each other and both are home to cinemas and theaters. Both are interesting to visit if you are looking for little trinkets—everything from posters to dreamcatchers. They are also good places to visit if you're looking for tattoos, piercings or jewelry. Halep Pasajı, also known as Beyoğlu Pasajı, is also home to a costume shop, where you can find anything from sunglasses to a horse-head mask.
The feel of the passages becomes more traditional as you approach the end of İstiklal towards Şişhane. By far the most impressive and famous of the old arcades is Çiçek Pasajı (Flower Passage), which welcomes you with ornate stained glass over the entrance. The soaring, elaborately decorated ceiling is awe-inspiring. If you have made the trip to Taksim and are in the mood to splurge, there is perhaps no better place to enjoy some lunch. Unlike other passages that are lined with shops, Çiçek Pasaj, originally known as Cité de Péra, is home to several restaurants, cafés and wine bars. It is said this space was originally occupied by the renowned Naum Theatre, which was severely damaged in a fire in 1870. After reconstruction in the 1940s the passage was filled with flower shops, hence the name "Çiçek Pasajı."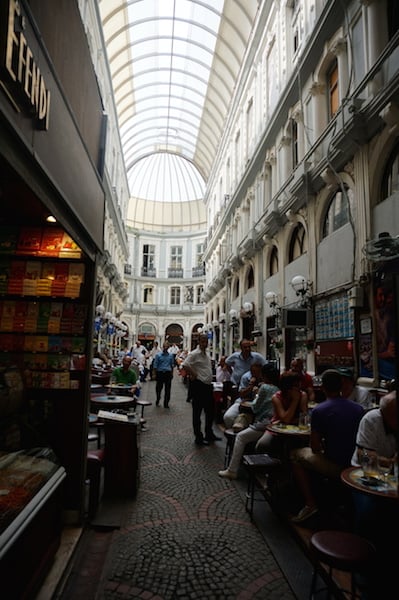 Suriye Pasajı, located closer to the end of İstiklal Caddesi, is lined with large, round lights that light up an otherwise quiet and dark passage. Looking up, you find small balconies connecting the two buildings and to complete the old-world feel. There is a fur shop towards the end. Suriye Pasajı is a great place to quietly enjoy some tea or coffee with two resident cats to keep you company.
If you prefer your tea or coffee in the open air, trace back your steps back to Hazzo Pulo Pasajı. From the outside, it seems like a regular passage with jewelry and trinket stores; however, this one leads to a cobblestone courtyard with filled with cafés under a ceiling of grapevines. Food, drinks and nargile (hookah) are readily available here as you sit on tiny stools at low tables admiring historical façades through the leaves.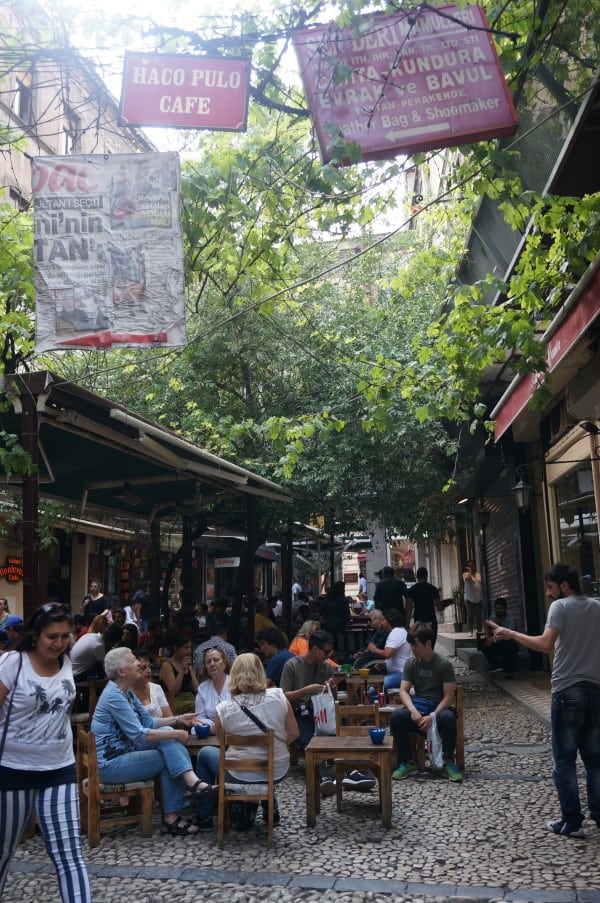 While most passages sell modern goods, the Aznavur and Avrupa Pasajı also boast shops selling traditional ceramic tiles and glass lanterns. The sign at the entrance to Aznavur Pasajı even identifies it as "Old Bazaar." My personal favorite, however, has to be Avrupa Pasajı. It's located off the main avenue and on a short side street opposite Galatasaray Lisesi. The shops here sell antiques which are a delight to browse through. More interestingly, the ceiling is lined with several classical European figurines, which give the place a very unique feel. The passage opens into the fish market, which is also worth a walk through.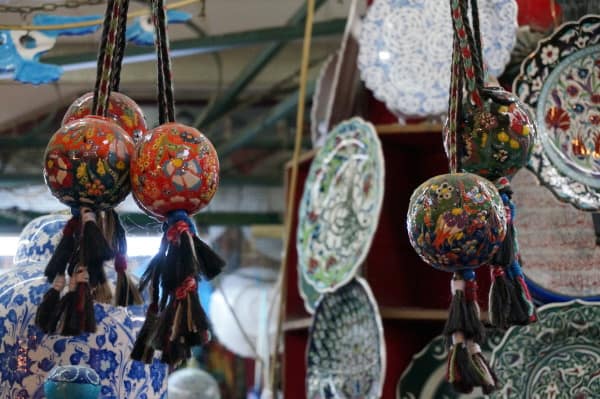 Walking up and down İstiklal Caddesi, I also found a few arcades almost empty or completely abandoned. While some of them may be slowly forgotten, the passages of İstiklal hold onto some of the great history that Istanbul has witnessed. If you ever find yourself in Taksim again, do take a moment to step back in time through these historic arcades.
Neeha Mujeeb is a contributor for Yabangee.