If you are longing for an excursion and escape from your everyday surroundings, sometimes there is no need to even leave the city.  One thing that I love about Istanbul is, it is so incredibly vast and diverse.  I often find myself taking day trips within the city, always finding such unexpected and hidden surprises.  Its amazing to live in a place where you can travel for several hours within the city,  yet feel as though you have reached a different part of the country.
I was drawn to Istanbul for its exceptional qualities, and am continually impressed by the varying uniqueness of its neighborhoods and sites.  Some of the most stunning neighborhoods and historical locations can be seen along the Bosphorus shoreline. Traveling by bus, car, or scooter (as I did), along along the water towards the Black Sea is an excellent way to have an adventure within this unparalleled city.
We made our way on a windy and hot summer day with no schedule in mind besides making it to the Kara Deniz in time for a fish dinner.  Passing Dolmabahçe Palace and Ortaköy, we dismounted our little scooter first at Arnavutköy and Bebek.  While these neighborhoods are right next to each other, they are quite different.  Bebek has a long reputation of being glitzy and posh,  while Arnavutköy gives the impression of a quiet fishing village with narrow streets and a peaceful view of the water.  A stop in Arnavutköy, or Albanian Village, is a great opportunity for a look at grand Ottoman mansions while you walk along the boat-docked shoreline.  After Arnavutköy, Bebek seemed to offer less in terms of a serene atmosphere, although we hopped off the bike to have an ice cream break at Girandola Dondurma before continuing on in the heat.
As we left Bebek and continued towards the 2nd Bosphorus Bridge, we were met by the striking Rumelihisarı.  After nearly 2 years in Istanbul, I have only admired the 15th Century Fortress from a distance, and for some reason never took the time to explore this brilliant structure.  On this particular summer day, with the fortress surrounded by the lush green of trees and intense blue of the sky, it was too much to pass up.  We climbed the narrow stairways and walked amongst immense walls before relaxing on a stone perch to practice a little outdoor yoga and enjoy the view of a sailboat race in the waters below.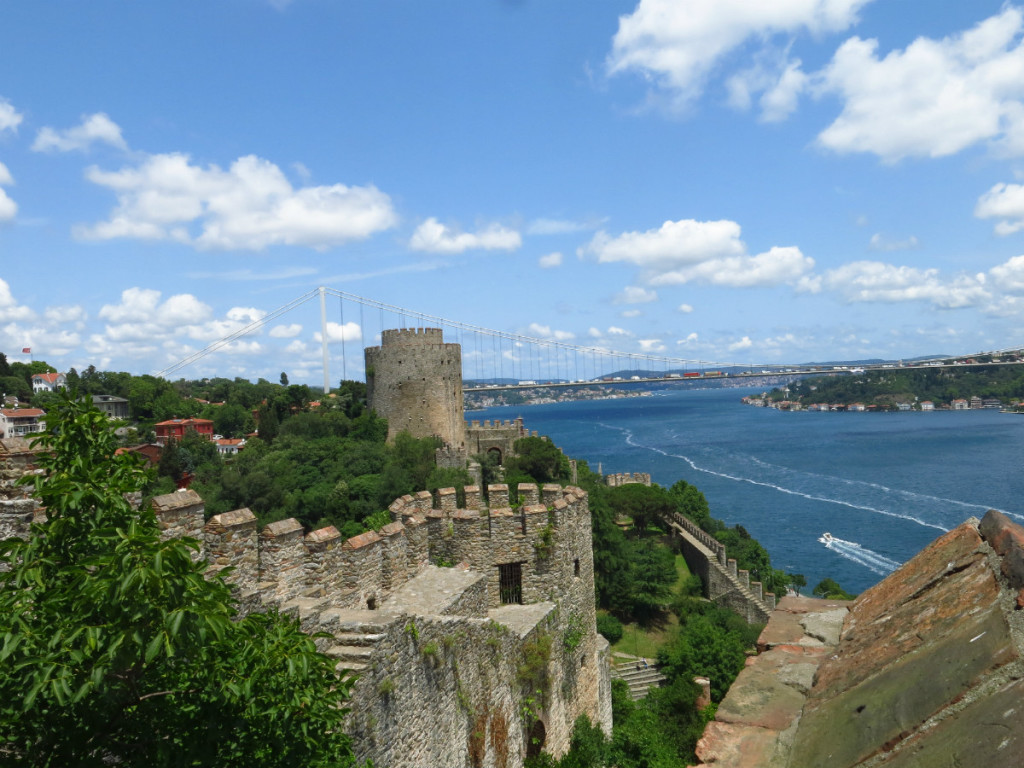 Past Rumelihisarı and just under the 2nd Bosphorus Bridge, is Borusan Contemporary.  We made a stop here to explore the old perili köşk (haunted mansion), turned office building and contemporary art space.  Not only does the Borusan building host mind blowing exhibitions from around the world, but it is a great opportunity to get yet another incredible view from the top level's terrace.  On the day we visited, the wind was so intense that we could barely keep our footing, but this just added to our excitement upon seeing the view.  If you find yourself in the area, be sure to visit this historical building, wander the office spaces and check out the current exhibition "West Coast Visions", on now until November 16th.
With our minds full of contemporary concepts and flashy video installations, we continued on our route towards Yeniköy.  Yeniköy, meaning new village, boasts some of Istanbul's most impressive waterfront homes, or yalıs.  These finely worked Ottoman houses line the water's edge giving Yeniköy a grand appearance from a distance.  So, we decided to enjoy them from the water by locking up the scooter and catching a small ferry from Yeniköy to Beykoz, on the Anatolian side of the Bosphorus.
Beykoz is a large district close to the Black Sea that includes parks, streams, forests as well as historical seaside homes.  On Saturdays, a sprawling market is a short walk away from the ferry dock.  The market was quiet on our visit, as it was the midst of Ramazan, but vendors still chanted their prices enthusiastically.  The abundance of fresh vegetables, breads, olives, fruits and pickles were too good to resist, and we left the market with all the bike would be able to carry.  Nearby we found a tea garden and gladly ate gözleme, green olives from the market, and sipped çay in the heat.
It had been a long day with a great amount of distance from out original starting point in Beyoğlu, but I still wanted to make it to the end.  So, we caught the ferry back to Yeniköy (which leaves every 20 minutes) and hopped back on the bike with our market purchases.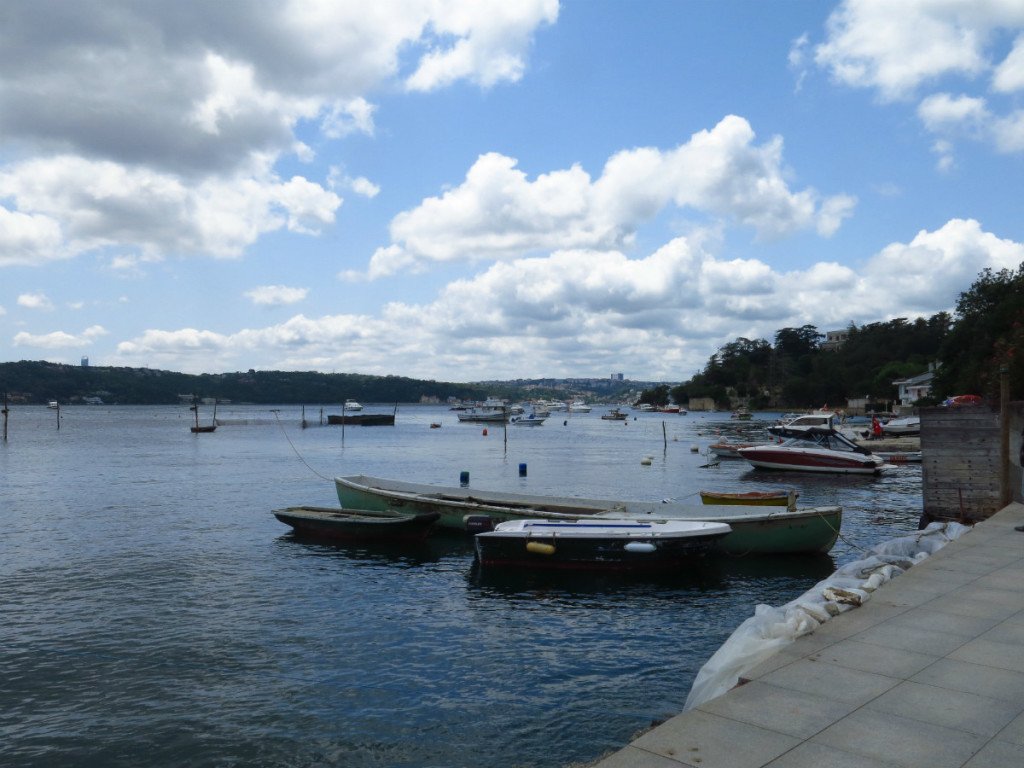 The ride to the Black Sea from Yeniköy was long by bike, I can't remember the exact time, but the wind pressing against us made it tricky to have a smooth ride.  Past Koç University and through a forested area is the coastal village of Rumelifeneri.  The location of this village is extreme Northwest, where the Bosphorus opens up into the Black Sea.  There are several places to eat fish in town, but we drove all the way to the coastline where a small restaurant sits above what seemed like hundreds of docked boats with piles of fishing nets and ropes coiled on the concrete dock.  We ordered ordered fried mussels, sigara böreği and salad, and ate while watching crashing waves, flying sea foam and peaceful ships gliding into the strait.
After several years in Istanbul, I had spontaneously spent a day discovering the European side of the Bosphorus at last.  Historical neighborhoods, breathtaking mansions, a contemporary art museum and the Black Sea pouring into the opening of the Bosporus Strait, it had been an incredible and exhausting day.  This excursion has inspired me to spend more time within the city, making little vacations into the unexplored and taking the time to appreciate these astonishing surroundings.
 Gabrielle Reeves is a contributor to Yabangee.