I doubt Ordu ranks high on anyone's list of places to visit in Turkey. It certainly wasn't on my 'must-see' radar. It doesn't have the star power of Sümela Monastary in nearby Trabzon. It certainly lacks Hatay's textured history, Antalya's beaches, and Izmir's tranquility. I happened to stumble upon this gem last week during a road trip that stretched from Kars to Samsun, and I now stand before you completely smitten.
Part of my unexpected fascination with Ordu stems from having absolutely no pre-trip expectations about what I had imagined would be a nondescript Black Sea town. It was easy to lose track of our whereabouts on the road, as one seaside town bled into another with similar landscapes and architecture. But when we reached Ordu, we no longer had to rely on the two-digit license plate city codes to deduce where we were. Having just recently been designated a 'metropolitan' municipality, Ordu makes sure you know exactly where you are as soon as you set foot within its limits.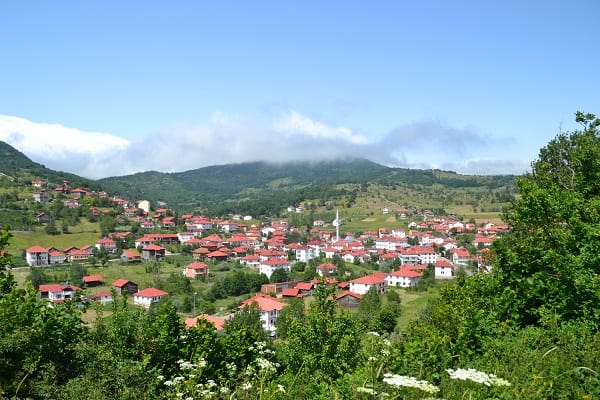 Situated on one of the Black Sea's consecutive bays, Ordu is a clean, orderly town with relatively obstacle-free access to the water (unlike in Artvin, Rize, and Trabzon where the interstate is a mocking barricade between the city and the sea), bike lanes (YES!), and a neat funicular that leads to Boztepe, a 1,500-foot mountain that hugs the city and provides spectacular views of Ordu, its beaches and mountains.
But Ordu's charm cannot be explained solely by its bike lanes, funicular, or even my low expectations. Beyond the steep mountains and pine- and hazelnut-tree covered slopes that rise just beyond the city and stretch as far back as the eye can see, lies an extraordinary little town with an ordinary little name: Yeşilce, or "greenly" in English.
As our minibus approaches Yeşilce, the first thing that strikes us is its aesthetic charm. Unlike many other villages that dot Turkey's landscape, the homes of Yeşilce collectively embody a certain warmth and architectural harmony. We hike through a stone road lined with small buildings, each covered in fresh white paint and bright red roof tiles, and eventually find ourselves in the village square. There, we are greeted by three elderly gentlemen at a bus stop with 'Yeşilce's Youth' written on it. The amusing irony doesn't escape us, but more importantly, it doesn't escape the village folk, whose average age likely exceeds life expectancy rates for Turkey.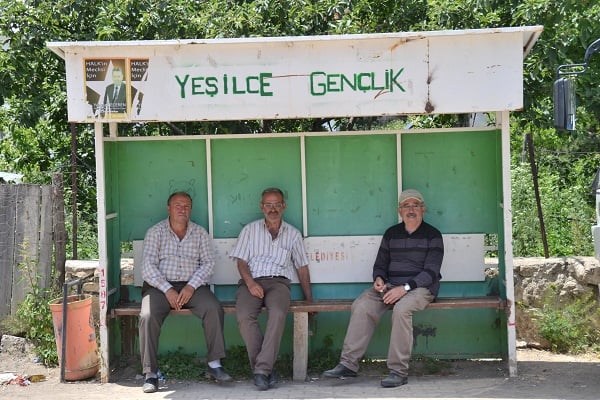 Rose bushes with intoxicating aromas, lush greenery and smiling faces greet us as we scatter around the village, each of us lured into a different direction by one of Yeşilce's countless temptations. Suddenly, everybody knows we are there and we are immediately invited to twenty homes for twenty cups of tea. Who knew the famous Anatolian hospitality was not just an urban legend, but a way of life in this magical little place buried deep in Ordu's plateaus?
As we chat with our hosts, we are treated to freshly baked bread they call poaç. It's Ramadan and nearly everyone is fasting. But that doesn't matter. We are guests and we are to taste this traditional Turkish plain pide derivative with cheese and butter baked into it for silky greatness. We learn from Yeşilce's muhtar and its elderly residents that the village has exchanged hands numerous times. It was initially a village of Giresun, then was switched to Trabzon and later became connected to Sivas. Its residents don't care so much about their provincial allegiance, for it is being from Yeşilce that counts first and foremost. And their pride is not baseless.
Until recently, Yeşilce was famous for offering higher education without primary schooling. They had a community college that functioned for decades, but was recently shut down due to political reasons. Villagers are outwardly bitter and their collective wound is still fresh and quick to bleed. The only coffeehouse of the village is filled with both men and women in the evening – a habit quite revolutionary if you think of your average male-dominated kahves. People come together to play games, greet passersby and lament the loss of their community college, which appears to have been the source of Yeşilce's pride and joy.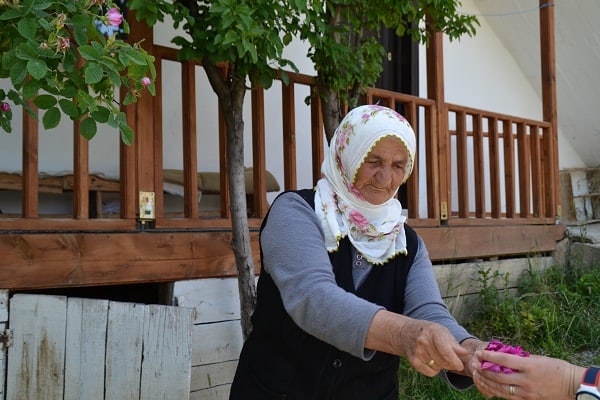 Delighted to find a sympathetic ear in us, they insist that we stay, take pictures and share them on the Yeşilce website. Those with children and grandchildren scattered across Turkey's large cities are excited by the possibility of connecting with their loved ones through our lenses, via the world of cyber make-believe. As we say our goodbyes, we get knots in our stomachs and tears in our eyes. Yeşilce is an extraordinary little village with loving and welcoming residents.
With our faith in humanity restored, we wave everyone goodbye, while pinching ourselves to make sure what we experienced was real.
Zeynep Güven is a contributor to Yabangee and also blogs at medium.com/@zeynepguven. You can find her on Twitter: @zeynoshi.