riverrun will host the Sarkis "yellow punctum" exhibition, part of a Bunker Exhibition series, from Friday 8 September through Saturday 11 November. The opening will start at 18:00.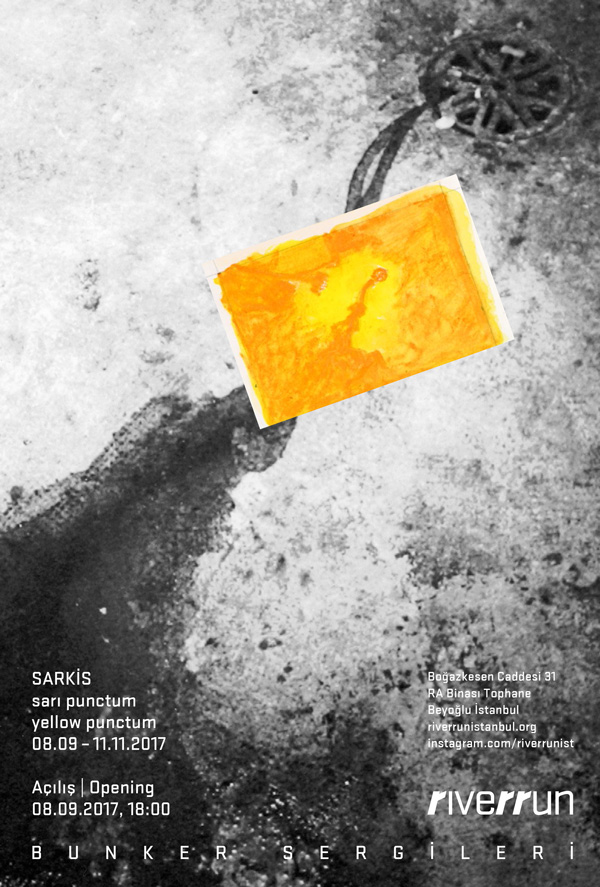 From the organizer:
Is it the darkness that presumes light is a breach in itself or vice versa? Which one exists despite the other? And which one is settled; which one is nomad? Which one is the space of the other? Is it the light that spreads or is it the darkness that swallows? Which one incorporates the escape and stab? Where does time stand within this encounter? If it exists in any way, is it flowing or frozen?
Space seems to have closed all the exits from itself. This is exactly where the escape and stab are. Everything is going to stay where they are until a winking eye comes along. But with the spark, within the spark, everything gets reborn.
In 1972, Sarkis took a series of photographs on the basement floor of the building he lived. There he found bits of space that appear and vanish for a moment under the flashlight. They were scenes of memory, traces, trails, bands of streams covering himself… a couple of objects left to death and pure concrete.
In the first of Bunker Exhibitions, each of these photos is accompanied by a yellow watercolor that abstracts it. This enables each image get illuminated by its own hidden light. Just like that thin candle that leaves its light drops into a bowl filled with water with Morton Feldman's music on the background, as seen on the monitor laying on the floor.
We are on the immanence area of the light. At a point where black and white come to being in yellow. In the sparkling that turns the invisible to visible.
—
For more information, visit the official page for riverrun.
Monday – Saturday: 11:00 – 19:00
info@riverrunistanbul.org
Boğazkesen Caddesi 31 – RA Binası Tophane