Turkey is home to some of the world's oldest wine making traditions, particularly along its Western coastal regions near the Marmara and Aegean seas. The rich soils of Thrace and Anatolia yield excellent grapes, including some varieties unique to Turkey. The results are often delicious wines that can stand glass-to-glass with those from more famous wine-producing nations.
In celebration of Turkey, our adopted nation of libation, Yabangee recently organized its first ever wine tasting session. What our panel of experts lack in expertise they make up for in enthusiasm for the red stuff. Our plethora of palates consisted of Yabangee's own commander in chief, Tarik, along with regular contributors Brenden, Colin, Michael, Murat, and Pelin.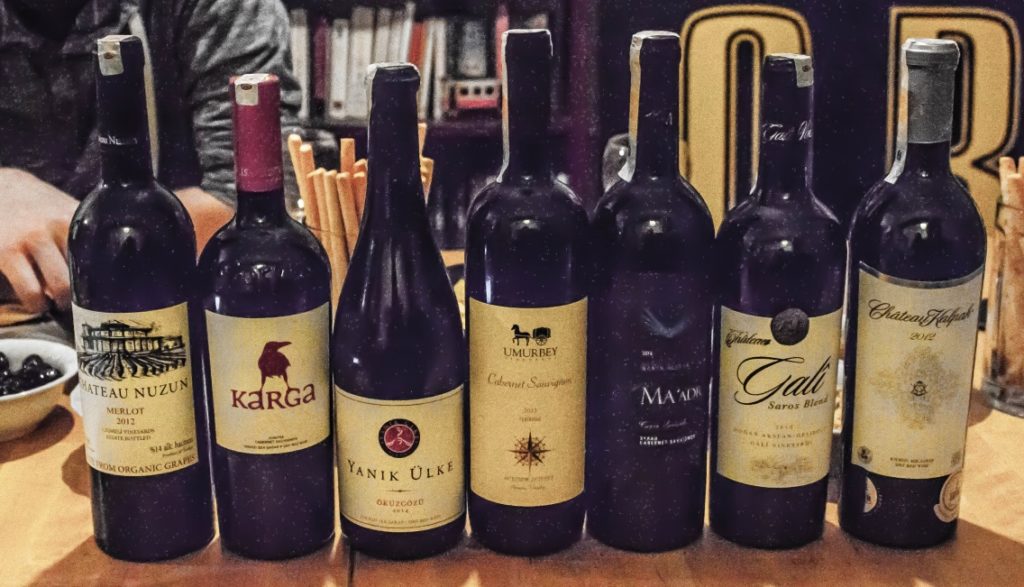 The wines on review hailed from several of Turkey's western regions: Karga (Bozcaada), Umurbey Cabernet Sauvignon (Tekirdağ), Ma'adra (Balıkesir), Chateau Gali Saros Blend (Çanakkale), Chateau Kalpak (Tekirdağ), Yanık Ülke Okuzgozu (Manisa). While of course each wine was a winner just by participating, at stake were Yabangee Gold, Silver, and Bronze recognition for the top three. The final results are below:
Wine Region Final Score
Yanık Ülke // South Aegean // GOLD
Chateau Kalpak // Tekirdağ // SILVER
Umurbey // Thrace // BRONZE
Gali // Thrace
Ma'adra // North Aegean
Karga // Bozcaada
The session began with great anticipation and concluded with great satisfaction. With a little favoritism toward the wine each person brought themselves and with tongues firmly in cheeks of mouths full of wine, below are stray thoughts and observations of that night.
Yanık Ülke
"Smells of blackberry and possesses a deep, almost blurred red color. The taste is also strongly of blackberry."
"The flavor is certainly fuller than Karga and much softer. "
"A wine like how I like my partners: smooth and with a long lasting finish."
"Yanik Ulke is a fruity, aromatic, and warm experience."
"This wine is round and balanced; it's right up my alley."
"A pleasant aroma that fill the nasal cavity like form-fitting packing form of the highest caliber."
"Drinks like an old friend you've never been close with but are eternally comfortable with."
Chateau Kalpak
"Possess a very strong woody aroma and its color is a truly seductive red. This is a wine well deserving of praise."
"Buckets of character"
"The best smelling of the wines tonight."
"Delicious in a way deserving of a capital 'D`. The woody flavor is strong, but it's very smooth in the mouth and on down."
"Very warm smelling, like a nasal sauna. Super oaky and full bodied, like the wine version of Groot."
"Drinking this wine is like spending an evening hanging out with an opera singer at a dinner party. Great for special occasions, but maybe not the company I'd like to keep all the time."
"Hits the nose like a tsunami of moist foliage."
"Its taste is complex to the point of excess, like a Kanye West album."
"Tastes like data input in the mouth. It's a wine that I think is made to be processed rather than enjoyed. Unfortunately, not my cup of tea."
Umurbey
"A woody smell, but also with a hint of apricot. Its taste is simultaneously intense and light. I could drink this wine the whole evening."
"Soft and sweet in flavor, while the smell is very potent."
"Umurbey has a delicate taste, starting with a mildness sweetness that builds into something really lovely."
"This is really a powerful flavor and mayhaps too sweet. It burns the throat a bit."
Ma'adra (Honorable Yabangee Mention)
"Its smell is intriguing and hard to describe. It's really a funny wine, a bit mysterious. The flavor is a nice and it's a wine worth revisiting in the future."
"It's full bodied, but kinda one-note. Not a whole lot to say about this wine. Not bad, but little to distinguish itself in a room full of other wines."
"Its color is darker than my soul."
"Smells of flowers that resist identification."
Karga Voted "Bottle Most Likely to be Saved for Posterity"
"Possesses a pleasant aroma with a light red color. First taste is light and soft, but the after taste is pretty awful."
"The bottle is the best part of this wine. The wine itself is pleasant enough in smell and flavor to spend an evening with, but it's the crimson bird silhouette on the bottle that I'll be telling other people about. "
"A bit too sweet, otherwise the taste is a bit forgettable."
"The bottle is evidence of a graphic design budget well spent. I will see that bird in my dreams."
"Karga drinks like a port, with strong, up-front flavor and a short finish."
"The bottle label is top notch."
"The color is eye catching, a light crimson in the glass hinting to the eye of a good time for the mouth. The feel of the wine is dry, but it has nice legs."
"A little dry and a little short on the palate"
"Dark in color, but with beguiling depth. Into it, I see nothing but mystery and doubt. The texture is uneven, but not particularly unpleasant for it. It doesn't pair well with olives, unfortunately."
Gali
"Strong, woody flavor on this wine."
"A very balanced wine; on the sweet side but really a nice and rounded taste. An eminently drinkable wine."
Have strong feelings on our reviews? Other suggestions for us to try? Please let us know in the comments.