We've done our best to compile events we're aware of. If you think we've forgotten one or want to see your event featured, please send an e-mail (with English press info) to events@yabangee.com.
Yabangee's Weekend Picks:
(Saturday/Sunday) No Clear Mind @ Salon IKSV – "Became the best company for night owls with their nihilist, stream-of-consciousness-like and dark-sounding songs. They were at the Peyote stage in 2013, and along the Aegean coasts in the summer of the same year, re-visiting Turkey after two years in 2015 with a country wide tour, finding an amazing chemistry with Turkish music lovers. They are visiting Salon within the scope of the launch of their new album, 'Makena'."
(Starting Friday) "Maybe I'd like to be like you" @ artSümer – "Bahar Yürükoğlu's first solo show at artSümer takes its title from a line in Chris Kraus' 1997 novel I Love Dick. Yürükoğlu's photographs in Maybe I'd like to be like you manifest a longing to better understand one's self through our relationships with others and nature. In her new works, the artist's rather impersonal and quasi-scientific engagement with natural landscapes develops into poignant reflections on the possibility of a democratic order amongst humans and the non-human…"
(Sunday) Quiz Night for Cats @ Arsen Lüpen – "Cihangir Cool for Cats is back at it, now at Arsen Lüpen! The best quiz in Istanbul is taking place on Sunday 12 March. Quiz nights also feature a regular raffle, so you're even more likely to walk away with a prize. All proceeds go to help street animals. This time, the fun kicks off at 19:30!"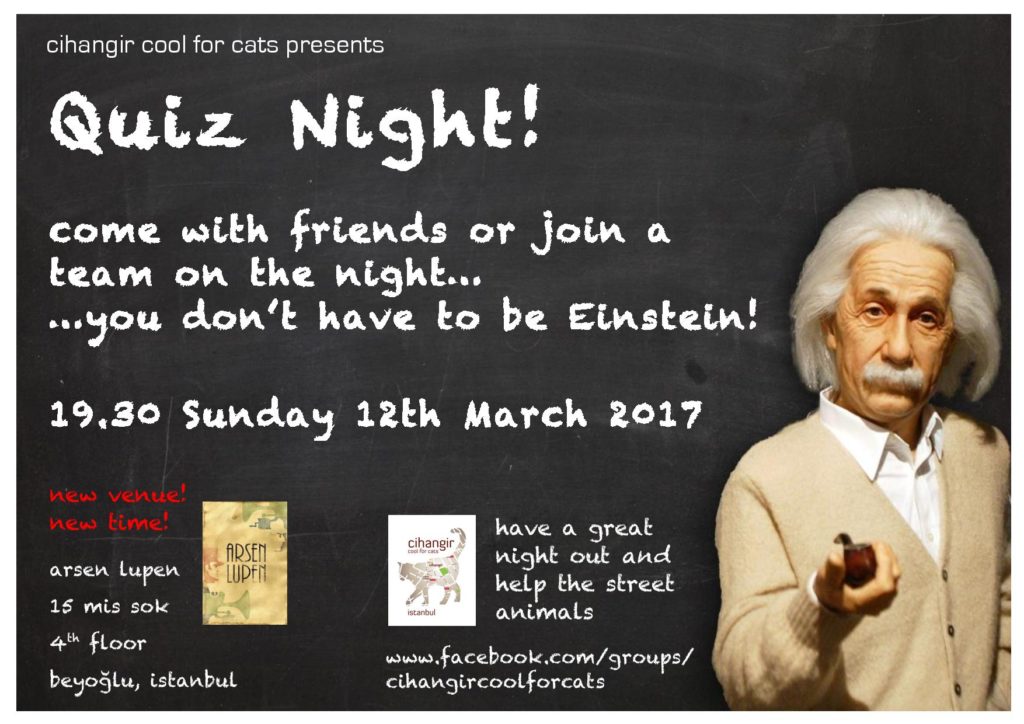 Friday:
Rubber Walrus with The Wingmen and Vostok-6 – "Rubber Walrus is coming to town for a one-time, and unwanted, reunion show! Friends such as the renown band Wingmen and not so renown band Vostok-6 (a mistake from the get go) will open for Rubber Walrus and their exiled singer Lewis King."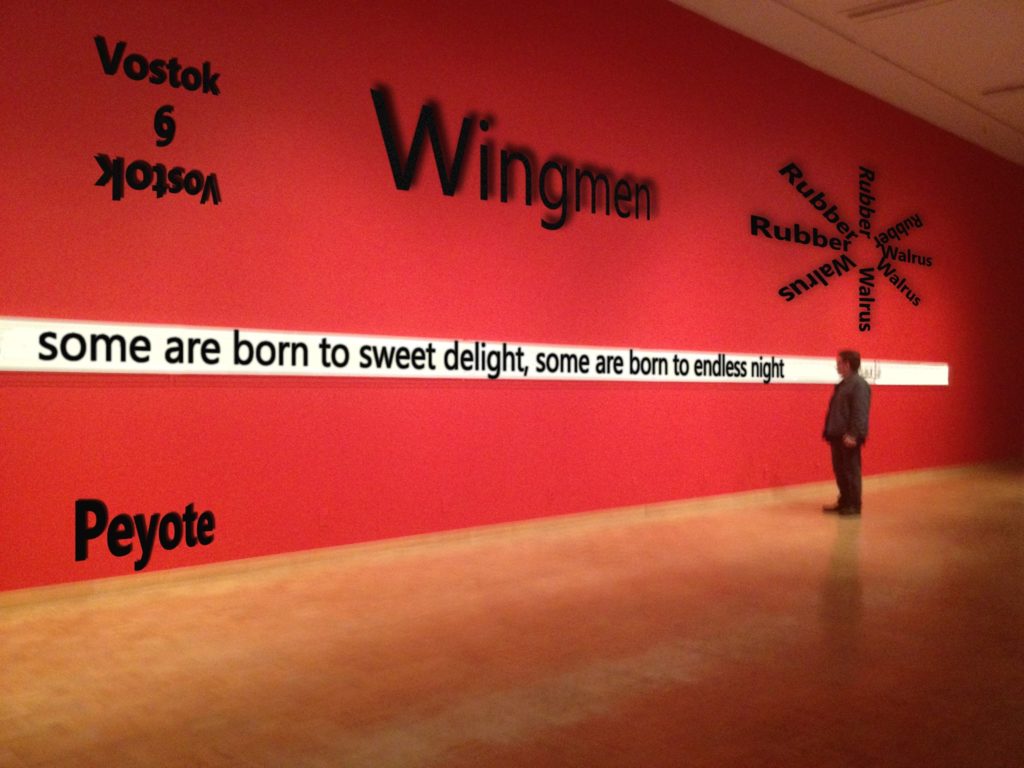 Stavroz @ Babylon Bomonti (Midnight Session by Kaan Düzarat) – "Formed by Ijsbrand De Wilde and Gert Beazar at the university, Stavroz began playing house music, initially under the influence of Balkan melodies. With the addition of Maxim Helincks at guitars and Pieter De Meester, the dynamics of the band changed, moving them closer to jazz and minimal house. The band meets their fans on dance floors in various locations throughout the world, and continues to broadcast DJ sets on their radio program hosted by Studio Brussel."
Son Feci Bisiklet @ Salon IKSV – "Son Feci Bisiklet was formed in 2013 and immediately stole the hearts of local music connoisseurs with their first EP 'Son Feci'. They have become everyone's beloved within the new trend of 'bands with weird names' –their name literally translates as 'the last awful bike'–. They are indeed the key player of the rising local alternative scene. Their first LP from 2015 'Vesaire' paved the way to performances in countless festivals and venues. They resume their tireless journey with a concert at Salon after a brief break."
Saturday:
Demonation Festival No. 7: Day 2 @ Babylon Bomonti – Support the local music scene by indulging in some quality performers.

"Trials and Hardships of Home Life for a Wonderful Couple" @ Ikincikat Karaköy – "'Trials and Hardships of Home Life for a Wonderful Couple' is a surreal view of a marriage for a couple who wants to play the game by the rules but not being able to satisfy them selves neither each other. Clout Theatre was established in Paris in 2012. The artistic directors of the company which is based in London and İstanbul are Mine Çerçi and Sacha Plaige…"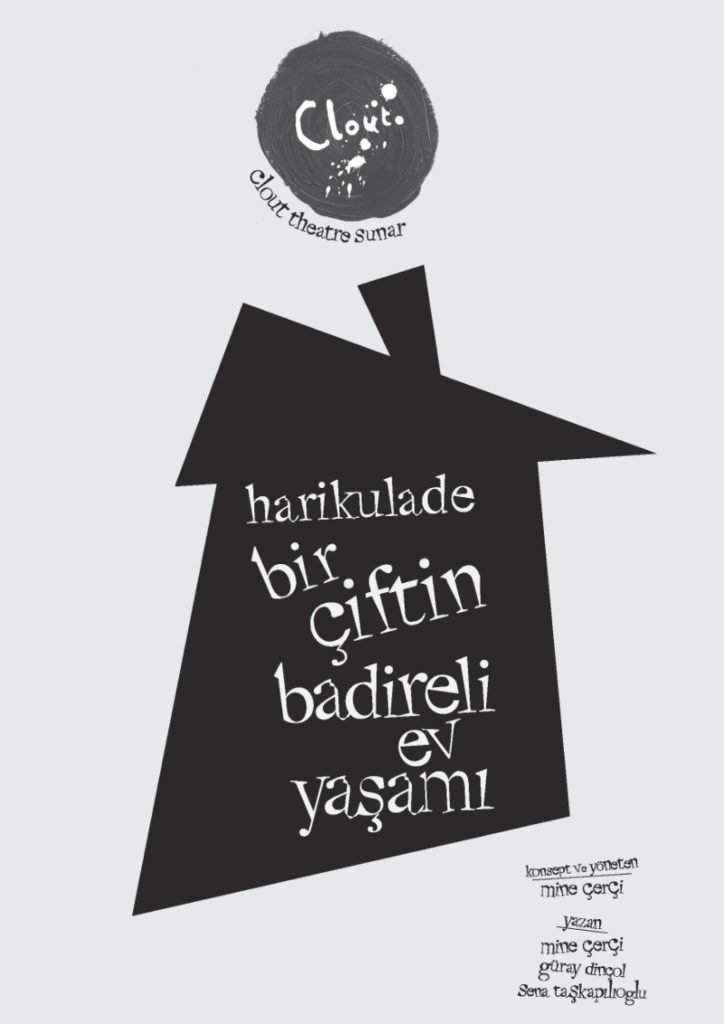 LOKALİZE: Büyük Ev Ablukada – Ay Şuram Ağrıyo – "Büyük Ev Ablukada, an Istanbul-based band that has gained acclaim with its sound, lyrics and authentic style, while being a pioneer to a new musical movement that is yet to be named, will be at the #studio on March 11th with an acoustic performance, as a part of their concert series called 'Ay Şuram Ağrıyo'!"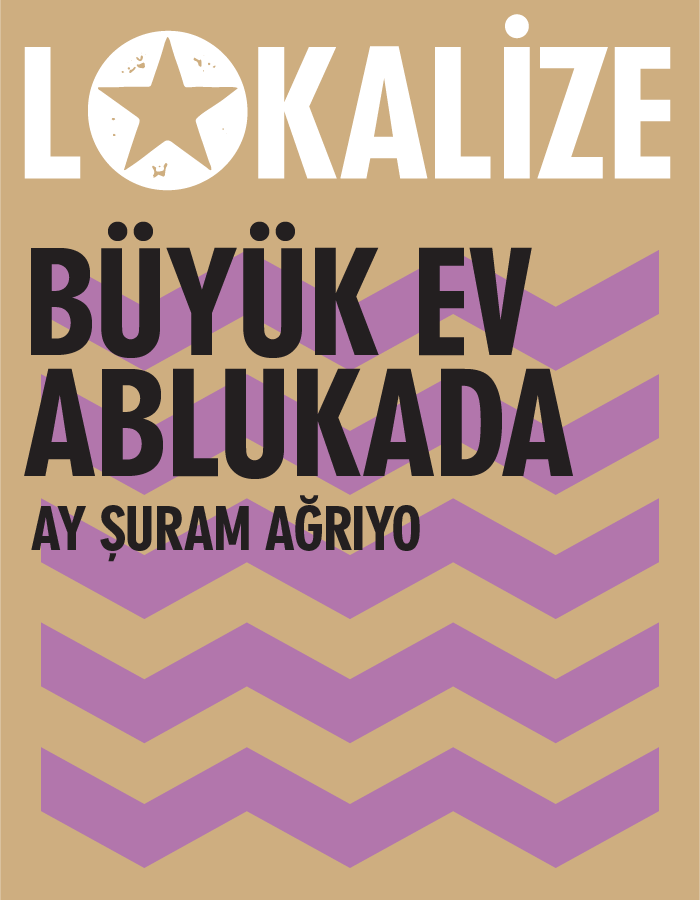 Growing Sprouts and Micro Greens @ Circuit Istanbul – "Permaculture designer Shaul Shaham from Ek Biç Ye Iç will present sprouts and microgreens as one of the easiest ways to eat super healthy and local. Sprouts have almost the same amount of minerals and vitamins as a grown plant. They are also tasty and can be integrated into almost any meal, eaten raw or cooked."
Documentary Night: Seeds @ Circuit Istanbul – This month's Documentary Film Night will be on Saturday, 11 March at 19.00. The screening will follow our Mikro Yeşiller Yetiştirme Atölyesi: Sprouts & Microgreens Workshop and we will show a series of short films about seeds.
Bike Polo! @ Selamicesme Camlik Park – Grab your bike and try out your polo skills.
(Ending)"The First Dream" @ Bozlu Art Project Nişantaşı – "Artist, who prefers light pastel colours especially blue and pale pink symbolising innocence, in his productions, thinks about boundaries of sex-oriented categorization and creates mixed figures which belong to neither of two sexes by reconsidering these concepts. Some of these portraits attract the attention with their sharpness, and some of these make a reference to unconscious different identities as blurred images."
Kolektif Jammin' @ Kolektif House – "At Kolektif House's Jam Sessions, the stage belongs to us, to all of us! Pick up whichever instrument grabs your fancy, and let's create the music together. Don't feel like playing? Then come and dance the night away!"

Amsterdamn Night @IF Performance Hall Beşiktaş – "Get ready for feeling the legendary vibe of the 5th most visited city in the world, "Amsterdam" at IF Performance Hall Beşiktaş. Our previous Amsterdamn Night tickets were sold out a week before and from now on Amsterdamn Night is back in town!"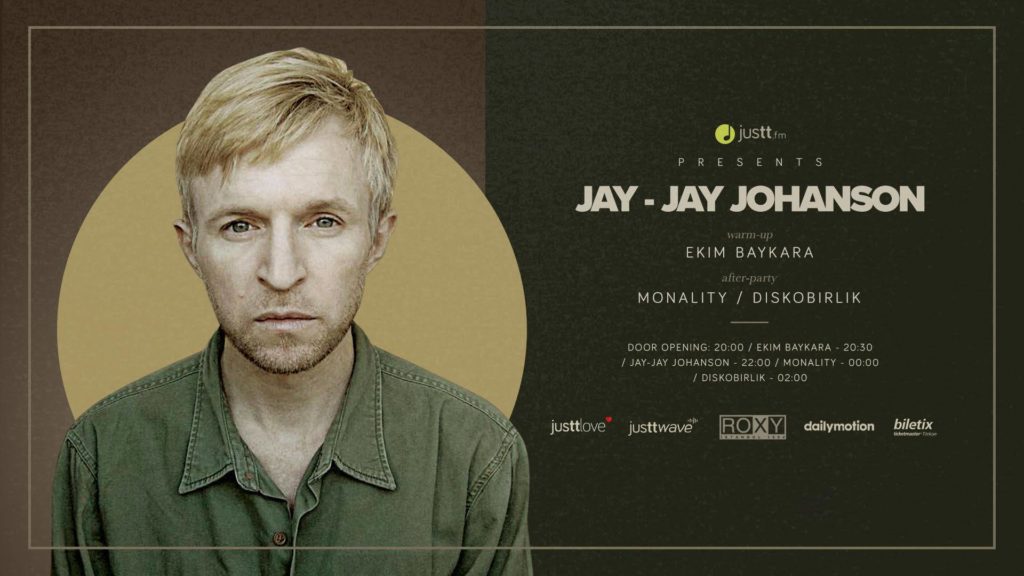 Acid Pauli & Mini Bashekim @ minimüzikhol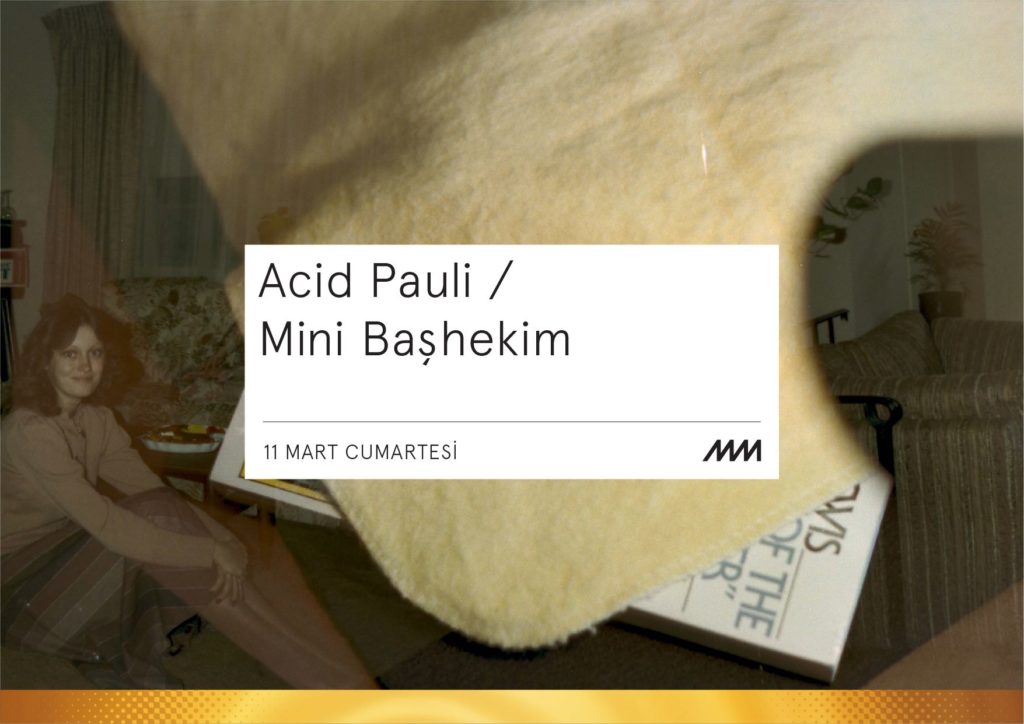 Musical Mashup by Speech Bubbles – "Speech Bubbles school of Performing Arts meets on Saturday mornings (9.30 – 12.30). The school has performed the musicals "Oliver" (2014); "Willy Wonka" (2015) and Mathilda (2016). We are performing a MUSICAL MISHMASH on Saturday March 11th 2016 at Profilo AVM, Mecidiyekoy. the show consists of a selection of songs and dances from your favourite musicals."
Sunday:
(Ending)"300 Issues / 27 Years / 1 Magazine / Arredamento" @ SALT Galata – "One of the longest living design and architecture magazines in Turkey, the 27-year life of Arredamento is visualized as an exhibition at SALT Galata. Installed in the Open Archive on the third floor, the exhibition brings together 300 issues of the magazine. Originally published as a popular design journal, over time Arredamento transformed itself into an architectural magazine with a theoretical slant, and managed to subsist without sponsorship or institutional support."
Ongoing:
Psolo Exhibition @ Various Locations – "In this exhibition, Tuna reads the differences between subjective and objective times, distances between memory/loss and consciousness through the collective. The installing of the exhibition in four different venues encourages the viewers to re-interpret the notions work/time/distance/memory, presenting a new space of experience outside of modes of traditional exhibition viewings. Psolo exhibition draws attention to not only the visual aspects of objects, but also to the relationship between sound, body, and the psyche."
The 2nd Yabangee Instagram Photo Competition: Relationships – "Last year marked our first-ever Instagram photo competition, focused on portraits. It was a blast and we really enjoyed looking through all the photos we received. As we step forward into Spring, we're excited to go outdoors and snap some cool pictures to celebrate the nice weather. Thus, we thought it timely to kick off our 2nd Yabangee Instagram competition, this focusing on the theme of relationships."
West Side Story @ Zorlu PSM – "Defined as a modern adaptation of William Shakespeare's Romeo and Juliet since the first time it was staged in 1957, West Side Story has periodically met with audiences on the Broadway stage in many occasions. The musical, which has attracted record-breaking audiences, was adapted from Arthur Laurents' book. Turning into a global phenomenon with the Tony Award winning masterful choreography of Jerome Robbins, music composed by Leonard Bernstein and lyrics written by Stephen Sondheim, West Side Story has cemented its success through global tours, shows and adaptations…"
"Don't Be Deceived!" @ x-ist – "The solo exhibition entitled "Don't Be Deceived!" of Hüseyin Arıcı, who has joined x-ist in the new season, meets the audience with 3 different series that it features. The selection including the 'One' Series, the 'Ready-made Object' Series and the 'Spineless' Series provides the opportunity to observe how through different materials the artist transforms the relationship that he establishes with reality and illusion into a trickery beyond imitation…"
"On Botany" @ BLOK Art Space – "…exhibition brings together ten artists who emphasize on the relationship between botanic and art, where the artists approach botanical science from an archival and narrative perspective, and display their studies on plants in different disciplines and geographies. Partaking in these study processes, viewers find the opportunity to observe various plants from different esthetic points of view. The ten artists that approach botanical science from different perspectives…"
"Apprehending and Appreciating Yaşar Kemal / Portrait of a Novelist as a Journalist" @ SALT Galata – Organized by Yapı Kredi Kültür Sanat Yayıncılık in collaboration with SALT, Apprehending and Appreciating Yaşar Kemal / Portrait of a Novelist as a Journalist with written and visual archive materials stands witness to the human-centered approach that Kemal introduced to journalism culture in the 1950s and 1960s in Turkey.
Esoteric Illusions in the Wind of the Hammer @ Anna Laudel Contemporary – "Esoteric Illusions in the Wind of the Hammer marks the return of Mehmet Aksoy, following five years of seclusion, with his remarkable, unique aesthetic. This show can be regarded as a programme highlight for Anna Laudel Contemporary, which opened recently in the old finance district of the late Ottoman Empire in Karaköy, within a historic building comprising a vast exhibition space spanning five floors."
"And yet my mask is powerful" @ Alt Art Space – "Alt Art Space presents Basel Abbas and Ruanne Abou-Rahme's most recent installation, And yet my mask is powerful, 2016, which addresses the relationship between mythology, ecology and the resistance to colonial time, imagining new possible incomplete narratives."
"Cold Front from the Balkans" @ Pera Museum – "The exhibition focuses on different generations of artists and art groups from the Balkan region. The exhibition avoids the usual unflattering political connotations the region's name inevitably brings up but instead focuses on a natural phenomenon — the wind."
"Wanderer on the Sea of Light" @ Pera Museum – "French artist Félix Ziem is one of the most original landscape painters of the 19th century. The exhibition Wanderer on the Sea of Light presents Ziem as an artist who left his mark on 19th century painting and who is mostly known for his paintings of Istanbul and Venice, where the city and the sea are intertwined."
Looking for more events happening in Istanbul? Keep up with our What's On section.