We've done our best to compile events we're aware of. If you think we've forgotten one or want to see your event featured, please send an e-mail (with English press info) to events@yabangee.com.
Yabangee's Weekend Picks:
(Friday) Athena "Akustik"– the most successful band of Turkey's rock scene who has enlarged their fan base with their energetic live performances and striking videos, will be at Zorlu PSM with an acoustic performance.
Arabs Are Not Funny Volume II – "Istanbul&I is proud to present 'Arabs Are Not Funny' Volume II. After a very successful sold-out series, Istanbul&I's Arabs Are Not Funny is back with very interesting line-up of comedians, representing the Arab world and surrounding regions, looking for an opportunity to showcase their talents. Come to our new, larger and more accomodating space, for a night of fun."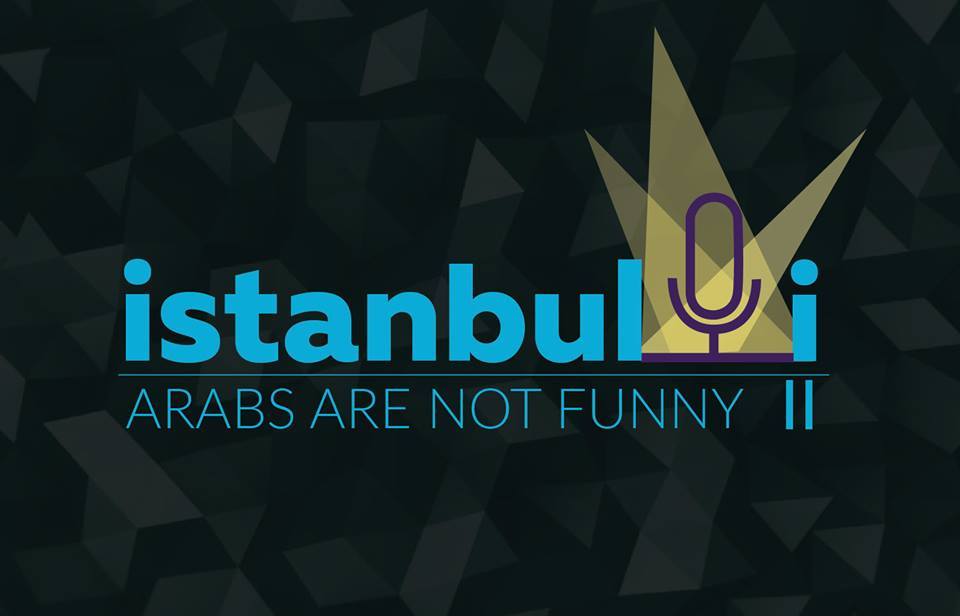 (Saturday) Buttering Trio feat. Ester Rada @ Salon IKSV "These Artists are experts in bringing electronic discoveries together with triple organic voices. They took part in countless independent festivals like Mid-Burn and Fusion Fest. Ester Rada is one of the best representers of Ethiopian jazz and soul music. Now they will perform together for the first time within the Sound Ports İstanbul Festival."
(Sunday) Club Mate Turkey presents: Yoga with Sinem and Marcel – "Sinem and Marcel will take us on a two hour journey, step by step going upside down, making you sweat and play and have lots of fun. To make sure you don't run out of energy Club Mate will provide refreshments, and our friends from NuSnack will offer some of their delicious yummy goodies."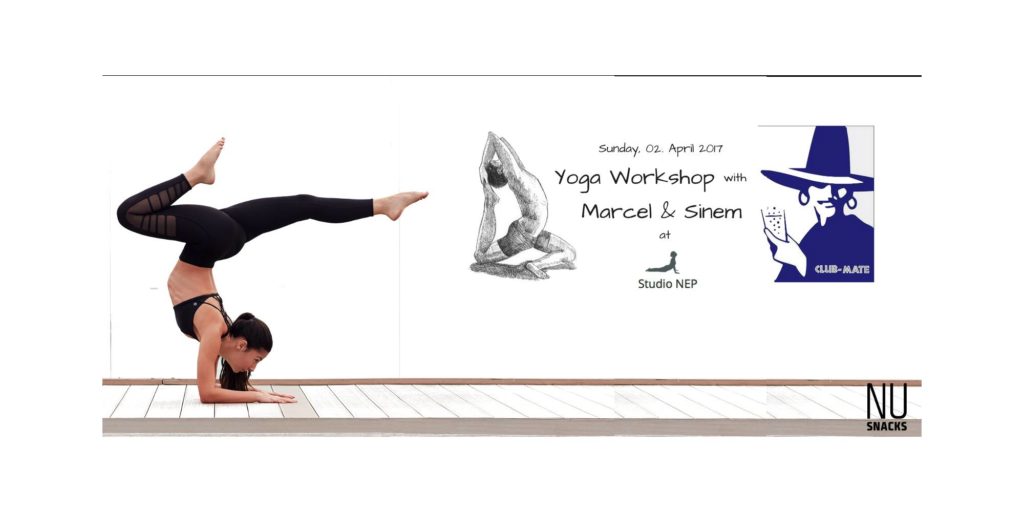 (Friday – Sunday) "Look Again" @ Pera Museum – "Pera Museum is presenting a performance program entitled Look Again between March 31 and April 2, 2017 in collaboration with Performistanbul. Inspired by Pera Museum Suna and İnan Kıraç Foundation's collection exhibitions, the program features performances by artists AslieMk, Ekin Bernay, and I. Ata Doğruel."
Friday:
Oceanvs Orientalis vs İlhan Erşahin @ Babylon Bomonti
Baturay Yarkın Trio @ The Badau "In the recent years, Baturay Yarkın Trio has become one of the most attention grabbing bands of young jazz scene in Turkey with their distinctive setlists rich in melody and rhythm from swing to Latin, from ballad to Turkish music."
Bajar & Bo Soundsystem @ TheMekan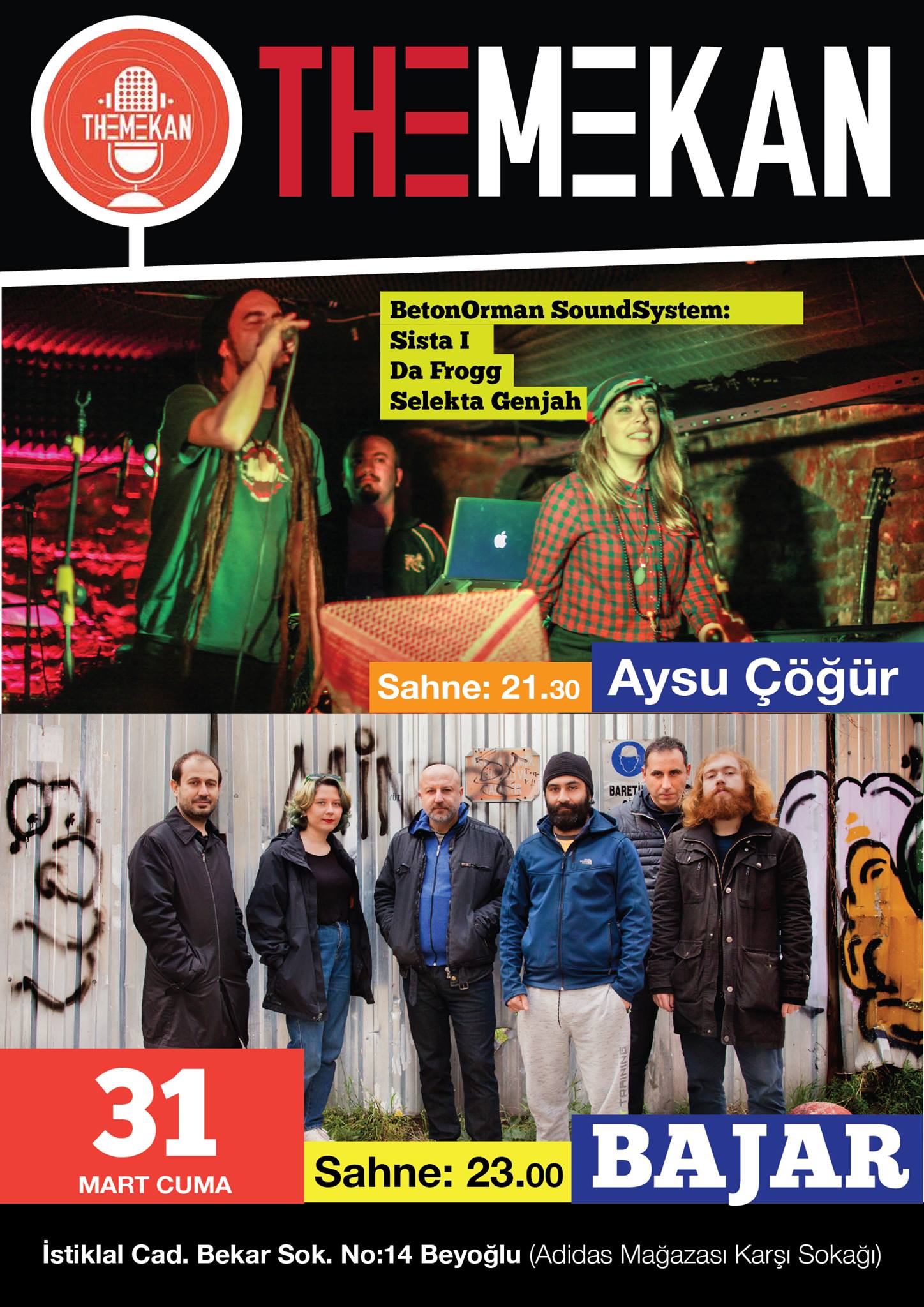 Ece Özel and Zozo @ arkaoda bring together different times and periods with their disco, synth, kraut, industrial, electro, and oriental selection.
Istanbul Arabesque Project @ Hayal Kahvesi Arena Park
Syrian Food Night @ Komşu Kafe Collective – "Good news, everyone: another Syrian Food event is right behind the corner! Visit us this Friday evening to have: Ful medames, Hummus, Fatteh, Kabsa, Kawaj, Baba ghanoush, Fattoush"
El Topo & Kinesis @ Peyote


The Young Shaven & Vostok 6 @ Pendor Corner
Saturday:
Mulatu Astatke @ Babylon Bomonti The ethiopian musician and "father of Ethiojazz" is coming to Istanbul.
Nusaibin Midnight Session @ Babylon Bomonti
Back to the roots Part II @ Pendor Corner "Jenny Woo, born and raised in Alberta Canada, has played with a number of Canadian punk and oi! bands over the last ten years. Although she has always been inspired by the sound and style of traditional oi! music, Jenny wanted to bring something new and distinctive to the subculture. Inspired by acts such as Badlands and Johnny Cash, she started up an acoustic oi! project in 2008."
Mr.Sür @ Zor "Mr. Sür likes musical journeys. Since 2007, he's excited about making people dance on house and techno music, and says "hi" to disco classics."
Tupperware Dinner @ Circuit Istanbul – "Our monthly potluck-style meal celebrates good food, great company, and reusable containers. Prepare your favorite dish or you can pick something up on the way, but be sure to bring it in your tupperware! Event is free and open to everyone."
Ponza, Housing Crash, & Plaj @ Peyote

Sunday:
Menemen Brunch @ Komşu Kafe Collective "This Sunday we're happy to invite you to another magnificent brunch. This time we'll serve all sorts of awesome vegan and vegetarian menemens. If you missed some well made one-pan eggs & peppers, see you at the cafe on Sunday afternoon!"
Sound Ports Closing Party @ arkaoda "Top floor of Arkaoda will be hosting TAU And Islandman – stars of Sound Ports İstanbul 2017. We have a word from the musicians that these two special concerts will be intimate, spontaneous and much more improvised. Downstairs dance floor of the club will be taken over by Rejoicer – mastermind of Buttering Trio and Raw Tapes label. Arkaoda closing party is the last chance to catch the vibe of the Festival. All İstanbul people, aliens and human beings feel invited for the last event of Sound Ports İstanbul Festival."

Multi-Day Events
(Friday – Saturday) Psychedelic Art Gallery "Way to Town" Psychedelic music, art exhibition, workshops and more.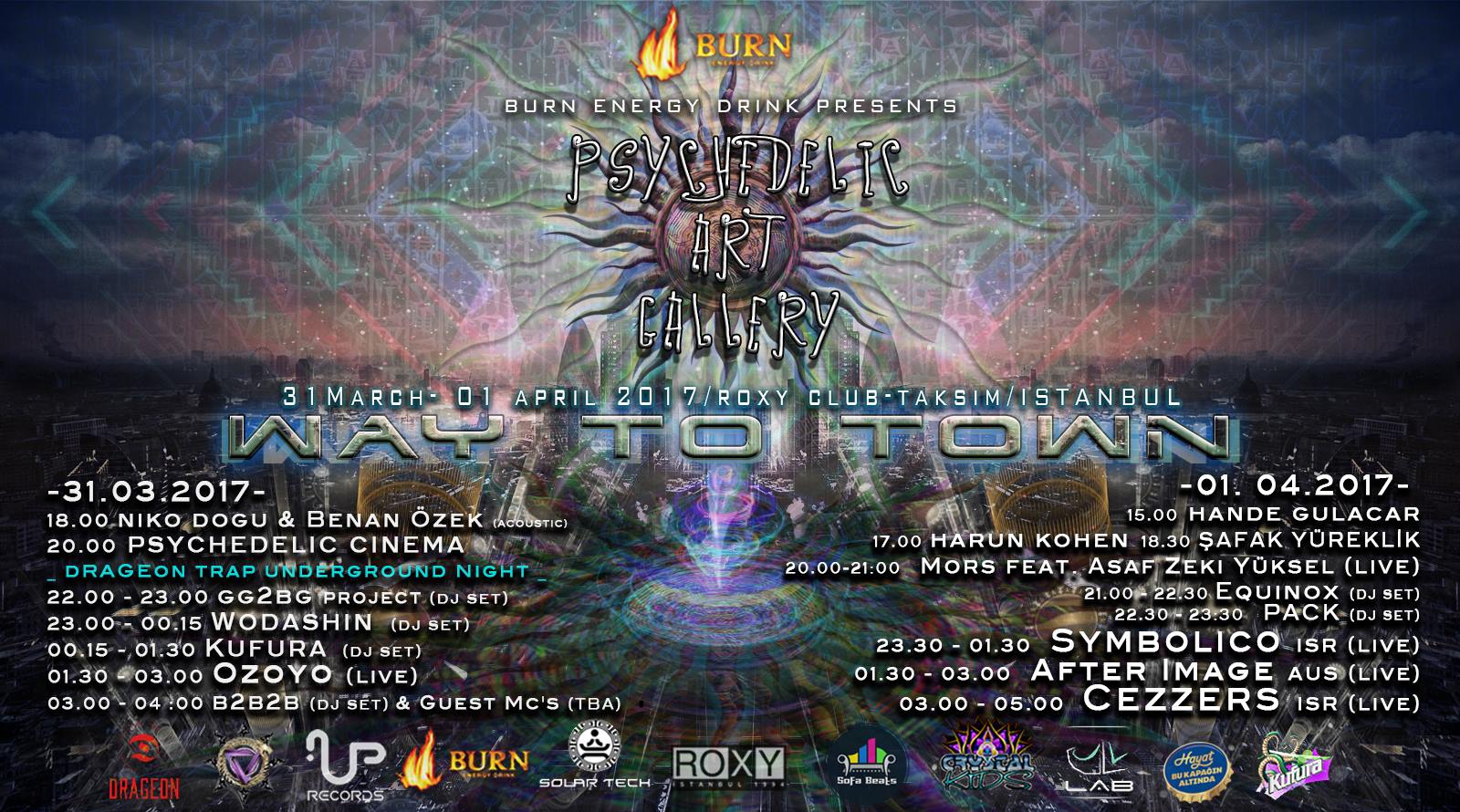 Ongoing:
The 2nd Yabangee Instagram Photo Competition: Relationships – "Last year marked our first-ever Instagram photo competition, focused on portraits. It was a blast and we really enjoyed looking through all the photos we received. As we step forward into Spring, we're excited to go outdoors and snap some cool pictures to celebrate the nice weather. Thus, we thought it timely to kick off our 2nd Yabangee Instagram competition, this focusing on the theme of relationships." // Ends Thursday 6 April
"Red is Red" @ Gallery Ilayda – "Özcan Uzkur will be exhibiting for the third time in the Ilayda gallery .The exhibition, entitled "Red is Red" takes us through the production process, makes us witness the movement towards the inner parts, the particles, depth and capillaries. Uzkur combines his "plastic" inquiries with his deep knowledge of material and his use of bright red colour, rich texture layers and unmeasurable space." // Ends Saturday 8 April
Psolo Exhibition @ Various Locations – "In this exhibition, Tuna reads the differences between subjective and objective times, distances between memory/loss and consciousness through the collective. The installing of the exhibition in four different venues encourages the viewers to re-interpret the notions work/time/distance/memory, presenting a new space of experience outside of modes of traditional exhibition viewings. Psolo exhibition draws attention to not only the visual aspects of objects, but also to the relationship between sound, body, and the psyche." // Ends Saturday 8 April
"Critical Distance" @ Ariel Sanat – "Animals survive in nature as long as they keep their distance with others. A study by Swiss Animal Biologist Heini Hediger shows that there are several types of distances in this regard: personal distance, social distance, flight distance and the 'critical distance', signifying the point where flight becomes impossible. It is the moment, when an animal needs to skip measuring the strength of the opponent and start a defense attack against the aggressor." // Ends Saturday 15 April
"Ya Değilse? / If Not?" @ Sanatorium – "Ümit Kıvanç, who is rather known through his writings and documentaries with political and social content, meets the audience with an exhibition indicating the difficulty of penetrating the entirety of perception. Kıvanç, who has been a narrator in his visual and written creations until now, turns the tables in the exhibition If Not? Bringing together Kıvanç's photographs – the likes of which we have not seen from him until today – that he took in the years 2013-2014 and worked on since then, the exhibition puts the audience in the position of the narrator." // Ends Saturday 15 April
"And yet my mask is powerful" @ Alt Art Space – "Alt Art Space presents Basel Abbas and Ruanne Abou-Rahme's most recent installation, And yet my mask is powerful, 2016, which addresses the relationship between mythology, ecology and the resistance to colonial time, imagining new possible incomplete narratives." // Ends Sunday 16 April
"AUDinst019: Upload=Delphic Panaceas" @ Zorlu PSM – "Involving old and new work, the exhibition will be comprised of an intensely immersive closed space that uses Subpacs (which vibrate bass and infrasonic frequencies down the spinal column); headphones which will amplify the 20-minute narrative of the work; fog machines which obscure the artworks on the walls of the space; miracle fruit (which reverses the polarity of the taste buds – meaning that sour tastes sweet) and wood chips which provide a scent not usually associated with interior gallery spaces." // Ends Thursday 20 April
Esoteric Illusions in the Wind of the Hammer @ Anna Laudel Contemporary – "Esoteric Illusions in the Wind of the Hammer marks the return of Mehmet Aksoy, following five years of seclusion, with his remarkable, unique aesthetic. This show can be regarded as a programme highlight for Anna Laudel Contemporary, which opened recently in the old finance district of the late Ottoman Empire in Karaköy, within a historic building comprising a vast exhibition space spanning five floors." // Ends Thursday 20 April
"Maybe I'd like to be like you" @ artSümer – "Bahar Yürükoğlu's first solo show at artSümer takes its title from a line in Chris Kraus' 1997 novel I Love Dick. Yürükoğlu's photographs in Maybe I'd like to be like you manifest a longing to better understand one's self through our relationships with others and nature. In her new works, the artist's rather impersonal and quasi-scientific engagement with natural landscapes develops into poignant reflections on the possibility of a democratic order amongst humans and the non-human…" // Ends Saturday 22 April
"Cold Front from the Balkans" @ Pera Museum – "The exhibition focuses on different generations of artists and art groups from the Balkan region. The exhibition avoids the usual unflattering political connotations the region's name inevitably brings up but instead focuses on a natural phenomenon — the wind." // Ends Sunday 7 May
"Wanderer on the Sea of Light" @ Pera Museum – "French artist Félix Ziem is one of the most original landscape painters of the 19th century. The exhibition Wanderer on the Sea of Light presents Ziem as an artist who left his mark on 19th century painting and who is mostly known for his paintings of Istanbul and Venice, where the city and the sea are intertwined." // Ends Sunday 7 May
"Written Room" @ Pi Artworks Istanbul – Written Room mirrors the look of Persian script, yet it is almost as incomprehensible to those who can read the language as those who can't. By defying visitors' attempts to assign it meaning, the script remains locked into its irreducible pictorial graphicness in which meaning cannot be grasped. // Ends Wednesday 10 May
Looking for more events happening in Istanbul? Keep up with our What's On section.