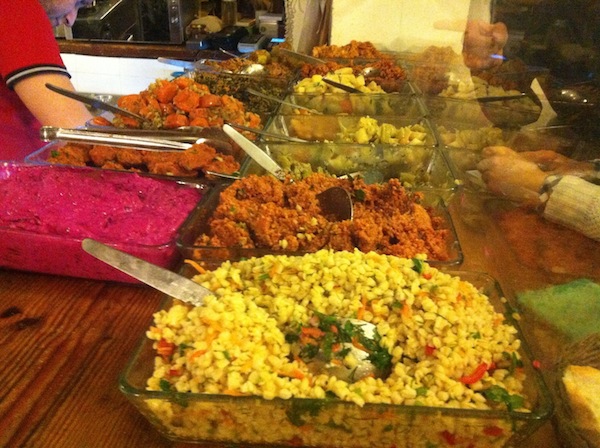 "Where can I take my friends or relatives who want to try Turkish ev yemekleri?"
If you delve deep into Turkish cuisine, past the kebap and beyond the döner you'll find a special category the Turks refer to as ev yemekleri, or home-cooked food. True to the core principles of Turkish home cooking, Helvetia in Beyoğlu offers classic and contemporary Turkish home-cooked favorites that reflect the flavorful, diverse and wholesome food culture of Turkey. Nothing will comfort your parents more than knowing you've been eating your vegetables.
Located two minutes from Tünel square, Helvetia is a haven in a neighborhood full of touristy bars and pricey restaurants. Opened in 2004 by Müferra Çakır, the restaurant offers a menu that's shaped by the seasons and offers two large plates of food for 27 TL. There is often a wide section of both traditional Turkish vegetarian and meat dishes on offer. For instance, a typical day's menu might consist of meatballs (köfte), chicken, hot or cold dishes with cooked legumes, bulgar wheat salads, stuffed peppers and dolma, among many more.
Although their daily menu changes with the seasons, Çakır recommends the cooked chard dish (pazı yemeği), and says that one of the bestselling dishes is cooked chard with a yogurt sauce (pazı borani).
Helvetia has become a neighborhood favorite over the past 11 years and always boasts a lively crowd, especially during lunchtime. The restaurant is open daily from 12 pm to 10 pm except on Sundays.
Address: General Yazgan Sokak No. 8/A, Beyoğlu, Istanbul