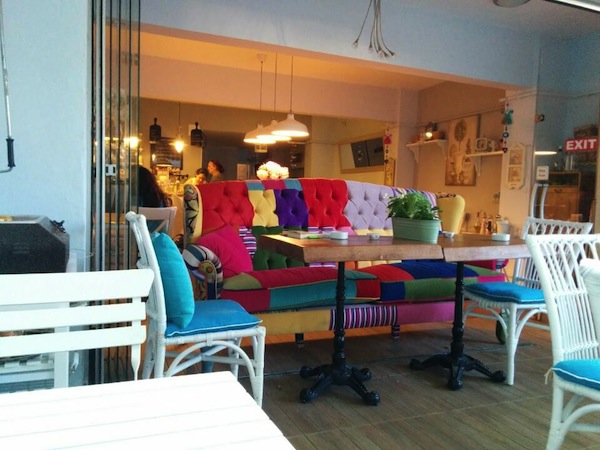 "Where can I go when I'm the awkward third wheel on a date?"
This unfortunate situation has been endured by many, myself included. To make this situation survivable, I've come up with a checklist for any potential locations. Kırık Fincan on Barbaros Blvd. in Beşiktaş thankfully passes this test. With that in mind, don't limit yourself to this place as merely somewhere to lessen agony. It deserves better than that. But, if you do find yourself having to bite this bullet, I recommend this below ground cafe near Beşiktaş Çarşı.
The most important thing with any restaurant is the food and drinks. There's no alcohol here, but there's a pretty long list – about 20 each – of teas and coffee drinks. Their bardak çay has a pretty mild flavor and their herbal and fruit teas come in french presses. You can choose something to either wake you up from the lovey-dovey conversation you're enduring or dull the senses. You pick. If you like to pair your awkwardness with a side of irony, you can buy the "Love Tea" which comes in a big conspicuous pot with an Earl Grey flavoring.
For food, the best start is to warm yourself up with the paşa çorbası. The entrees are a variety of meat dishes, like the traditional mantı to curry chicken. For breakfast and brunch you have different menemens, tosts, and traditional Turkish breakfasts. But the most enjoyable has to be the fıncan kahvaltı. It's a collection of cheeses, meats, and vegetables (kind of like the traditional breakfast), but with a sweet basil salad dressing instead of honey and jellies. These should hopefully make your silence less awkward – you can't reasonably be expected to join the conversation when you're chowing down on delicious food, right?
The other way to get through the agony of being the third wheel is to keep yourself occupied. The ambiance inside the cafe puts you in a carefree mood. There's always an array of Frank Sinatra and 60s jazz to distract you as your friends proudly proclaim, "No, I love you more" back and forth to each other. The patio is slightly below street level and is a perfect locale for people watching, as you can stare at everyone without having to look any of them in the eye. It's equipped with a set of couches and comfortable lounge chairs, so you can slink down once the make-out session or blow-up fight (or both!) inevitably begins.
If you're seated inside there's also a ton of outlets. So, you never have to worry about your phone dying – you can happily fool around on your phone instead o listening to your friends reminisce over their trip to IKEA. If your phone does die, look around for the small son of one of the waitresses – he's usually more than happy to show you whatever toys he's playing with that day.
Afterwards, you're right next to the heart of Beşiktaş and can make a quick escape.
Address: Cihannüma Mahallesi, Barbaros Bulvarı, No. 45/A, Beşiktaş, Istanbul