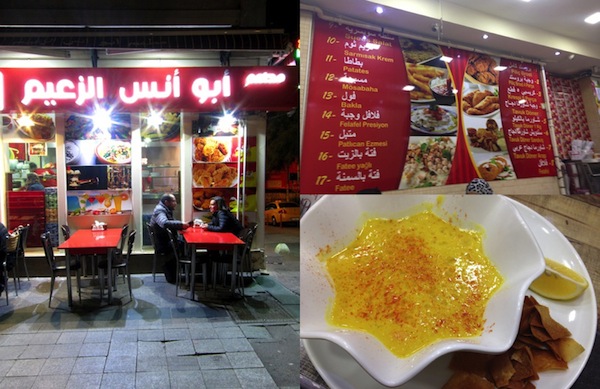 "Where can I find the best falafel in town?"

Nestled in the heart of Beyoğlu is a chicken; a chicken wearing a bright, red cowboy hat. But don't let the disturbingly familiar logo frighten you, because beyond the fluorescent signage and sparkling floor-to-ceiling windows is another Istanbul diamond in the rough: Syrian eatery Farooj al-Zaeem. Whether you're dining alone in the corner like everyone's favorite meth kingpin, or chowing down with friends, prepare your taste buds for the ultimate lemon-garlic score.
Served without fuss by a red visor-clad (I'm not kidding) member of the friendly and multilingual staff, al-Zaeem's falafel is the ultimate vegetarian feast. Made from pureed chickpeas and garlic, this Middle Eastern classic comes as a wrap or platter – both options boasting a helping of homemade hummus; and not your standard, tired meze-platter hummus – velvety, flavor-packed Mediterranean hummus Hummus, with a capital H. If you're in a more adventurous and/or carnivorous mood, the meal-in-a-bowl fetteh, with its carefully curated layers of broth-soaked pita chips, shredded chicken, chickpeas, and tahini-yogurt-garlic sauce, all topped with crunchy pita squares, is sure to delight.
Speaking of chicken… If you're in a rush, a shawarma is the perfect on-the-go option. But be warned: tavuk döner this is not. Loaded with the kitchen's skillfully seasoned rotisserie chicken and pickles (lettuce, tomatoes, and cucumbers are also available) and then grilled in a panini-style press, the genius in this authentic pita-wrapped meal lies in the toum crème, a house made garlic sauce so irresistible you'll be sorry you left your toothbrush at home. In the mood for something lighter? A mammoth-sized bowl of lentil soup alongside a heaping plate of zesty fatoush salad topped with (what else?) garlic-infused pita chips is the ultimate "I could eat" combo. And in case you were wondering… yes, you can channel your inner Heisenberg with an order of fried chicken. El pollo Zaeem is seasoned, breaded, fried and served with sliced veggies and fries – but sadly, no onion Frings.
Al-Zaeem's dining room (and "secret" rooftop patio) is located just behind the Demirören shopping center on Istiklal Caddesi and is open 24/7.
Address: Halas Sok. No.2, Beyoğlu