Yabangee is happy to offer our support to our good friend and party guru Senem Selimi (of Istanbul Expats & Internationals) and her always fantastic parties. After a 2017 full of popular events, she's taking it up a level in 2018 with a Winter Nights Party to take place on Friday 16 February at Society Lounge Bar. DJ Radwan Algorado will be on deck to keep the crowd up late and happy. The event starts at 20:30, with free entry. RSVP is mandatory.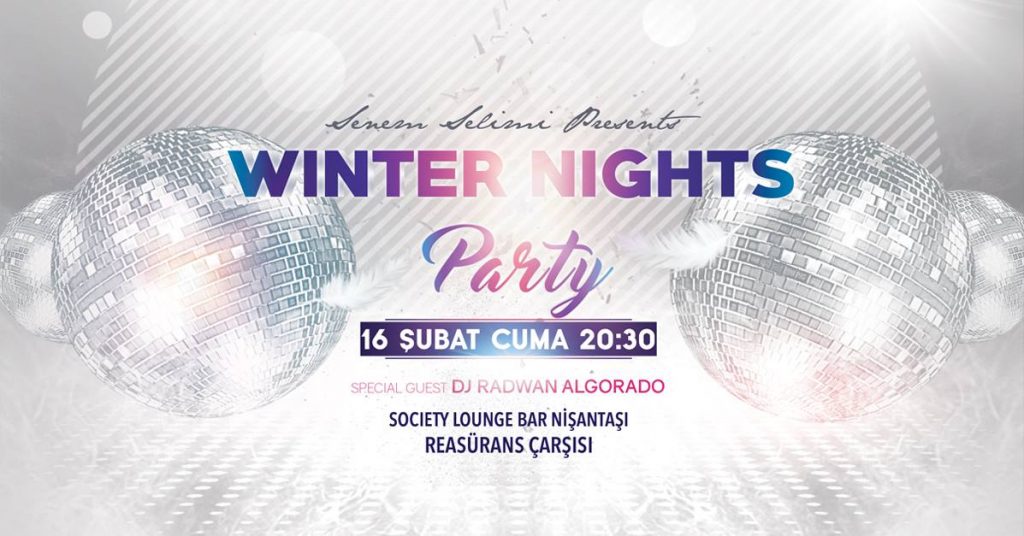 From the organizer:
Dear Ladies & Gentlemen,
2018 cold winter nights are ahead of us. Why don't we all get together at a fabulous hidden venue in Nişantaşı with a Winter Nights party at Society Lounge Bar on Friday 16 February at 20:30?
Our great DJ Radwan Algorado will impress you with his great tunes through out the night.
Let's make this Friday night enchanting and unforgettable for us!
Please note, registration is mandatory and admission is by guest list only. There is no entrance fee.
Media Sponsors
Maxihaber (www.maxihaber.net), Evos Angels Dijital Dergi (www.evosangels.com), Yabangee (www.yabangee.com) and İstanbul Expats & Internationals group.
Award Sponsors
Cosmetics & Dermatologist Dr.Mehmet Rahşan will give Carbon Peeling & Skin Treatment application to 2 of our guests.
Skin Care Treatment with Golden Mask from Songül Estetik at Salon Eren Yılmaz
Hair repair mask Treatment from Garage Hair Repair Studio Nişantaşı
Dentaluna Clinic (www.dentaluna.com) will give award "laser teeth whitening application"
AccessBars Energy Specialist Nihal Coşkun will give 2 of our lucky guests an Energy Session.
Our dear friend Burak Güner is supporting us with his network as well !
Thank you to Bike Kefeli for our great poster design !
For Photography & Video Shoot; Yasemin Evcen will capture the best moments of us.
The evening will start at 20:30 PM.
Dress code is Business casual, Smart casual. Ladies let's be glamorous, gentlemen I am sure you will impress us too….
With My Kindest Regards,
Senem Selimi – (507) 948 49 00
İstanbul Expats & Internationals Group on FB
—
For more information and to RSVP, be sure to check out the official Facebook event.
Image courtesy of the organizer.
Reasürans Pasajı / Nisantaşı