There are many ways to find solace during these damp days in Istanbul. As winter settles on the city, streets come alive with the smell of roasting chestnuts, and plenty of cafes offer seasonal winter drinks or a fireplace to curl up in front of. A day at the hamam followed by mulled wine at a warm bar can also offer escape from the rainy cobble stoned streets.
In any case, winter is best enjoyed indoors, and while the city offers many options in terms of cafes and bars, my ideal winter day begins and ends in Istanbul museums. Now that I have secured my museum card, I know I can easily pass through the lines and spend as much time as I want inside almost any museum without the usual tourist fee.
As an artist, I have spent most of my time getting to know this city by sketching it. Drawing on location is my way of discovering new details in familiar places, or getting to know new locations with fresh eyes and excitement. It has also recently become a way for me to socialize, practice my Turkish and spend a unique day with friends.
I realize that drawing may not be everyone's thing, but I suggest just trying it out. At the very least, it can be a fun hobby, and a great excuse to get out and see new places in the city. Here are a few of my favorite Istanbul museums for sketching on these cold days, combined with a winter-appropriate activity.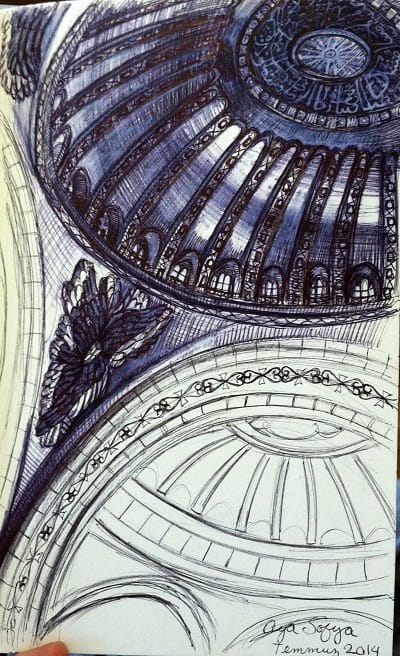 Sketching in Hagia Sophia/Hot Salep in Sultanahmet Square
On winter outings, I have most often found myself visiting Hagia Sophia. Perhaps it is the magnificence of the building, the intricacy of the mosaics, or the visual evidence of layered civilizations that have dominated this city, but I am always awed by this space.
There is so much to be discovered within the building, so many details that can easily go unnoticed. I have found that the best way of looking is by drawing. Sitting in one place for hours and examining the same area of the dome, or a mosaic figure, or a recently uncovered fresco, I notice what I have never seen before, and quite possibly never would have seen.
Though the crowds can be absurd, and sitting against a marble column is slightly chilly, this is a place where I will return again and again. Thankfully, it is only a short tram ride away.
I usually stay for at least an hour or two, depending on who I am with and where we are in our drawing process. However, sitting on a stone floor can get cold after a while, so when you are ready for a break just step out into Sultanahmet square where there are plenty of winter treats to enjoy like hot salep or roasted chestnuts.
For more information on visiting hours and special exhibitions, visit the museum's website here.
Pera Museum/Afternoon Tea at the Pera Palace Hotel
For something less crowded and off the beaten path, I have often visited the Pera Museum in Beyoğlu. Just off of Istiklal Caddesi, the Pera Museum hosts fantastic rotating exhibitions such as Andy Warhol or Botero. But when it comes to sketching, I come here for the permanent collection.
Objects are always fun to draw, as it is less overwhelming to concentrate on something small and seemingly simple.  The Anatolian weights and measures collection holds over eight thousand scales and measuring instruments used for anything from jewelry to architecture or the measurement of land. I love walking through this floor and doing quick studies of the different weights or scales while learning about this intriguing part of Anatolian history at the same time. A great way to visit the museum is to first make your way through the temporary exhibit on the upper floors and then take some time on the lower levels examining these small objects. If you're more into ceramics, continue onto the floor hosting the Kutahya Tiles Collection.
As you wander out of the museum, step across the street and into the historic Pera Palace Hotel, where afternoon tea is served daily from 15:00 to 18:00. Enjoy fine sandwiches, scones and some live piano in the elegant lobby. It's a perfect way to unwind after a trip to the museum, as well as a warm atmosphere on winter afternoons.
For more information on visiting hours and special exhibitions, visit the museum's website here.
For information on the Pera Palace Hotel and afternoon tea, click here.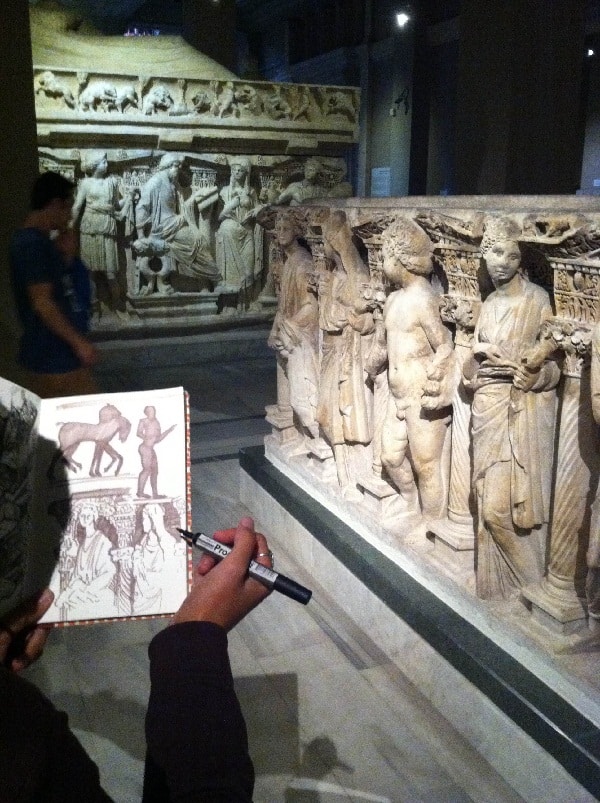 Archaeology Museum/Gülhane Park
I used to spend hours in this museum, tracing though Istanbul's vast history before sitting in one place to finish a detailed drawing. However, I recently visited this museum with a guest who was eager to see the whole museum. So we wandered from room to room, making quick drawings of artifacts and statuary along the way. This can be more fun, as it allows you to see the entire museum and also keeps the drawing light and not so serious. While strolling though, we both stopped from time to time to stand in front of some object of interest and make a quick sketch.
The museum is usually warm, and though filled with marble and stone objects, feels somehow cozy on a rainy day.  I visited here once on a cold day in February, and was surprised to find a small opera concert commencing just next to the Alexander Sarcophagus. It was just the kind of spontaneous surprise I often find on outings in Istanbul, and wonderful background music for drawing.
After visiting the museum, I usually take a stroll through Gülhane Park.  In the winter time, you can enjoy fresh popcorn, roasted chestnuts and a variety of hot drinks from vendors just outside the park entrance.
For more information on visiting hours and special exhibitions, visit the museum's website here.
Gabrielle Reeves is a contributor to Yabangee