ACHPROJEKT will offer a bit of weekday magic with their "Ach! Mitt Afterwork Event Series" featuring DJ performances from Kaan Düzarat and Mehmet Aslan on Wednesday 23 August at Mentha Karaköy. The event also features culinary delights from local chefs. Entry is set at 25 TL for Yabangee readers (40 TL at the door), including an appetizer box, with tickets available via bugece.co. The fun kicks off at 19:00.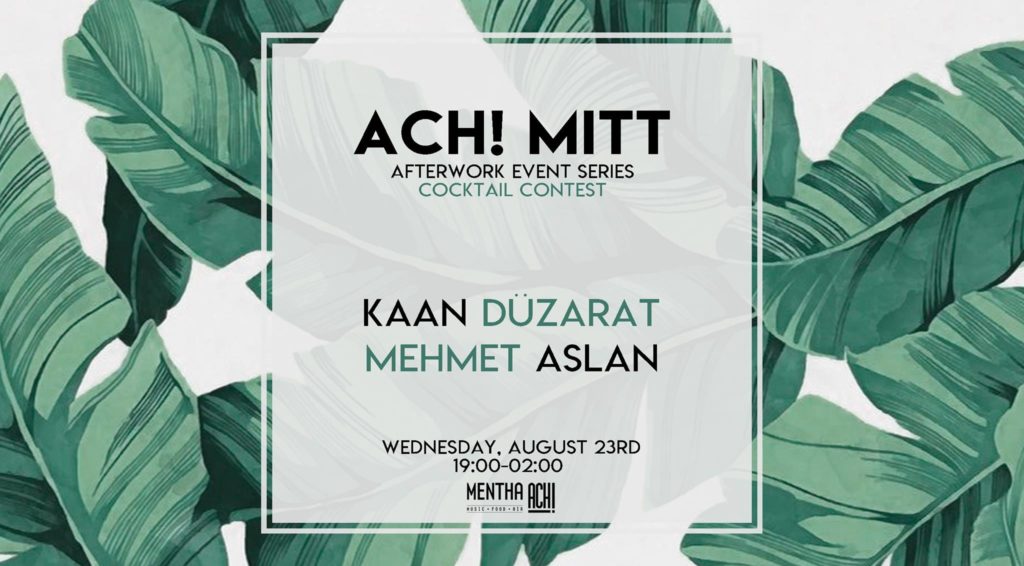 From the organizer:
Our special appetizers prepared by only the best chefs will make your taste buds dance all night long. Along with its cozy rooftop ambience, Mentha Karaköy will host the hottest DJs of the season. We are transferring the over-times to the headliners of Turkish edited minimal disco: Kaan Duzarat who hosted Boiler Room in Istanbul with Analog Kültür label and Mehmet Aslan who is spreading the sounds of his own adventures between Basel-Berlin-Istanbul!
△ MEHMET ASLAN
Picking up on the sounds from his childhood memories, this Swiss-born Turk unintentionally found his way into producing his own blend of hamam house during his formative years in the Basel club scene. After a wild night out with some friends in 2013, Mehmet woke up in an alley near Berlin's Ostbahnhof with no idea of how he had gotten there. Penniless and with no way of contacting his people back home, Mehmet decided to make his way in this newly adopted home. Fast forward to today and Mehmet has seen original releases and edits on labels such as Ata's For Disco Only, Huntleys + Palmers and HIGHLIFE. With his newfound success, Mehmet has finally come to realize his dream of crafting live Saykodelik, Turkish Hymns for club goers around the world by mining various areas of classic folk music and contemporary electronic beats.
△ KAAN DUZARAT
Kaan Duzarat slowly built his reputation starting with his radio program, Kompozit at Dinamo (FM 103.8) since 2003 in Istanbul. In recent years, he started Vesvese On Air to broadcast the parties he hosted under the same name and Meze for RBMA Radio. Vesvese spread its roots with the parties Salı Sallanır, that held at Kucuk Otto between the years of 2009-2012, and hosted guests such as Dez Andres, Kasper Bjorke, Daniel Bortz, Nicolas Jaar, Portable, Kate Simko, Move D, Soulphiction, Tevo Howard, Fred P, Mike Huckaby, Eddie C and many more. In 2013, Kaan attended to Red Bull Music Academy in New York. He's curated and organized events including brands and names such as Boiler Room, Orange Date, Mulatu Astatke, DJ Harvey, Moodymann, Darkside, Kyle Hall, Marcellus Pitmann, Wolf + Lamb and many more. He has a residency at Istanbul's legendary minimuzikhol, he pays his respect to his influences of Turkish and world folk music with his projects, under the collective name FOC Edits. Kaan's musical journey gathers Detroit Techno to Disco, Jazz to Folk. You can find him continuing his journey around the universe of sounds, digging records, chopping samples and breaking analog systems at his vinyl and sound equipments shop/studio, Analog Kultur at Galata, Istanbul and experimenting sounds with his band Analog Kultur Experiment.
—
For more information, check out the official Facebook event.
Featured image courtesy of the organizer.
Kemankeş Karamustafa Paşa Mah. Kemankeş Cad. No:31 Karaköy