Boğaziçi University, commonly shortened to BU, was founded in 1863 as Robert College and is the first American higher education institution founded outside of the U.S. It is considered the most selective public research university in Turkey and is the only Turkish university to consistently rank among the top 200 universities worldwide.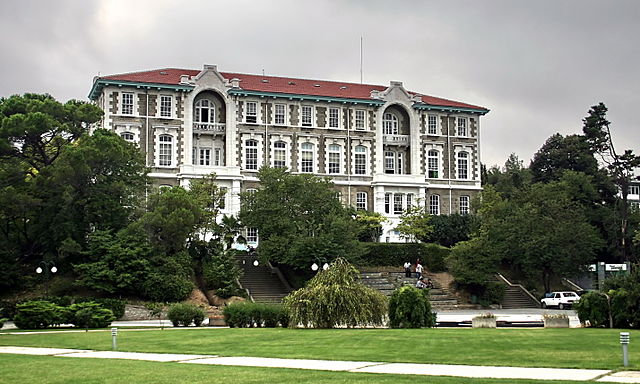 Where to Live:
There are a number of different dorms at Boğaziçi but international students are only allowed to live in the Superdorm. It is fairly new and has an in-house market, cafeteria, laundry and daily cleaning services but the cost makes it so that most full time students choose to live elsewhere. For this reason, it's acquired a bit of a reputation that doesn't quite live up to its "super" name. Rules are fairly strict in theory (no smoking, no alcohol, no visitors after 1 AM) but are also enforced mostly in theory. It is about a 10-15 minute walk to the main parts of campus with a variety of bakeries and tekels to sustain you along the way. Delivery is also constantly available to the dorm and there's a track and weight room next door when all the Pizzabull's takeout starts to add up. While the Superdorm might not be a first choice, it is a reliable on-campus option in terms of accessibility, safety and convenience for most international students.
Most of the students who live off-campus live in Rumeli Hisarüstü, the neighborhood around the university. Some students also choose to live in the nearby and slightly more upscale neighborhood of Etiler. These are usually apartments shared by a mix of international and Turkish students and options can be easily found through different Facebook groups as well as on websites like Craigslist. Boğaziçi's Erasumus Exchange Network (ESN) Facebook page is a good place to start. Depending on the quality of the place, rent can be anywhere from 500-1000 TL per month per room, not including utilities but usually coming with furnished or semi-furnished bedrooms and kitchens (or permanent roommates willing to share their pots and pans). The area is mostly filled with students or families affiliated with the university, so neighboring flats are usually casual if not on the quiet side.
Campus:
Technically, Boğaziçi has six campuses, although this is a little misleading. The vast majority of the school is located in the area around Rumeli Hisarüstü with North, South, Hisar, and Uçak Savar, all located within walking distance of one another and also connected by a generally accessible if not overfilled shuttle service.
The South Campus is by far the most beautiful and the historical heart of the school. There is a large quad in the middle of the campus where students lounge, play sports and generally ignore the fact that they should probably be in class. South Campus' views of the Bosphorus are Instagram-worthy even on a bad day and there's access to the water and the sparkly neighborhood of Bebek (complete with waffles and Ottoman castle) if you're willing to walk down a somewhat life-threatening hill. If not, sitting on the benches that line the edge of campus is a nice option, especially around 11pm with a few cans of Efes (which is technically not allowed but mostly ignored). There is a cafeteria on South that offers breakfast, lunch and dinner for the cost of one swipe of your BU card (around 1.30 TL) and also three take-out canteens as well as snack shops in almost every building that take cash and the occasional credit card. South also hosts the club and sports committees as well as most faculty offices and the international students office.
If your class is not on the South Campus, chances are it will be on North Campus. The entrances between the two are across the street from one another, although there is a trek down a hill to get to the central part of the South Campus. North Campus is home to a lot of concrete and some spectacularly horrific 1970's architecture. That said, it also has a cafeteria open longer hours than on south and the library, which is accessible 24/7 and Boğaziçi's student-run cinema, SineBu. There's also a newly-opened Espresso Lab and people over-caffeinating themselves and/or chain smoking on the patio almost constantly.
The Hisar Campus, which is the most isolated, is home to a few, seemingly random faculties (computer science and business, primarily). Most students won't have classes scheduled there but may want to check it out for the full-service pool and gym.
The Uçak Savar Campus is known mainly for being the site of the Superdorm and the neighboring sports field and track. There's a small weight room, which unlike the gym on Hisar has free access but also limited offerings. There's also a performing arts center, which hosts many university programs and the occasional class.
The school also has two satellite campuses, one called Kilyos on the Black Sea which hosts the English prep program, and the other called Kandilli, which is on the Asian side of Istanbul. As an international student, it is highly unlikely that you will have any need to go to either of those campuses but they are both available by shuttle bus a few times per weekday. It's is also worth noting that Kilyos hosts occasional concerts and beach parties in the spring and summer.
Neighborhoods:
There are three main neighborhoods around the school: Rumeli Hisarüstü, Bebek, and Etiler.
Rumeli Hisarüstü sits on top of the hill overlooking the Bosphorus, between the North and South Campuses, and is by far the most affordable. It is very much a student neighborhood, with lots of relatively cheap restaurants, little shops for photocopying and home goods, liquor stores and the like. There are two main supermarkets that sell acceptable produce as well as a few bakeries and a BIM, for bulk shopping. Most shops close around 22:00 or 23:00, though a few fast-food döner shops stay open until well past midnight. It is easy to shop for groceries and small household items around the neighborhood but you'll have to travel for furniture, bedding, and other larger appliances. There are many hole-in-the-wall bars, a hookah lounge or two and numerous cafes, some of which turn into wannabe discos after sunset. That said, if you want to go out dancing you should find a better option. There is a park in the neighborhood but you are unlikely to find students hanging out there and it seems to be under semi-constant construction. It is a rather safe area and usually quiet.
Bebek is down the hill from the South Campus, along the strait. It offers wonderful views of the water, complete with strolling couples and many expensive restaurants and cafes. Of particular note are Lucca, a fancy restaurant/nightclub that frequently hosts Istanbul's elite and famous, and of course the Bebek Starbucks, which has an unbelievable view. There is an occasional ferry service across the strait and many buses that connect both up and down the strait. It's unlikely to find affordable student housing here but it does make for a nice place to study, lunch solely on waffles, jog off said waffles or otherwise spend the day.
In terms of attractions, Rumeli Hisarı is a big draw. Rumeli Hisarı, meaning "Roman Fortress," was built by Sultan Mehmet the Conquerer in the late 15th century while preparing to sack Constantinople. It also gives its name to the neighborhood above it, Rumeli Hisarüstü, which means "on top of the Roman fortress." The entrance to the castle is between Bebek and the bridge with a student cost of 10 TL. It is paired with a smaller castle, the Anadolu Hisarı, which is directly across the Bosphorous but currently not open to visitors.
Etiler, which is also at the top of the hill, is only a few minutes' walk from Rumeli Hisarüstü, but there is quite a contrast between the two neighborhoods. Etiler is much more upscale with expensive restaurants, specialty stores and the closest mall (Akmerkez). It's accessible by bus and also is connects on the M2 metro line as the second-to-last stop.
Campus culture:
Admission to Boğaziçi is very competitive for Turkish students and some claim that due to the Turkish testing system and the benefits of tutoring many of the students come from wealthy backgrounds. As it is a public university, however, there are many scholarships and quotas that support students from varied backgrounds. A particularly apparent example are the walkways for sight-impaired students, which have a strong presence on campus. The atmosphere around campus tends to be very relaxed, though security has increased in recent years and anyone entering the campuses must show a BU ID or be registered as a visitor. One of the more charming aspects is the stray cats and dogs that call campus home. You will often find them in classrooms or begging in cafes but they are cared for exceptionally well by the neighborhood and are a unique part of the campus.
Food:
There are many food options around the school. First, each of the campuses has one or more affordable canteens or cafes. There are also dining halls on the North and South Campuses which cost 1.50TL per meal for students, consisting of a main dish, fruit/drink/dessert, rice/bulgur/pasta, and soup. If you are trying to save up money for travel or nightlife, these meals can be a lifesaver.
There are also a great deal of options off-campus. Rumeli Hisarüstü has many home-style and kebap places as well as a few fast food chains, pizza and one Asian food takeout. Most places are catered to students and their budgets and are fairly traditional. Bebek and Etiler, though more expensive, have brand names and other international options as well as exclusive brunch spots and steak houses. Bebek is known for its waffles, which are topped with chocolates, fruits, and any number of other additions.
Transportation:
The transportation around school is relatively simple. With the opening of the Boğaziçi metro stop, Levant (and all of the shopping that comes with it) is reachable in 15 minutes and you can be standing in Taksim after a streamlined 30 minute ride. The main bus that runs along Rumeli Hisarüstü is the 559C, which goes from Boğaziçi to Taksim. It also stops at Zincirlikuyu, from which you can take a metrobus to Atatürk Airport. If you stay out late in Taksim, there are a couple of options. First, you can take a taxi, which should cost you between 20-30 TL. Bus 40 also runs about once an hour throughout the night from Taksim along the coastline and passes through Bebek, but requires a walk up the hill afterward.
There are shuttles that run between the campuses at school, despite the fact that they are all walkable.
Services on campuses:
There is a gym and pool in the Hisar Campus that are reduced price for students. There is also a field next to the Superdorm on the Uçaksavar Campus, although it needs to be reserved. Underneath that field is a free weight room. The basketball court on the South Campus is free to use and has basketball hoops and small soccer goals.
Right inside of the entrance to the North Campus are the library and study hall. The library has a few floors and is silent most of the time. In the study hall, on the other hand, you can be as loud as you like, and it is a better place to study in groups. During the school year, both are open 24/7.
Nightlife:
There are a number of bars and a few hookah lounges in Rumeli Hisarüstü, such as Keci Pub and Wagon. They are mainly low-key places, which are good for sitting, talking, and drinking beers, but rarely feature dancing. If you're planning on staying up all night, a better choice is to go to the Taksim area. Beer is standard price for Istanbul and hard alcohol, like everywhere else, tends to be pretty expensive.
In Bebek, the options are very upscale and tend to cater to an older (or perhaps just wealthier) clientele. Most of these clubs requires jackets for men and heels for women. Beautiful views come with the entrance but the bottle service does not.
Etiler offers lots of mixed drinks with dinner but few standalone bars or clubs.
Clubs/extracurriculars:
No matter what you're interested in, Boğaziçi probably has a club or a team for it. A list of clubs, and their e-mail addresses, can be found here.
At the beginning of each semester, there is a club fair where the clubs set up tents and you can meet their members in person. Most of the clubs have offices on the bottom floor of the men's dormitory on South Campus, and you can try visiting there as well. In addition to the clubs on the list, there are a large number of sports teams for students of any gender or skill set.
Common necessities:
There is a health center on the South Campus that is free for students. For more serious matters, there is a hospital very close in Etiler. There are a few pharmacies in Rumeli Hisarüstü, as well as lots of print and photocopying shops for academic needs. Another print and photocopy location is on the South Campus or the library on North. Specialized doctors, dentists, etc. are accessible in the neighborhoods around the school and usually have at least one member of the staff who speaks good English.
Language:
The language of instruction is English, and it is strictly adhered to (except, of course, in language classes). Everything else on campus, however, is in Turkish. The students mostly understand English easily but some can speak better than others. Many non-teaching employees on campus will have little or no knowledge of English, so if you are doing something like financial aid, it is nice to have a Turkish buddy tag along. It is acceptable to speak English around campus, but as with everywhere else, it is appreciated if you learn at least some Turkish.
How to apply/what options are there? 
Though not exactly common, Boğaziçi does accept international students as full-time students. Exchange and Erasmus, however, are much more prevalent, and students from around the world study at Boğaziçi for a semester or year. Many schools offer study abroad programs at Boğaziçi, but you can also directly enroll in the school for a semester.
Click here for the Boğaziçi University website.