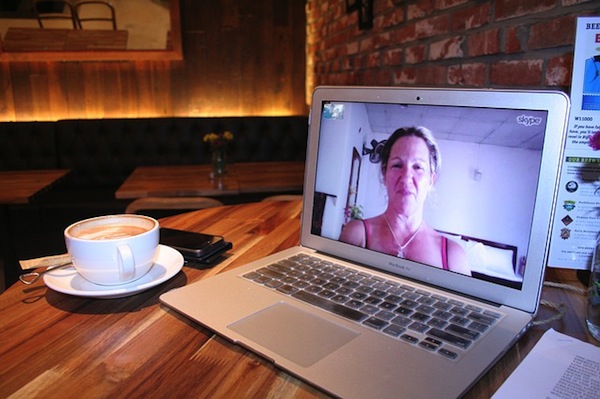 Traffic is a daily grind for some 14 million Istanbullus. That's not even counting the outskirts, which include several million more.
You get used to spending sometimes hours a day commuting to and from work. More than once, I have put in days where I spent more time in traffic than actually teaching.
With such a marvelous tool like the Internet at my fingertips, why am I doing that? What about teaching online?
Actually, I already do on a semi-regular basis. All I need is a laptop, a microphone and a reliable Internet connection. I work in the comfort of my own flat and teach students not just from all over Turkey, but all over the world. For example, I taught a group of businessmen based in Riyadh, Saudi Arabia, three days a week without even having to leave my bedroom. On other occasions I have taught students in Cyprus, as well as Kurds in the innermost reaches of rural eastern Anatolia.
Here in Istanbul, many of the world's biggest companies have a presence, hence the need for English. Some of the corporate offices where I teach are considering the same thing. Deniz, an IT manager at an American firm, says he believes allowing employees to work from home (one day a week, depending on their job) could provide many benefits.
"We are looking into its possibilities," he says. "Telecommuting would reduce the amount of overtime, plus cut down on transportation costs, service buses." Most of the big companies provide employees with pick-up service buses from their homes in the mornings, and drops them off in the evenings.
Theoretically, this substantial cost could be reduced. Plus, the enviro in all of us can take the equation further, imagining the reduction in traffic, air pollution and fuel consumption.
One of the sticking points, Deniz and other managers say, is figuring out ways to monitor employee performance while they are working from home. Naturally, there are fears that some would abuse the privilege – the stereotypical image of a pajama-clad, unshaven slacker swilling beer, eating potato chips and doing nothing all day still prevails.
"What about a trial period – say, six months?" I ask.
"That's probably what we would do," is the consensus.
With this hopeful feedback in hand, the next thought is inevitable: If employees could work more from home online, why not also have their English classes online, as well?
For instance, one of my online students, Ufuk, is a manager at a media company on the European side.
"I love it," she said. "After working all day, I can just relax on my sofa with my tea, and have my English lesson on the computer."
Surely, millions would agree, right?
Not everybody finds the idea so appealing.
"You would get bored being home all day," my wife Özge argues. I tend to agree. Despite all the stress, the traffic, I do get a certain exhilaration each day when I set out for work in this great city. What will the day hold?
"I just don't feel good about myself if I don't pop into the office at least once a day," another one of the teachers confides. He's an American in his thirties, and admits he has somewhat of a traditional attitude. Working from home somehow – on a long-term basis – would make him a slacker in his own eyes.
I know what he means by that, and I agree with my lovely wife as well. One does need a challenge in life, as she always says.
Still, at times, such as the other morning, when my driver and I were returning from Umraniye, stuck in traffic going back several miles, the persistent idea returned. I imagined starting up my own online English teaching company. Various names were batted around: Tele-English, E-English, Giant Steps. Wait, Giant Steps! Giant Steps English. The name of the Coltrane standard, blazing along to the tune of my idea, filled the imagination, fired the ambition. It drowned out the sounds of car horns and thousands of running engines. All at once, the city suddenly appeared very small and manageable. The world was my e-oyster. How to beat the high cost of living? Take a giant step, my friend. Here at Giant Steps English, we're here to help you manage your time, manage your education. Check out our website at www… I almost tapped my foot along to the beat of my own concise, clever marketing.
As the traffic crawled along, my online business grew and grew. I had clients in Ankara, Dubai, in Mumbai, Jakarta. I saw myself sitting on a beach – a working holiday – near the Red Sea, or perhaps the Turkish Riviera, sipping a cup of coffee and waiting for my laptop to warm up, the first student of the day to log on.
Of course, I would have the luxury of such working holidays because by then, I would have had to hire a manager and several other teachers to help with the workload. Finally, as the Coltrane rose to a climax, I sold the business, retired. My wife and I were living off our phantom millions in a modest apartment in Rome, or perhaps Paris or Geneva.
Finally, the traffic began to clear. The driver and I found a suitable back street, and cruised back to the school.
"James, bu akşam ders var mı?" he asks.
"Yes," I say, with a resigned sigh. He asks what time I finish.
At eight o'clock. God willing, I'd be home by nine. The sight of my empire flickers, vanished, along with my unseen millions. Why was I not born with more entrepreneur blood? Where was my old American pioneer spirit?
Alas, the dream remains ever elusive, waiting for the right person to come along. Sure, there are already such online courses – most schools offer them. But nobody has really maximized the medium's potential, which is truly limitless – well, at least until the next blackout.
Anyway, dream on, and dream big, my friends. If nothing else, it passes the time while you're stuck in traffic.
James Tressler is a writer and teacher living in Koşuyolu.
Featured Image Source: secondfromthesun0 | CC0 1.0 Universal | Pixabay