"You look like a rye guy?" I hesitate, almost declare for single malt, and then change my mind. When in Rome as they say…
I'm in Frontier Barber, Istanbul's newly opened go-to spot for the discerning gent looking to elevate his barbershop experience from the more rough and ready, chop-chop-thanks-a-lot approach of many an Istanbul groomery, to an occasion you'd happily put aside a couple of hours for and hang a lazy afternoon on.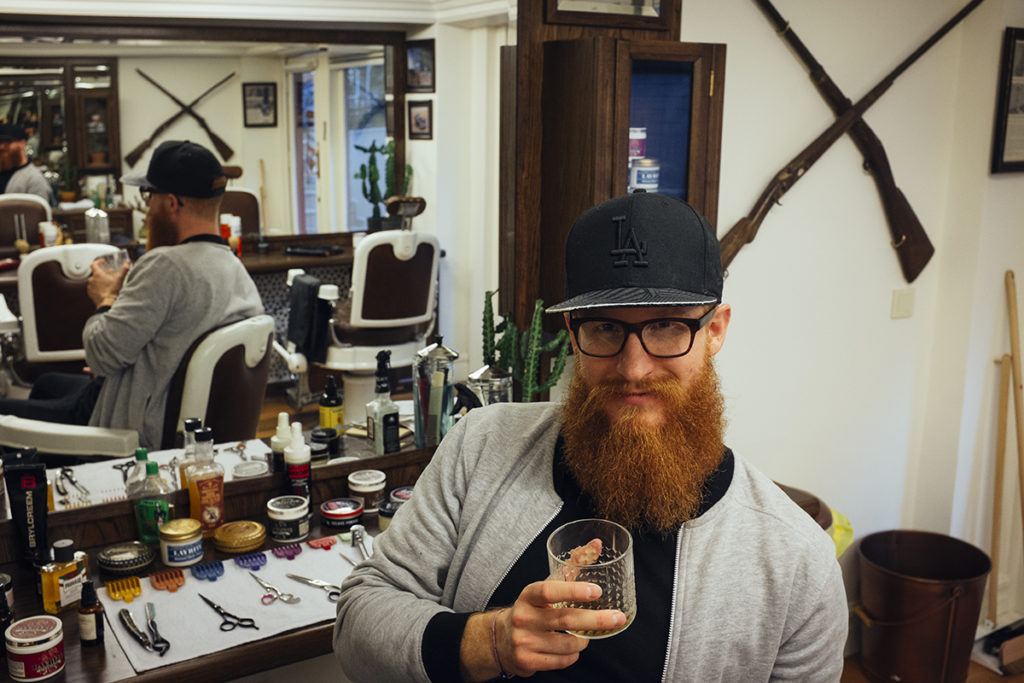 The brainchild of Brandon Patton, Frontier Barber, he tells us, is all about the details, details he's obviously keen to nail. "You're from Flushing right?" Brandon, who's sporting a big red beard, glasses and a baseball cap, asks Yabangee head-honcho Tarik Yassien as we take off our coats. "This guy's from Flushing!" he beams, gesturing vaguely upwards, indicating the reassuringly deep sound system through which Action Bronson is playing. Tarik cocks his head, listens a moment, and then breaks into a wide smile and an "oh yeah" as he recognises the beat. I smile too; it's a nice touch.
Half Australian, half American but raised in Hong Kong, Brandon first came to Istanbul six years ago after finishing university in California. He then went back to the US where he worked for his family's biotech company before deciding he wanted to train as a barber, inspired, not (as I vaguely speculated) by a sage Turkish barber he met while here, but rather by the new wave of barbershops that were opening up across New York City at the time. Embracing both the urbane man's penchant for the traditional barbershop experience, as well the social element of a buzzy neighbourhood spot where guys can drop in to shoot the breeze, and infusing it all with good sounding music, good smelling products and good tasting whiskey, this new vogue has since redefined New York's barbershop landscape, and is something Brandon is confident can be re-created here.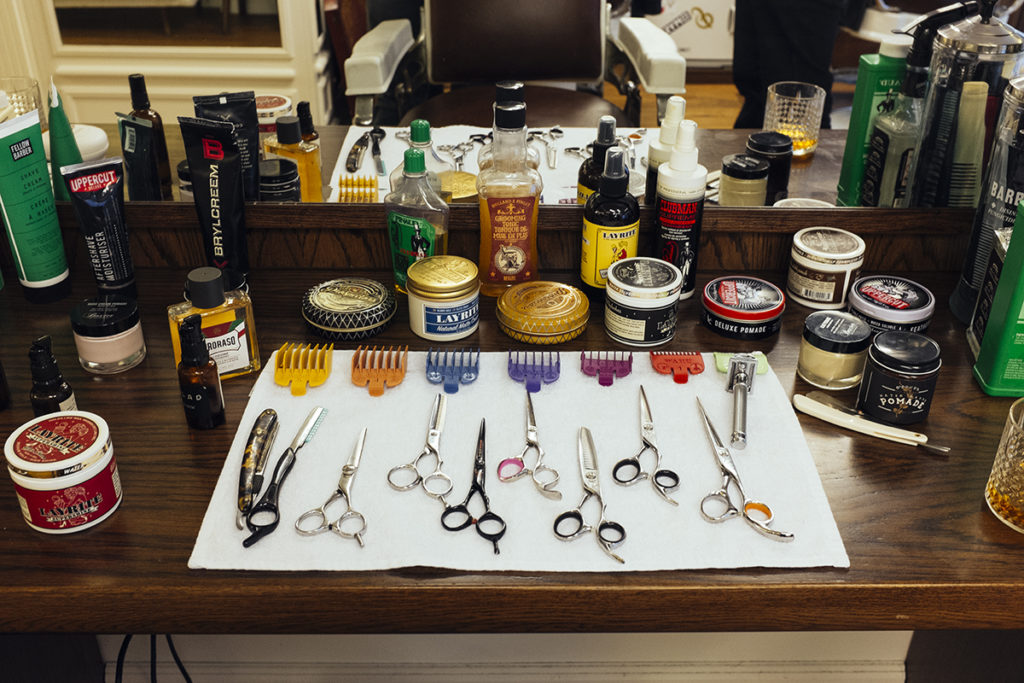 "There's been a huge revival of old school barbershops with vintage vibes all over New York," he explains. "The concept we're going for is simple: haircuts, beard trims and hot towel shaves, plus beats and a drink thrown in. It's a simple offering but for me it's quality over quantity every time. A few, simple things done really well, and complimented by high quality grooming products."
The space housing Frontier Barber is discreet, tucked away up a street beside Kitchenette Bebek, its multi-coloured barber's pole on the main sahil yolu indicating the way. Walking in you're enveloped by the rich scent of face oils and pomade hanging in the air. The stylish décor – old world, yet hip – includes a nod to the shop's name in the form of various potted cacti and two crossed rifles hanging behind the door. The counters are lined with colourful bottles and vintage knick-knacks, evocative of an old world nostalgia which is lent a contemporary twist by the water-sprays fashioned out of Jack Daniel's bottles. The imported barber chairs are sturdy (we're talking 400 pounds each), and finely upholstered with scuffed brown leather finishing. Beyond these sits the 'bar', the empty bottles of bullet whiskey lined up on the shelf behind it early suggestions that there's more on offer here than straightforward cuts. Opposite the bar are hanged various framed photographs, vintage adverts and tasteful celebrity snaps, and beneath these a low, squashy sofa, which I sink into.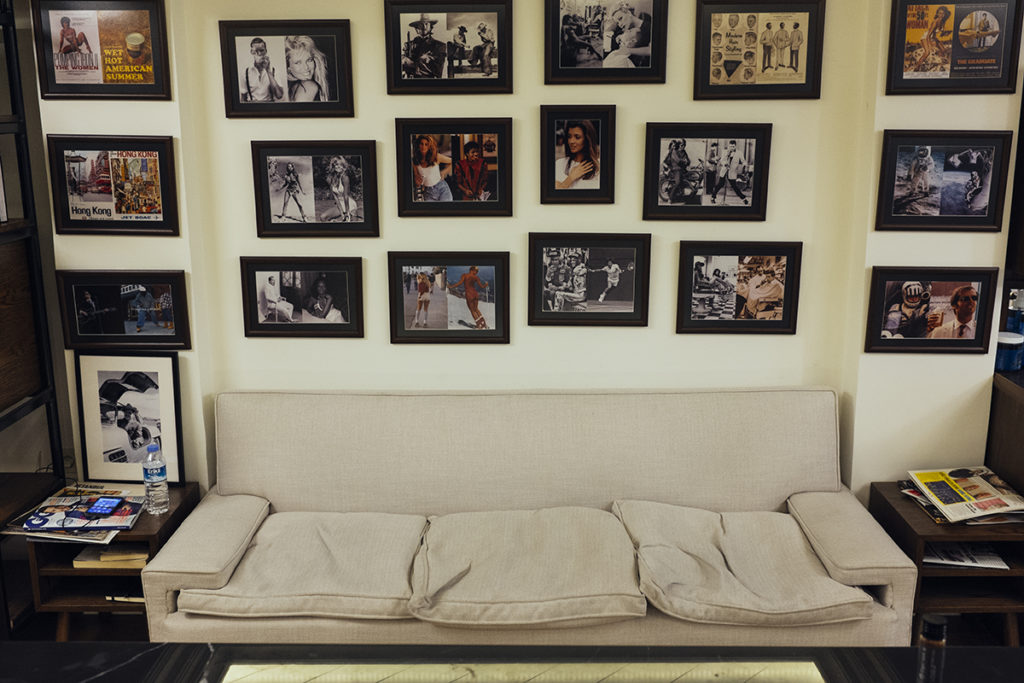 Once I'm sat Patton hands me a glass. "Hair of the dog?" he asks with a suggestive smile. We laugh. It seems it's one and the same for all of us on this sunny Sunday afternoon in early December. But whereas my previous evening's libations were taken in Balat, and Tarik's were put away in Moda, Frontier Barber has come to feel at home further up the Bosphorus. "We originally looked into a place in Akaretler," he says. "We found this amazing old bank vault there which would have been a great space for it but it didn't work out. Karaköy too would have been an obvious choice given its trendy vibe but you definitely need a residential area for something like this and as loads of Cihangir-ites have actually started to move north anyway in recent months, we in the end settled on Bebek."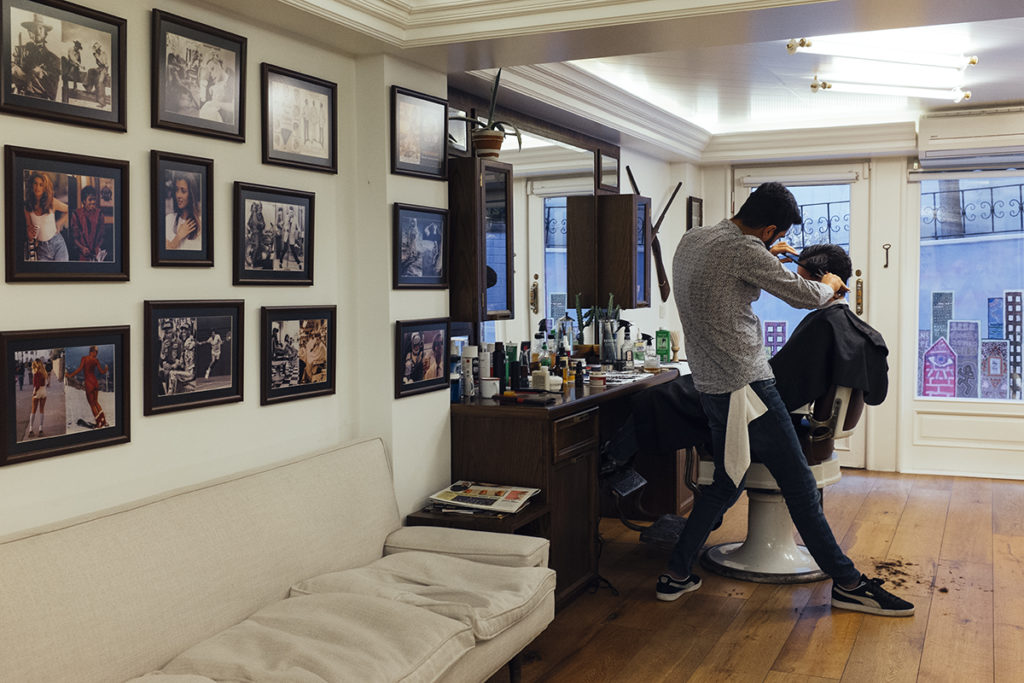 One of the hallmarks of the traditional barbershop spirit is its preserve as a hangout, a spot men could drop into, often on a daily basis, to share news, catch up or simply wile away the time reading the newspaper. These shops were luxury balanced with homeliness; fine walnut furnishings and marble counters mixed with the reassuring man aromas of cigar smoke and hair tonics, pomades and face oils. Indeed during their fin de siècle golden age barbershops often came to rival the all-male clubs that dominated in many European and American cities at the time as cultural salons in their own right. More than a hundred years on it is this social characteristic Brandon is keen to encapsulate. "I want people to feel they can drop in when they're in the neighbourhood, even just for a chat or to say hi. Or even just somewhere to come for a bit of an after party. It's anchored by its identity as a barbershop, of course, but it also celebrates the social tradition too." And then, as if almost on cue two clients-cum-friends drop in and its quickly apparent in the quick catch-up and easy laughter that Brandon's efforts have focused on cultivating friends over clients. In fact this was clear from the moment we walked in and he spent the first ten minutes asking about Yabangee, what it is, who it is, what it does, all with a wide-eyed charm and infectious good humour that puts you immediately at ease.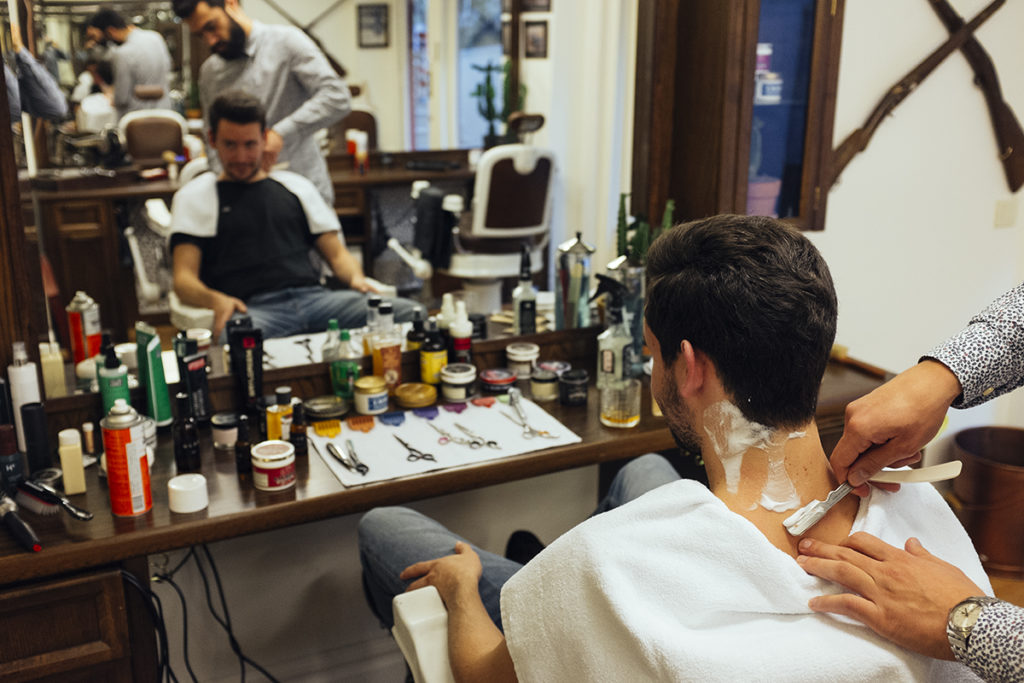 As Zeynel, Frontier's head barber, wet shaves the back of my neck rather than just using an electric razor I'm again struck by the attention to detail. Zeynel was working at Soho House's salon when Brandon met him, and was quickly persuaded to come on board with Frontier, taking to Brandon's vision of simple, pared back, yet quality service. With the haircut itself finished, and my hair washed for a luxurious second time, Zeynel reclines the seat so I'm completely horizontal and places a hot towel over my face. Eyes closed and background voices muffled I go completely zen, half-tempted to go into full on nap mode. After a few minutes languor, I rouse myself, conscious that even Sunday afternoon indulgences have their finishing times, and as we're leaving a friend from Cihangir arrives. Brandon proudly introduces him as Frontier's first customer and, obviously impressed, he's made the pilgrimage north again. The subject of people's loyalty to their barber is something Brandon acknowledges and understands, particularly somewhere as rich in its tradition of men's grooming as Istanbul. "Of course people are loyal to their barbers. But after a while you need to mix things up no? People need to 'cheat' on their barbers more," he adds with a laugh. Never a truer word spoken in jest though and it's clear that Frontier Barber's success hangs on its ability to successfully attract and retain customers willing to buy into the experience on offer here. Yabangee, for its part, fully recommends a fling.
All images courtesy of Colin Craig.
Cevdet Paşa Cad. Neşe Sok. No.4 Bebek – Istanbul