Özyeğin University, in collaboration with ATÖLYE, will host a Still Life Painting workshop under the guidance of Martin Harrison-Priestman on Saturday 22 July. Running from 10:00 to 16:00, the entry fee is set at 400 TL. Participants must RSVP by Thursday 20 July, with a 20% discount available for Fiba Holding and Özyeğin University members.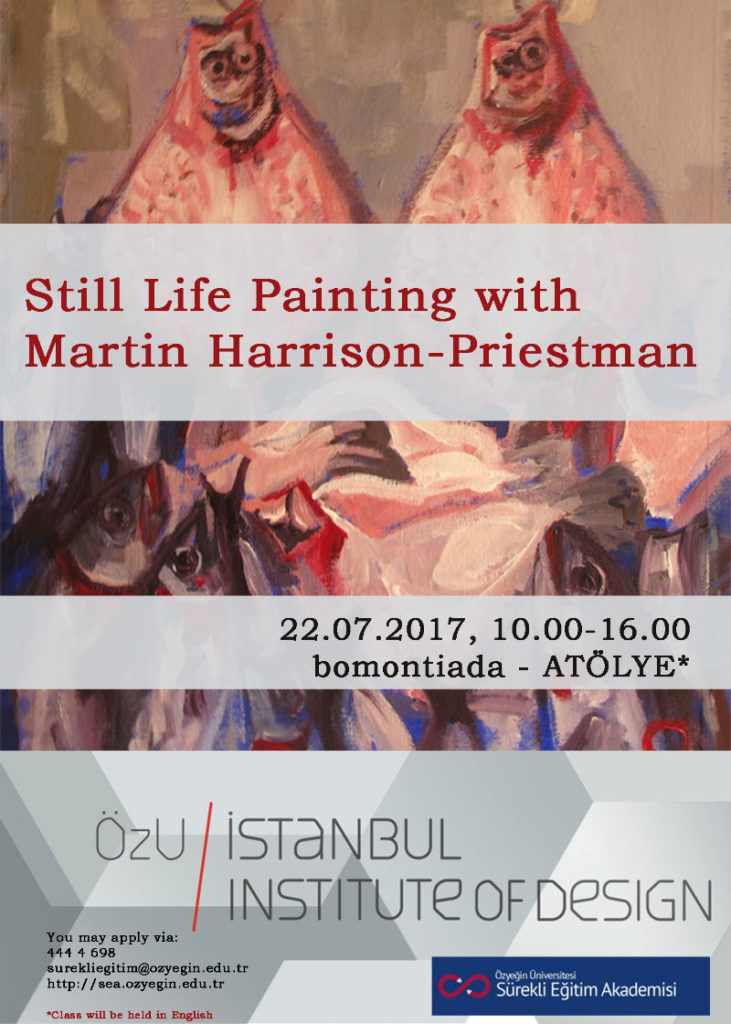 From the organizer:
Contents – Exploring the importance of colour, mark-making, form, composition, chiaruscuro, tone, drawing and the use of space in the Art of painting a still life in acrylics.
The course aims to introduce to the learner a broad spectrum of fine artist's material's and practices. Enabling the learner at the completion of the course to be able to express themselves and their ideas visually in a variety of mediums and method's.
Upon successful completion of the course, the learner is expected to be able to:
Understand the basic principles and practices involved in the art of 

still

 

life

 

painting

.
Have a basic awareness and an appreciation of the history of Art and its importance.
Understand the basic principles and practices of mixing colours.
Understand the basic principles of colour theory and colour temperature.
Understand the basic principles of chiaroscuro, tone,
line and mark-making in 

painting

.
Understand the importance and have a basic understanding of forms in space.
Understand the importance of mark-making in 

painting

.
Have developed their creative skills and mean's of visualizing their ideas.
Have developed their powers of independent thinking, self-discipline and motivation.
Art Materials Needed (Participants are to bring their own painting materials)
1.     The following tubes of acrylic paints (eg. following 200ml tube colours – titanium white, yellow ochre, cadmium yellow, cadmium red, venetian red, emerald green , ultramarine, alizarin crimson or violet, burnt umber, raw umber)
2.     Various flat, round and filbert brushes for acrylic painting ( sizes 4, 6, 8, 10, 12) we will use mostly large flat brushes in our projects  – palette knife for mixing acrylics and an artist's acrylic disposable palette- container for water – apron or old shirt for protection – portable travel easel – wet wipes – charcoal sticks – portable stool.
3.     Stretched canvas (minimum size 50 x 30 cm – maximum size 60 x 40 cm.).
—
For more information, check out the official workshop page.
Images courtesy of the organizer.
Tarihi Bomonti Bira Fabrikası – Silahşör Cad. Birahane Sok. No: 1 – Şişli