"They first need to learn Turkish to be better integrated into their Turkish communities — namely, their schools," stressed Anna Tuson, the communication manager of Small Projects Istanbul, when explaining why she and her colleagues are involved with the project full-time.
Like some other grassroots initiatives that have been set up in the past few years across the city, Small Projects Istanbul arose out of the pressing need to help refugee children, mostly from Syria. They aim to provide access to education, a positive social setting, and more generally, a salubrious environment conducive to learning, nourishment and growing up within a safe community. Although SPI has been up and running for a short time, its vision and philosophy of practice are based on the years of volunteering experience from founder Karyn Thomas in Syria's Yarmouk Camp. Her close encounter with the challenges and communal needs of refugees in a country that has since become the world's largest exporter of refugees, has equipped her with nuanced cultural knowledge to assist those whose lives have been war-wrecked and need to be rebuilt in their new host country.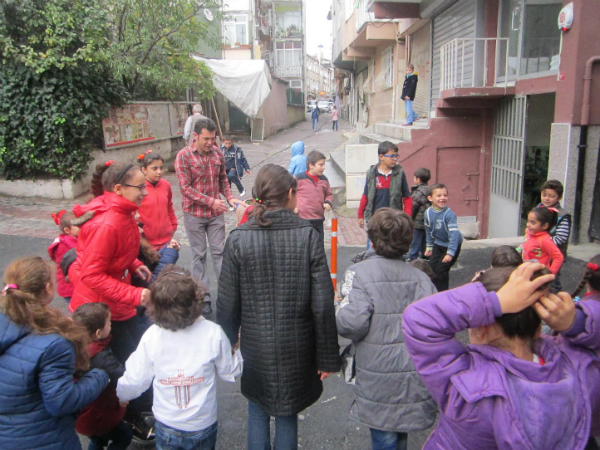 Serving as a community center in Çapa, Fatih – a central district home to the majority of Istanbul's Syrian refugees and emigrants – SPI is doing its bit by providing significant assistance to Syrian children and teenagers whose schooling has been interrupted by the ongoing conflict in their home cities. Highlights of their program include art, music and language classes, as well as a focus on raising awareness on issues that directly touch the refugees' lives.
Similar to traditional schooling, a day with SPI is divided into an array of language and activity classes. These courses are further divided to accommodate the many different levels and age groups, with students ranging from four to sixty years old. The Olive Tree Community Education Center is best described as an alternative demand-based education model. A big chunk of the daily schedule is allocated to teaching Turkish, ensuring that the children are then able to keep up in their own schools. Besides this, an important task of the volunteers – who must be proficient in Arabic and Turkish – is to individually work with students on homework. This is crucial, Anna explained, as some of the children need to first understand the assignments in their native language. The necessity to help school-aged Syrian children acquire the local language is heightened by the obstacles facing them as non-Turkish refugee students. Their situation, as Anna clarified, usually engenders an attitude of indifference by government schools which already face difficulties in meeting all the needs of local students.
Therefore, in step with their holistic approach to learning, music classes conducted by trained volunteers are given a generous slot in an already jam-packed schedule. Children aged 5 to 12 can come together, play an instrument they like, and start jamming. On the day of my visit, a Spanish volunteer, Popa Rodeveros, was giving a flamenco guitar lesson to a group of over twenty children. He is not alone in this; another professional pianist and a ukelele player from the UK are there also trying to enrich the spectrum of musical tastes and genres through which children can creatively express themselves. Musical workshops for groups are normally offered on Tuesdays and Saturdays, but private guitar lessons are available too.
On Sundays, SPI holds one of its flagship programs called Aflatoun Club in which children get to learn about their rights and responsibilities, both social and financial, in an informal, fun and interactive way. The ultimate objective of these lessons is to prepare children for the outside adult world, especially regarding issues that have to do with their financial security and basic rights.
For the mothers and women affiliated with the education center – who often are the only breadwinners in the family – financial vulnerability is a key concern, considering that obtaining a contract-based job is far from feasible due to local stringent employment laws. This is how the idea for a craft co-operative was born, essentially to meet the need of these women for a sustainable source of income. Named after the education center, The Olive Tree Women's Craft Collective runs a series of craft workshops in partnership with international companies and NGOs, that later merchandize their handmade products and jewelry online to fetch higher prices. In addition to the small funds it generates, the collective helps mothers make use of the time they already spend with their kids during the classes. The initiative has been off the ground for a few months now, and is still growing towards its full potential. The need for new partners (especially those in the jewelry business), acquiring materials, and any sort of training that can upskill those women is always on the agenda.
Aware of the precarious legal situation of the refugee families, the center also hosts frequent workshops by a Turkish bar association to give mothers information on their legal rights and responsibilities as refugees in Turkey. Otherwise, much of the information in circulation is either too technical to comprehend or available only in Turkish. Similarly, recognizing what lies ahead, English and German lessons are afforded space in the language curriculum, so that some adult learners may seek employment outside Turkey or reunite with their families in Germany.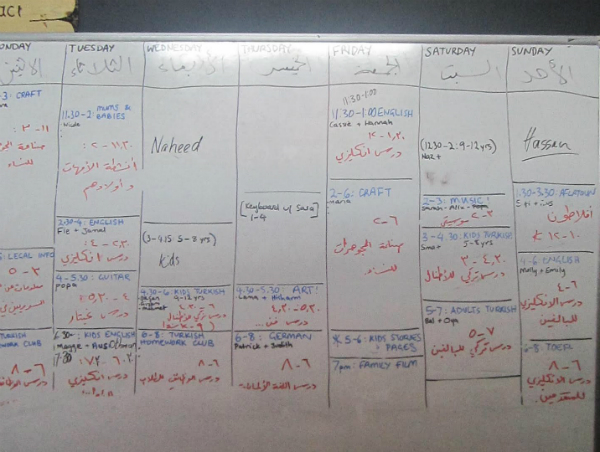 Overall, despite the tangible breakthrough results SPI has achieved, its mission is far from complete. A number of challenges put a serious strain on the continuous success and development of their ongoing projects, on which many children rely for staying in school. Sustainable funding, needless to say, is currently one of the biggest hurdles the community faces in order to support their projects and provide consistent salaries for the full-time staff who already dedicate most of their time to overseeing and carrying out the community projects. With no support from local organizations nor governmental associations to relieve the financial pressure, SPI is single-handedly paying the costs.
Their self-financed scholarship program, for instance, enables primary and high school students to resume their formal education at either Turkish or Syrian schools. Thus far, twenty students have benefited from these scholarships and are enrolled in school again. Given that completing mainstream education and possessing a formal degree is almost an essential in today's societies, SPI recognizes that the challenge is even harder for refugees whose sole support system may be their education.
Furthermore, while none of those involved receive any remuneration, volunteer work is clearly an integral part of SPI's culture and workings. Availability of experienced volunteers bilingual in Turkish and Arabic is another compelling challenge that risks the functionality of the Community Education Center. Without decent proficiency in these two languages, it becomes especially difficult when trying to communicate with the children or help them with their homework. So as part of the solution, SPI may soon start running an internship program to satisfy the demand for both the volunteers who want to lend a hand, and the increasing number of enrolled children.
—
For more information or to support their efforts, be sure to visit the official site for Small Projects Istanbul or follow them on Facebook.
Abdelrahman Mahmoud is a contributor for Yabangee.