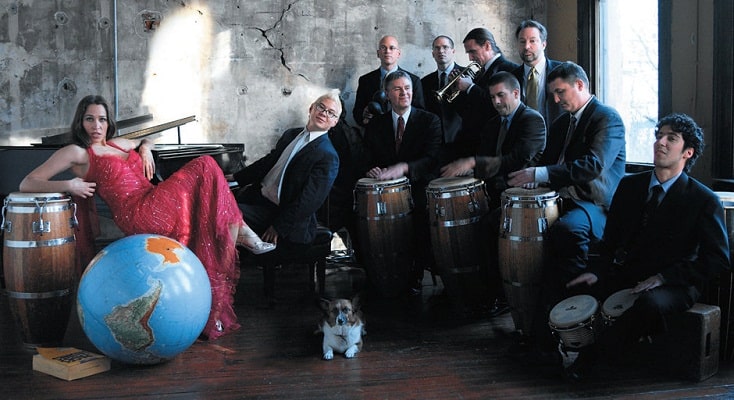 Going to a Pink Martini concert is essentially embarking on a trip around a stimulating mix of cultures, languages and instruments. Pink Martini doesn't play a traditional show; instead of a set of songs to introduce their next album mixed with some crowd-pleasing tunes, Pink Martini's concerts are a refreshing map of sounds. When they came to Istanbul last Friday, they were already deep into their world tour of their latest album Get Happy, a fact that you could notice throughout the show. Everything worked as a well-oiled engine. The band, although they have been playing together for over 20 years, works together so well that their set has a feeling of youthful improvisation. But you know that every song and every solo has been perfected over the course of their career and the current tour.
The band, impeccably dressed, started punctually at 8 pm with the lead singer China Forbes giving a brief speech in Turkish, in which she stated that the Portland band's heart was with the ones affected by the Soma mine disaster. Her words received a heartwarming ovation and immediately connected with the audience. Without further ado, we were immediately delighted with a series of songs that showed first and foremost the enormous talent of the band, and especially of the lead singer. Her repertoire is wildly diverse and multilingual. She is able to sing songs in English, French, German or Arabic with ease and her smooth voice is a treat. Maybe her pronunciation is not spot on in every language — how could it be when you can sing in 15 different languages? — but the charm of her act makes up for it and mesmerizes the audience. She proudly uses her mixed roots — she is American of French/Scottish descent and her mother is African American — to make the earnest point that in this little orchestra there is no distinction made between cultures or languages.
The leader of the band, pianist Thomas Lauderdale, then invited the audience to run up on stage, and we jumped at the opportunity to share the spotlight with the band. As a lively crowd we stood in the background dancing side by side with the musicians. We stayed for a couple of songs, one of them in Turkish, before going back to our seats.
Almost all the eleven musicians had their solo moment to fully showcase their talents. We were especially delighted with the performance of Timothy Nishimoto. He carried the show, first rocking the percussion and then singing when China Forbes invited him to perform a duet of a Japanese bossanova and a cover of "Happy Days are Here Again," a song made famous by Barbara Streisand. Later Nishimoto sang a Hindi song and did the vocals in some other songs in Spanish ("El Negro Zumbón") and Farsi (the cover "Bukra Wba'do"). Yes, that's a Pink Martini gig: one moment you feel like you are in a Japanese karaoke bar and in the next you are in a French music hall from the 1920s. Plus, countless instruments populate the stage so the musical texture of every song is always rich and layered.
At the end of the concert my female friends started a debate about Forbes's new short hair cut, whether pink was the best choice of color for her dress and whether she and the pianist were a couple (they aren't, in case you were wondering), when the band came back to the stage for an encore. It couldn't have ended in any other way than with "Üsküdar'a Gider İken," the famous Turkish folk song. Interestingly the audience was not so warm to it and was more interested in chanting fan favorites like "Hey Eugene," the song Forbes wrote for a guy who asked for her phone number in a party but never called. And with this last good taste, Pink Martini ended their cocktail of good vibes and multiculturalism.