By Missy Weimer and Zamira Skalkottas
In Istanbul, it can sometimes be hard to view art, but not for lack of content; the city is bursting with galleries, museums, studios, and art events of all shapes and sizes. Honestly, it's a little overwhelming at times. Reading countless announcements, all accompanied by great images, can leave your head spinning. If you're not sure where to start or are concerned about seeing the "right" things with your limited time and resources, we highly encourage you to seek out the expert services of istanbulite, a tour company that offers customized experiences such as art tours.
Although we were originally intrigued by istanbulite's boat cruise art tour, which stops at museums along the Bosphorus, it is more of a full-day commitment better suited for a group of four or more people. So instead, the two of us decided on a shorter walking tour to take in Beyoğlu's contemporary art scene. We kicked off the tour by meeting our guide for the day Sena Başöz at Ara Café behind Galatasaray Lisesi.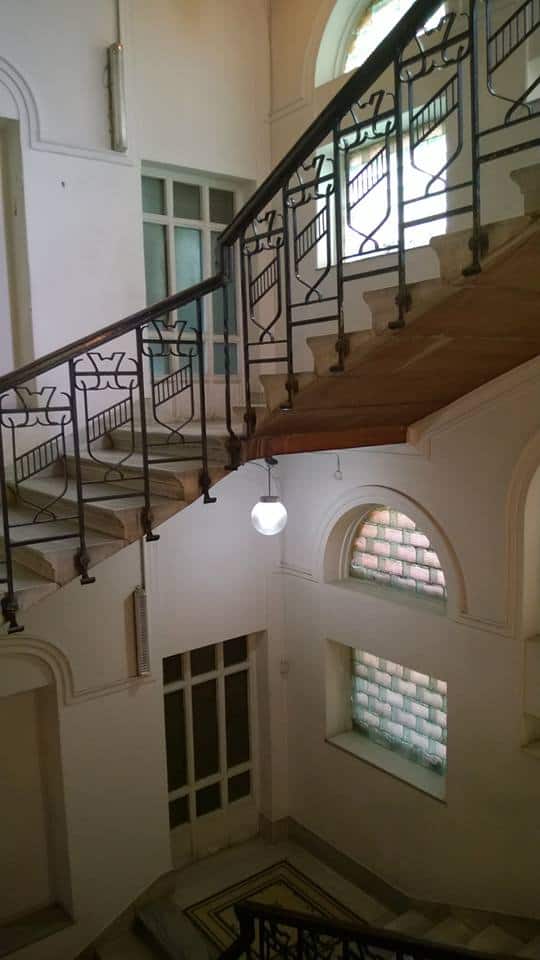 As it happened, the café's namesake, the renowned Armenian photographer Ara Güler, was lunching just a few tables away from us as we made our introductions over tea, Turkish coffee, and fresh-squeezed orange juice. It was the best kind of celebrity sighting for two art lovers! His presence seemed like a fitting beginning to a day of gallery-hopping in Istanbul. Our itinerary for the day: Mısır Apartmanı (Egypt Apartment) on Istikal Street, which houses a number of galleries, then on to Arter, further down Istiklal Street, and then to Sanatorium on Asmalı Mescit Street. From young, contemporary artists to a more established field, every show was different and well presented.
Mısır Apartmanı, our first stop, is itself something to see. Constructed in 1910 by the Armenian architect Hovsep Aznavur, the buildıng is a good representation of Art Nouveau style. The elevator was broken, so we walked to the top floor. However, the beautiful marble staircase spiraling up through the diffused light from the glass brick windows was well worth the climb.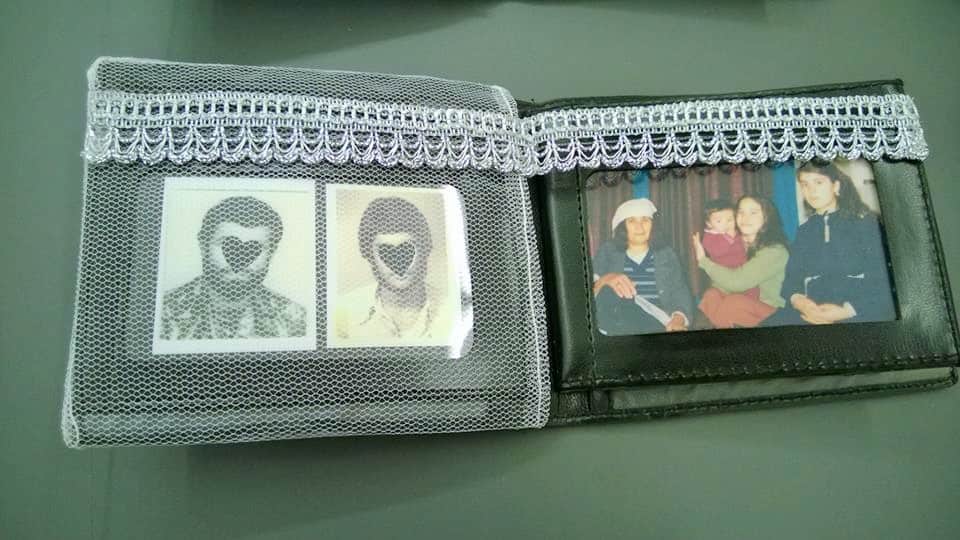 We headed to Pi Artworks on the top floor to see Love, Hate and Edit, an exhibit by  mid-career Iranian artist Saeed Ensafi. Culling photographs from old family albums, the artist depicts the deceased, many of whom died in the Iran-Iraq War. The photos are cut and put into everyday personal items like compact mirrors and wallets. These ready-made items work to compliment and challenge the hand-crafted elements such as the multi-layered, site-specific screen printing. The use of a soft, pastel color palette in conjunction with metallics and bold, pop-art color choices make for a beautiful and, at times, calming aesthetic from near and far. This creates a complicated contrast to the subject matter and theoretical underpinnings which address a trauma that is both contemporary and timeless: the loss of a loved one to violence, specifically war. These contradictory elements are thoughtfully integrated to create a disturbing push-pull effect in the work. It's a subject matter for any era, but a body of work that is utterly of the moment.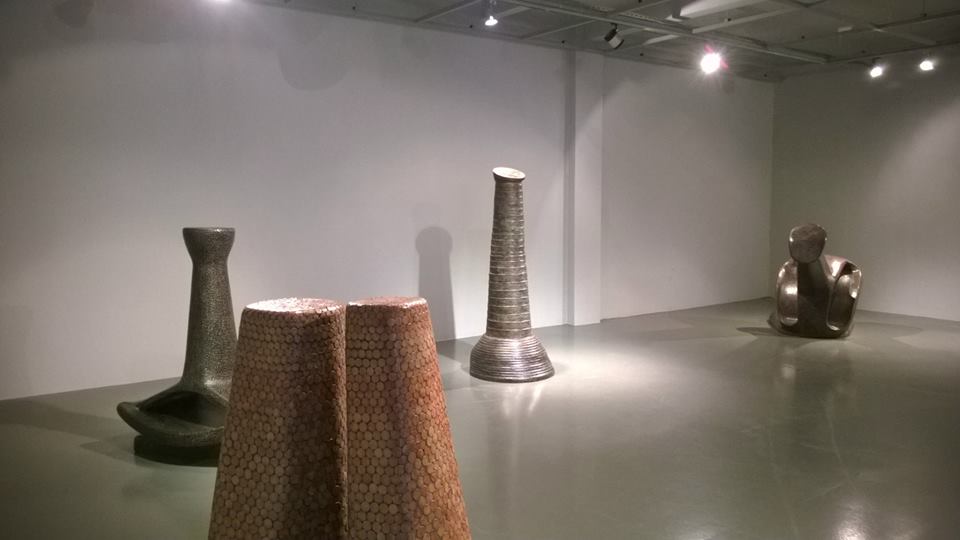 From here we crossed the hall to Galeri Nev, where an exhibit by the Turkish artist Koray Ariş titled Euphony/Percussive Sculptures provides a rare treat: interactive art, and not of the technological variety! The gallery is like a playground of human-sized figures that can be played as musical instruments. Ariş, an established Turkish artist, continues to explore abstract (non-figurative) forms in these large-scale, leather-covered sculptures. While visitors are encouraged to handle and play each work of art, they also work well sitting quietly on their own as traditional large-scale sculptures. But we had fun interacting with the art, an act that transforms visitors from viewers to performers. After shaking, rocking and playing the pieces, we reluctantly moved downstairs to Galeri Zilberman.
Here was an exhibit from the up-and-coming Turkish artist Alpin Arda Bağcık featuring photograph-like paintings. Its title Ambivalence was chosen to reflect how photography both represents reality and is also a medium for disinformation and political manipulation. Most of his monochrome, charcoal and oil paintings depict images of well-known events that have been mass-produced in photographs such as the moon landing or lynchings in the southern United States during the civil rights movement. Bağcık's work questions the perception of photography as "reality." It also explores the medium's ability to relate things that are truly indescribable.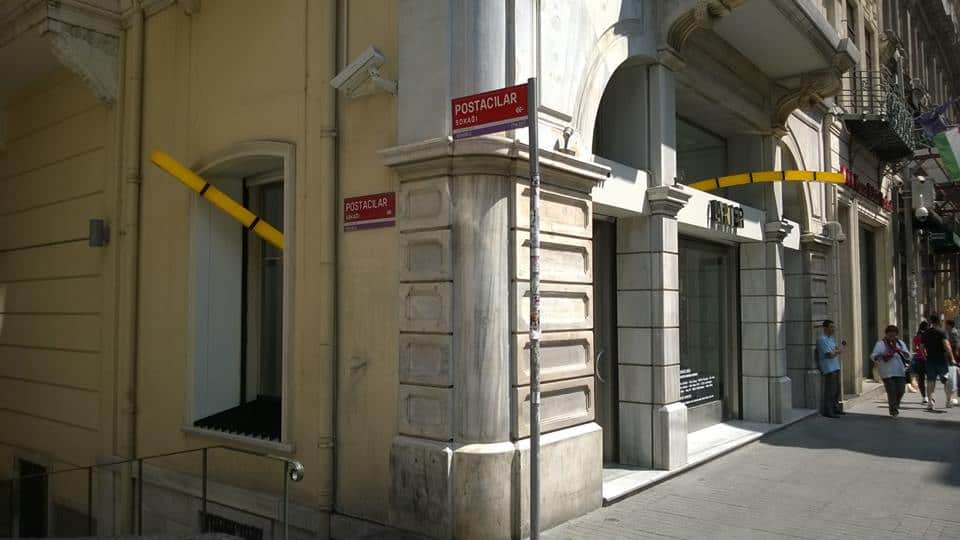 After exploring all the spaces in Mısır Apartmanı, weheaded to Arter. The name of the gallery is a play on the words "art" and "artery", as if to suggest the importance of art in our lives. Sena said that this gallery is a "can't miss" and that she can always depend on Arter to have something well-curated, interesting and thought-provoking.
It didn't disappoint. Their current show entitled Spaceliner is heralded by a yellow line that winds itself both in and outside the building and can be seen as one approaches the entrance to the gallery. According to the gallery's pamphlets, this exhibition "focuses on the relationship between drawing and space." In particular, it demonstrates how the drawn line transcends the the gap from the second dimension to the third and beyond.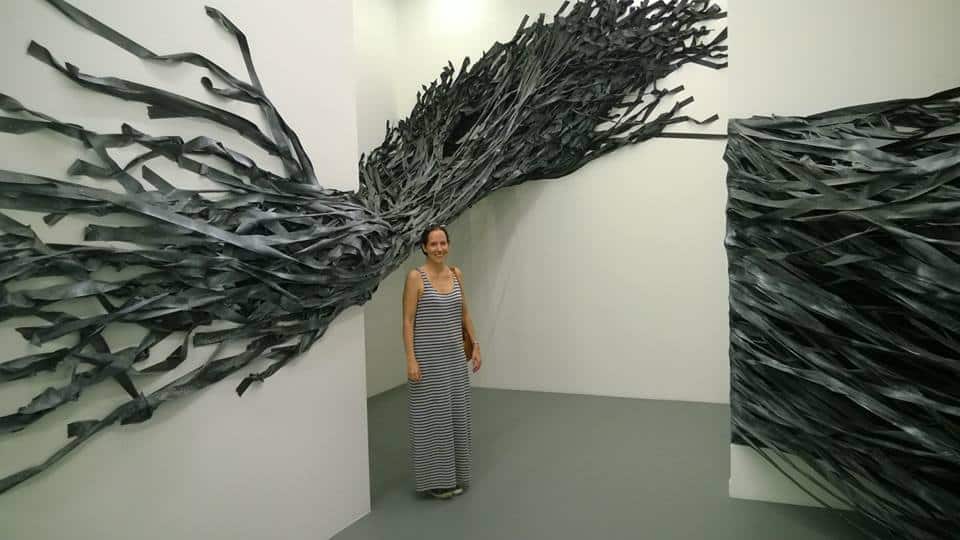 The show features the work of 24 artists, so it's difficult to describe all the pieces, but many of them play on perception. There are shapes made out of string or very fine chain links that seem suspended in air; many of the pieces incorporate both drawings on the wall as well as 3-D objects and video. Follow the threads in this delightful show from the top floor all the way to the bottom floor and you will not be disappointed. From the fetishistic and disturbing video work to the funny—if unsettling—cartoons-style vignettes drawn directly on the gallery wall, there is plenty to see. Peppered throughout with undercurrents of a feminist subtext, the show flows from uncanny to surreal, and from in-your-face to the barely visible.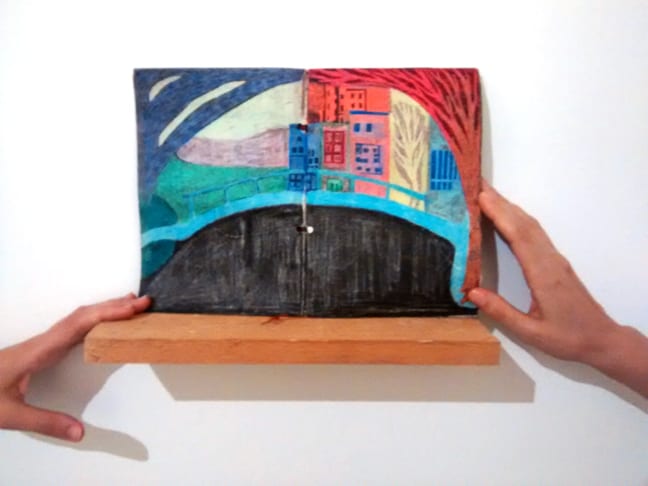 Our final stop was Sanatorium, which is another play on words connecting art to health. Here was a solo exhibit by the young Turkish artist Sevil Tunaboylu, who works in painting, drawing, and multimedia. Aklımda or In My Mind is the most personal of the shows we saw. It focuses on memories, specifically on gathering, transforming, preserving, and keeping alive memories. So, a blanket that the artist knitted shows up in paintings and is itself in the exhibit. Scenes from inside an apartment are framed by actual window sills, and an orchid that lived and died in the gallery space reappears in a painting. There was also a handmade sketchbook, which we was a highlight of the exhibit for us. Due to the interiority of the show, we had a lot of questions about what we were seeing, and the gallery owner was really good about giving us some context to better understand the exhibition.
As salubrious and "oxygenating" as art can be, there is a point when everyone reaches their limit, and then it can turn to "art poisoning," as our guide described it. So after Sanatorium, we called it a day. We were all ravenous, so we stopped at Fıccın for some incredibly delicious Circassian specialties. At the end of the day, istanbulite owner Eda Sokmen joined us and we shared our impressions. We were effusive about Sena, who not only had perfect English, but was also the best kind of tour guide: highly-knowledgeable (she works as a professor in her field), passionate, and witty. She was great in giving us background information about the artists and pointing out different aspects of the artwork we might have missed. If there was a question that she couldn't answer or if information was not readily provided, Sena happily inquired gallery owners and staff, many of which she knew personally. Most importantly, she was all-around lovely company.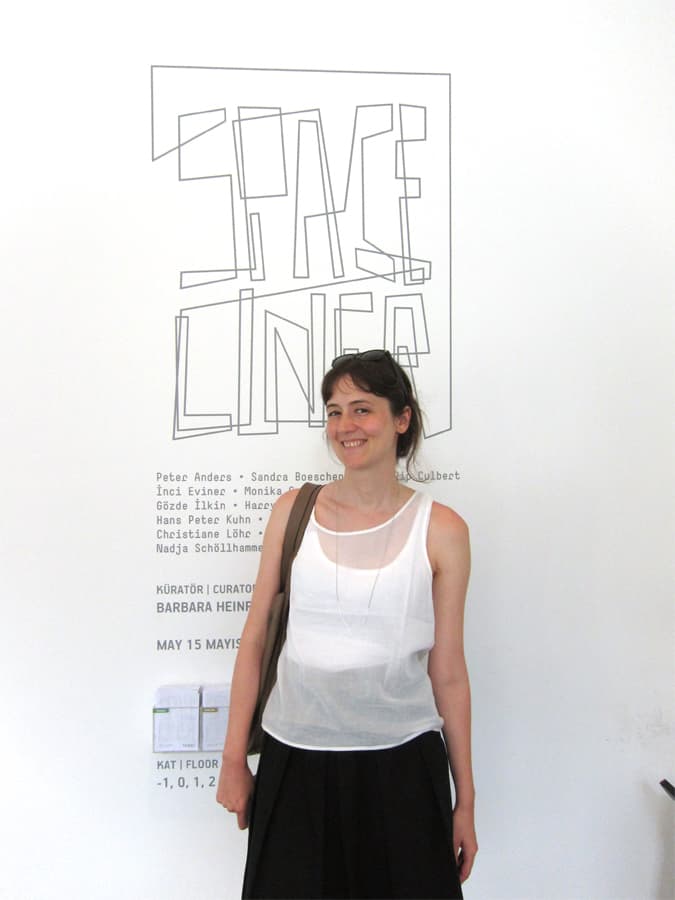 Whether you are a local, tourist or new transplant to the city, treat yourself to a curated day out on the town with istanbulite–taking in art and getting the inside scoop from an expert–to jump start your art viewing or just to get your bearings. Like any great tour, ours was blissfully free of decision-making. A thoughtful expert had curated our experience, so we were free to look and inquire without wondering where the next stop might be, or how to get there; it was the perfect way to explore the Istanbul art scene.
istanbulite provided us with a complimentary tour, but all opinions are our own. For more information on istanbulite and their tours, please visit their website.