Summer of 2016 has been a sad one for those of us who waited so long to see some of our favorite artists live in Istanbul. After many cancellations, our hope for upcoming shows was quite low. However, Concha Buika made her truly cheerful audience feel like those two hours were set aside for moments of love, peace, understanding and thoughtfulness. Just like her first performance in 2009, her audience in Turkey welcomed her in a very warm and grateful way, more so because she chose to perform despite recent events. Buika impressed every single person with her enchanting passionate voice, smiling face and dance moves at Cemil Topuzlu Open-Air Theater.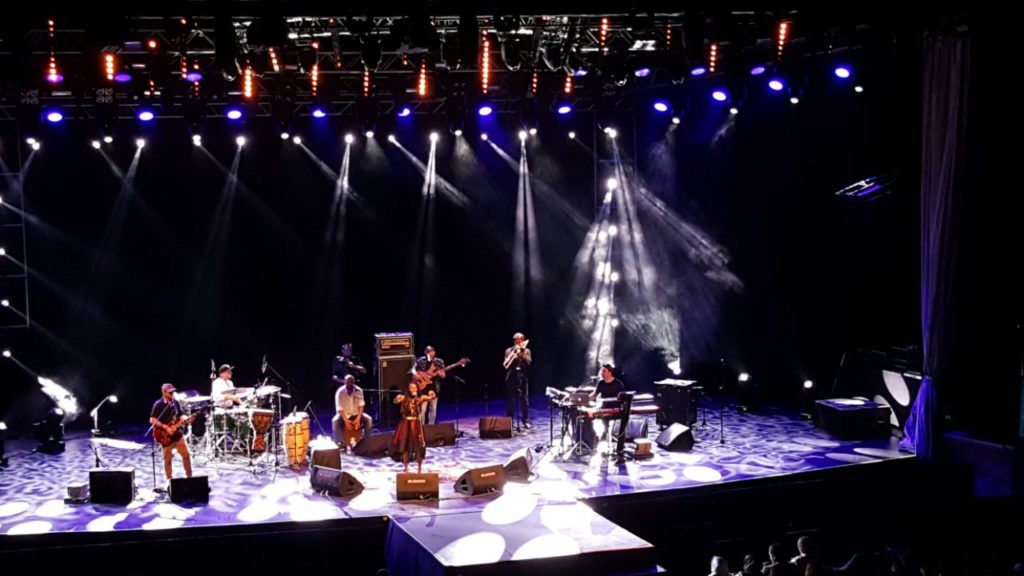 The show opened with Vivir Sin Miedo, delivering a great message much like all of her other songs. The beats were calm, the rhythm was mellow. It was perfect for warming up the audience and gently presenting a preview of what to expect with percussion breaks, saxophone and bass booms. From the very first moment she appeared on stage to the final applause, Buika almost never stopped smiling. When she did, those were the times she was singing one of her deeply emotional songs. One of the most impressive aspects of her performance is that Buika was so into every single word she was saying while singing. In fact, there was a meaning behind every single mimic she did and look she gave. Those meanings could easily be found inside the songs she wrote. That is why, there is no debate on Buika's singing/songwriting skills.
As an Afro-Latin artist, Buika's style covers different features of several genres such as jazz, soul, flamenco and fado. She often denies being limited to a single genre, because obviously she is nontraditional in blending them all by choosing whatever fits her mood and feelings at the time she's writing a song. She performs a fantastic combination of both African and Latin cultures. One of the performances that showed the blend perfectly was Jodida Pero Contenta. Buika's dance moves cheered up the crowd and some people even left their seats to dance along. Another aspect that amazed the audience was the energy of Buika and her orchestra. The amazingly talented members of the orchestra had their own certain locations on stage but they never stopped moving and integrating their passion to be on the stage with their music.
Between songs, Buika highlighted love and kindness as what the world needs most nowadays and turned her show into a musical therapy, especially for those who needed to get away from their daily struggles. Yet, it was not a common way of providing therapy. In her words, it was a party of love for the people who love Buika and the people she never stops thinking of every day. She crowned her show with performing the song that stole Turkish hearts years ago — No Habra Nadie En El Mundo — and dedicated the song for the people in Turkey who never stop loving, despite all the challenges they face.
Buika's strong passionate voice, always smiling face, energetic and entertaining dance moves were left in our memories after an hour and a half journey to the world of a true artist — who never stops loving, while including kindness and tolerance in every single act she takes. She surely lives without fear as she also chose the name "Vivir Sin Miedo" for her current world tour and keeps leaving traces of love and courage everywhere she goes.
Image courtesy of Serdar Güçsav.