Located just off Beyoğlu's balık pazarı, Petek Turşuları at first appears to be just like the many other pickle shops around town. The walls and windows are lined with jars of brightly brined vegetables and fruit. In fact, unless you have a hankering for pickles or need them for a recipe, the likelihood is that you will walk right by. But don't. Because inside, Petek Turşuları, which has been open for 30 years, serves up fresh mugs of 100%-natural homemade pickle juice.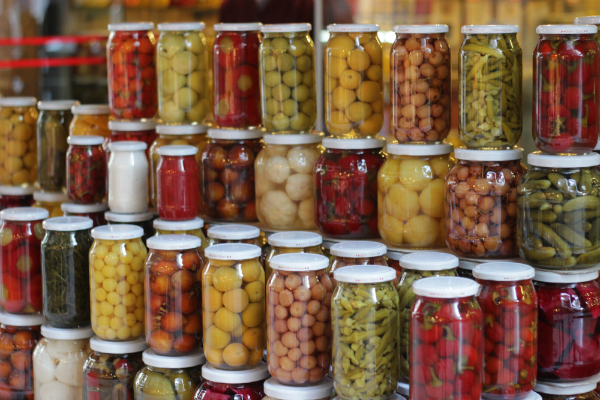 Pickle juice is rumored to cure or prevent (depending on who you ask) hangovers, rebuild electrolytes, alleviate cramps and soothe heartburn. While I don't regularly consume pickle juice for its health benefits, I've enjoyed my fair share of picklebacks after shots of whiskey at American dive bars. So when I found out about these mugs of spicy pickle juice, it was settled: I had to check it out.
Of the 30 years Petek Turşuları has been open, Özgür has been there for all of them. He first started at the age of 15, working for his father. In the intervening 30 years, Özgür and his three brothers have made a name selling their pickles in the heart of Istanbul.
At Petek Turşuları, the approach is that if you can eat it, you can pickle it. The shop sells a huge variety of pickles, with jars on the walls ranging from cucumbers to beets and cabbage (Özgür's personal favorite), and even include pickled lemons, grapes, and pinecones (which he tells us are purely decorative). "Anything can be pickled," Özgür tells us.
The produce for the pickles comes from all over Turkey and is processed in Bursa. The brother split their time between selling pickles in Istanbul, and fermenting and jarring in Bursa. As Özgür explains, the timing to achieve the preferred flavor is slightly different for each kind of pickle and is dependent on the season, but it can range from as little as two days to as long as three months.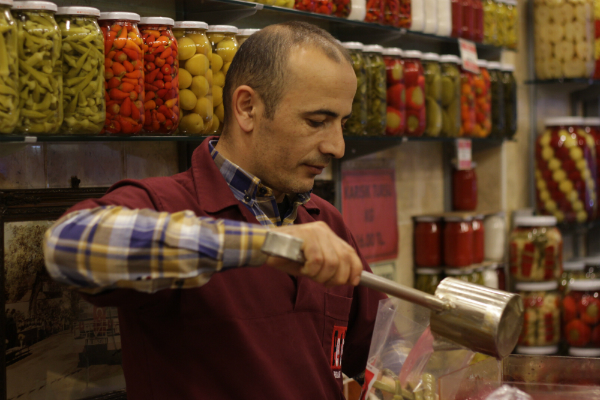 While the pickles are great, the real star of Petek Turşuları is the turşu suyu, which comes in a choice of two flavors: sweet or spicy. The juice itself is a mixture of water, the brining solution and juice from the various pickles. The spicy mixture, which is commonly cut with the sweet, is loaded with dried spices that tickle the back of the throat. Once you decide whether you'd like sweet or spicy, it is time to choose which type of pickles you'd like in your mug of juice. The choice of accouterments for the turşu suyu is nearly as vast as the variety of jars on the wall and includes favorites like carrots, olives and peppers.
On first sip, your taste buds are assaulted with flavor. The aroma is sweet, but the first and most apparent kick is the sour and salty of the pickles; underlying this, you'll notice the lingering umami of fermentation, right before the spice lights ups the back of your throat with a slow and steady burn. The pickles offer a welcome crunch mid-glass, bobbing up from the cloudy, rose-colored juice.
Turşu suyu has been sipped in Istanbul since Ottoman times, when it was commonly believed to be good for the body and soul. Much like devotees of the pickle-juice hangover cure today, the Ottomans found that turşu suyu helped with dehydration symptoms and was a good way to cleanse the body. Today, the drink – made up of 100% natural ingredients – is a great afternoon stop to cleanse the palate and boost your energy.
Stop in and visit Özgür and his brothers for a cup of their strange brew and learn about the art of pickling. Be sure to leave with a bag stuffed with some of your favorites. Petek Turşuları is open everyday from 8am to 8pm.
—
All photos by Svetlana Nekrasova.