By Abdelrahman Mahmoud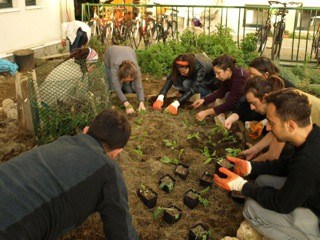 Permaculture. Does the word ring any bells? If yes, and you are already well acquainted with the concept, then hold on a minute – you might still find something of interest in this write-up. But if your answer is no, then you definitely need to get the lowdown on this avant-garde philosophy that can shift your whole paradigm and lead you to embrace a more sustainable lifestyle.
First off, the term is a combination of the words 'permanent' and 'agriculture,' which already tells you something about the essence of permaculture. In a nutshell, permaculture is an eco-design methodology that aims to create and enhance our agricultural settlements and social ecosystems in order to realize the full potential of the scattered environmental sources at our disposal. It is a wake-up call to return to and mimic Mother Nature in almost all areas. The paradigm shift I mentioned earlier is going from "us" against nature to "us" working in synchrony with it.
Taking its inspiration from the sustainable life cycles found in nature, permaculture's three inherent principles are caring for the earth, caring for people, and the idea of a fair share. This all-around pro-sustainable approach can be seen as an immediate reaction to the many critical imbalances produced by the 'unsustainable' distribution of and careless approach to our resources. These practices have exhausted the resources necessary to fulfill our most basic needs, such as wholesome food and eco-friendly shelter. In addition, the current food production system depends almost completely on industrial agriculture that makes excessive use of chemical pesticides. So instead of relying on intensified organic farming, modern economies have had to resort to large-scale deforestation (which leads to  desertification), so much so that we are on the brink of almost obliterating the biodiversity of our green territories.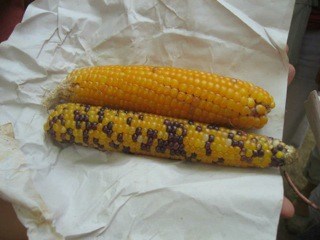 On the ground, there is worldwide a significant number of institutions and community-based enterprises that effectively promote and integrate the permaculture design system and its three core principles at the grassroots level. In doing so, these groups increase public awareness about the many benefits that come from following such a sustainable lifestyle. Permablitz, which was founded in Melbourne, Australia in 2006, is one of these enterprises. This collaborative entity is run entirely on a voluntarily basis by dedicated and passionate members.
Locally speaking, Permablitz Istanbul, the institution's affiliate in Turkey, has been an important agent in the campaign for a greener Istanbul and has been a trendsetter in this regard. Its members gather to promote the knowledge of permaculture design and the ethics of sustainability, but manage to do so in a fashionable way. Their work covers many fields, but is mostly focused on building and enhancing the community's gardens to become chemical-free and self-sufficient, and also to instill a community spirit among its members. On top of that, they care deeply about setting up an interdependent network of volunteers, instructors and avid learners who function as a collective vehicle for sorting out any challenges that come their way.
Not only that, but they frequently organize workshops, seminars and informal lectures, all of which are free and open to the public. These are all delivered and conducted by permaculture designers who have taken an accredited permaculture design course and obtained a permaculture design certificate (PDC). Well, that is not the whole deal. As a newcomer, you can benefit from the wisdom of other members and you give and receive help on a reciprocal basis. The idea simply is that you only need to attend a certain number of Permablitz events in order to become eligible to obtain professional assistance and support from one of the permaculture designers or the community's volunteers. And this is an industrious group of people – they can help you organize a similar event at your place, set up a sustainable garden, or even learn the pedagogic skills required to share the permaculture beliefs with others.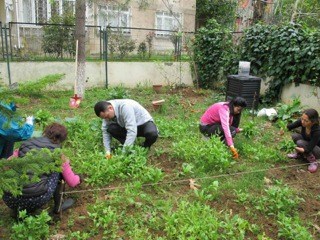 Furthermore, Permablitz Istanbul's core objectives regarding "care for the earth" extend to other responsibilities as well. They work hard to secure the continued existence of the most rare and valuable seeds by planting them in well-supported gardens, which can keep them safe and sound for generations to come. This work, which can be likened to a seed bank of sorts, guarantees the long-term preservation of these important seeds. Also, the fact that these seeds are so valuable and that there is a real lack in the variety of seeds at our disposal says a lot about our food sovereignty and gives a  heads-up that there is something seriously wrong with our food system.
Regarding the movement's growth, there is now a well-established global network of institutes, instructors, and entrepreneurs who are all concerned with permaculture and utilize its teachings. For instance, the Permaculture Research Institute of Turkey, which works in collaboration with the Permaculture Research Institute of Australia and other research institutes worldwide, is working to expand on the scientific knowledge and professional training of permaculture design throughout the country.
The movement is gaining speed and it will be interesting to see if its ideas gain cultural currency in Turkey. But, at the very least, if you've been looking for a way to be more sustainable or want to be part of a community that encourages sustainability, Permablitz Istanbul is just the place for you.