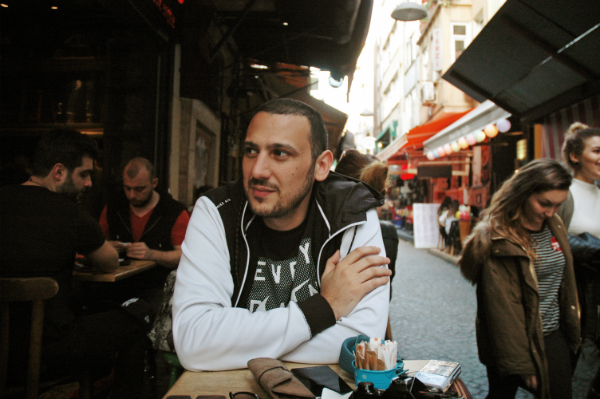 I met Ege Çubukçu way back in April, on a day that felt like one of the first definitive spring days of the year. We sat at a sun-splashed table outside his favourite local coffee place in Beşiktaş. Myself included, everyone at the café was grateful to be able to sit in the sun, drink coffee and talk with friends on a Thursday afternoon.
Ege was entirely relaxed – neither paranoid about a journalist come to wreck his image, nor worried about making sure I thought he was a big deal. Which I thought note-worthy, given that he's a relatively big deal in the small world of Turkish hip hop (on Youtube, his radio-friendly crossover hits, "Yaz Geldi" and "Hey DJ", have 1.45m and 663k views respectively). He is tall and gentle, with close-cut hair and brown eyes that sparkle when he laughs, which is often. Every 15 minutes or so he would interrupt his train of thought to selam a passing friend.
His credentials as a genuine, real, sahi exponent of Turkish hip hop are underlined by his radio show, Şehrin Azizleri (The Saints of the City), which is in its third season, airing once a week on Istanbul's pre-eminent independent station, Açık Radyo.
Each episode begins with Ege's voice, a soothing gravel, declaring the show's philosophical motto, a 45-second poem to the cosmic potential of hip hop. Especially to a non-native Turkish speaker, on repetition, the words start to take on a bewitching, mystical quality: "Her şey evrilir / zaman içinde evrilir / tini ses olur / ses söze dönüşür…" (Everything evolves / evolves with time / soul becomes sound / sound turns to words…) As the proclamation finishes, the underlying track comes to the fore. A warm, bassy, string-showered slice of Detroit soul turned Chicago hip hop from the Kanye-West-produced intro to Common's 2005 album Be, something in its sonic chemistry overwhelms you with the sensation that this is going to be a positive listening experience.
The show runs until the 23rd of October. The entire back-catalogue of episodes, including an interview archive that is basically a who's-who of Turkish hip hop, can be found at soundcloud.com/egecubukcu. Ege put together a Beginner's Guide to Turkish Hip Hop especially for us at Yabangee, which you can check out here.