If I knew then what I know now:
Which neighborhood has the best, cheapest or most fashionable dresses? How much should I pay? Should I buy off the rack or is it worth it to have my dress made? Why are all the dresses so big here? These are all questions that will probably arise if you are in the market for a wedding dress in Istanbul.
That is where this guide comes in. Compiled from my own experiences and that of other battle-scarred wedding veterans, reading this will hopefully save you a lot of time, mileage and a few grey hairs, allowing you a hassle-free shopping experience.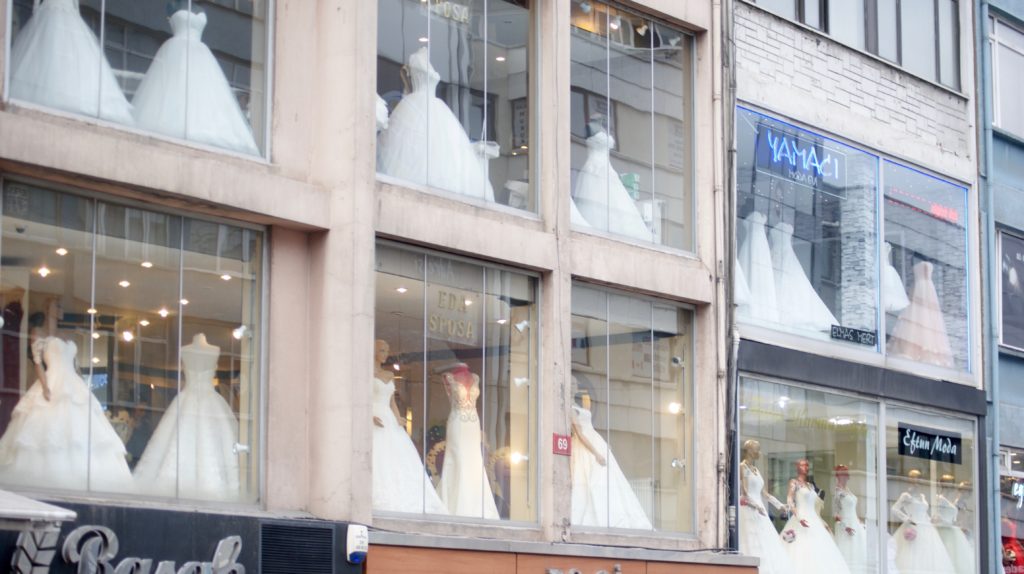 Spoilt for choice:
First, beginning your search at least six months before your wedding is definitely a good idea. Most big boutiques and many of the more popular tailors will require around four months to make your dress and/or fit it and make alterations. This is especially important if you are buying a foreign brand, as your dress may have to be imported, which can take up to six months. However, if you are like me and find it difficult enough to plan one week ahead, never mind half a year, do not fret. Local shops and tailors will often be more flexible timewise and there's always the internet. Below is a summary of the various options that are available and the pros and cons of each.
Off the rack: going local
Off the rack shopping has two very distinct advantages: price and what you see is what you get. If you want to avoid a dress crisis such as the one I had (see tailor made), being able to see exactly what you look like in your dress before you take the plunge is very advantageous. However, if you do want to go down this road, be prepared to do some legwork for you may find that the popular styles here in Istanbul are very different from those back home. Many typically Turkish boutiques stock an extensive number of dresses that vary only slightly from one very particular mold: what I would call the Wedding Meringue Dress or WMD.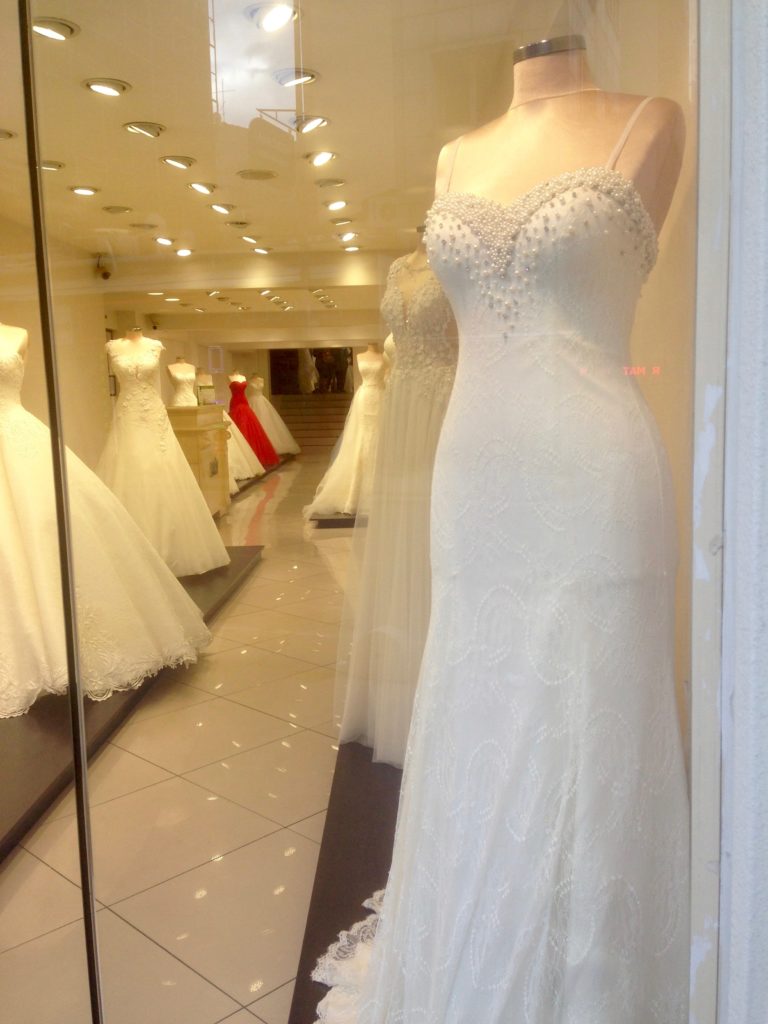 The WMD:
This style of dress is what those in the industry generally call the princess dress, or ball gown dress. If this is the style for you, look no further than Fatih district, where there are hordes of shops selling them. WMD shops in Fatih vary in terms of quality of material. Some shops are definitely more blingy than others and many cater to Muslim brides, which means high necks and long sleeves.  Expect to pay around 3000-4000 TL for a WMD in this neighborhood. Also, it is important to remember that to achieve that voluminous look, you must wear a good deal of scaffolding underneath in the form of a large, circular underskirt with stiff hoops in it. If you cannot imagine this, think Deborah Kerr in 'The King and I' or one of those knitted dolls that your grandma used to have in the bathroom to disguise the toilet rolls.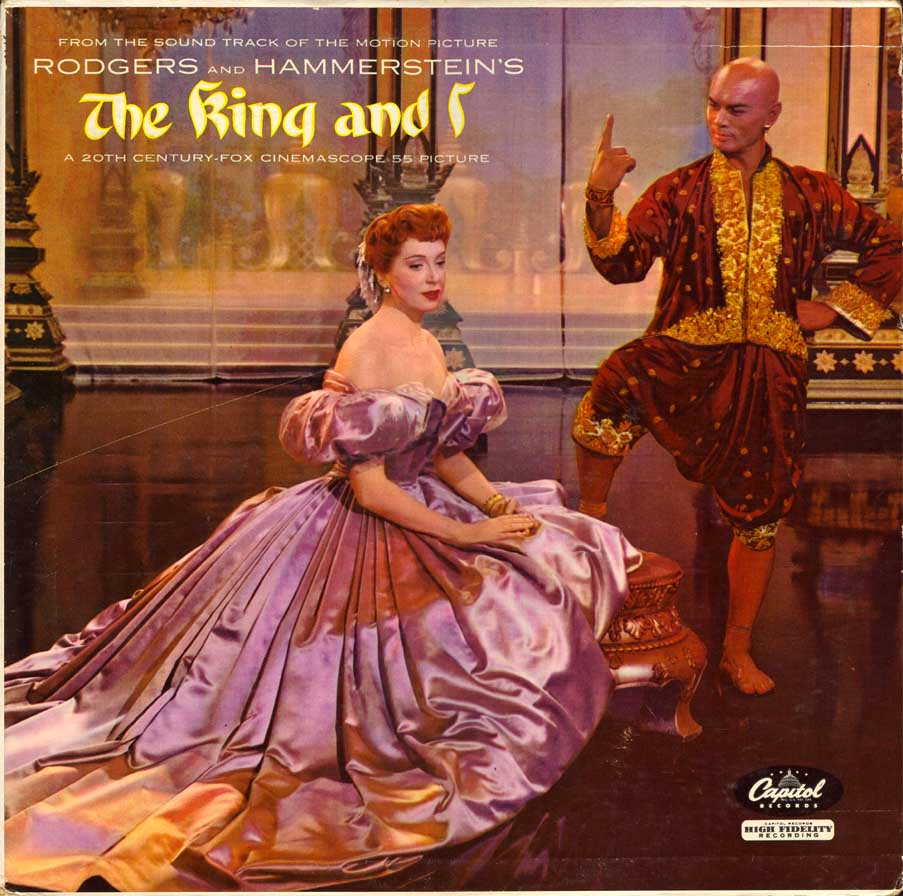 Anything but the WMD:
For shoppers who want to buy off the rack but want to wear something more Western or with a smaller circumference, there are dozens of local boutiques in neighborhoods across the city. Nişantaşı, Beşiktaş and Kadıköy are particular hotspots. Although you may find that the princess style reigns in these places too, you should also be able to find some stocking other styles, such as fishtails or slimmer A-line dresses, and you may find better-quality materials in these neighborhoods. Nişantaşı in particular has a lot of European-style boutiques, but these will carry a hefty price tag.
The dress that I wanted was a simple one, like a Hellenistic one. I visited Özlem Suer first and the second dress I tried was just right for me but unfortunately it was way too expensive. I actually knew the prices would be too high but I wanted to see myself in a style that fit me perfectly first, and then find something similar elsewhere. I visited many boutiques around Nişantaşı, including Pronovias, which had the worst service. Then I went to Vakko. The employees were very professional and I found a dress close to what I was looking for and bought it but it was double my budget! Maybe my strategy was wrong. I went to the best place first and it raised my expectations.
~ Beste Alpokay
Off the rack – imported dresses:
Foreign fashion houses such as Oleg Cassini and Pronovias have a presence in Istanbul although you will probably pay 40-50% more than you would at a local store and rather than guaranteeing you high quality, that extra cash could be going towards paying import taxes. The most important thing to remember is to shop well in advance of your wedding date, otherwise you may end up choosing from a limited selection of in-house stock as most dresses have to be ordered from overseas.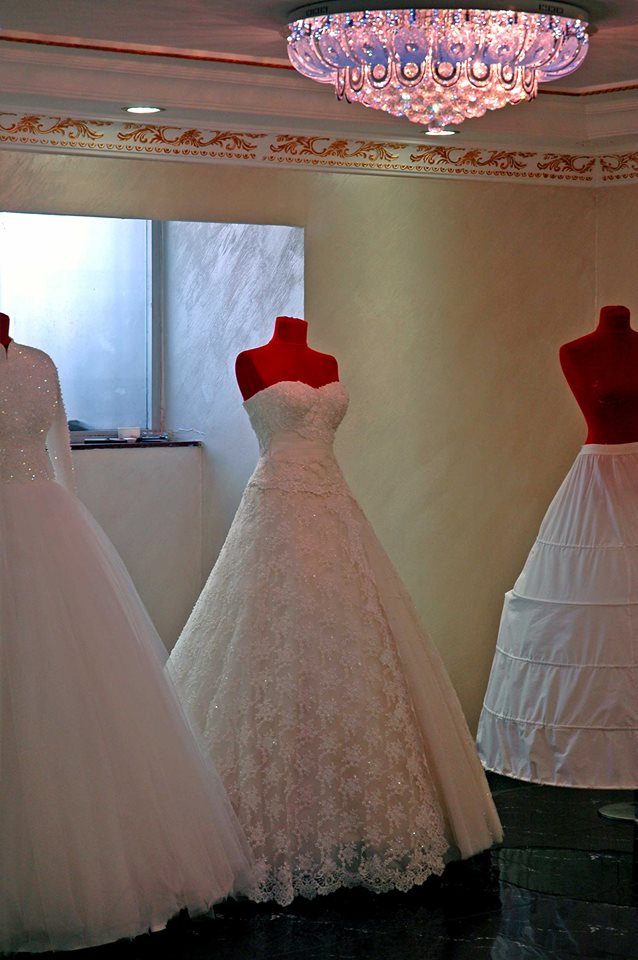 Tailor made:
From my experience, the most important piece of advice I can give you is to make sure you bring a photo or a sketch of the dress of your dreams! What is really important is to be sure which style/model you want. Here in Istanbul most dressmakers stitch the top and bottom parts of dress at the last fittings as they start to sew it separately – maybe it's the easiest way but if you want a long one-piece dress, better say so at the first fitting. Also I do not recommend wearing hooped underskirts (tarlatan). They are very common in Turkey but can show through your dress.
~ Aslı Akdağ
While you may dismiss the idea of having a dress tailor made in your home country as being absurdly decadent, in Istanbul it's a much more affordable option and has the advantage of allowing you to choose the style, material and quality of that material. The first challenge comes in choosing a good tailor. Tailors specializing in wedding dresses are all over the city so going by personal recommendation might be a good idea. A popular neighborhood for tailors is, again, Fatih. Competition is strong here, so you can be sure of getting a good price. I bought my own dress from Avşar Gelinlik on Fevzi Paşa Caddesi in Fatih and, although I was happy with the end result, I can't say the experience was entirely stress free. So for tailored brides I offer this advice:
First, make sure you start the ball rolling in good time. Allow at least four months, and if you are getting hitched in the summer, even earlier. Second, be sure to show your dressmaker a picture of exactly what you want, especially if you are keen on a style that is not common in Turkey, otherwise you may find that between fittings your dress has suddenly evolved into a WMD. Also, unless your dressmaking lingo is up to scratch, take a Turkish friend with you – at least for the first two fittings.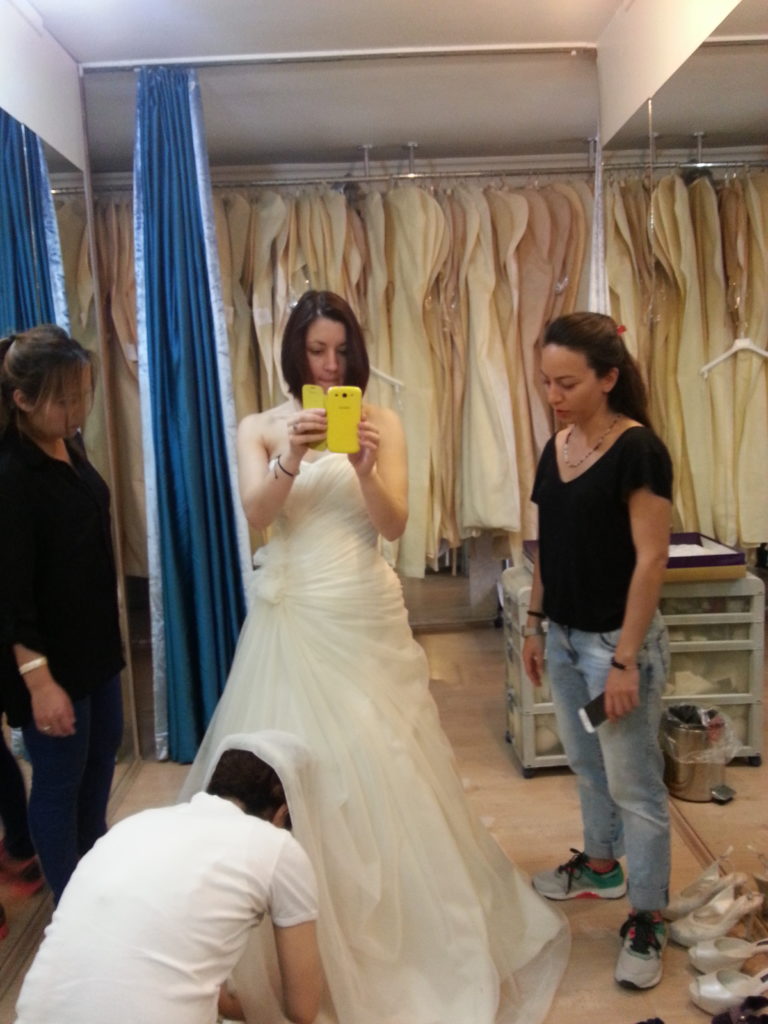 I showed the designer some different photos of styles I liked and she drew a sketch that I was very happy with. However, when it came to making the dress, the dressmaker was a different person and we had some communication problems. I had no idea she had misunderstood what I wanted – after all we had a sketch – until fitting number 3, when I tried on my dress only to find it was a lot more voluminous than I had expected. Fixing the problem cost an additional 300TL and although I loved the end result, the dress was still a little wider than I wanted. The dressmaker also supplied me with an underskirt but it was bad quality and showed through my dress when I moved. I felt really uncomfortable and ended up buying one that was much better – and more expensive – from the UK.
~ Amy Stapleton
Go online:
If the idea of investing time and money into something you are only going to wear once strikes you as kind of crazy, you may want to turn to the internet. Women advertise second-hand dresses for purchase on Sahibinden all year round, so if you can get past the curious trend of women blackening their faces on the photos used in their advertisements as if they were featuring in a Japanese horror movie, this could be an option for you. Dresses also pop up on social media groups, such as 'Buy Sell Swap Istanbul', especially during the summer. Increasingly, women are choosing to rent out their dresses, which is environmentally friendly and seems like a good way to recoup some of the money for a purchase that would otherwise be sitting up in the attic for all eternity. You also have the option of shopping on sites outside of Turkey: e-bay, Etsy and even charity shops like Oxfam are real treasure troves for wedding dress hunters, particularly for vintage or couture lovers on a budget. Unfortunately, as Turkish Customs heavily taxes anything worth over €100, be prepared to pay double what you originally paid for the dress.
Job done:
So there you have it, a rough-ish guide to shopping for a wedding dress in the 'bul based on my experience and that of my friends. If I had to boil everything down to three golden rules to follow it would be to give yourself time, go on recommendation, and I cannot stress this enough, take a photo as a guide! Follow this advice and shopping for your perfect dress will be a breeze. Well, not really. Like most undertakings in this city, everyone's experience is different and you will probably have at last one blip or mini dress drama to overcome, but such is the stuff of life in this city, so relax and enjoy this once in a lifetime (hopefully) experience. Happy Hunting!