Summer is slowly coming to an end. This means a few things – beach days and vacations are becoming distant memories, all the foreign teachers are coming back to the city as school starts back up, and music festival season is wrapping up for the most part. For bummed out beach babes and music lovers alike, an antidote to those end-of-summer blues came about on August 19th and 20th. One Colony's Moovment Festival was a two-day electronic dance music (EDM) event put on at KüçükÇiftlik Park, and this late summer Istanbul festival was made for lovers of the genre.
KüçükÇiftlik Park is in Harbiye and easily accessible from most everywhere in the city. The venue has hosted a number of bigger name artists to come through Turkey. Enrique Iglesias, Lana Del Ray, and Stevie Wonder have performed there, just to name a few.
One Colony has put on many events here in Turkey, offering some of the best concert experiences around for electronic music fans. They brought in a mixture of established and up and coming artists here to make up an awesome lineup. Different styles within the genre like dubstep, trap, house, drum and bass, breakbeat, and trance were among the musical buffet for us to devour over the weekend. If you're into EDM, you know that there is actually a huge variety of types of electronic music and they aren't all created equal for everyone. Lots of people have preferences and likes and dislikes when it comes to dance music. The key at a festival is respecting and appreciating the differences.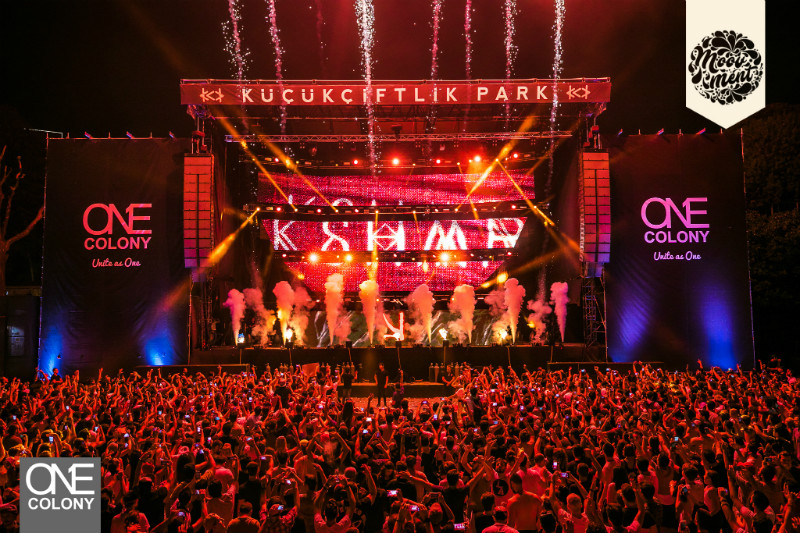 Saturday's artists included KSHMR, BlasterJaxx, Timmy Trumpet, Ummet Ozcan, SEBJAK, 2 Faced Funks, and VOLAC. Meanwhile, Sunday featured Bass Modulators, Brennan Heart, Coone, Wasted Penguinz, Zatox, and Villain.
Saturday afternoon, the festival kicked off. The daytime sets got right into it, while many of the attendees trickled in as the daylight hours dwindled down into evening. The setup of the venue was standard for a festival of this size, inside the city with no camping option: a large, standing only area leading up directly to the one main stage. On the right side of the stage in a separate area there was the deluxe section. For a bit more money, the VIP section offered a raised area to view the stage, a bar, and cleaner bathrooms with shorter queues.
Being that there was only one stage at this venue, the visuals, effects, and pyrotechnics were all pretty on point. It may not be a Tomorrowland or Ultra Music Festival size show, but it was excellent for a festival season closer event in Istanbul. The barricades kept the crowd pretty far from the stage, but that was in part to keep the visual experience with the screens and effects intact for the audience.
The headliner on Saturday night was KSHMR, a DJ from California who has had a number of top EDM songs and gained popularity in recent years. Tiesto himself introduced KSHMR at one of his sets at Ultra Music Festival this year, and the two have collaborated on a few tracks. He made a special appearance on Sunday night as well and the crowd got really fired up.
Brennan Heart, a Dutch DJ and producer, made his Istanbul debut at Moovment Festival on Sunday. He was a crowd favorite, as he played a number of well known popular songs as well as old school remixes. He really lifted the whole energy of the place. It was a magical set. One of my personal favorites was an awesome remix of Jay-Z's "Forever Young" which is already a remix of Alphaville's new wave synth pop song from the 1980s. I just love that moment when the confetti gets shot out into the crowd and everyone is singing along together and smiling those genuine smiles that only music can bring.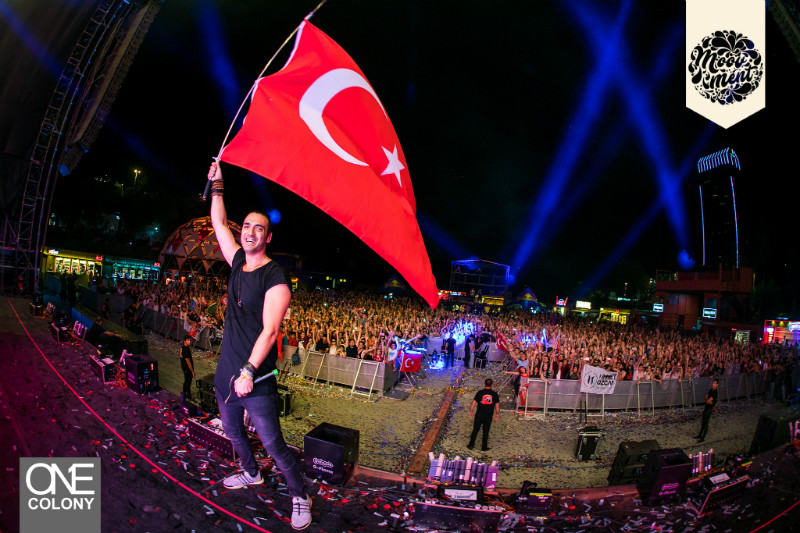 There was something special about having the EDM experience in Istanbul. This city has an undeniable spirit already, and the addition of loud, good music and dancing added a new level of appreciation for me. I absolutely love concerts and live music in general but electronic dance music shows and events hold a special place in my heart. There is a reason the whole "PLUR" concept exists in rave culture. A commonly accepted definition is that PLUR stands for "Peace Love Unity Respect" but the U can also be Understanding and the R can also be Responsibility. These concepts are the kind of pillars of EDM and rave culture. It's understood that you come to these events with unconditional love, positive energy, and respect for yourself and others. I simply love that. It's not just about getting into an altered state of mind or wearing crazy costumes or showing yourself, which is sometimes the stereotypical understanding. To be a part of it, to be on the inside, you have to really feel and recognize this. To fully appreciate this is an important part of the whole experience – that feeling of sincere love and respect for the music, people and place that surrounds you. No worries. No judgement.
Overall, I thought One Colony did a fantastic job. Moovment Festival wasn't a multi-staged camping event, and I found there was a closeness between everyone there because of that. It felt more intimate. The feeling you get after dancing for hours, making strangers into friends and letting go of inhibitions is unique, and I personally love it. I started this week feeling grateful, energized and glad to have been able to attend and experience an event with my friends in this city that I love. Music has an amazing ability to bring people together, to allow them to feel blissfully content and free. This will most definitely not be the last event of this kind for me! Keep the good vibes flowin' and hope to see you at the next show!
To keep up with upcoming events, be sure to check out One Colony's official page. You can also follow them on Facebook, Twitter, and Instagram.
All images courtesy of One Colony via Floris Heuer (Facebook/Instagram)