Music, music, in the hall; who is the most talented of them all? For millions the world over, the answer is, without a doubt, Maxim Vengerov. Ask any aficionado of the violin, and they will describe him as the pinnacle of talent, performance, and musical soul. And furthermore, as an idol, a superstar, a source of awe and inspiration. He is, simply put, a legend.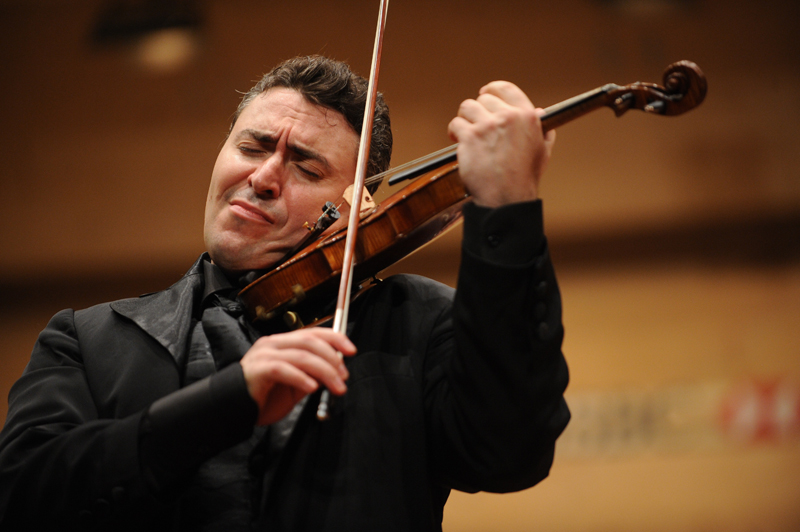 And, for the residents and expats of Istanbul, he was also the conductor and violin soloist of the Polish Chamber Orchestra performance at İş Sanat on 11 February. The evening combined the harmonious tone of the Polish Chamber Orchestra, the phenomenal virtuosity of Maxim Vengerov, and the perfection of the works of Mozart, Tchaikovsky, and Camille Saint-Saens.
For the novice of classical music: Vengerov is and has been one of the hottest names in classical music for the past several decades. Yes, you read that correctly – several decades – even though the man is just in his late thirties. Vengerov has been on the scene since the tender age of five, the age at which his violin tutor declared, "A violinist like Maxim is born only once in a hundred years."
To date, Vengerov has won numerous Gramophone and Grammy Awards. He is indeed regarded as one of the most impressive, prodigious players of our era and is very often considered on par with some of the greatest names in the history of the violin, such as Itzhak Perlman and Yehudi Menuhin. In 1997, UNICEF announced him as its "Envoy for Music". BBC, the king of documentaries, awarded him with the Award for Best Music Documentary for his DVD "Living the Dream" about his life and music. And, if that isn't telling enough, when he joined London's Royal Academy of Music academic staff in 2012, the university announced his appointment with the headline, "Legend Joins Academy Staff."
I once watched one of his masterclasses online and never forgot these words of his: "Every music has a story. You are telling that story when you play." And, when he plays, he really truly brings out the story of each and every note. Listen to your favourite piece of classical music. Then find a version of the same piece performed by Vengerov. The piece will reach a new level of meaning to you. And no other's playing will suffice anymore.
The audience at İş Sanat was well aware of the name Maxim Vengerov and the magic of the night that awaited them. The Polish Chamber Orchestra and Vengerov took the stage amid an applause of high anticipation. As he has often done in the past several years, Vengerov was both soloist and conductor. As such, it was Vengerov who signaled the start of the program with Mozart's Violin Concert No.4 KV 218 in D Major. A minute and a half later, he turned around and became the virtuoso soloist.
Vengerov gave each note his all. He drew out of the instrument notes, sounds, feelings, and perfection that would have remained undiscovered had it not been for his, and only his, playing. I was reminded of a quote by Mozart, said in reply to a king who had asked him to truncate one of his works: "If any notes were not meant to be there, they would not have been there." And, I felt that in the case of Maxim Vengerov – if any particular note had been meant to be played in any other way, Vengerov would have played it that way. He drew the notes to their ultimate perfection.
Vengerov looked entranced while playing. However, the prodigious brain was in command of the entire orchestra. In between movements or during fermatas (classical music lingo for "pauses") of his solo part, he would turn around and conduct. He kept the Polish Chamber Orchestra under his baton, even while also playing himself, through nods of the head, a gesture, a gaze. The Polish Chamber Orchestra and Vengerov were in sync, Mozart had composed the immaculate, and Vengerov was drawing the story out of the note as only he knew how. And the audience was spellbound.
Concerto No. 4 had four movements, from lively and allegro, to an occasional andante, with the smoothest touch of the oboe. The music came out in the smoothest, silkiest, most enchanting way possible, and the audience was enraptured from the first note. The program continued with another one from Mozart, Violin Concerto No. 5, KV 219, in A Major, while the second interval hosted David Walter's arrangements of Tchaikovsky's Serenade melancolique (Op. 26) in B-flat minor, Souvenir d'un lieu cher (Op. 42), and Valse-Scherzo (Op. 34). When did a scherzo sound so beautiful? Each note not only came out in its perfect pitch and tone, but also with its own energy and soul. The Polish Chamber Orchestra, an international star in its own right, was also second to none. Poland had been Maxim's first professional venture out of Russia, at the age of ten. And, it was behind the master again, nurturing the solo parts in perfect harmony, unison, tone, and pitch.
The Havanise (Op. 83) and Introduction et Rondo Capriciosso of Op. 28 of Saint-Saens followed. Nine minutes each of paradise. We were taken to mystical lands, to tenderness, romance, and love, and then escalated to rhythm, rush, and to heights of lively emotion. We softly landed back on ground and ran through joyful fields, with gentle pizzicatos and the softest accentuations of brass and winds. The audience was in awe and not a hush, not even a breath, came from our side of the auditorium.
Of course, silence was not the case when it came to the applause. No one wanted the evening to end, and Vengerov and the Polish Chamber Orchestra were called on stage for two encores: Brahms Hungarian Dance No. 1 and No. 5. Pieces of great beauty, of great mastery, and of great popularity. By the end of the evening, every single person in the audience was up on his feet in a standing ovation and loud, sustained applause.
After the performance, I was lucky enough to be able to venture backstage and request an autograph. While I was there, I asked Vengerov when he was due to perform in Istanbul again. "When they invite me again," was his answer. I hope that this invitation will come very soon.
Melis Kanık is a contributor to Yabangee
Image is public domain.