Nardis Jazz Club has a fully loaded program for the month of March, featuring several seriously talented musicians and some of the city's best vibes for an evening of jazz. For reservations contact +90 212 244 6327. Be sure to keep up with the official site for any changes in the program.
From the organizer:
Wed 1: Nardis Young Vocalist of the Year (21:30-00:30) // 40 TL
Nardis Young Vocalist of the year competition was instigated with a view to encourage and promote young amateur and professional jazz singers, both locally and internationally. Turkey has been long been represented in International Festivals by talented artists but we feel that it is just as important for our colourful country to be represented by aspiring young performers in competitions. We also think that no artistic competition is perfect in the sense that neither the winner is the absolute best nor runners up and others are inferior; nevertheless competitions serve the purpose of putting forward a representative participant. We hope that you can make this exciting performance and look forward to seeing you among us.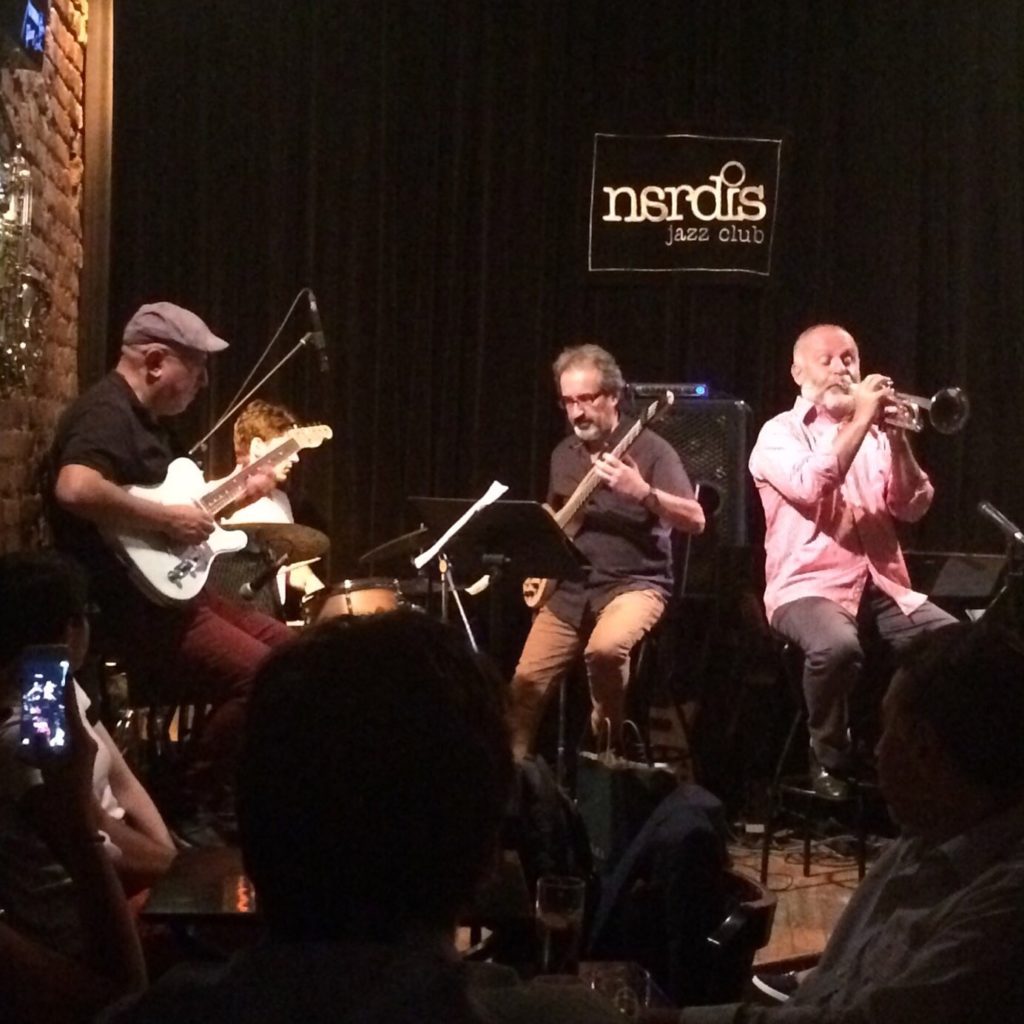 Thur 2: Modal Jazz Quartet (21:30-00:30) // 35 TL
Modal Jazz Quartet aims to bring together the melodic and rhythmic elements of Turkish Classical and Turkish Folk Music with the songwriting and harmony of jazz. All the compositions and arrangements are done by Nail Yavuzoğlu, bass player of the project. Other members of the band are Şenova Ülker on trumpet, Önder Focan on guitar and Erdem Göymen on drums.
Fri 3: Deniz Taşar Quintet (22:30-01:30) // 40 TL
Deniz started singing in high school with her school's orchestra and proceeded as a professional after graduation when she formed her own band and began performing in various venues in Istanbul. She won first prize in Nardis Young Jazz Vocal Competition, was selected with her band to perform at Istanbul Jazz Festival after their win at IKSV Young Jazz Competition and was given the title "Best Interpretation" by the Akbank JAmZZ jury on 2013. The same year was the beginning of her career in jazz, giving performances in the renowned jazz clubs and international festivals. She started focusing on her own music in 2015. She has a side project consisting only vocal and bass named "Songs From A Breeze". They plan on releasing their first album "Chapter One" later this year. Her solo album was recently released from Kabak & Lin, with the name "Uykuda Bir Bulut". Tonight the band will be performing songs from this album as well as covering some neo-soul and trip-hop tunes with a mix of jazz standards.
Sat 4: İpek Dinç Yüce Quintet (22:30-01:30) // 40 TL
Ipek Dinc who is an undergraduate of İstanbul University, Faculty of Chemistry, started her musical career in 2005 when she met İlham Gencer. She was a finalist at the 2006 Nardis Young Jazz Singer of the Year Competition and participated in the İstanbul Jazz Festival Young Jazz Singer competition. She gave a concert in the Festival. Her success at 2009 Nardis Singing Competition took her to the Nomme Jazz Festival Competition in Estonia where she won the 3rd prize. She participated in numerous festivals. Dinç has been invited to attend the "Young jazz Voices" event in Latvia in 2009. Her repertoire for this night will consist of R&B as well as jazz standards.
Mon 6: Uğur Güneş Trio (21:30-00:30) // 35 TL
Ugur Gunes was born in 1974, in Izmir. He started studying at the D.E.U. State Conservatory in 1986 and graduated in 1996. Since 1998 he has played with a variety of bands in Istanbul. He was also featured on some TV and radio shows for the TRT Jazz Orchestra. His trio played for Tuna Ötenel in the 2001 Roxy Jazz Days and also Bodrum Jazz Days. He played concerts in Paris in 2004 and in London in 2005.
Tue 7: Kerem Türkaydın Quintet (21:30-00:30) // 35 TL
Kerem Türkaydın started playing the guitar at the age of 13. In 1996 he started studying at the Music Department of Dokuz Eylül University and studied there for three years. In 1999 he won a full scholarship for the Music Department of İstanbul Bilgi University. He studied guitar, harmony and improvisation techniques with greats like Neşet Ruacan, Kamil Özler, Donovan Mixon, Ali Perret, Can Kozlu and İmer Demirer. He wrote the book "Caz Gitar Metodu" (Jazz Guitar Method). Since his graduation in 2004 he's been in many pop and jazz projects and he also works as a session guitarist, jingle writer and arranger. The band will be playing his originals and some standards.
Wed 8: Cansu Nihal Akarsu Band feat. Yahya Dai (21:30-00:30) // 35 TL
She was born in 1992 in Istanbul. She started studying at the Izmir Dokuz Eylul University State Conservatory with clarinet as her main instrument. She was one of the top ten contestants at the Nardis Jazz Club Young Jazz Vocal Contest both in 2013 and 2014, and after her performance at the contest in 2014 she was awarded to perform at the Ankara Jazz Festival. She performed at the 20th and the 21st Izmir Europe Jazz Festival. She still studies at Izmir Dokuz Eylul University State Conservatory.
Thur 9: SPIN (21:30-00:30) // 35 TL
SPIN was formed by Sıtkı Sırtanadolu and Selim Benba in 2005 and released their debut album 'İLK' in 2007. The band was still together until they took a brake to concentrate on other projects. Selim Benba now lives abroad, so this will be a reunion project and they will be performing both old and new tunes.
Fri 10: Janusz Szprot (22:30-01:30) // 40 TL
Janusz Szprot is a rich and colourful musician, piano player, composer, arranger, educationalist and musicologist. Szprot who started his musical career in 1971 and since then worked with many famous Polish and other jazz performers. In 1983 he formed "The Polish-Turkish Jazz Group" with talented Turkish and Polish musicians; the band performed in Ankara and at the 21st International İstanbul Jazz Festival. The rich variety and flexibility of Szprot as a pianist who has excellent command of all jazz styles is evident in his discography which extends to more than 15 albums. Szprot who has been a teacher at Bilkent University Music and Stage Performances Faculty and the Erzurum University is now back in Ankara, and still lives and teaches there. He is going celebrate tonight his 70th birthday.
Sat 11: Selen Beytekin Project (22:30-01:30) // 40 TL
Selen Baytekin who was born in 1987 started her classical piano studies at the age of eight as a provate pupil of Ergican Saydam. She joined the European Voices choir during her highschool studies and then went on to form her own A capella group. Selen's path crossed Ilham Gencer at a tango evening in 2007 and with his encouragement, she started her own solo piano & singing programme at Q Jazz Bar. She then performed with Aşkın Arsunan's The Blue Print Project Band. Selen grauated as a civil engineer from Istanbul technical University in 2008 and then obtained a masters degree in Architecture from the same University. While pursuing her professional career, Selen who is passionate about music continues to perform the Jazz, Soul, Funk & R&B scenes.
Music Charge: 40 TL
Mon 13: Baturay Yarkın Trio (21:30-00:30) // 35 TL (20 TL Students)
Trio aims to transmit different sides of jazz to the audience, which has the genres of Swing, Latin, Ballad and rich melodic and rhythmic sources of Turkish Classical Music. Baturay Yarkın Trio performed during 21. İstanbul Jazz Festival.
The motifs of Turkish Classical Music and Baturay Yarkın's compositions are essential factors for the group which intends to be peculiar. The band, which pointed the importance of multicultural communication performing in The Netherlands, continues to perform in Turkey and on abroad.
Baturay Yarkın joined the jazz workshops given by Barry Harris, Greg Osby, Eric Alexander, New York Jazz Workshop and Pulawy Jazz Workshop. He represented Codarts at the "Pop and Jazz Platform" organized by Association Européenne des Conservatoires on February, 2016.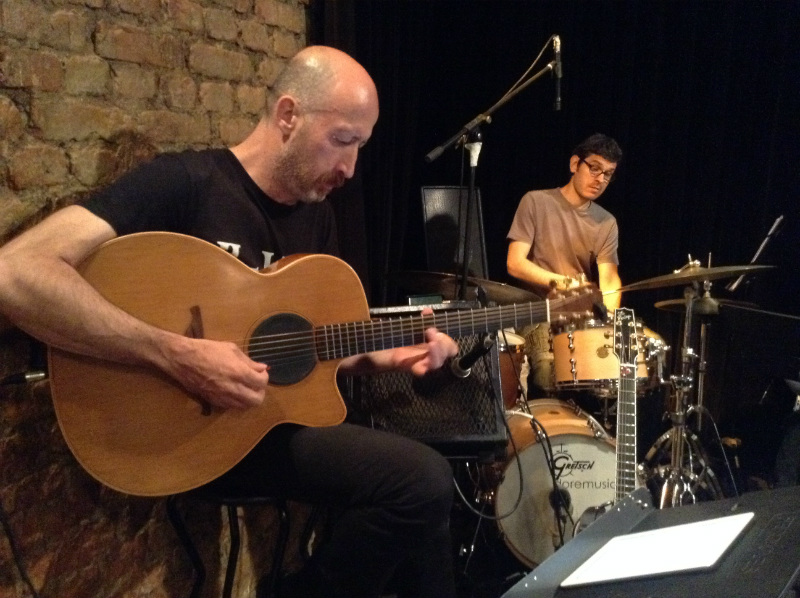 Tue 14: Yavuz Akyazıcı Trio (21:30-00:30) // 35 TL
He was born in 1966. He started his education in Bosphorus University Chemical Engineering department. However, He decided to study jazz in New York and went to New School Jazz Performance program. He became a student of teachers like Reggie Workman, Jim Hall, Billy Harper, Buster Williams, Vic Juris. While his education was going on, he performed at jazz clubs like 55 Bar where Mike Stern and Wayne Krantz also played. After graduation, he continued playing his own compositions with musicians like Matt Wilson (Charlie Haden Liberation Band), Eric Person (Ben Harper, Dave Holland Quintet), Joe Fonda (Kenny Baron, Anthony Braxton), Kevin Burke (Wynton Marsallis Orchestra) and formed the band Volcano. With this band he played in various jazz clubs in United States, Turkey and Baku Jazz Festival.
His first published CD Volcano/Gamzelim received a lot praise in jazz community. Interntaional Sound on Sound magazine named this album as "virtuoso performance and recording".
He formed Yavuz Akyazıcı Project at the beginning of 2011. This band recorded Turkish Standards Vol.1 which ic a CD consisted of Turkish pop songs re-arranged in a jazz standard fashion.
His latest CD "Bridge" was published at the beginning of 2012. This recording consists of seven Yavuz Akyazıcı compositions as well as popular songs like "Sway", "House of the Rising Sun" and a jazz standard from Sam Rivers named "Beatrice".
Wed 15: Esra Yücel Band (21:30-00:30) // 35 TL
Esra Zeynep Yücel graduated from Yeditepe University Business Administration School. She later did her M.D. on Economy and worked in this field for many years. Having performed on stage for a long time, she then started studying with opera artist Nazlı Deniz Süren and vocal coach Banu Kunt Işık. The band will be performing well known classic rock and folk songs re-arranged for jazz by Halil İbrahim Işık as well as her originals.
Thur 16: Burak Bedikyan Trio (21:30-00:30) // 35 TL
A native of Istanbul, Bedikyan became interested in Jazz during high school with the commitment and passion to pursue a career as a professional musician. Formal music education began in 1996 with distinguished Turkish pianist & composer Aydin Esen where studies included modern harmony and jazz improvisation. In 2002 Burak Bedikyan received a full merit-based scholarship of music performance from the "Istanbul Bilgi University Jazz Department" where he had the opportunity to study with esteemed musicians such as Donovan Mixon, Ricky Ford, Can Kozlu, Ali Perret, Tuna Otenel, and Imer Demirer. While actively performing with his professors, heads began turning in his direction from the Turkish jazz scene thanks to his musicality and stylistic versatility. Bedikyan recorded his debut album "Circle of Life" in 2012 in NY with internationally acclaimed artists; Chris Potter, Peter Washington and Bill Stewart. Published worldwide in 2013 by the prestigious record label SteepleChase, "Circle of Life" received positive feedback on the international arena from critics, journalists, as well as fans. January 2015 gave birth to the pianist's second album as a leader. "Leap of Faith" featuring another all American line up including jazz greats Chris Cheek, Ron McClure and Billy Drummond. As in his first album, His new album "Awakening" released in early 2016 with Loren Stillman, Ugonna Okegwo and Donald Edwards. Bedikyan presents a set of original compositions rooted with the American jazz tradition but embracing his European influences as well as his Turkish/Armenian heritage.
Fri 17: Su İdil Quartet (22:30-01:30) // 40 TL
Su İdil was born in Ankara 1994. She is graduated with high honor degree from Baskent University, Psychology Department. Since the first years of secondary school she is interested in jazz. In the beginning of her adventure she studied with Durul Gence for a year, who is a very famous drummer and jazz historian in Turkey. In 2010 she won a scholarship from Nardis Jazz Vocal Competition for a workshop in Poland, Pulawy. She attented to Sibel Kose vocal class and worked with Dante Luciani and Bogdan Holownia, Janusz Szprot. In 2012 she was among the finalists of Akbank Jammz Competition. In March 2015 she won the first prize and 4 other special prizes by an unanimous decision of the jury from Nardis Jazz Vocal Competition. She regularly has gigs and sings a variety of jazz, R&B, funk and soul.
Sat 18: Dolunay Obruk Quartet (22:30-01:30) // 40 TL
Dolunay Obruk, who has been a jazz musician since 2004, is also a professional graphic designer, as well as a lyricist, composer and singer, and has taken part in many projects with eminent jazz musicians such as Neşet Ruacan, Emin Fındıkoğlu, Imer Demirer, and Cem Tuncer and shared the same stage with them. She has sung jazz music in her own unique way in performances organized both in Turkey and abroad, sometimes adding popular folkloric songs to jazz, and recently has been working on projects where she visualizes her music by combining her expertise in graphic design and vocals.
Dolunay Obruk's musical stories drawn by herself are displayed throughout her concerts, carrying the audience to a different world.
Mon 20: Organic Expeditions Trio (21:30-00:30) // 35 TL
Önder Focan's "Hammond Project" took off with the release of the album "Beneath the Stars" from the Blue Note label in 1997 which featured leading musicians from the USA: organist Sam Yahel, and Bill Stewart who is one of the most popular and beloved drummers of the younger generation. After this most appreciated recording, which filled a crucial void for being the sole exemplar of this musical genre in Turkey, the project continued through the years with several leading Turkish musicians and important international guests. Determined to sustain the excitement at its inception, this time the band continues its journey with a new formation including Kaan Bıyıkoğlu who studied the Hammond organ meanwhile studying jazz piano in the Netherlands, and the young drummer Ekin Cengizkan.
Tue 21: Emre Tankal Quartet (21:30-00:30) // 35 TL
Emre Tankal was born in 1978 and started an interest in jazz guitar in his high school years. He had the opportunity to work with artists like Aydın Esen, Donovan Mixon, Sarp Maden and Kurt Rosenwinkel. He performed at many jazz festivals and clubs in Turkey in the last decade. He was an arranger and performer on Jehan Barbur's "Uyan" and Birsen Tezer's "İkinci Cihan" albums. He later did his M.D. at Bahçeşehir University Jazz Department. He's been playing his own compositions with his band Emre Tankal Quartet, consisting of Tamer Temel, Matt Hall and Erdem Göymen.
Wed 22: Murat Arkan "Micheal Franks Project" (21:30-00:30) // 35 TL
Guitarist and singer Murat Arkan was born in Ankara. Studied Industrial Design in the Faculty of Architecture in Middle East Technical University. While performing as a professional musician, studied music in several universities such as; Bilkent University Jazz Department, Berklee College of Music – Umbria Jazz Clinics (Italy) and Bilgi University Jazz Department. In this concert, you will also hear him singing in the style of Michael Franks.
Michael Franks (b. 1944) is a jazz singer and songwriter from California. Recorded several albums as one of the pioneers of smooth jazz and was popular especially in late 1970's and 1980's. At this concert, you can listen many of his songs including 'Antonio's Song', 'Baseball' and others by the participation of guest vocalists as well. Smooth Jazz fans will enjoy this concert.
Thur 23: Yahya Dai Quintet (21:30-00:30) // 35 TL
Yahya Dai was born in Ankara. He got involved in music in 1974 by playing the recorder but starting in 1981 he got involved with alto saxophone, tenor saxophone, soprano saxophone, baritone saxophone, flute and electric wind instruments. He studied with Tuna Ötenel in Ankara for many years. After moving to Istanbul, Yahya performed and recorded with numerous local and overseas bands. He released an album, "Ümitvar Mavi" in 2011. Tonight's performance will consist of a colourful and diversified repertoire.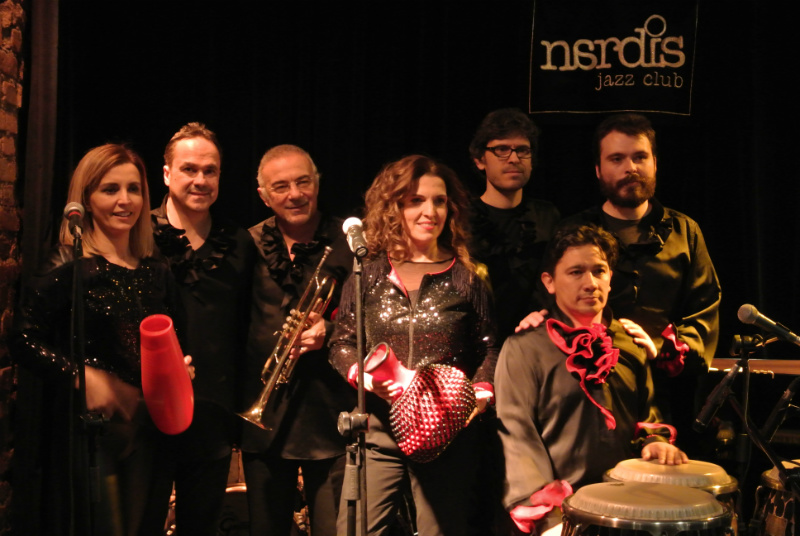 Fri 24: Luis Ernesto Gomez & Latin Jazz Band (22:30-01:30) // 40 TL
Born from a Columbian dancer mother and a Cuban musician father, Luis Ernesto Gomez grew up in Paris. His father is one of the pioneers of salsa and Cuban music in France. Luis studied with Changuito and Tata Guines. Since 1986, he has been playing tumba in countless salsa and latin jazz bands. His stage career started at the age of 16, accompanying Mayra Valdes Irakere. He started performing with the band of Rembert Egues, the Cuban musician, at "Les Trois Mailletz" Jazz Club in Paris. He accompanied many famous musicians with his tumba at this venue where he became art director. In 1998, Luis and his wife, Gülseren Yıldırım Gomez, famous singer, percussionist (darbuka) and dancer (who was to be the Turkish participant in the 2005 Eurovision song contest), encouraged by their interest in world music and cultural exchange intruduced the first Salsa Turca group in Paris. Since 2005, Gülseren and Luis has been singing and playing with her own band in Turkey and different countries: Hungary, Poland, Colombia, France, England, İtaly, Russia, Spain, Emirates. Gülseren has already produced and sang for 11 CD albums (Vents d'Est; Gülseren; Turkish Groove; Kumbiya Turka). Gülseren and Luis formed in İstanbul their own and unique salsa big band: "Luis Ernesto Gomez & Latin Jazz Band".
Sat 25: Sibel Köse Group (22:30-01:30) // 40 TL
Sibel Köse was born in Ankara where she attended the TED Ankara College followed by the Architecture Faculty of the METU graduating as an architect. Her early interest in jazz coincides with her university studies. She attended numerous seminars in Poland. Ms. Köse performs in concerts, radio and TV productions and local & international jazz festivals since 1987. She has been the winner of the International Jazz Vocalists Competition held in Zamosc, Poland. She performed alongside Dee Dee Bridgewater, Raul Midon and Stacey Kent at the "Nina Simone Tribute" concert. She has an album published in Poland. Tonight Ms. Köse and her band hope to give you an enjoyable evening with their fresh interpretation of standards.
Mon 27: Önder Focan & Şallıel Bros. "Funkbook" (21:30-00:30) // 35 TL
We will listen to a new project by Önder Focan and Şallıel Brothers. Şallıel Brothers are the founders of What da Funk Project, in which they interpret classics from funk, jazz and soul music with their own arrangements. The saxophonist brothers will interpret Önder Focan's compositions in their own funky style tonight.
Tue 28: Cenk Erdoğan Trio (21:30-00:30) // 35 TL
Any one of us may have transcended time by listening to a familiar tune with eyes wide shut, being all ears and sucked into the melody; we may almost have become the melody, warm and intimate, like bosom friends.. Cenk Erdoğan studied jazz composition with prominent Turkish musicians during his university studies; at the same time he studied classical Turkish music and fretless guitar. He adapted a special technique used on Turkish instruments bağlama and tanbur to fretless guitar and his studies combining jazz harmonizations with traditional melodies drew the attention of prominant overseas musicians. In 2004 Erdoğan was invited to conduct fretless guitar workshops in Berklee College of Music and Queens College of Music. The Trio's albums "ile", "Kavis" and "Kara Kutu" was published by Baykus Music.
Wed 29: Sanat Deliorman ve Caz Biraderleri (21:30-00:30) // 35 TL (20 TL Students)
Sanat Deliorman, who took up singing jazz in 2003, when studying translation at Boğaziçi University, in school's a cappella jazz choir, has won several awards and special mensions in jazz vocal competitions and was invited to the International Istanbul Jazz Festival as a young talent. Known for her strong voice and sentimentally deep interpretations, Deliorman, since 2012, has been holding very enjoyable gigs in jazz clubs of Istanbul, Ankara and Bodrum, with her group called "Sanat Deliorman & Her Jazz Bros", hosting Turkish masters and young talents of jazz in these concerts. Also active as a voice-over artist and graphic designer, Sanat Deliorman prepares and presents an on-air programme called "World's Jazz" every tuesday evening on Açık Radyo, while penning concert reviews for jazzdergisi.com.
Thur 30: Flapper Swing (21:30-00:30) // 35 TL
Flapper Swing is a quintet following footsteps of famous french jazz artists Django Reinhardt, Stephane Grappelli and New Orleans's expatriot Sidney Bechet. These five musicians were brought together by their passion for taunting acoustic sounds of gypsy swing . Flapper Swing's music is a sweet blend of manouche guitars, wild soprano saxophone, sensitive silklike vocal, supported by deep woody hum of double bass. For more intimate settings, the band can also perform as a trio of two guitars and a vocal. In their performances Flapper Swing is striving to bring the audience an atmosphere of roaring twenties and ballroom parties, the times when jazz was still fun.
Fri 31: Şenay Lambaoğlu Quintet (22:30-01:30) // 40 TL
In 1997 she had the chance to study with Milli Bermeyo in Boston and in the meantime she attended the vocal workshop held by Sheila Jordon in Harvard University. Returning to Istanbul Lambaoğlu met Randy Esen and pursued her jazz vocal training with her. In 1998 she entered the Music department of the Faculty of Art and Design in Yıldız Technical University and took singing lessons from Yıldız Dağdelen. In the faculty she had the opportunity to study with precious lecturers such as Ahmet Yürür, Şirin Pancaroğlu, Alper Maral and Çiğdem Erken. In the year 2000 she took part in the album recordings and concerts of Ilyas Mirsayev in Kiev. And she performed with various inclined musicians such as Yahya Dai, Leven Altında, Ercüment Ateş and Aycan Teztel in many concerts as a jazz soloist within the scope of the project Beck's Big Band founded in 2002.
She got her master's degree in Social Sciences Institute in Yıldız Technical University in 2005. In 2007 she took part in the Turkish rock album of Cem Koksal, called "Siyah Beyaz Masallar" (Black and White Tales). In 2009 she performed on the same stage with Nilüfer Verdi and Andreas Buchmann in Istanbul Jazz Festival. Recently taking part in various performances with Burçin Büke, Volkan Hürsever and Deniz Dündar she is proceeding several projects with Kürşat Başar Quartet. Releasing her first solo album, "İçimde Aşk Var" (There is Love Inside Me) the arrangements of which are made by Ercüment Orkut in 2012, and her second album released on 2014 "Zarf Tumleci" and she pursues his musical journey with jazz concerts and art projects.
—
For more information, check out the official site.
+90 212 244 6327
All images courtesy of Nardis Jazz Club.
Galata Kulesi Sokak No.8 Kuledibi