"Habitash! Habitash!"
The unfamiliar deckhand appeared as a silhouette, repeatedly emphasizing this made-up word as though I would finally understand what it meant the sixth time he said it.
He was standing in an empty cabin, his short and squat frame backlit by the late afternoon sun as it sank into the Bosphorus. I slowly began to fill in the many details about how I had come to be awoken in such an unusual situation.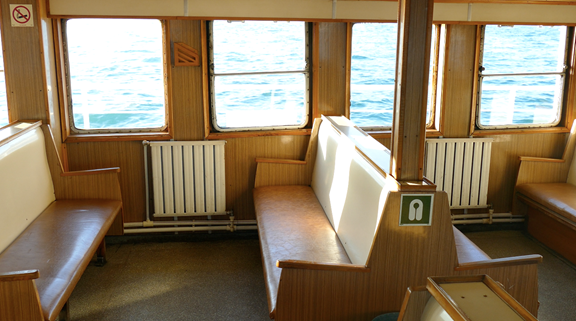 I had been enjoying a perfect day with my fiancée Rebecca and her mother Kathy upon one of Istanbul's famed Bosphorus cruises; from Eminönü to Anadolu Kavağı, with many ports of call and a three hour stopover near the Black Sea between the two. On the return trip to Eminönü, we were huddled together outside in the whipping wind, scanning for dolphins and recognizable landmarks when I decided to pop back into the cabin for a siesta.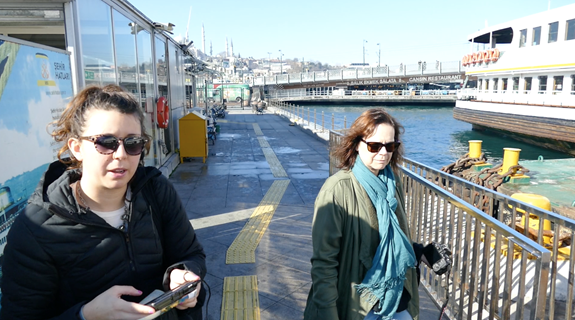 But why was it just me and the ferry crew now? There were easily 50 passengers on the ship, and when I had dozed off with the help of a few lunchtime Efes and the warm stillness inside the cabin, a number of them were surrounding me. Where were they now? Where was Rebecca?
"Habitash!" the mystery man bellowed again, pointing to some unknown destination far off in the distance behind me. I saw now that our ghost ship was pulling away from the dock at Eminönü; I had missed the last stop of the tour and was separated from my group with no money, means of communication, or faint idea of where I was heading next.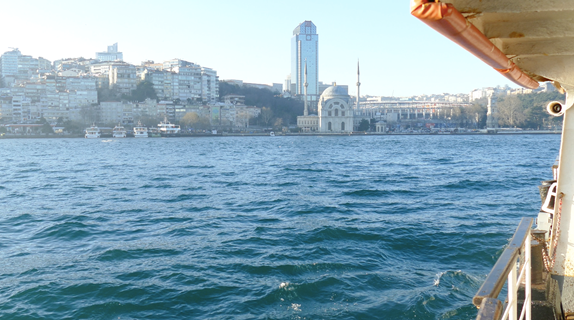 Most travelers will eventually encounter a situation like this; an idyllic holiday suddenly shifts into a nerve-racking mission as you find yourself alone, clueless, and totally unprepared for the circumstances you've been thrust into. For all I knew at that moment, I was to be dropped off an hour away, under cover of darkness and on the wrong side of a gaping language barrier, with not one Lira to aid me in my predicament. A thousand thoughts rushed through my head in one simultaneous cacophony.
What is 'Habitash'?
Why would Rebecca leave me?
Do they maybe think I fell off the boat and am sleeping with the fishes at the bottom of the Bosphorus?
Am I going to be able to hitchhike or maybe sing opera at the Metro station until I collect enough for a transfer back to Eminönü?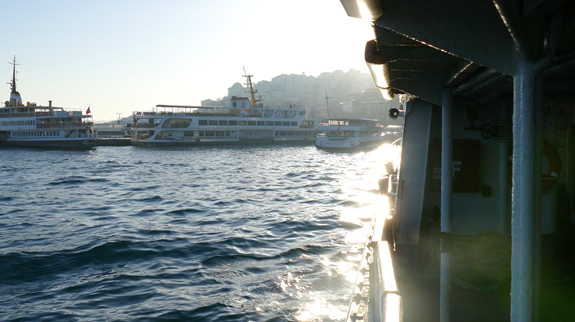 After about 15 minutes of cruising away from anything vaguely familiar to me, we started the docking process. I jumped up to my feet and waited until we were close enough to the dock, then leapt onto it in a fairly risky maneuver; I was simply too excited and nervous to wait for any kind of official instruction from the crew about when and where to disembark.
The gates to the ferry landing were closed. I had to shuffle sideways past a fence, hop over a barrier, and use the international "I fell asleep" body language to convince a guard at the front entrance why I needed him to open it for me. He laughed riotously, and something in his tone told me that I was not the first disoriented tourist to pull this shenanigan.
I saw it then: "Kabataş", not "Habitash". Though, I don't suppose it makes any difference to my situation; I still had no idea where I had ended up. I used my very limited powers of observation to decide that if I stuck to the waterfront walkway and headed towards where I knew the Galata Bridge to be, I would eventually wind up in Eminönü.
I walked briskly towards Galata Bridge, keeping pace to return to Eminönü while there was still a faint glimmer of sunlight. I couldn't help but feel like a vagrant out here by myself. I was very far out of my element, and I shared none of the laughter that the groups of university students I was blowing past enjoyed together after their classes. I wanted to stop and get an ice cream, but no one stays in business by handing out freebies.
When I set eyes upon a sign bearing the familiar "Eminönü", I began to relax a little. I slowed my stride and looked out over the crimson skyline of Istanbul, and I smiled at the humor of my situation. I had felt truly lost, alone, and unknown; but I was actually only a few Metro stops away from a familiar neighborhood! The uncertainty had caused me to exacerbate minor details into oppressive ones, and for an hour of my life here in Istanbul I had forgotten that part of traveling is about getting totally lost.
When I finally made it back to our apartment in Kumkapı, Rebecca and her mother were nowhere to be found. I had the keys to the building and room, and I had hoped they would be waiting there for me at the cafe next door. My relief at being back in a familiar environment was replaced with a panic about where they might be. We had been separated for nearly two hours, and it seemed entirely plausible to me that they might be at the police station or the consulate opening an official file on my disappearance.
I ran up the stairs to our room and opened the window, then flipped all the lights in the apartment on so that they would see from the street that I was home if they came back in its direction. I hopped online and sent messages on every network I could think of that Rebecca and I shared, which are many. None were returned.
An hour passed, and finally I heard their voices climbing up the stairwell to the apartment. I threw open the door and saw Rebecca and Kathy in fine form, if a little tired from all the running around they had been doing trying to find me.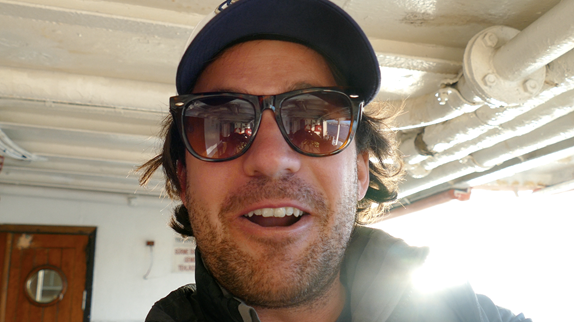 It turns out they had searched the whole ferry for me, everything except the one cabin where I lay stretched out flat against the bench. It happened I was on the other side of the window from where they sat, and when peering in to see if I was there, had looked directly over me. When they realized I hadn't made it off the boat, they took the Metro over to Kabataş to find me after learning from the ticket office that the ferry was headed there.
When they arrived, Rebecca saw me for a split second as I began my mad dash back towards Galata Bridge. She yelled out to me, but the noise of the city and my singular focus to rush back to Eminönü had drowned out any possibility of us connecting then.
Back in the apartment together, we came up with a game plan to avoid something like this happening in the future. We decided that the whole situation could have been easily avoided by two factors: Always carry some cash on you when you're out and about and get a local phone number with a basic prepaid plan wherever you are.
The ordeal reminded me how important it is to have connections and community — No one likes feeling helpless and alone out there in an unfamiliar environment!
We'd love to hear of any similar experiences you may have had. Let us know in the comments!
All images courtesy of Dennis Walker, a guest contributor to Yabangee as he passes through our amazing (and often intimidating) city.