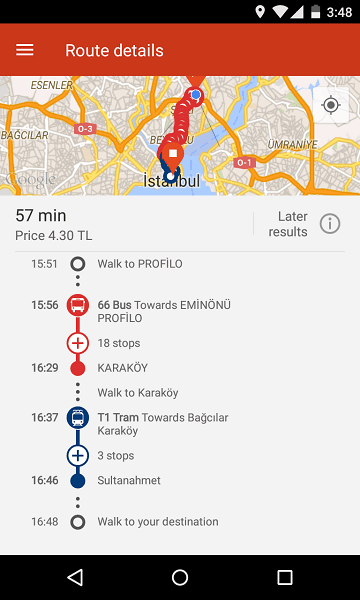 About a year ago, Yabangee featured a review of some mobile apps that can help you get around and navigate Istanbul's often confusing public transport system. Well, I'm here to say that those apps having nothing on my latest love: Trafi Türkiye.
Up until a few months ago, I was struggling with the city's public transport system. Google maps doesn't cover public transport in Istanbul, and I was having no luck with the traffic apps I had downloaded. Moreover, I found that that many of those apps weren't available in English. But then, a friend who used to live in Istanbul told me about Trafi Türkiye. This simple yet revolutionary introduction has definitely changed my experience here for the better.
All three apps that were reviewed last year pale in comparison to the features of Trafi. Most importantly, Trafi Türkiye is available in English as well as Turkish (a huge plus, considering most traffic apps are in Turkish only) and has a beautiful and intuitive user interface. It also has numerous special features. These include giving you multiple options for what kind of public transport you want to take (bus, ferry, metrobus, metro/funicular, dolmuş and tram), allowing you to schedule when you want to take it, and providing multiple routes with suggestions such as a recommended route, one with less walking, or the option to, for instance, avoid buses. It also provides results for later in the day or night, and easy to read timetables in case you need to figure out when to leave in order to catch what you need on time. Once you choose your route, it provides a listing of all the stops along the way with times, including any interchanges if necessary, a map of your journey, the approximate time it will take you to reach your final destination, and the total price.
The app also contains an easily accessible database of all the transport schedules, including bus routes and metro lines, as well as a transport map. There are three other really handy features that set Trafi Türkiye apart. First, similar to the popular app Waze, Trafi Türkiye allows users to report on traffic, closures, or accidents, and it notifies you via push notification. Second, you can pin favorite locations for easy access in the future. Finally, Trafi Türkiye allows you to track buses on certain routes, so you can see how far away they really are from you and whether they are stuck in traffic.
When using other traffic apps, I found myself getting frustrated with each app's messy user interface, the lack of timely updates and other useful information, such as maps. Yet I felt nothing of the sort with Trafi Türkiye — it really is the cream of the crop. Luckily, it is available for phones and tablets running Android or iOS. It is also available on the web, and covers Istanbul, Ankara, Izmir and Bursa.
With this app (along with Wi-Fi or a data plan) you can get lost around Istanbul, explore places you have yet to see, and not worry about finding your way home.
Michael is a TCK and global citizen/nomad. Before moving to Turkey, he lived in the US, Lebanon, and India. Michael fell in love with Istanbul in 2011, and finally found a way to come back by taking up an editing job. He is also an avid tweeter (@MikeOghia).