Istanbul University (İstanbul Üniversitesi) is the oldest and one of the most prominent universities in Turkey, having been established in 1453 first as a Medrese (Islamic theological school) and later converted into a modern university. The university has over 175,000 students enrolled in 22 faculties and vocational schools.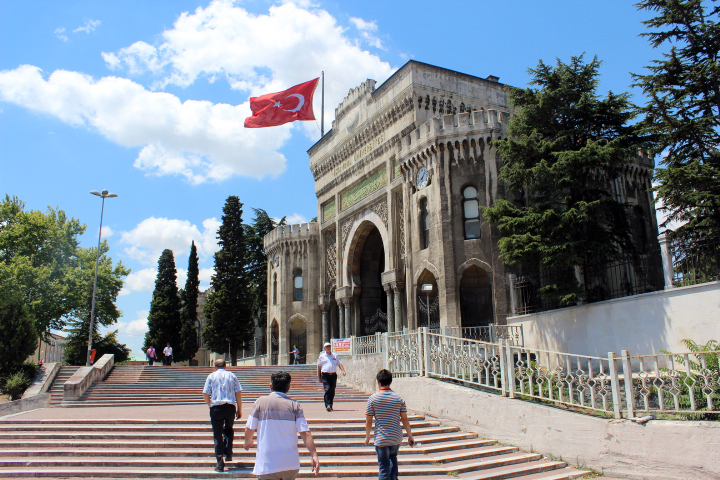 Where to live:
Since Beyazıt is a rather touristic place, there are not many places where one can rent or buy an apartment and thus most of the students choose to live in a dorm. There are several dorms inside or very near campus for both female and male students. Vezneciler Kız Ogrenci Yurdu is within 3 minutes walking distance from Anakampüs (main campus), but since it's a public dorm it is only accessible for Turkish students. Nevertheless, all of the other dorms in campus are private or half-private and offer the optimal conditions for campus life. Then, there are some that choose to rent, usually in Fındıkzade, Fatih or Çapa all of which are pretty cheap and close neighborhoods, but do not provide the dynamics and lively atmosphere of places like Beşiktaş or Cihangir.
Avcılar, on the other hand, is a rather cheap area. Students who prefer to rent are able to find apartments for around 500 TL, however the location is pretty far away from the city's centers and it does not make it a very enjoyable place to live. Avcılar offers a lot of dorms inside and near campus, such as the Anadolu Gençlik Derneği Yurdu, Göl Yurdu, Mercedes-Benz Yurdu or Yeşil Yurtlar.
Campus:
Istanbul University has a total of 12 campuses in neighborhoods such as Beyazıt, Laleli-Vezneciler, Vefa, Horhor, Avcılar, Çapa, Cerrahpasa, Şişli, Kadıkoy, Bahçeköy, Bakirköy and Büyükçekmece. However the majority of the graduate and undergraduate programs are conducted on the Beyazıt and Avcılar campuses.
The Beyazıt Campus, which is located in the old part of Istanbul, is surrounded by the vivid streets of Kapalı Çarşı and Beyazıt Square, and goes all the way to the Suleymaniye mosque and the Eminönü area. The most famous part of this campus is the Main Gate which started construction in 1864, and is a symbol not only of Istanbul University but of education for all Turkish people. The Main Gate leads to a magnificent statue of Atatürk with students which is centered in the university's park and embodies the school's spirit. Another important historical building of this campus is the Beyazıt Fire Tower which was first built in 1749 and has been reconstructed several times throughout the years.
The Beyazıt Merkez Kutuphanesi, commonly known simply as the Merkez, is the largest library and one of the biggest research centers. There are 2 more libraries inside the campus; the Library of the Faculty of Economics and the Library of the Faculty of Law. These two libraries, as well as other buildings on Beyazıt campus, are built in the Ottoman style and offer a gorgeous view of Suleymaniye mosque. Beyazıt campus is itself divided into smaller campuses and both of these libraries are located in the Anakampüs, while Merkez is situated on the outskirts of the campus. Another unique library of IU is the "Library of Rare Books" which opened recently.
The Beyazıt campus includes the faculties of law, economics, political science, communications, and education. The students of these faculties are often seen lounging in the park or outside of the Law Building which has a beautiful Ottoman style fountain surrounded by benches. There are two tennis courts near the park and several cafeterias.
In 1978 IU expanded by building a new campus in Avcılar, the biggest in Turkey. The Business School, Faculty of Engineering and Faculty of Veterinary Science are all located in this vast area among other institutions, administrative buildings and the newly built sports center.
Campus Culture:
Istanbul University has a very mixed and diverse culture. Even though most of the students are Turkish, each class is made of at least 10% international students. Most of them come from Turkish speaking countries in the Asian region.
What is interesting about Istanbul University is that each faculty has its own ideological views. For example, the students at the Faculty of Law are known for their rebellious attitude and Marxist-Leninist views, therefore it is quite common to see them protesting for different causes on Beyazıt campus. Other faculties differ by having more conservative or liberal cultures.
There is always a bus of policemen standing on the main street of the campus, which stays there mostly as a result of past incidents involving student protests. Yet, in general the atmosphere on campus is pretty relaxed and everybody is laid back, as most of the students are quite accustomed to these events.
Food:
There are plenty food options on and off all the campuses. Beyazıt campus offers the largest varieties of coffee shops and restaurants. Inside the campus there is the school cafeteria which serves morning and afternoon meals for about 2 TL. There are also lots of small stores inside the school buildings where you can get snacks or a typical fast Turkish breakfast — tost and çay.
Outside of campus there are streets lined up with restaurants, the most famous one being the historical Kurufasulyeci street just in front of the Suleymaniye Mosque. This street is famous for its small authentic restaurants serving Kurufasulye or beans which are often served with pickles and ayran. This is also a very famous touristic place and in my opinion one of the must sees of Istanbul.
Another famous place to eat is a small place near the Vezneciler dorm that serves the best çiğköfte (at least on the European side of Istanbul), Gazi Ciğköfte. For only 3.5 TL you can get a wrap of çiğköfte served with a lot of pomegranate vinegar and get to experience the full local student life.
Unkapanı ranks among the nicest places to eat in Beyazıt, serving the best tavukpilav (chicken and rice) there is on this campus. Worth mentioning are Vefa Bozacısı, which serve the delicious fermented pudding of Boza, Ağakapısı which has a breathtaking view of the Bosphorus, and Destan Café.
Transportation:
Beyazıt has a very large bus station so most of the buses circulating on the European side pass the Beyazıt station. Beyazıt can also be reached by tram or by the metro line of Vezneciler. Due to the size of the campus, Beyazıt has connections with Eminönü so some students stop at the Eminönü bus station and with a short 15 minute walk reach the back of the campus. Beyazıt does not offer any shuttle buses inside the campus since the streets are quite old and narrow and some of them are not open to vehicles.
Even though IU has many campuses, each has their own bus line or can be reached by tram, metro or metrobus. The hardest to reach would be Avcılar since it's the furthest away from the city center and you have to tram to Cevizlibağ and then use the metrobus until Avcılar. If coming from Beyazıt this can take around 1 hour, if not caught in traffic.
 Services on Campus:
Except for the open basketball court and tennis courts Beyazıt does not offer any sport centers. However, there are a few gyms and sport centers just outside the campus in Laleli or Fatih district. Avcılar on the other hand has a huge sports center that offers closed basketball courts, soccer fields, a swimming pool, gym etc.
Clubs/ Extracurriculars:
With more than 290 clubs, it is easy to find your social group and have the feeling of belonging to Istanbul University. In addition to these clubs, there are sports teams for both genders in most sports. At the beginning of the academic year the clubs open tents on campus and offer brochures and presentations for everybody who may be interested. You have to know at least some Turkish in order to cooperate and participate, however there are some clubs organized by international students that are in English.
Language of Instruction:
The language of instruction at IU is Turkish, but there are some departments that have 30% of classes in English. There are some that are fully in English such as English Economics. For English courses, you don't have to have TOEFL/ IELTS certification, as the university has its own assessment exam.
Most of the students and administrative staff have little knowledge of English, therefore it is useful to know at least the basics of Turkish in order to get along better.
Common Necessities:
There are 2 health centers on Beyazıt Campus. One is on the main street right in front of Anakampüs, and additionally serves as an emergency center. The other is a little bit further, near the Vezneciler dorm and has nurses, and doctors from various fields.Cerrahpasa Hospital, one of Turkey's most famous, is also part of IU.
There are a few pharmacies on campus, and more than enough print and photocopy stores throughout every corner of campus.
How to Apply:
Istanbul University prides itself as one of the most competitive Turkish institutions. As a result, international students must pass the İÜYÖS exam to get accepted. The exam covers topics of geometry, mathematics and logic.
Each faculty of IU has partnerships with different European universities for the Erasmus program, however this program tends to be very competitive since the selection prioritizes GPA and English proficiency. There is also the Farabi program, which is an exchange program for students and teachers wanting to go and study in another Turkish university.
Students and teachers can also benefit from the Mevlana program, which is similar to the Farabi program, but it offers universities outside of Turkey too, mostly located in the Turkish speaking regions of Asian countries.
For more information, visit the official university site.
Image source: Mimihitam – Own work (CC BY-SA 3.0)