I first came to Seyahan Jewelry because my longtime friend, Amylin Loglisci, was exhibiting her exquisite paintings there last year. Each watercolor painting illustrated one or more women wearing distinctive jewelry, with minimal facial and background details to accentuate the unique designs of the jewelry. At the time, I was so focused on the paintings displayed upstairs that I didn't take much notice of the various necklaces, earrings, pendants, and bracelets being sold downstairs, or the fascinating indigenous techniques that were used to create them in different traditional towns throughout Anatolia. Amylin now works in the shop with its owner, Gökhan Bahtışen, who started the business four years ago with his partners, Matthias Weimer and Laura Parker.
In a visit there, Gökhan and Amylin took me around the shop and explained the various ancient techniques used to craft the jewelry. They explained that seyahan is an old Ottoman word that means "traveler." These techniques are all done by hand and include kazaziye from Trabzon, telkari from Midyat, and sedefkar from Çanakkale. Kazaziye entails coiling silver wire around silk threads, then braiding these cords into different motifs and circular designs. The telkari jewelry involves soldering and twisting 925 silver wires to create intricate lacework designs and comes from the workshop of a Syriac Orthodox Christian family who have been preserving this technique. Sedefkar comes from mother of pearl and is handcrafted by a specialist who also helped to restore the Süleymaniye Mosque. After learning about these intricate and impressive handcraft processes, I sat down with Gökhan and Amylin to learn more.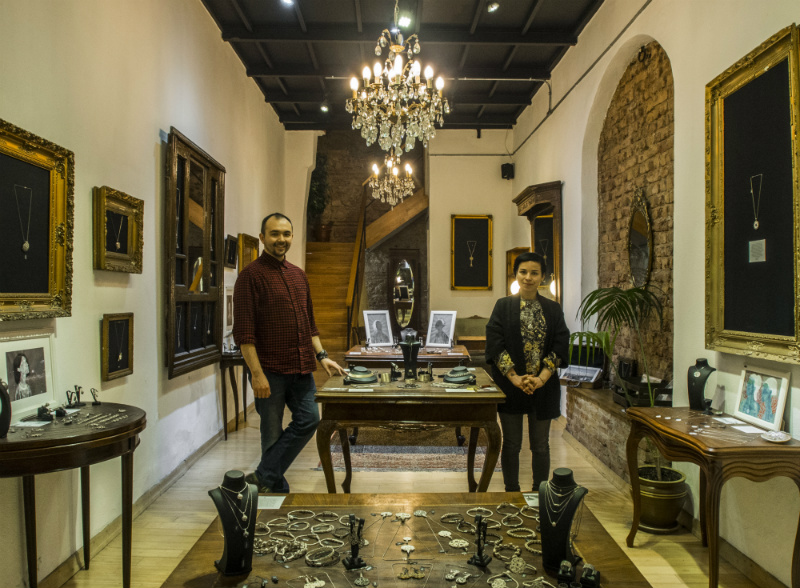 Could you tell about what you do here and how long you've been doing it?
Gökhan: I've been the manager of Seyahan here in Turkey for the past four years. What we do is travel in Turkey and bring local crafts into our shop.
How old is the business?
Gökhan: Seyahan Jewelry is four years old. We started the company in 2013. The concept was created by my business partner, Matthias Weimer and his wife Laura Parker. We've been running this business with our partners for four years now.
Amylin: This is the first shop that opened, here in Hazzopulo Pasajı off İstiklal. Previously we also had opened two other shops, one in the Galata area and one in Kaş, but they're now closed. And now the continuation of Seyahan is a shop that will be opening in Charleston, South Carolina in the US.
When will that open?
Gökhan: It will be ready in the beginning of April.
Why did you choose Charleston?
Gökhan: Because it's a historical town. It's one of the first cities in the US, so it has a lot of historical background, just like Beyoğlu, where we're located right now.
How do you find these artists in different parts of Turkey?
Gökhan: We travel to those regions. For example, we go to Trabzon, which is famous for [the] kazaziye [craft technique]. We go to these pasajes and workshops and meet people and meet artisans and we start working with the ones whose work we like.
Can you speak more about the process?
Gökhan: Before we go to a city, we do a background study. We look for the regions that are famous for jewelry. And then we plan our trip. We go to them and ask them about their background of work and how long they've been making this jewelry. We talk with a few of them and then sign them up to work.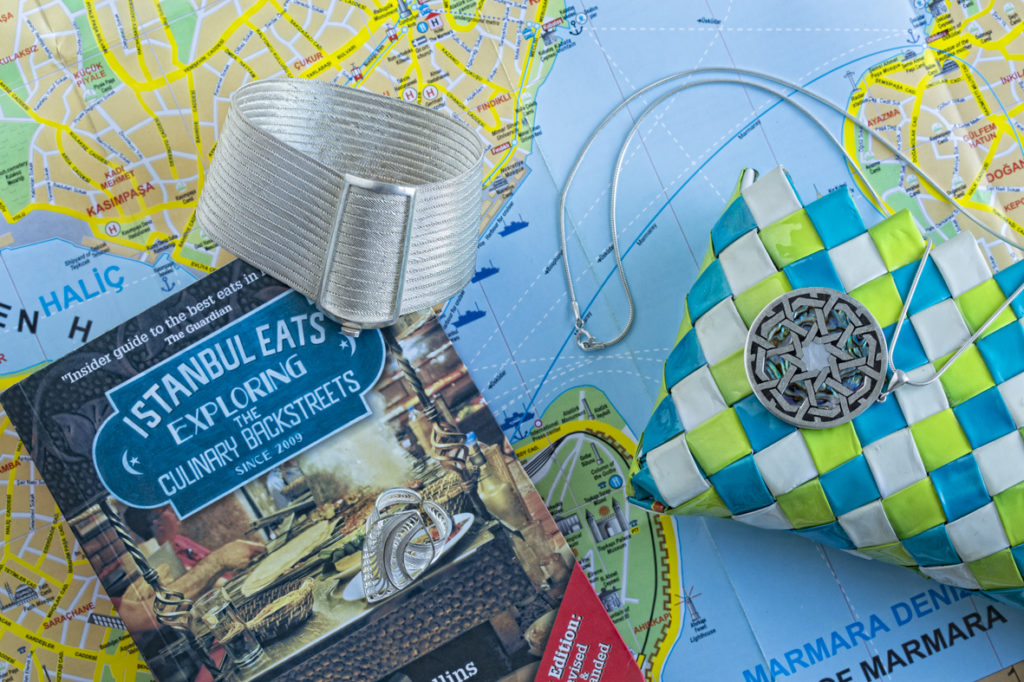 Why do you use so much silver in your work?
Gökhan: It's affordable because there are so many different jewelry cultures that use it in their crafts. So we want people to know that. So to be able to reach people, we generally work with silver, which is high quality and affordable. We also work with gold in our new pieces.
Amylin: For the newest collection, there's some gold.
Gökhan: Gold and mother-of-pearl.
I understand there's a plan to expand this into a gallery on the upper level. Can you speak a little about that?
Gökhan: We're planning to promote our jewelry and our other artisans' and artists' work by opening an exhibition upstairs, just like we did with Amylin. She painted our jewelry with watercolors.
Amylin: The plan is to utilize the space upstairs in the spring, which previously was not utilized to promote local artists' work as a way of connecting that with the regional artists' work, and the artisans' work that we also promote. Seyahan focuses on the things that are made by hand and things that are made locally and this is a continuation of that concept, just in a different format.
Can you talk about the process of starting the business?
Gökhan: It's the concept of my business partner, Mattheis Weimer and Laura Parker. We needed a concept to start our business shop. So he came up with this idea of traveling in Turkey and meeting people, because he likes to travel a lot, and finding the undiscovered jewelry of Turkey, because there are a lot of great crafts in Turkey, for example ceramics, oltu stone jewelry, and the kazaziye, which is silk and silver together, so it's many different jewelry cultures, and we decided to bring all of them together and present it in our shop.
Why did you choose this space for your shop?
Gökhan: We wanted to be in the heart of Istanbul, and this area attracts so much culture tourism. So we needed a place that would be available and in reach of these people, and Pera area is generally where the culture tourists stay, so that's what we decided on, for setting up in this area.
Do you do business online?
Gökhan: Yes, we have an online shop.
Amylin: It's http://www.seyahan.com/. People can order the jewelry online.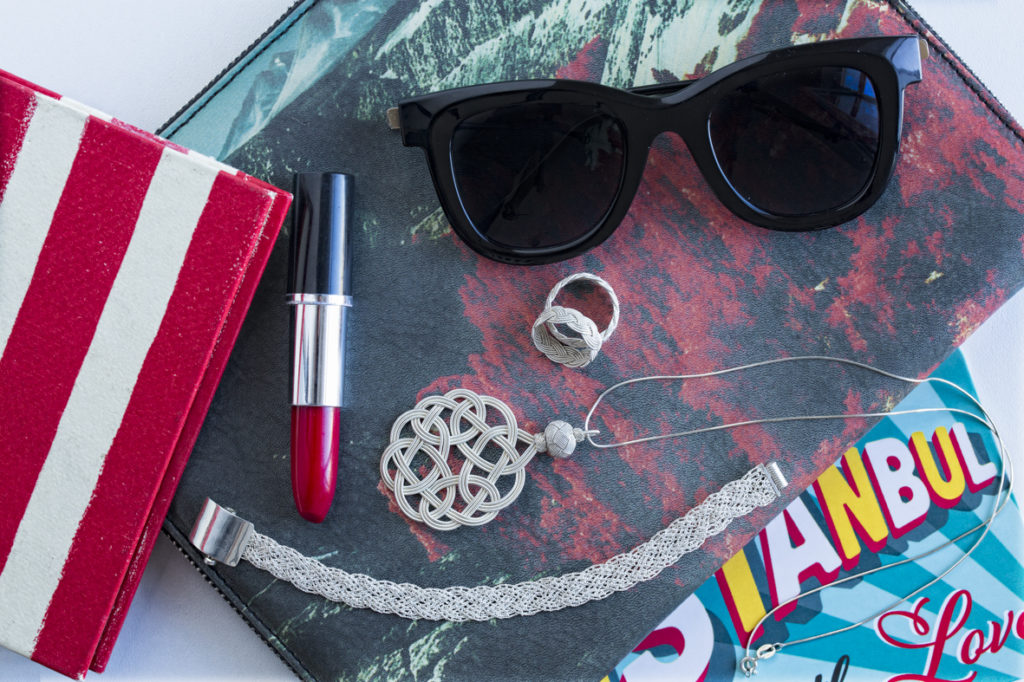 There's been a lot of talk about fair trade in jewelry recently, and exploitation in the jewelry industry. Can you talk about your philosophy about fair trade and ethical business that is more fair to the workers involved?
Gökhan: Our Trabzon collection comes from a women's cooperative. It's a business that five women started. They give work to housewives in the region. They do these pieces by hand and stitch everything. They put jewelry together and create new designs.
Amylin: It's a way of giving women financial independence when they would normally have no say about finances or no skills to make money on their own. Aside from that, regarding ethical jewelry, we don't deal with diamonds or things like that. Silver is quite a popular and easily found material in Turkey and we source our jewelry directly from the people making it, so we are in contact with the makers and we know who is making the things that we sell.
Is there anything else you want to say about the business or you want people to know?
Amylin: We promote techniques that are indigenous to Turkey, that originate in the Anatolian region. They're ancient techniques and could be going extinct in the future but are still relevant because they're beautiful and timeless. Our shop is a way of linking the past and these traditional techniques with the present and supporting people who still do things by hand.
Seyahan Jewelry is located inside the Hazzopulo Pasajı off Istiklal Caddesi No. 116. Look for the stained glass windows. To receive more information or purchase online, go to http://www.seyahan.com/
Images courtesy of Seyahan Jewelry unless otherwise noted.