Arthere is a gallery and artists' workspace in the Yeldeğirmeni neighborhood of Kadıköy. After nine months of preparation, it opened in December of last year with the goal of helping Syrian refugee artists get on their feet in this country and make valuable connections to the art scene here and beyond.
I recently sat down with Omar Berakdar, one of the founders and three current managers of Arthere (along with Öykü Doğan and Zolfaqar Shaarani) to discuss the gallery's past and hopes for the future. It was a Sunday evening and warm and cozy inside. There was ambient light, a good smell coming from the oven of the in-house café, music playing, gray kittens sleeping in a corner, and artists and other patrons quietly working as we talked.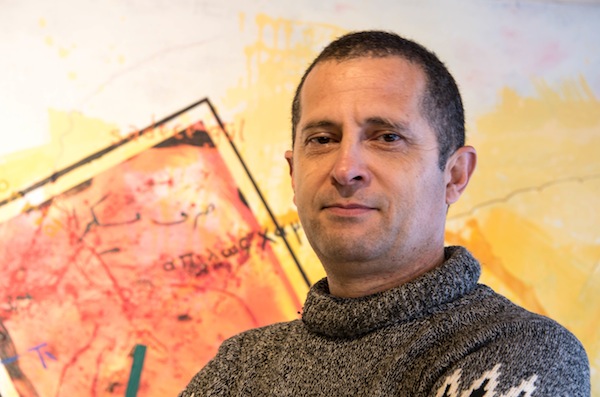 How did Arthere come about and what is the philosophy behind its creation?
I came out of the war in Syria in 2012, and I really wanted to help in any way possible. In the beginning I co-founded Hamisch (the Syrian Cultural House in Istanbul) with other activists, writers from Syria and Turkey. Later on, as I wanted to focus only on art, I left Hamisch to establish Arthere. The idea of Arthere is simply to help Syrian artists come here and do art, to give them the first push and put them in touch with the right contacts. As such, Arthere is a gallery, art center, workspace, and concert and workshop venue. Things are always changing actually; there are no openings or solo exhibits. There are simply ongoing rotating exhibits.
How do you pronounce the name actually? Is it Art-here or Art-there?
It's both. It's a little bit of a play on words. Why aren't we there? Why are we here?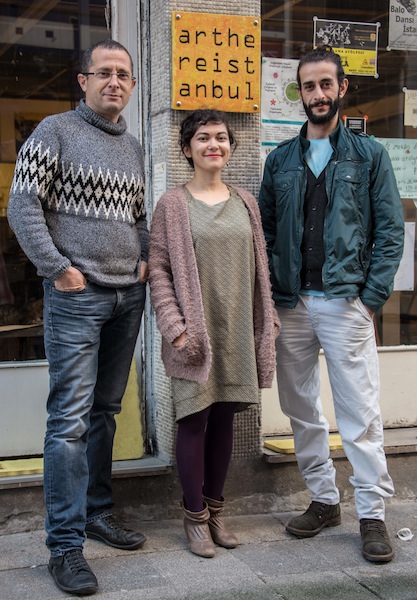 Is your own background in art?
My background is in photography, especially black and white photography, also in photojournalism, archiving and media arts. I was a chemist originally, though. I had studied applied chemistry in Damascus.
How do you choose the artists?
The members decide together. But any artist is free to join – from anywhere. To help Syrians we need equal [numbers of] Syrians and foreigners. Generally we don't judge the art. Most artists decide themselves if they fit or not after a while.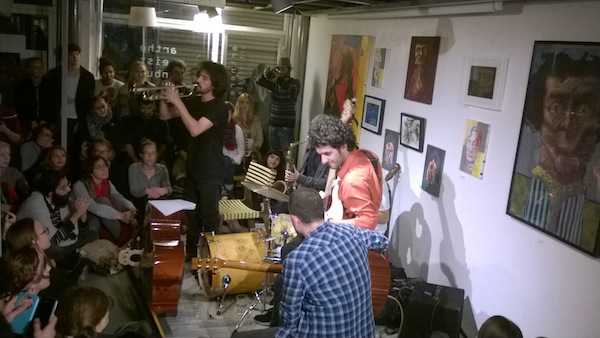 What's on the horizon?
We would like to host our own festival, projects, art events and, of course, to sell more art. We are independent for the basics, but the art gallery needs to sell more, so we can distribute this to the artists. I would like to create this kind of space that is known, that people recognize as a good source of art, to try to create an image for the name, to brand the concept.
Was the café always part of the plan too?
It wasn't part of the original plan, but the café was a key to connect people. And the customers here are not typical. At first people are shocked that they are free to help themselves, that there is this open kitchen and communal space, but then they like it.
—
Arthere is open from 10 am – 10 pm every day. It comprises three levels of artists' workspace, a gallery, café, darkroom and small garden. As ambitious and perhaps unconventional as Arthere's vision is, it works. It is a space that percolates with creativity, a bright light in today's dark times.
Address: Rasımpaşa Mah. Beydağı Sk. 3A, Kadıköy, Istanbul
Telephone: +90 538 086 7691
Website: http://www.arthereistanbul.com/
E-mail: info@arthereistanbul.com