For those with a resolution to be more healthy in the new year, JÜS offers a wide variety of delicious inspiration to help keep you on track. Located on the center of Cihangir's charming Başkurt Sokak, the cold-pressed juice shop is a popular destination for an impressively diverse customer-base. Boasting a comprehensive array of juice options, there's something for everyone — from the basics that appeal to the health-conscious to cleanses, detoxes, low-sugar and dairy free delights, and much more.
Stopping by for a visit will likely introduce you to at least one of the co-founders Aylin Erman and Moritz Marwein. Expats by label only, the duo have set roots in the city and their enthusiastic, cool demeanor reveals a real confidence in their work here. Moritz was kind enough to take some time to discuss their project, the process and what we should expect in the months ahead.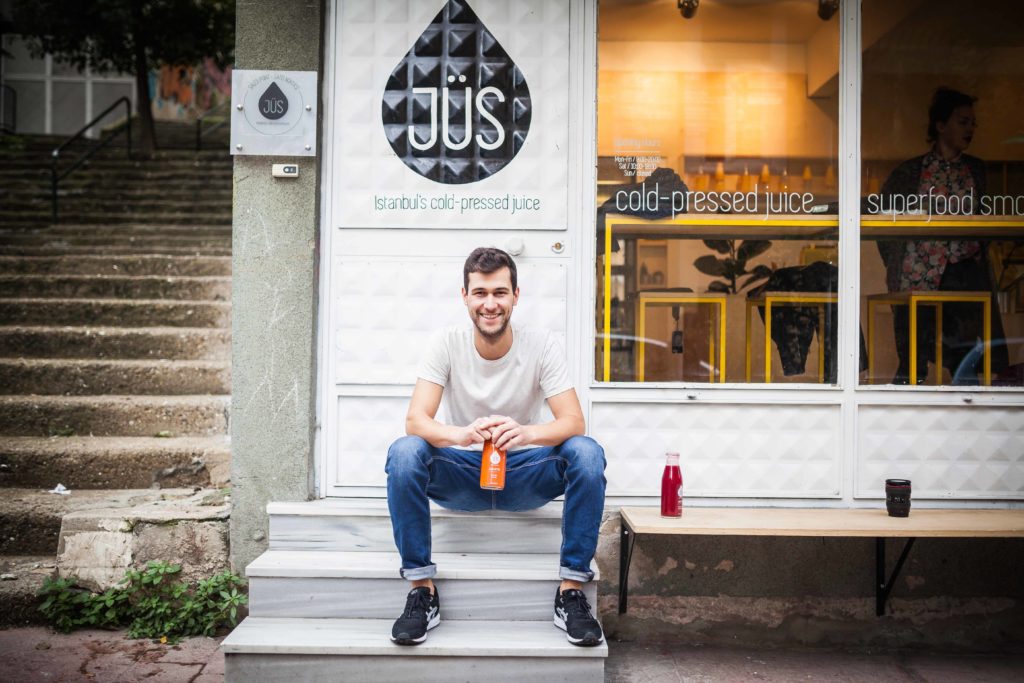 As the co-founder of JÜS, how did the idea for this project come about?
Once my partner and co-founder Aylin approached me with the idea of starting a cold-pressed juice business in Istanbul I didn't hesitate to be on board right away. I didn't have the health conscious background she has, but I was thrilled about the concept ever since I experienced how people from all kind of backgrounds appreciate good and tasty products, that are actually good for your health, from travelling to New York where the whole cold-pressed juice & detox-lifestyle movement started.
What was the motivation there?
It was interesting to see that over there (NYC) a bottle of green juice replaced the Starbucks cup in everyday life. That is the motivation, we want to change and add to people's habits in a good way. We do not want to force them but convince them that having a cleaner nutrition is actually cool and fun. We are trying to address everyone, not only the "health-freaks", by providing an easy, accessible option to daily nutrition.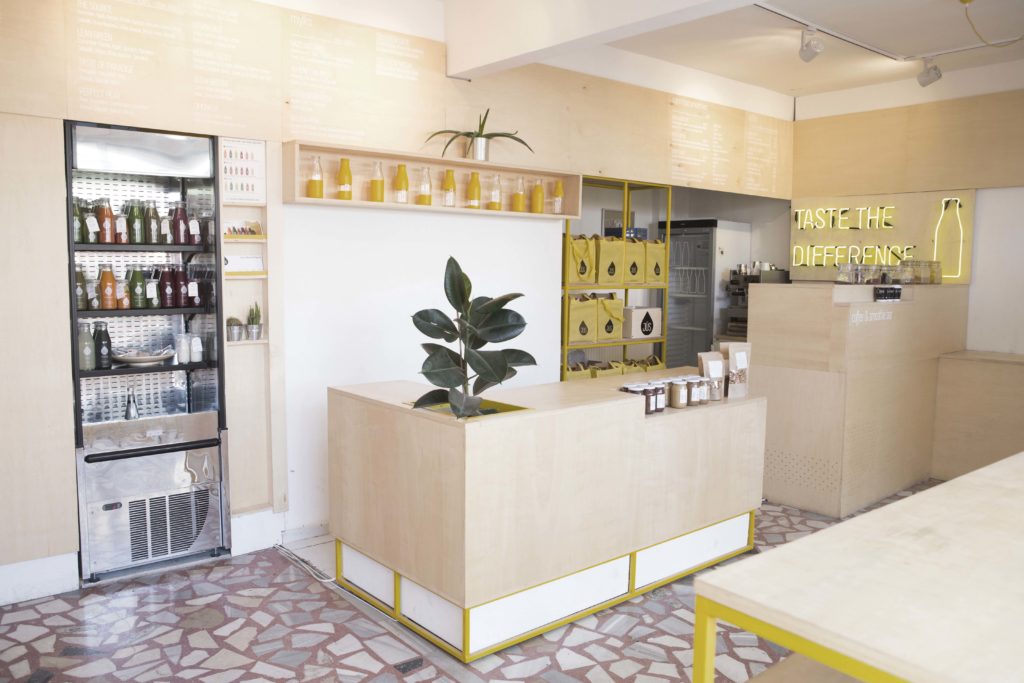 What brought you to Turkey and why start a business here?
I first came to Istanbul in 2012 to study for a semester abroad at ITÜ right before my master's graduation project in architecture and urban planning. My graduation project was about the developments around Taksim and Gezi park, so most of that time I spent in Istanbul for research. After graduating in October 2013 at Stuttgart University and working as an architect in Germany I moved back to Turkey in early 2014 to work. After having a complicated time because I wasn't granted a work permit, I had to decide either to move on or start my own business. The dynamic of the city, people and culture convinced me to take that step together with Aylin and so far there are no doubts that this has been the right decision.
What has the response been like here? What is the atmosphere here like for this type of lifestyle in general?
I think Turks are very open to new things in general. Of course you always have to explain the concept, especially when you use vegetables in a juice you can get some strange looks. In our store location in Cihangir we have many returning customers who you wouldn't consider to be in our main target group for this kind of a product. My favorite one is this guy in his late 50s who looks like a "true Turk" and barely talks, he comes in every second day for his apple, carrot and red pepper juice the "Glow Getter" and nothing else. Experiences like that make me believe in the sustainability of our business and motivate me every day.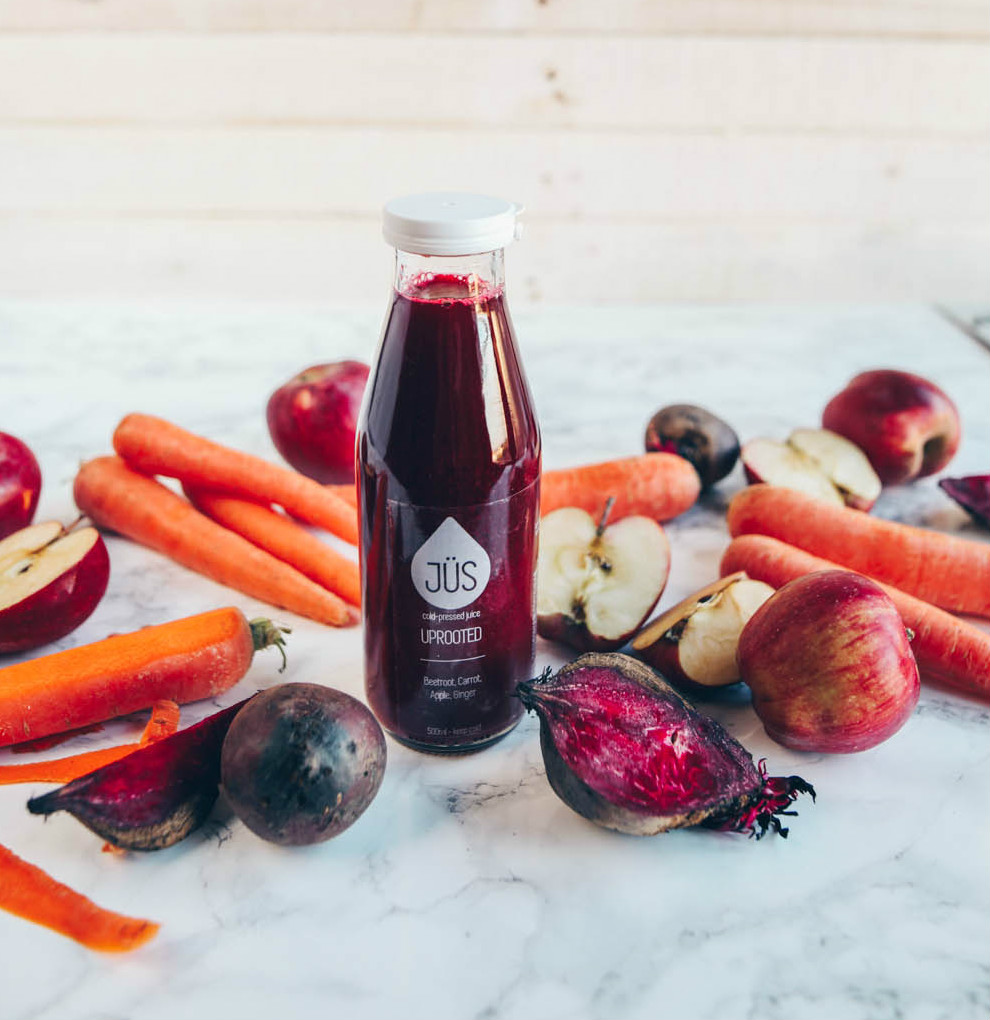 Could you tell us a bit more about your various drinks? Anything you'd particularly like to recommend?
We are the cold-pressed juice company in Istanbul with the most diverse menu, our juice range goes from more fruity options to earthy drinks to light and clean green juices. We also offer hydrators with activated charcoal, aloe and chlorophyll. As an option for a dairy free diet, we produce nut milks made from hazelnuts and almonds which is also a good alternative for GMO polluted soy milks. My favorite juice right now is "The Garden", a green juice that we will launch in 2017, made with celery, cucumber, spinach, pear and fennel.
Could you tell us a bit about the process behind getting a drink ready for sale?
Every day we purchase fresh fruits and vegetables from our local suppliers directly from the central market in Bayrampaşa. After they're prepped and cleaned, we press the produce individually on our cold-press machine with about 10 tons of pressure. In order to keep a consistent taste and quality, we mix and pour the single ingredients for every juice instead of just pressing the produce together. This process is the most time and labor intensive, but we would never compromise on our quality. After bottling in glass bottles, our juices get either sent out to our online customers, or on our store and sales-partners' shelves.
What has been the biggest challenge of starting a business as a foreigner in Turkey?
I think most of your readers are familiar with the application process for a residence permit. Multiply that process by 100 and then you'll know the stress level in terms of bureaucracy you have to face. Other than that, there is this ability of Turks to always find a solution for everything. Once you've reached the level to understand and master that, I feel like you're good to go to start a business everywhere. Personally the Turkish saying Türk gibi başla, Alman gibi bitir – start like a Turk, finish like a German – helped me a lot in difficult situations.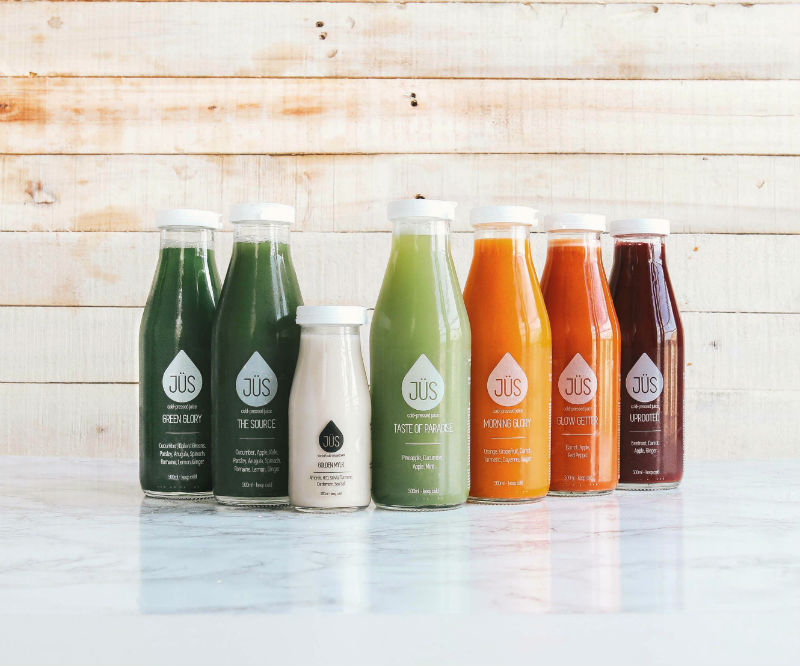 What is 2017 looking like for JÜS? Anything we should expect in the coming months?
2017 will be a big year for us and our customers. We will be launching around 15 new products including new juice formulas, new hydrators and an extensive detox-food menu. In January we'll be launching four more cleanse packages, including a plant-based food cleanse on our website. As a first in Istanbul, we will have our special JÜS-Boxes which are different from our cleanses. They serve as a more relaxed approach to detox, offering you cold-pressed juices and foods that you can incorporate into your normal diet and still benefit from their effects.
Currently we are working on opening a second physical location because being in direct contact with our customers is super important for us. Also we want to make our products as easily accessible as possible due to our company's values.
As you know, we're somewhat of an advice publication for foreigners living in this fine city of ours. Any tips or hidden gems around here that you'd like to share with our readers?
I think most of the hidden gems that I could mention are already covered on Yabangee, that's why I would say that at least one visit to a football stadium is a must for every expat living in the city. That's the place where you really get to experience the Turkish soul and where the financial, religious and social backgrounds of the fans merge into one big mass of just supporters. Only Beşiktaş though, no offense.
For more information, be sure to check out the official site for JÜS. You can also follow them on Facebook, Instagram and Twitter.
Images courtesy of JÜS – by Katarina Boden / blackwhitevivid.com