Ibrahim Maalouf recently paid a visit to Volkswagen Arena to promote his album "Red & Black Light" as part of Positive Live's Looking Forward event series. Following said performance, I'm here writing this review as a brand new member of Ibrahim Maalouf's fan club. It was definetely the best stage performance I've seen this year so far!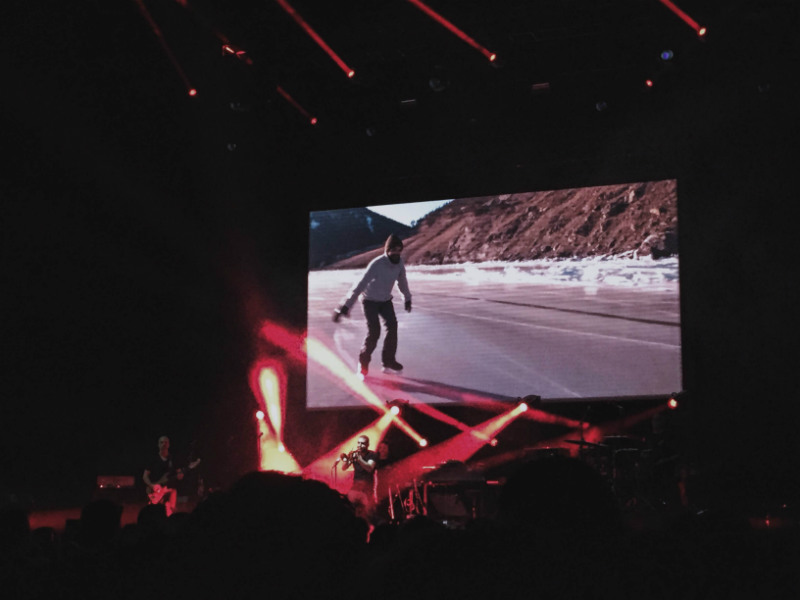 I was already familiar with Ibrahim Maalouf's popular songs such as Beirut, True Sorry and Hashish. Also, I was quite aware that one of the most talented trumpet players of the 2000s was coming to my town. So I couldn't have missed him this time. I clearly remember my regret in missing his performance at Babylon Asmalı in 2013, which had everbody talking how amazing it was. Well, as it turns out, he deserves every single compliment. After watching him live, my interest in Ibrahim Maalouf has exponentially increased.
Ibrahim Maalouf and his band members seemed just as enthusiastic and excited to be here as we were. They truly killed it on that stage! No suprise, Beirut and True Sorry shook the crowd. It was a real team driven success and you could feel the harmony between them in every drop. Their energy was contagious, so when Maalouf invited us to sing and dance with them, nobody could resist. He also didn't forget to give credit to his talented team, especially his drummer Stefan who was essentially the other frontman of the night. They gathered in the middle of the stage around the end of the night and made an enjoyable percussion show. I don't even know it was for us or for them.
I think, Ibrahim Maalouf has this kind of classical, warm approach that French-Lebanese musicians often have. On stage he was talkative, friendly, funny and generous; especially about spreading his energy all over the place. Although aware that he is a composer, music teacher and composer of musical arrangements, I didn't know that he also happens to be one of those super cool musician dads. Ibrahim Maalouf told us the story of Goodnight Kiss which he composed for his little daughter. As the musician explained, the song is inspired by goodnight kisses Maalouf puts on his daughter's head after she falls asleep from listening to his fairytales. He starts by picturing a dragon for her, then as the story goes on, she flies in the sky and becomes totally free.
Did you know that Ibrahim Maalouf's last album Red & Black Light is dedicated to the women of his family? "If it was only men, we couldn't make it. Women of my family held us together." These passionate words got me. They also shared two video clips with the audience while performing. This way, I was introduced to Red & Black Light's official music video and I totally fell in love with it. It has shots from Safy Nebbou's movie called "Dans les forets de Sibérie".  With Ibrahim Maalouf's music on it, this video takes you to Siberia and beyond. I also have to give credit to Volkswagen Arena's lighting system, because as usual they didn't dissappoint.
I wish I could find some high quality videos on Youtube from Ibrahim Maalouf's performance in Volkswagen Arena. However, I'd love to share True Sorry below here. For me, it was the shining star of the night.
Jazz, oriental rythms, funk, electro, rock, classical, Arabic or even reggae… This man's music is international! Thank you and more please!
Images courtesy of Gizem Esen.