For many commentators, the digital music revolution catalysed by iTunes over a decade ago signaled the end of all physical formats of music. With vinyl already seen by most as an antiquated thing of the past, having already been replaced by the CD, few would have predicted the overwhelming resurgence in vinyl sales that has taken place in recent years.
In an apparent backlash against the impersonal nature of MP3s and digital streaming sites such as Spotify, many music fans have been drawn by the nostalgic and, somehow, familiar feeling one gets from listening to vinyl.
While the claims by vinyl purists about superior sound quality – due to the mechanical nature of the turntable and record – have been discredited by most audiophiles, for many, music just sounds better played on vinyl. The whole ritual surrounding it: the old smell when pulling out a second-hand record that hasn't been touched for years, the tenderness involved when cleaning dust off an LP, and the soft crackling that greets you as a record begins to play; these simply cannot be replicated through hitting play on a computer or MP3 player.
Strolling through Beyoğlu or Kadıköy one becomes accustomed to the sites of vintage and antique shops. For many there's a certain sentimentality at the heart of collecting used items: the reification of objects, each with their own unique history, waiting for their new owner to add to the pages of their story. Whether or not you subscribe to this romantic view, antiques shops are often full of surprises and wonders, hidden gems if you know what to look for.
The same goes for record shops. Listeners can both allegorically and literally flick through the echelons of music history, delving into alien and familiar sounds alike. Rubbing shoulders with the throngs of antiques shops in Beyoğlu and Kadıköy, record shops are flourishing in Istanbul, spurred on by an increasing demand for old and new records alike, from both locals and foreigners.
Long-term international favourites of many Turkish record collectors like Pink Floyd and The Shadows can be found in relative abundance as a result of numerous vinyl pressings of their LPs in Turkey. It's the records of local legends like Cem Karaca, Barış Manço and Erkin Koray that are the most sought after and, as a result, command the highest fees.
After already having visited a couple of record shops in Beyoğlu, I thought it was a fitting area to begin my tour of the city's vinyl hangouts. The first place that has to be mentioned is Aslıhan Pasajı, a goldmine for second-hand books as well as records. The majority of shops specialise in books, but many have a handful of crates of LPs as well. One such place is Doğa Kitap, a cosy shop run by a former philosophy teacher and her 35 year-old grey parrot, very much epitomising the quirky and relaxed feel of the Pasaj. But, without further ado, let me start with my list.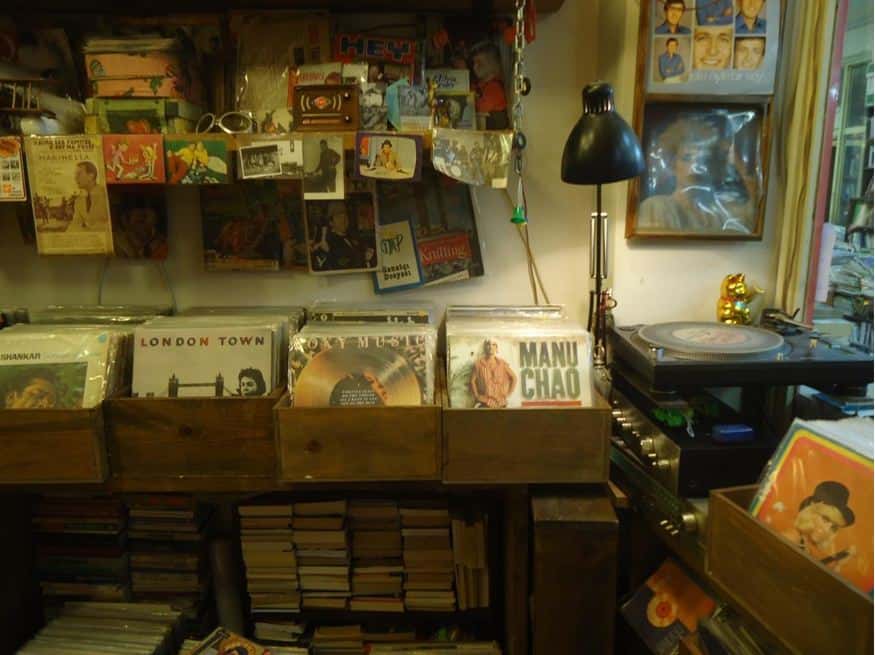 Kurgu Sahaf  
As delightful as these shops were, the star of the show for me was Kurgu Sahaf, a roomy record store-cum-second-hand book shop with a large stock including Turkish music, world music, jazz, funk and soul. Being Aslıhan Pasajı, the records were almost exclusively second-hand, ranging from Manu Chao to Bülent Ersoy and Tchaikovsky to James Brown.
The friendly and relaxed atmosphere made for a comfortable experience browsing records, and I left the shop the proud new owner of an old and slightly beaten up Ravi Shankar LP.
Phone Number: (0535) 242 98 63
Address: Mesrutiyet Caddesi No. 18/38, Aslıhan Pasajı, Beyoğlu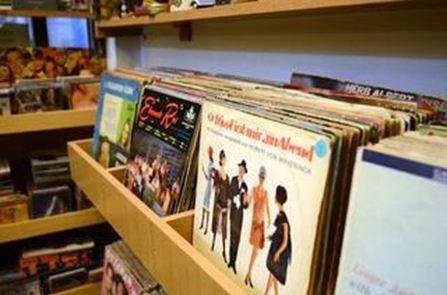 Mandala Müzik Evi
The next record shop on my list was Mandala Müzik Evi, a cupboard of a shop with records stacked from floor to ceiling. Mandala, much like the rest of Aslıhan Pasajı, specialises in second-hand products, with a particular emphasis on both Turkish and international records from the 70s. Fairly priced, Mandala has an impressive stock of both 33s and 45s.
Phone Number: (0538) 690 07 25
Address: Meşrutiyet Caddesi No. 18/17, Aslıhan Pasajı, Beyoğlu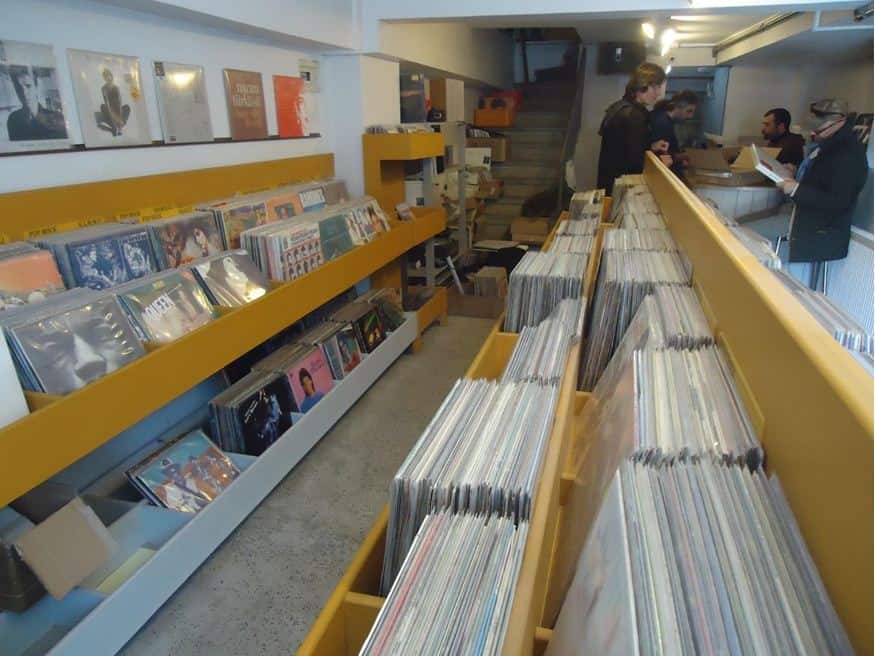 Plakhane
From Aslıhan Pasajı I made my way into Cihangir, heading to Plakhane, already having visited its impressive website which boasts an online purchase feature. A large and spacious shop located just off Sıraserviler Caddesi, Plakhane has an extremely impressive collection of rock, classical, Turkish, South American, African, ambient, funk, soul and jazz records, with a particular emphasis on the latter.
The atmosphere was friendly and the flow of customers constant. A turntable, amplifier and pair of headphones in the corner give customers the opportunity to explore their extensive collection of LPs further. All in all I was very impressed with the professionalism and organisation of Plakhane, leaving with a Gil-Scott Heron & Brian Jackson collaborative LP in my record bag.
Phone: (0212) 251 6970
Address:  Hocazade Sk 22/Z, Cihangir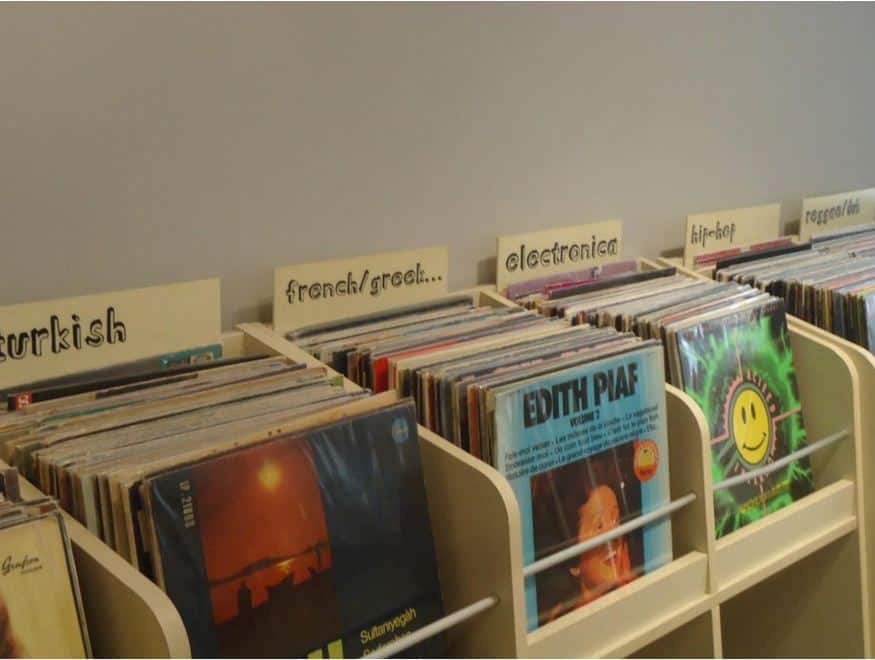 Deform Müzik
One of the best situated record shops in the city is Deform Müzik, located on Turnacıbaşı Caddesi. The first record shop I ever visited in Istanbul, Deform is owned by Ozan Maral and Tayfun Aras, also known as the DJ duo Deform-E. The quality of Deform's collection is evident, boasting large selections of second-hand psychedelic rock, Turkish, electronica, funk, soul and jazz records, as well as a selection of music paraphernalia and t-shirts.
Sadly, each time I've been there the experience has been slightly tainted by the nonchalant vibe of the staff, often seeming disinterested and more intent on watching videos on their laptops. Whether it's resting on the laurels of the undoubted quality of their stock, or frustration at the inevitable amount of people who must walk into the shop only to leave empty-handed, I've found myself slightly put off, compounded by the somewhat high prices.
Nevertheless, I left the shop with a second-hand copy of an Otis Redding LP and made my way through Çukurcuma to my next destination.
Phone Number: (0212) 245 3337
Address: Turnacıbaşı Caddesi No. 45, Cihangir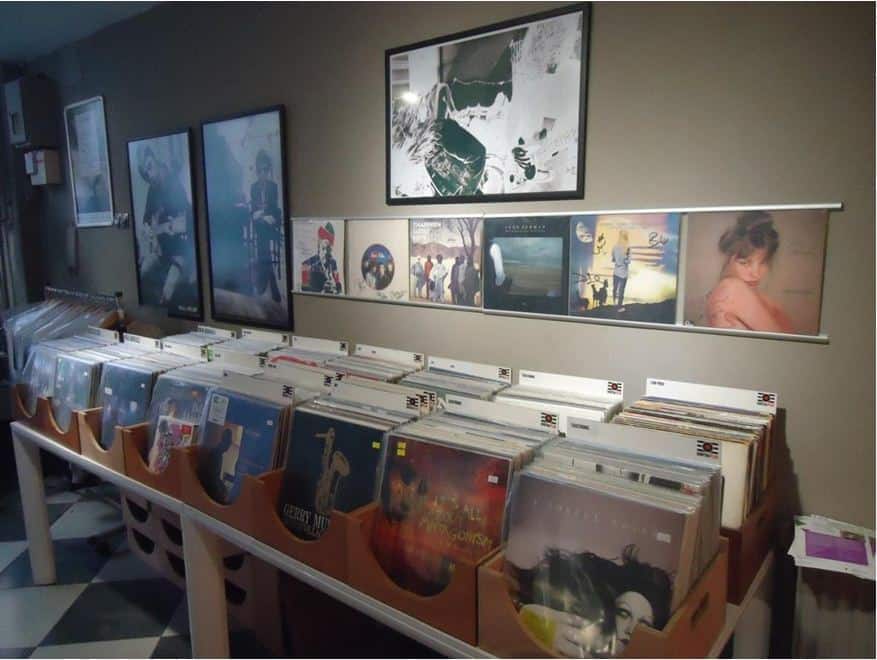 Kontraplak
Walking past the Museum of Innocence and up Yeni Çarşı Caddesi, I soon reached Kontraplak Records, close to Galatasaray Lisesi. Probably my favourite record shop on the European side, the relatively new Kontraplak caters more towards the underground scene with a selection of ambient, IDM, acid techno, drum and bass, downtempo and house records, as well as Turkish, funk, soul, jazz and a wide selection of rock and metal LPs. From Aphex Twin to Judas Priest and Chet Baker to Massive Attack, Kontraplak has something for everyone, particularly as the prices start from as low as 10TL.
The shop's walls are covered with an extensive collection of memorabilia signed and addressed to the owner Okan, a man extremely passionate about his music and the meticulous organisation of his record store. Kontraplak has an easy-to-navigate website in both English and Turkish, and often holds live performances and DJ sets, recently showcasing an impressive line-up of local talent on Record Store Day 2014.
A sofa at the back and listening station create a comfortable and relaxed atmosphere, where you can lose yourself for hours listening to records. I left the store with a DJ Spooky LP and an Ulrich Schanuss 12" and headed to my final stop on the European side.
Phone Number: (0212) 243 8680
Address: Tomtom Mahallesi, Yeni Çarşı Caddesi No. 60/A, Beyoğlu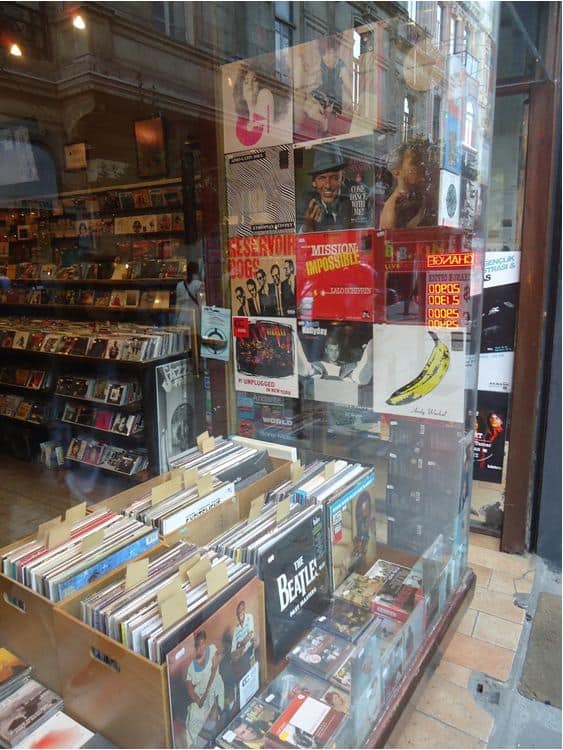 Lale Plak
From Kontraplak I headed down İstiklal towards Şişhane, until I reached Tünel Square and Lale Plak. The shop has a number of records in the window, as well as a selection in the back. While it may not have the largest variety of 33s and 45s, their collection of CDs and the willingness of the staff to help with your musical questions and quandaries make this an essential for record-collectors and music fans alike. The stock includes both local and international 12"s.
Phone Number: (0212) 293 77 39
Address: Galipdede Caddesi No.1, Beyoğlu
With the sun beginning to set, I decided to call it a day and returned home to plan my visit to Kadıköy's record shops – a trip that you can read about here!
Timur Jack-Kadıoğlu is a contributor to Yabangee