My wife wants to buy an apartment. That's a pretty common goal for many people in this city, since it's a sound investment. The idea is, buy the apartment, find a responsible tenant, use the rent money to pay off the mortgage. Then, in five years or so, the property values should appreciate, and you can sell it for a tidy profit.
Our friend Omer has been assisting us in the search. He's a prime example of what I'm talking about. Several years ago, he bought a place in Kartal, an area on the outskirts of the city, located within a stone's throw of Sabiha Gokcen International Airport. The apartment he bought two years ago is already worth considerably more because the Kartal area is growing rapidly.
"You gotta have some vision to make it in this city," as my wife says, approving of Omer's sound investment.
It may be hard for skeptics to believe, but it's true. Even in the volatile climate shaking Turkey these days (four suicide bombings have hit the country this year so far, including two in Istanbul), the construction and real estate sectors continue to flourish. On the bus to work this morning, from Kadıköy to my school in Suadiye, I counted no less than a dozen new apartment buildings in various stages of construction. Many of them are being renovated to upgrade their earthquake readiness, true, but the trend holds nevertheless. If you want to invest in this city, the housing market is the way to go.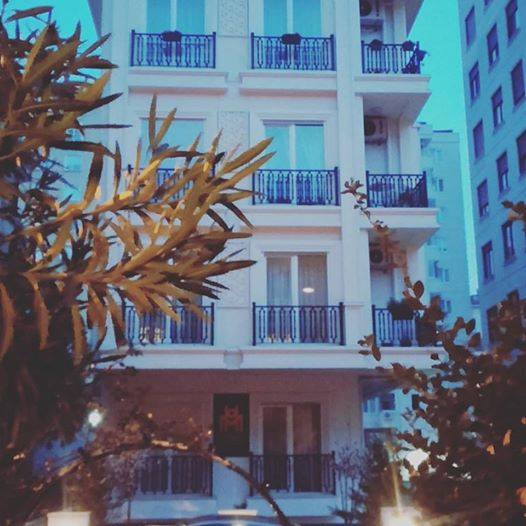 Now, of course, my wife and I are not rich. Thanks to my wife's fiscal responsibility (not one of my talents, sadly), we've managed to put some money away. Still, the places that we can afford are generally in the outskirts — the sticks. The lovely flats in Cihangir, Moda, even in our own neighborhood of Koşuyolu, are out of our price range.
Like a lot of married couples, it's one of our pastimes to go on walks through such neighborhoods after dinner, looking wistfully up at the terraces , the romantic rooftops.
"Why can't I have a garden like that?" my wife says, gazing at a particularly fine example. The garden is lush, spacious, with a tabby cat or two posing luxuriously among the flowers and trimmed bushes. "That's all I ask," she goes on. "An apartment with a garden."
Indeed, we sigh together at the injustice of this world. Surely, whoever happened to be dwelling in that particular residence could not possibly deserve it, let alone appreciate it, as much as we did.
Ah, greener pastures, I try to voice sensibly.
"We've got a nice little place ourselves," I say.
"But we're just renting!" my wife protests. "We're throwing our money into the wind. Poof!" She illustrates this futility by clapping her hands and blowing, our fortunes dissipating in the dusk.
What can I say? My wife is very logical, pragmatic, in these affairs.
So we've been house-hunting, or apartment-hunting, a sport which is new to me. I've never boasted of my bargaining or appraising skills, or claimed to have anything more than a box salesman's business acumen. Part of the reason, of course, is that I've spent so much of my life moving around, brushed along it seems by every passing zephyr. I recall one year having changed addresses no less than a half-dozen times.
Settling down, the conjugal life, means having to plan ahead. After all, you are both in this together, so why not try to improve your lot? Get ahead in this world.
With our friend Omer, his driving services and home-buying experience at our disposal, we spent the last Sunday scouting locations out in Kartal, Pendik and Kurtköy. All of these are growing areas, with lots of potential. One place we looked — under construction, set to be finished at the end of the year — will be located near the metro line, which is being extended out to the airport.
We liked this particular flat — one bedroom, a living room, kitchen and bath. The complex will have a swimming pool, and other amenities ("amenities," how about that? I never thought I, the one-man traveling medicine show, would ever learn to use that word in a sentence). The idea is that we could buy the place, rent it out (lots of airport employees and businessmen like to be near the airport), and then sell the place in five years or so. By that time, with the completed metro line, and concurrent growth, the value of the place should be at least twice what we would pay for it now, should we choose to go ahead and buy.
Ah, there's the rub: Buying. That's a commitment for sure. My wife and I are not experienced in this area. Are we ready to be off-site landlords, with all the attendant issues and possible complications that entails? What if we have trouble finding tenants ("Oh, you won't have any problem," our friend Omer reassures us)? What if the housing market, the construction market, crashes, as some experts have long warned?
After all, we are supposed to be learning to live with terror, as the country's leadership has told ush. Turkey is unstable, with a war in Syria just over the border, streams of refugees arriving every day, and the threat of terrorist attacks always on the immediate horizon (the U.S. consulate issued a fresh warning just this week, urging citizens to avoid tourist areas and large public gatherings).
Is this the right time to invest?
Well, as my wife reminds me: How do we know that we'll even be married in five years? There's always some uncertainty, some unforeseeable risk. But I suppose, as she said when we first decided to get married: "If we screw it up, we'll screw it up together." So maybe that's the approach we should take to buying this new apartment.
Anyway, in the age of terror, we're still shopping around. Some would say we're foolish. But I would like to think that whatever happens, we are investing in each other, we're investing in Turkey, and we're investing in the future.
James Tressler is a writer and teacher living in Istanbul. All images courtesy of the author.