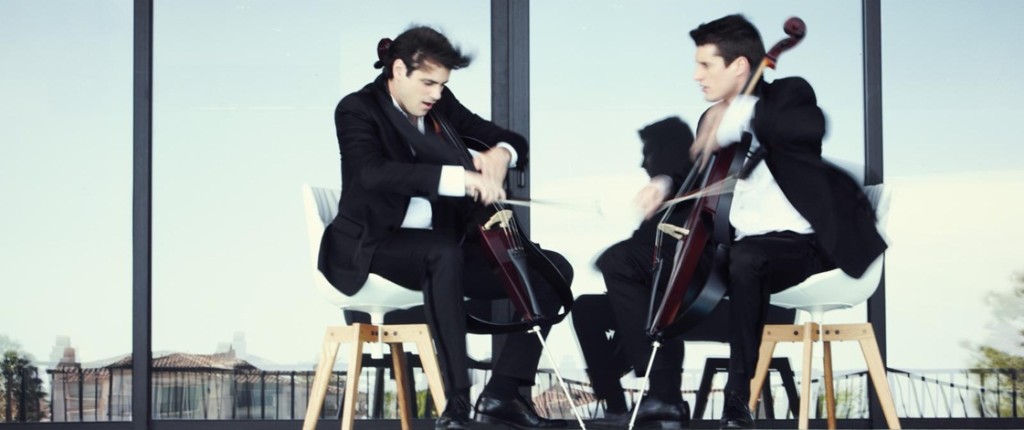 I discovered 2CELLOS by chance about a year ago through their cello duet cover of "Smooth Criminal." I usually do not like Michael Jackson covers. As a hard core fan, I view all Michael Jackson songs as masterpieces not to be meddled with! Since one can't possibly do it better than MJ, why ruin it?
But this time around, 2CELLOS caught me off guard. I truly enjoyed their interpretation of "Smooth Criminal." It was original, energetic and witty. The cellist duo had added their own artistic and creative imprint to the piece, but had not taken away from its original spirit. Plus, the cello is my all time favorite instrument. And the guys played it like da thing! They had me.
So, I jumped at the chance to watch them live at — once again — the Harbiye Open Air Amphitheater. My only expectation for the evening was to hear "Smooth Criminal." That is, "Smooth Criminal" a-la-2CELLOS. I had also watched their covers of "Welcome to the Jungle," "Paradise City," and "Smells Like Teen Spirit" on YouTube. Good covers, but not all that. Or, so I had thought. I was soon to fall for them like I haven't fallen for an artist in a long time!
After stepping on stage around 9:20 pm, they started off with a slow piece, "Benedictus." The stage set up was simple. Just the two of them and their electronic cellos. With no "body," just the board, pegs, bridge, tailpiece and sides, they looked almost like cello frames. A rock-style drum set was set behind them, and in the background there was a wide screen that showed techno-style electronic videos, with small screens on the side featuring close-ups of the two musicians playing live. As the music built up through the concert, so too did the images; they seemed to get more colorful, more vibrant, and more intense.
"Benedictus" was slow, delicate and deep. It gave us a chance to enjoy the beauty of the sound of the cello. Stjepan Hauser did the leads, and Luka Sulic took care of the frenzied, forceful rhythms. Four or five moderately-paced pieces later, about half an hour into the concert, Stjepan made the awaited announcement: This next song is by Michael Jackson! There were cheers and a stir of excitement from the audience.
By the end of the piece we were totally out of it. It was the turning point of the concert. Polite listeners transformed into a cheering, whooping audience, bidding each piece adieu and welcoming each new one with loud applause. The 2CELLOS covers were of songs that had stood the test of time and had made their mark in music history. But, with this type of song comes the pressure to live up to the success of the original. And this they did, with great success. In fact, the covers more than sufficed, they were incredible! I would say that they were at least as good as, if not better than the original versions. Not only did 2CELLOS maintain the original spirit of these songs, they also added their own energy, stamina, and talent into the mix.
Next they did an impressive pizzicato-only version of "Human Nature." In "Smells Like Teen Spirit," we were all up on our feet, brought back to our teenage years and re-living the spirit, zeal and insane stamina of Kurt Cobain. And, Axl Rose would have been proud (or jealous!) of the 2CELLOS version of "Welcome to the Jungle." All I can say is, wow… Stjepan's hand and fingers raced down the fingerboard, and the cello of classical music was transformed into an instrument of hard rock, with screeching arpeggios and fingerings all the way down to the bridge.
Luca pulled off quite a feat as well, with rhythms and intensity unbeknown to the instrument prior to his overtaking. By the end of the evening, loose threads of horse hair dangled from his bow. Not the one, or perhaps two, a cello bow gets in a hour and half of performance, but a dozen threads. He was to later pluck these out and distribute them to the audience in an act of kindness and generosity! In the meantime, Stjepan's energy drove him out of his chair. He shook his pelvis like Elvis, hopped on one leg Michael Jackson a-la-Black-or-White-live style, and, at one point, was lying face up on the floor, the cello atop him, screeching and screaming classical notes in rock style! The audience screamed, cheered and called out their name for three encores. Stjepan and Luca went for a calm, serene piece in the very end, and it was time to bid goodbye.
Elton John had said of 2CELLOS: "Go and see them live, because it really is astonishing! I can't remember seeing anything as exciting as them since I saw Jimi Hendrix live back in the 60s." I had been skeptical about this statement. But, now that I have experienced them, I know that they are just as Elton John describes them, and possibly more.